BANDWAGON BULLETIN BOARD
MAY SHIPMENT
is mere weeks away!

Please make sure to notify us if you've had any changes to your address, contact info or account info!!
TASTING ROOM HOURS
Mon-Fri 10am-5pm
Weekends 11am-5pm
First Fridays 10am-8pm!!
A quick reminder

: we know many of you bring your families out to enjoy the winery, but please remember, children should be supervised at all times. Thank you!
Greetings!
It seems we say this every year, but wow...time flies! May is already here, summer is around the corner and (OOPS!) Mother's Day is this weekend! Don't despair...pack up Mom and a picnic lunch and come on down to Bogle! The wines will be cold, the weather will be fantastic and the lawn is yours for the enjoying! A very HAPPY Mother's Day to all!!
Cheers,
Our Home Ranch Chardonnay on May 3rd
GRAPEVINE TMI?
Clusters of grape flowers
The excitement of bud break has come and gone...so now what? Here in Clarksburg where our spring temperatures have been quite a bit cooler than usual, the tiny grape shoots stretch and grow toward the reluctant sun.
At this point, the shoots start to produce small flower clusters on their tips. A few weeks after these clusters appear, "flowering" occurs, when daily temperatures average 60-70 degrees. During this "bloom" stage of flowering, pollination takes place, but unlike the flowers in your garden or your citrus trees, grapevines do not need bees, insects or wind to pollinate. In fact, most grapevines are hermaphroditic, having both male and female reproductive organs, thus allowing fertilization to take place within the vine. Detrimental weather during flowering, such as heavy wind and rain, can affect the crop, so again, vineyards are at the mercy of mother nature.
Flowers in bloom during pollination
Now the fun begins! Once fertilized, the tiny flowers on the miniscule clusters can become a grape berry, surrounding the grape seeds within. This process, known as "fruit set" ultimately determines what the crop yield will be in the fall. Not all flowers are pollinated, with an average of approximately 40% making it to fruit status. Though there is much of the growing season left, so much depends on these next few weeks.
ANNOUNCING: FIRST FRIDAYS!
Good farmers don't waste any daylight...so why should we here in our tasting room? Starting in June, Bogle will be hosting
FIRST FRIDAYS
through the summer months, with extended tasting room hours.
June 3rd will be the first FIRST FRIDAY, with hours from 10am to 8pm!
Come out after work, bring a picnic dinner and enjoy the romantic evening light in the vineyard. Not only will we have wines to taste at the bar, and a selection of cheeses and snacks for sale, you'll have a chance to talk with some of the Bogle family as we host the evening hours! Come on out and say HI!
NORTHERN EXPOSURE

Bill and Ann Wittich, long time wine club members and Bogle patrons, are also frequent travelers! They have become pros at seeking out Bogle wines and their most recent trip to Coos Bay, Oregon was no exception. Bill and Ann enjoyed a bottle of our Old Vine Zinfandel while dining at The Mill Hotel and Casino. Looks like a big glass and great time to us!
NEW RELEASES
2009 CABERNET SAUVIGNON, California
Irresistible vanilla and intriguing black cherry lay way to the rich, supple wine that is the Cabernet Sauvignon. Wisps of tobacco smoke linger on the palate, reminiscent of grandfather's old pipe. Cinnamon and cloves are left by the 14 months of aging in American oak. Ample tannins and an enduring finish will allow this wine to cellar for another 6-8 years, but don't let anyone say you can't enjoy it now...
2009 OLD VINE ZINFANDEL, California
Scents of sun-warmed wild raspberries bubble up to the surface in your first impression of our newest Zinfandel. Notes of ripe berries and nutmeg follow, while touches of black pepper and subtle spicy oak compliment the fruit. Full-bodied, the mouthfeel is rounded out and finished with earthy notes and soft tannins. Drink now through 2015!
Available: Both wines are readily available at retailers and restaurants nationwide, and abroad!
GOOD NEWS PRESS
2010 SAUVIGNON BLANC, California
This wine is definitely a favorite around here, especially for its lively and vivacious green grass, citrus and tropical pineapple flavors! Sounds like there were a few others who liked it too!
FOR YOUR CALENDAR...Spring Flings!
Saturday, May 7th 6:30pm-9:30pm
A Toast To Music -- Camellia Symphony Orchestra
Old Sugar Mill, Clarksburg, CA
Thursday, May 12th 6:00-9:00pm
Epicurean Esprit -- Meals on Wheels
Woodland, CA
Thursday, May 12th 5:30-9:30pm
Taste of the Little City -- Safetyville, USA
Safetyville, USA, Sacramento, CA
Saturday, May 21st 5:30pm-9:30pm
John Kerr Foundation Wine & Food Tasting Event
Clunie Hall, McKinley Park, Sacramento CA
FRESH SALAD FOR SPRING...
This is a light and lovely spring salad, easy to enjoy as a luncheon or for a quick dinner. (We'll be serving it at our wine club seminar later this month!) As with all our recipes, please substitute your favorites for what we have here!

Serves 4.
4 chicken breasts
10 spears asparagus
1 head red or green leaf lettuce, chopped
1 red bell pepper
1 can mandarin orange sections (w/ juice reserved)
1 cup sugar snap peas
1/4 cup sliced almonds
1 tbsp sesame seeds
Dressing:
2 tsp garlic chile paste (can be found in the Asian food aisle)
1 tbsp honey
3 tbsp rice wine vinegar
1 tbsp mandarin orange juice
salt & pepper
1/2 cup olive oil
Cooking instructions:
Preheat your grill or grill pan to med-high heat.
Season the chicken breasts with salt & pepper. When grill is hot, throw on the breasts and grill until cooked through, about 3-4 minutes on each side. Allow to rest a few minutes, then slice into 1/3" pieces and set aside.
Toss the asparagus with salt, pepper and olive oil. When chicken is off the grill, lower the heat a bit and place the asparagus on the top rack. Grill until just al dente, but with nice grill marks.
While the food is grilling, mix the first four dressing ingredients together, and season to taste. If you like your dressing sweeter, add a bit more honey. Spicier? More chili sauce! Drizzle the olive oil in a steady stream while whisking, until the dressing is emulsified. Again, season to taste.
In a large salad bowl, toss together the lettuces, bell peppers, mandarin slices, snap peas and almonds. Cut the asparagus spears into thirds and toss in.
Dress the salad with your dressing, reserving a tiny bit. Place equal amounts of the salad on each plate, topping with 1/2 a chicken breast. Drizzle the remaining dressing over the top of the chicken.
Sprinkle with sesame seeds and enjoy!
The sweet and spicy components of this salad will pair very well with our 2010 Chenin Blanc or 2009 Riesling, both great compliments to Asian flavors. If you love red wine, give the 2009 Old Vine Zinfandel or 2009 Merlot a try!!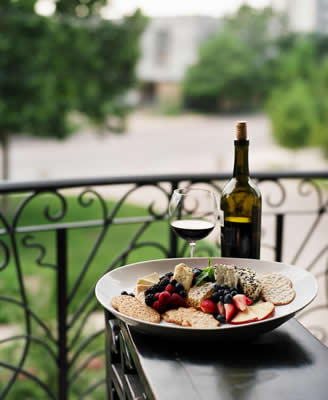 Looking for a "printer friendly" version of our recipes? We're working on it! Until then, email us and we'll send them off to you ASAP!