BANDWAGON BULLETIN BOARD
FEBRUARY SHIPMENT
Will Call members...deadline for pick up is

April 18th

!


We know doing those taxes is keeping you busy...so we're going to give you a few more days before we ship out the remaining wine!
TASTING ROOM HOURS
Mon-Fri 10am-5pm
Weekends 11am-5pm
CLOSED for EASTER

Sun, April 24th
Greetings!
What is that bright, yellow thing in the sky? Oh yeah, that's the sun! After a March with over 7 inches of rainfall, leaving our water levels at nearly 125% of normal for the season, we are ready for this sunshine that has come with the start of April! Let's just hope it isn't an APRIL FOOL'S!!
Cheers,
The Bogle Family & Staff

Budbreak!
March 30, 2011
'TIS THE SEASON

Spring has sprung and the lawn is open at our tasting room in Clarksburg! Freshly mowed grass, spring blossoms, and a fresh bouquet...this time we aren't talking about our wines!
If you have never been to our winery in Clarksburg, this is the year for you to make the trip! Situated just south of Sacramento in the scenic River Delta, you can taste wines while overlooking the Home Ranch Chardonnay vineyard. Picnic tables and benches get taken pretty early each day, but blankets are welcome and there is plenty of lawn to relax on! Best of all, you don't have to do the weeding...just the enjoying!
This spring, we have some great wines to try at our bar. In addition to our main line wines that are readily available across the country, the tasting room staff always has a few "special" wines that are only available here in Clarksburg. In the line-up this season: a Dry Chenin Blanc, a Reserve Cabernet, a Reserve Zinfandel and a Reserve Petite Sirah. Rumor has it the Moscato and Petite Sirah Ros

é

will be making their appearances soon as well! So, come on down!!
BEING GREEN PAYS!

Literally! Since we have replaced our four and six pack carrier boxes in the tasting room with eco-friendly, re-usable wine bags, we want to encourage you to really re-use them! So, when you bring your bag back to the winery to be refilled, our tasting room staff will give you an additional 5% off your entire wine purchase! From single bottles to cases...what a deal!!
EAGLE EYE TRAVELER?

Don't forget to keep an eye out for Bogle when you hit the road!
Or maybe you've taken Bogle along with you to some exotic locale? Please send us your pics and let us know...we want to share your story!
NEW RELEASES
2010 CHENIN BLANC, Clarksburg
We love Chenin...after all it was the first white grape Grandpa Bogle ever planted! This vintage is especially fun with tropical guava and papaya fruit in a silky, off-dry setting. Finishing with well-balanced acidity and some nice minerality, this refreshing and versatile white can pair with many different things: from Mom's potato salad at a BBQ to grilled oysters and chive cream. (Just had that last one...it was REALLY good!)
Available:
At our tasting room in Clarksburg, and select international locales: Canada, the UK and Hong Kong!
FOR YOUR CALENDAR...Tastings Are Back!
Friday, April 8th 6:30pm - ???
Solano Wine & Food Jubilee -- Northbay Healthcare Foundation
Nut Tree, Vacaville, CA
Saturday, April 16th 6:00-9:00pm
The Taste of Elk Grove -- Laguna Rotary Club
Sacramento Asian Sports Complex, Elk Grove, CA
Wednesday, April 27th 5:30-8:00pm
Feast for the Streets -- St. Francis Home of Sacramento
Scottish Rite Center, Sacramento, CA
Friday, April 29th 5:30pm-9:30pm
9th Annual Celebrity Chef Challenge -- InAlliance
California Automobile Museum, Sacramento CA
GET THOSE OMEGA 3'S...
BAKED TILAPIA
with ROASTED TOMATOES AND BASIL
It is hard to believe this is our first fish recipe! Easy and healthy, this dish takes ingredients that aren't quite in season yet and makes you think they are hand picked from the garden! Complete the meal with couscous or angel hair pasta dusted with Parmesan and some fresh local asparagus.

Serves 4.
4 fresh tilapia fillets (or other mild white fish)
1 egg
3 tbsp flour
Salt & pepper
1 cup Panko breadcrumbs
2/3 cup finely grated Parmesan
1 container cherry tomatoes
2 cups dry white wine, such as Bogle Sauvignon Blanc
1 cup fresh basil leaves, torn or chiffonaded
2-6 cloves garlic, peeled (if you love garlic, go for it!)
3 tbsp balsalmic vinegar
Cooking instructions:
Preheat oven to 375 degrees.
Rinse the fillets and pat dry. Season generously with salt and pepper.
Set up an assembly line to bread the fish. In one shallow bowl or pie plate, put the flour, in another scramble the egg with 2T water. In a third, combine the Panko and cheese.
To bread the fillets, dredge in the flour first, then through the egg, and finally, coat with the Panko/Parm mixture. Press the crumbs gently into the fish to make sure they adhere. Place in a single layer on a baking sheet lined with parchment paper, if you have it.
Put the fish into the oven on the middle rack and set the timer for about 20 minutes.
While the fish cooks, heat a large frying pan over medium heat on the stove. Add a few tsps of olive oil and wait until oil is hot.
Take the garlic, and grate it into the pan using a microplane or fine grater. Make sure to stir constantly to avoid scorching it. Once really fragrant and starting to break down, add the wine. When the wine begins to boil, add the tomatoes. Bring the heat down a bit, but allow the pot to simmer until the tomatos start to pop open.
When the tomatos start to pop, add the basil and vinegar. Cook another 3-4 minutes, then remove from the heat.
When the fish is cooked to your desired doneness, place on a plate and pour the tomato sauce over it. Garnish with lemon and enjoy!!
OUR WINE SUGGESTIONS
This is an easy pairing with our 2010 Sauvignon Blanc, especially if you used the wine to cook the tomatoes. Red wine lovers might be surprised to see that our 2009 Merlot and 2009 Pinot Noir would work well with this dish as well!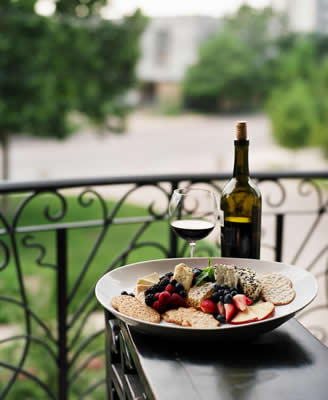 Looking for a "printer friendly" version of our recipes? We're working on it! Until then, email us and we'll send them off to you ASAP!