BANDWAGON BULLETIN BOARD
FEBRUARY SHIPMENT
Will Call members...deadline for pick up is April 11th!
TASTING ROOM HOURS
Mon-Fri 10am-5pm
Weekends 11am-5pm
Sorry for any inconvenience.
Greetings!
For us out here in California, winter has started to show glimpses of retiring. Rain showers and their spring flowers are popping up, while trees blossom in all their pink and white glory. On crisp and sunny days, you can actually see the Sierras covered in snow from our tasting room deck. Come visit and see for yourself!
Cheers,
The Bogle Family & Staff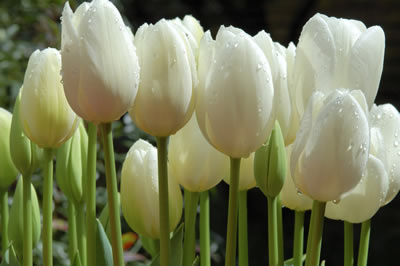 BOGLE FAMILY LOSS
After a long and hard fought battle with leukemia, Bogle owner and family matriarch, Patty Bogle, passed away last month at her home in Clarkburg.
Patty was a native of Portland, Oregon, and moved to California after marrying her first husband Chris in 1973. As a farmer's wife, Patty started doing the books for the business, often late at night and in her pajamas. In the early days of the tasting room, Patty frequently was the only wine pourer on the weekends, and enjoyed meeting and greeting guests who made their way to Bogle. As the years went on, Patty worked tirelessly, leading Bogle's winemaking and sales teams to build the family business to the company it is today...where Bogle wine is found on store shelves and in restaurants across the country.
Patty's love of the wine business, her family and friends and life in general was apparent to anyone who happened to meet her. The extended Bogle "family"...her children, grandchildren, winery staff and friends would like to thank everyone for all their kind words and condolences the last few weeks. She will be greatly missed.
ART RECEPTION: Patris
Sunday, March 13th 2-5pm
Courtland Scene by Patris
Come peruse and ponder the work of local artist Patris at our tasting room while you sip some of our new spring releases! Patris will be at the show from 2-5pm. Can't make it on the 12th? Don't worry...her artwork will be up in the tasting room for the next few weeks.
For more information on the artist, check out her link
HERE.
BOGLE...Bottoms Up!

Paul and Diane Kewin

love

the Phantom...so much so that they carried a bottle all the way to the bottom of the Grand Canyon with friends last year!
"Last February, we hiked to Phantom Ranch at the bottom of the Grand Canyon. What better place to have a bottle of your Phantom with our dinner! (It was) our reward for our hike down, and carrying that heavy bottle."
Brother Chris, his wife Wendy, and wine club members Diane and Paul Kewin
Seen Bogle on your travels? Or maybe you've taken Bogle along with you to some exotic locale? Please send us your pics and let us know...we want to share your story!
NEW RELEASES
2010 SAUVIGNON BLANC, California
With this first wine release of 2010, you can tell spring is just around the corner!! Crisp and refreshing with intense acidity and a well-balanced palate, the 2010 vintage of Sauvignon Blanc shows ripe pineapple, key lime and newly mowed grass notes, which will be the perfect kick off to the spring season!
Available:
At retailers and wine shops nationwide.
A RECIPE FOR IN BETWEEN SEASONS...

Apricot Stuffed PORK LOIN
This recipe is an oldie-but goodie at Bogle. Cool enough to feel like winter, but with glimspes of spring here and there, the weather needs a versatile menu, and this dish can easily straddle the cooking season

! Serve with wild rice or pilaf and a nice salad. Serves 4-6.
1 tbsp ground cumin
1 tbsp brown sugar
1 tsp salt
1 tsp ground ginger
1 tsp garlic powder
1/2 tsp five-spice powder
1/2 tsp ground red pepper
1- 6oz. pkg. dried apricots, finely chopped
2 tbsp capers
1-3 lb. boneless pork loin roast
Cooking instructions:
Preheat oven to 350 degrees.
Combine first seven ingredients (all spices) in a small bowl.
Combine the apricots and capers.
Trim fat from the pork. Cut a 1 1/2 inch wide horizontal slit into the end of the pork. Cut through to the other end of the pork to form a deep pocket.
Spoon the apricot mixture into the pocket, using a wooden spoon handle to get it all the way through.
Rub the roast with the spice mixture. Place on a broiler tray coated with cooking spray, and allow 30 minutes to sit before putting in the oven.
Bake at 350 for 1 hour, 45 minutes or until a meat thermometer registers 160 degrees at the thickest part of the meat.
OUR WINE SUGGESTIONS
With the richness of the spices and pork, this dish would be lovely with a full-bodied white wine such as our 2009 Chardonnay. You could also try a lighter style red: the 2009 Pinot Noir or our 2007 Ghost Du Roam would be great as well.
But...let us know what you think!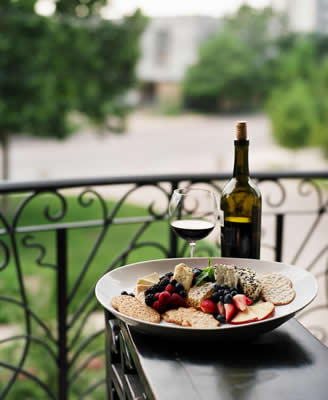 Looking for a "printer friendly" version of our recipes? We're working on it! Until then, email us and we'll send them off to you ASAP!