BANDWAGON BULLETIN BOARD
FEBRUARY SHIPMENT
is right around the corner!!!
Call us with any updates!!
TASTING ROOM HOURS
Mon-Fri 10am-5pm
Weekends 11am-5pm
Be our friends...LIKE US!
Greetings!
Happy New Year!! We bet you have all made lots of resolutions by now...and if you are like us, you've probably already broken a few! As we enter into another year, let's make the most important resolution of all: to spend time with friends and family, and make every moment memorable.

Wishing you all a fantastic 2011!!
The Bogle Family & Staff

BOGLE: Old Friends in Mexico!
Jeff and Jodi Jordan were delighted to be able to enjoy Bogle wines while on vacation in Mexico.
"We had been friends and Bandwagon members for many years while we lived in Rocklin, California. Our favorite times to visit were "crush" and Port Weekend. We felt like family.

In May of this year, we reluctantly had to make a move to Roswell , GA. Not a "wine ship" state. With sadness, we had to discontinue our Bandwagon membership. No more trips to the Delta to pick up wine and enjoy lunch on the lawn with the vineyard cat rubbing our ankles.
You can imagine our delight when, while vacationing recently in Mazatlan, Mexico, at the Pueblo Bonito resort, we came across Bogle Petite Sirah on the resort restaurant wine list! Needless to say, we enjoyed many bottles of our favorite "home town" wine during our week.
Thank you all for making us always feel at home during our visits. We will always consider Bogle our family winery!"
Seen Bogle on your travels? Or maybe you've taken Bogle along with you to some exotic locale? Please send us your pics and let us know...we want to share your story!
NEW RELEASES
2009 PINOT NOIR, California
The first impression recalls a sun-dappled forest clearing, scattered with sweet wild strawberries, rustic mint and hints of baking spices. Bright berry and cola follows on the well-balanced palate, surrounded by soft suggestions of tea leaves and lavender. From the mellow French oak, toasty vanilla winds itself throughout, creating a long, lingering and elegant finish.
Available:
In our tasting room in Clarksburg, and wine shops and retailers nationwide.
FOR YOUR CALENDAR... We're out and about!!
Saturday, January 8th 6pm-9pm
Wine Tasting & Auction Benefit -- UC Davis School of Medicine
UC Davis School of Medicine Building, Sacramento, CA
Saturday, January 29th 5pm-10pm
Winter Wine & Food Fest -- Make A Wish Foundation**
Sacramento Convention Center, Sacramento, CA
Saturday, January 29th 2pm-5pm
ZAP -- Zinfandel Advocates and Producers Grand Tasting
**An event where our Harvest Moon Dinner will be an auction item!**
ANOTHER EASY WEEKNIGHT DINNER...
Another soup? Yep...this recipe is so easy you can serve it up in no time flat! It is also easily converted to a vegetarian version. Simply swap out the chicken stock for veggie and omit the chicken. Satisfying in a cinch...Serves 4.
1 large yellow onion, chopped
2 cloves garlic, minced
1 cup Bogle Sauvignon Blanc
5 cups chicken stock
1 pkg refrigerated cheese tortellini
3 carrots, cut into 1/4" pieces
2 cups shredded chicken meat
(grocery store rotisserie works great)

1 lb swiss chard, cut into 1/2" ribbons
Parmesan cheese, grated
Cooking instructions:
In a large soup pot or dutch oven, saute the onion and garlic over medium high heat until translucent, about 5 minutes.
Add the white wine, deglazing the pan and cooking down for about another minute. Pour in the stock, and bring up to a simmer, for about 10 minutes or so.
Ten minutes before serving, bring broth up to a moderate boil. Add the tortellini and carrots, allowing about 5 minutes to cook.
Add the chicken and the chard, stirring slowly to incorporate. Cook an additional 2-3 minutes until the tortellini are soft and the chard is wilted.
Top with some freshly grated Parmesan cheese and serve with a slice of warm ciabatta bread.
OUR WINE SUGGESTIONS

This is a tough one, only because almost any of our wines will partner well with this dish! Try the Sauvignon Blanc that you added into the broth, or our Pinot Noir or Cabernet Sauvignon if you feel like a red! Enjoy!!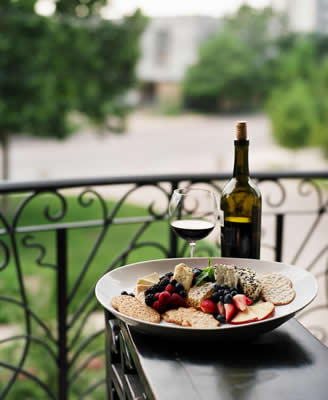 **Have a great recipe or wine pairing you'd love for us to know about? Please send it along to us at
info@boglewinery.com
!**