BANDWAGON BULLETIN BOARD
OCTOBER SHIPMENT
Don't forget!!
WILL CALL DEADLINE
Jan 3rd!!!
HOLIDAY CLOSURES
Fri, Dec 17th @ NOON
Fri-Sat, Dec 24-25th
Sat, Jan 1st
HAPPY HOLIDAYS!!
Be our friends...LIKE US!
Greetings!
Happy Holidays!! Though we can't believe the season is already upon us, we sure love the joy, laughter and love we get to share with friends and family this time of year. We hope each and every one of you gets a bit of quiet peace to spend with your loved ones.

With our very best wishes for a wonderful holiday!
The Bogle Family & Staff
The halls are decked in Clarksburg!!
ERIC'S EUROPEAN ADVENTURE
Eric, on right, and staff at Globus.
Last month, winemaker Eric Aafedt traveled to the winter wonderland of Switzerland to work the market for Bogle's export program. Currently, wines are sold in nearly 30 international locales. Though a relatively new market, this Alpine country has become a huge supporter of Bogle wines, not surprisingly consuming more reds than whites.
Though the weather was chilly and cold, Eric saw quite a bit of the countryside as he worked his way from one end of Switzerland to the other. His pictures certainly prove that Bogle is served in some of the most gorgeous locations in the world!
Mountainside vines planted along Lake Geneva in the Alps!
BOGLE: Sighted in Maine!
Wayne and Kendra Finley have been wine club members since the very beginning. They spotted Bogle in the middle of the Atlantic!!

"We visited Monhegan Island, about 12 nautical miles off the coast of Maine. It took us about 2 hours by water taxi to get out there and then we spent a half day exploring the island...a beautiful place. In one little general store, we found a wall of wines on display, and low and behold, there were some bottles of Bogle! We were just about as far away from California as you can get in the Eastern US and out in the middle of the ocean, so you can imagine our surprise. It was a fun moment!"

The beautiful Monhegan Island, Maine.
Seen Bogle on your travels? Or maybe you've taken Bogle along with you to some exotic locale? Please send us your pics and let us know...we want to share your story!
NEW RELEASES:
2009 BLANC De BLANCS, Clarksburg
100% Chardonnay
Nothing says CELEBRATE like a great bottle of bubbly!! Made in the traditional French "methode champenoise" this light and effervecent sipper dances across your tongue like a Sugar Plum Fairy! Notes of citrus keep the sparkler light, while creamier tones wrap around the finish.
Available:
In our tasting room in Clarksburg, just for the holidays. If there was ever a reason to make the trip...
FOR YOUR CALENDAR...
The ELVES are ready at Bogle!
Get in the holiday spirit this weekend with a trip to the Delta to celebrate at Clarksburg Country Christmas!!
Bogle will be joining the fun by donating 10% of our tasting room income this weekend to programs at local Delta High School. Come on out and check a few more people off that gift list!!
Local artwork
Gift baskets
Wrapped gift cases
Box sets and library wines
Goodies and tchochkes galore
Oh yeah, wine too!!

Wagoneeres, don't forget your 20% discount applies!!!
FOR A RAINY NIGHT...
BEEF BOURGUIGNON a la BOGLE
Julia Child's famous BB recipe is hands-down the best...

but

, if you are busy like us and want something as delicious and satisfying for a easy supper, this recipe will do the trick! Serve over mashed potatoes or egg noodles, and don't forget the French bread for dipping. Serves 6.
6 slices bacon
3 lbs beef round steak, cut into cubes
1 large onion, sliced
1 large carrot, peeled and sliced
3 tbsp flour
1 10oz. can beef broth
1 tbsp tomato paste
2 garlic cloves, minced or grated
1 tsp thyme
1 bay leaf
1/2 lb white pearl onions (we use frozen)
1 lb fresh cremini mushrooms, sliced
1 cup Bogle Merlot, Petite Sirah or other dry red
Cooking instructions:
In a large skillet, cook the bacon until crispy. Remove from the pan to a paper towel to drain.
Add the beef cubes to the bacon fat and brown well. Place in the slow cooker when browned.
To the same pan, add the onion and carrots. Cook until they begin to soften, about 2 minutes. Add the tomato paste, thyme and garlic. Cook another 2 minutes. Season with salt and pepper, to taste, then stir in the flour.
Add the beef broth to the skillet and mix well. Make sure to scrape any browned bits off the bottom of the pan for flavor!
Pour the skillet mixture over the beef in the slow cooker. Add the bay leaf, onions and mushrooms. Crumble the bacon and add to the cooker. Finish by pouring in the wine.
Cover and cook on low heat for 8-10 hours. Stir occasionally if you think of it.
OUR WINE SUGGESTIONS

If you have any Merlot left after the meal preparation, that would be a great pairing. The mushrooms would also compliment a wine such as our 2009 Pinot Noir or 2007 Ghosts Du Roam. Enjoy!!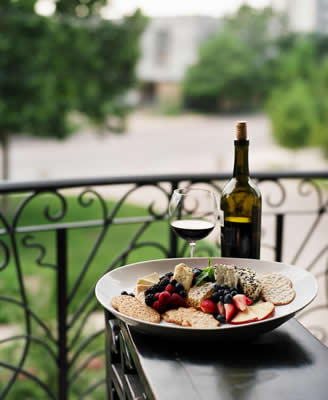 **Have a great recipe or wine pairing you'd love for us to know about? Please send it along to us at
info@boglewinery.com
!**