BANDWAGON BULLETIN BOARD
OCTOBER SHIPMENT
WILL CALL members: Deadline for pick up:
January 3rd!!!

MEMBER MIXER

This Friday, Nov. 5th!!
Join the fun...
HOLIDAY CLOSURES
Thurs, November 25th
Fri, Dec 17th @ NOON
Fri-Sat, Dec 24-25th
Sat, Jan 1st
HAPPY HOLIDAYS!!
Be our friends...LIKE US!
Greetings!
We hope you are all enjoying this fall season, wherever you may be! With harvest winding down and another growing year under our belts, we give thanks for many things...most of all, YOU, our great customers! Thanks for your support!!
Enjoy the season!
The Bogle Family & Staff
Fall Foliage at Bogle!
THE VINEYARD VIEW
After the "Crush"
Harvest is over...there is nothing to do out there in the vineyard right now, right? Certainly not! Though spring, summer and early fall are more taxing seasons on our vineyard staff, the grapevines do require nearly year-round maintenance.
Drip system irrigation

Frequently, a vineyard will get a good soaking just after it is picked. This irrigation sets the vines up for a long winter's rest after working so hard to produce those great grape clusters all spring and summer. Vineyard crews will also come through to complete some housekeeping duties: trellis repair, end post replacement and drip-system maintenance are just some of the tasks that keep our crews busy this time of year.

If you happen by any of our vineyards in the next few weeks, you will see endless rows of those fall colors: oranges, reds, yellows and browns. Just as the trees in your yard will drop their leaves, so will the vines. We are grateful no one has to rake them all, as discs and mulchers will work the leaves into the soil. It is just another task in the endless preparation for next year's vintage!
BOGLE: Overseas Adventure!
Mike Callahan, long time Bandwagon member from Clayton, California, sent us a recent email after a trip to Europe!
"Just returned from Helsinki Finland and found Bogle in the Old Market Hall near their Market Square. What a pleasant surprise!"
Seen Bogle on your travels? Or maybe you've taken Bogle along with you to some exotic locale? Please send us your pics and let us know...we want to share your story!
NEW RELEASES: The Ghosts Are Back!
2009 GHOST DU BLANC, Clarksburg
Chardonnay 58% Viognier 42%
Radiant Chardonnay and succulent Viognier combine to offer a deeply complex and full-bodied wine that hints of tropical papaya and apricot. Honeyed and velvety, this rich blend of fruit dances with the spice instilled by 100% barrel aging in American oak. Enjoy as a rich addition to any full flavored meal.
2007 GHOSTS DU ROAM, California
Grenache 82% Syrah 13% Mourvedre 5%
This mysterious crimson vision is juicy and whimsical, while at the same time, lovely and seductive. Hints of cassis and cola, tea leaf and red licorice capture your senses. The wine was aged in American oak for a full 24 months, adding a toasty spice at the finish

.

Enjoy with hearty soups and dishes with mushrooms...

RELEASE DATE: Nov. 20 in our tasting room in Clarksburg!!
FOR YOUR CALENDAR...
Thursday, November 4th 6pm-7pm
Yolo County Land Owners Association Wine Tasting
Heidrick Ag History Museum, Woodland, CA
Friday, November 5th 6pm-8:30pm
Art Farm: A Taste of Yolo -- Yolo Arts
Woodland, CA

Friday, November 19th 6:30-9:30pm
W.O.O.F. Whine and Dine -- Consumnes Legacy Foundation
Laguna Town Hall, Elk Grove, CA
Tomato and Blue Cheese Soup
This rich and flavorful soup has been a favorite at our Bandwagon Mixer, as well as in our homes! Warm sourdough bread and a glass of wine make this the perfect meal! Enjoy!!!
3 pounds ripe tomatos, peeled and quartered
2 garlic cloves, minced
2 tbsp butter
1 leek, washed and chopped
1 carrot, chopped
4 cups chicken stock
4 ounces blue cheese, crumbled
3 tbsp whipping cream
2 tbsp fresh basil leaves, shredded
Salt and pepper
Bacon & creme fraiche, for garnish
Cooking instructions:
Preheat oven to 400 degrees.
In a baking dish, spread the tomatos in an even, single layer. Sprinkle with the garlic and some salt and pepper. Roast for 35 minutes.
While tomatos are roasting, heat the butter in a large Dutch oven or soup pot. Add the leek and carrot and cook over medium-low heat for 10 minutes until softened.
Stir in the chicken stock and, when done in the oven, the tomatos. Bring soup to a boil, lower the heat, then cover and simmer for 20 minutes.
Remove from the heat, and stir in the blue cheese, cream and basil. Using an immersion blender (or standard blender) process until smooth. Work in batches if necessary...careful not to burn yourself! Taste for seasoning, adjust with salt and pepper as necessary.
NOTE: If reheating the soup, make sure not to let it boil.
Ladle into warmed bowls and sprinkle with a few ounces of bacon and a dollop of creme. Mmmmm!!
OUR WINE SUGGESTIONS

For the wines...try our 2009 Sauvignon Blanc or 2009 Riesling if you favor white, or our 2007 Ghosts Du Roam if you prefer red. Both will complement the rich, roasty flavors in the soup! Enjoy!!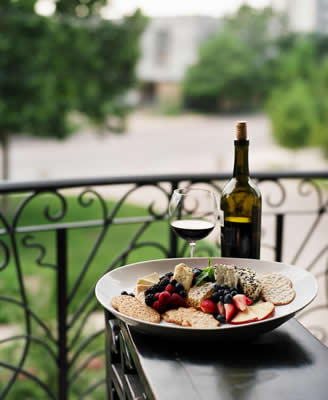 **Have a great recipe or wine pairing you'd love for us to know about? Please send it along to us at
info@boglewinery.com
!**