BANDWAGON BULLETIN BOARD
Did you move?
Get a new credit card?
Change your email?

KEEP US UPDATED!
HOLIDAY CLOSURES
OPEN
LABOR DAY WEEKEND!
Come on out, bring a picnic and join the fun!
LAWN AREA
CLOSED
Friday, Sept. 24th
(Tasting room and deck will be open as usual!)
Greetings!
Harvest has arrived...our favorite time of year! All the hard work from the past eight months comes to "fruition" in the next eight to ten weeks. Between night picking with the harvesters and hand picking during the day, it is quite frenetic around here. We hope to be bringing fruit into our winery for pressing by next week, so if you've put it off, now's the time to come and visit. Pack a picnic and drink in the sights and smells of harvest season!
Have a wonderful, safe and relaxing Labor Day weekend!
The Bogle Family & Staff
Sunrise over Home Ranch Chardonnay
THE VINEYARD VIEW
Harvest is here, but where's the fruit? Long before we started the winery in 1978, the Bogle family was growing grapes for other wineries. Today, we still do.
Though the majority of our 1,500 acres goes into a Bogle bottle, some vineyards are contracted to other wineries for their wines. Conversely, Bogle purchases grapes from other areas like Sonoma County, Lodi and Amador County to blend with our estate fruit for some varietals. The diversity of this California Appellation Program assures that the wines benefit from many of the incredible grape growing regions of California.
This explains why, though we are harvesting, no fruit is being crushed at Bogle yet. So far, fields continue to be harvested and sent to other wineries. Winemakers expect our first grapes to come into our crush facility in Clarksburg in the next week. Then the fun begins...
Handpicking at Meacham
BOGLE: Where have you seen us?
Though we have been selling wine for over 30 years, it still amazes us all the places you can find the wines today. The email box receives many notes, but we had to share this one:
My wife and I are honeymooning in the Virgin Islands. Yesterday while on St.Thomas we went in search of supplies for the impending Hurricane Earl. While shopping in Yacht Haven Grand we came across a small store...much to our surprise we came across bottles from Bogle. We quickly decided on one of our favorites, the 2007 Petite Sirah.
We've been without power since 7am and it's made for a long day of stormwatching. We're excited to enjoy our bottle from Bogle and take the rest of the storm in . Thank you for making the best wines and for making a gloomy day that much better.
Bandwagon Members,
Grant & Anna Chamberlain
We heard back from Grant and Anna, who were without power for three days! We hope they were able to stretch that bottle of Petite!
Where have you seen Bogle? Have you found bottles on your travels or maybe you've taken Bogle along with you to some exotic local? Please send us your pics and let us know...we want to share your story!
SET SAIL WITH BOGLE
Need a fun outing for visiting relatives? Want to surprise that special someone with a romantic evening? Itching to get out on the water before summer ends? Come join Bogle Vineyards as our wines are featured on the Weekend Wine-Down Cruise with Delta Discovery Cruises. Guests enjoy a three course menu paired with our wines and gorgeous views of our beloved Delta as the sun goes down. Can't think of a better Sunday evening...
Sunday, September 12th (departs Pittsburg)
Sunday, September 26th (departs Stockton)
$49 per person, BBW members reduced rate $39 per person
For ticket information, contact Delta Discover Cruises:
NEW RELEASES
2007 PHANTOM, California
The coveted Phantom, Bogle's apparition of three unique varietals, combines lush berry and fierce spice into a wine of complex character. Vivid essence of black pepper, dark fruit and juniper haunts the nose, while brighter flavors of blackberries and blueberries glance off the palate. From the shadows, toasty cinnamon and nutmeg emerge, subtly embracing the deeply luscious and succulent fruit to create a full-bodied, ruby rich wine. Captured in 1, 2 and 3 year old American oak barrels, this wine showcases the best these distinct varietals have to offer.
Though the wine is remarkable now, age in the bottle will only integrate the three varietals more. Welcome the winery ghost into your home again with this latest vintage, and enjoy with full-flavored and hearty meals...before it vanishes again.

Currently available nationwide...until it disappears again!
FOR YOUR CALENDAR...September!
The busiest month of the year!
Friday, September 10th 5:30pm-8:30pm
Fairytale Town After Hours -- Sac Area Emergency Housing
Fairytale Town, Sacramento, CA
Friday, September 10th 6pm-10pm
Christian Bros. Wine, Beer & Food Extravaganza -- CBHS
Christian Brothers High School, Sacramento, CA
Saturday, September 11th 6pm-8pm
Rio Vista CARE 2010 Gala -- Rio Vista CARE Vista Club at Trilogy, Rio Vista, CA
Sunday, September 12th 3pm-6pm
A Day in the Country -- Yolo Land Trust
Elkhorn Basin Ranch, Yolo County, CA
Sunday, September 12th 5pm-???
Ed Crane's Golf & Grape Gathering -- Shriner's Children's Hospital
Mercedes Benz of El Dorado Hills, CA
Thursday, September 16th 5pm-8:30pm
Spotlight Elk Grove -- Elk Grove Community Foundation
SES Hall, Elk Grove, CA
Friday, September 17th 6:30pm-10:30pm
12th Annual Wine & Dine -- Junior League of Sacramento
Raley Field Concourse, West Sacramento, CA
Saturday, September 18th 6:30pm-8:30pm
Le Gala d'Ourverture -- Shriner's Children's Hospital
US Bank Building, Sacramento, CA
Saturday, September 18th 4:30pm-8:30pm
7th annual Autumn Equinox Celebration -- Soil Born Farms
3000 Hurley Way, Sacramento, CA
Sunday, September 19th 2pm-5pm
Wines of Clarkburg -- Friends of the Clarksburg Library
Holland Land Headquarters, Clarksburg, CA
Friday, September 24th 6pm-9pm
A Taste of Sacramento -- Easter Seals
Sacramento Convention Center, Sacramento, CA
Saturday, September 25th 5pm-9pm
Neighbors for Neighborworks Wine & Food Tasting
Sutter Lawn Tennis Club, Sacramento, CA
Saturday, September 25th 6:30pm-7:30pm
A Taste of History -- Friends of Sutter's Fort
Sutter's Fort, Sacramento, CA
Saturday, September 25th 6:30pm-11pm
Lincoln Showcase -- Lincoln Chamber of Commerce
Beermann Plaza, Lincoln, CA
Thursday, September 30th 5:30pm-8pm
Treasures of the Valley -- Sacramento Valley Conservancy
Sac State Alumni Center, Sacramento, CA
ALWAYS FUN TO TRY NEW THINGS...
GRILLED PESTO FLATBREAD
Nobody loves a quick meal more than we do! But every now and then it is fun to experiment and try recipes that have a bit more "work" involved. A recent vacation with friends yielded this fantastic recipe, a lot of laughs and more "yummy!"s than we could count. Such fun...
FOR THE DOUGH
5 1/2 cups all-purpose flour (+ more as needed)
4 tsp baking powder
2 tsp granulated sugar
4 tsp kosher salt
1 large egg
1/2 cup plain yogurt
1 1/2 cups water, room temp
1/4 cup canola oil (+ more as needed)
FOR THE FILLING
1 cup homemade pesto (or your favorite store brand)
8 oz. goat cheese
Cooking instructions:
TO MAKE THE DOUGH
Combine flour, baking powder, sugar and salt in a stand mixer bowl with dough hook.
Whisk the egg and yogurt in a separate bowl, then add water and oil, mixing well.
Pour wet mix into dry and mix at low speed until a sticky and soft dough forms around the hook. (About 5 minutes. If the dough seems too wet, add more flour 1 tbsp at a time.)
Turn the dough out onto a lightly floured work surface and separate into ten equal pieces. Roll each into a ball and set on a baking sheet lined with parchment.
Lightly brush the dough with the canola oil and cover with plastic. Let rest at least one hour and up to two hours before using.
COOK'S NOTE: Ok...full disclosure here...we were lazy and didn't want to make Auntie's dough recipe. So, we stopped at a local store and purchased some pre-made,
fresh pizza dough. It worked great and we got to skip right to the next step...filling and cooking...and eating!
But you diehards and bakers, go for it!
TO MAKE AND GRILL THE BREAD
On a lightly floured surface, roll dough into a 6-7 inch circle. You want the dough fairly thin.
Spread about an ounce of goat cheese over the dough, leaving a 1" border. Spread about 2 tbsp pesto over the cheese.
Gather the edges of the dough to form a purse, pinching to seal at the top. Turn the purse seal side down and carefully roll it back into a thin circle. Transfer to another parchment lined sheet and finish remaining dough.
Prepare a charcoal or gas grill to medium heat. Clean the grill grates well and oil with a paper towel.
Grill the breads, covered, in batches, seal side down, until they look lightly browned and puffy, about 3-4 minutes. Turn over and grill an additional 2-3 minutes, until cooked through. Remove from heat and serve!
Roll the dough thinly and spread the layers of pesto and cheese. You could get creative with fillings here: sun-dried tomatoes, chutney, roasted peppers, or for a sweeter style, fruit preserves or Nutella!
Gather the edges to form a purse, then turn seal side down on your board...
...and lightly roll out the dough to flatten thinly, but watch for holes in your purse.
(We had to improvise for a rolling pin!)
Serve with garden fresh tomatoes, pasta salad, fresh fish grilled, or all of the above. Ours was a feast!
While grilling, it is nearly a prerequisite to have a bottle of 2009 Sauvignon Blanc open. (We drank two!) At dinner, our 2008 Merlot paired well with the light char on the breads. Enjoy!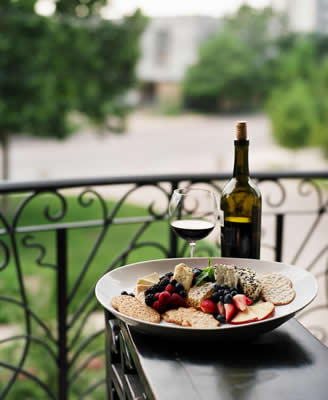 **Have a great recipe or wine pairing you'd love for us to know about? Please send it along to us at
info@boglewinery.com
!**