BANDWAGON BULLETIN BOARD
BLEND EX #2
August 7th, 10-1pm
HOLIDAY CLOSURES
NONE THIS MONTH!

Come on down!!
Greetings!
How did it get to be August? Summer has flown by in a whirlwind of food, wine, family and friends...and not necessarily in that order! We hope everyone has had some time to relax and enjoy these things that are most important in life!
Cheers,
The Bogle Family & Staff
THE VINEYARD VIEW
Dog days of summer? Nowhere to be seen here in Clarksburg! Perfectly mild days have showered our vineyards with warm sunshine over the last weeks, allowing ample development of flavors in the clusters.
Veraison, the softening of the grape berries, is accompanied by changing colors of green to purple in the red wine varietals. Veraison signals the home stretch of the growing process. A few more weeks and these babies will be plucked off the vine for your favorite Bogle wine.
SHIPPING BOGLE: Florida here we come!
Due to state shipping restrictions, Bogle has been extremely limited in its ability to ship wines directly to consumers across the USA for many years. Though many, many states are still restricted, we are pleased to be able to offer direct shipping services to the State of Florida! Floridians are now able to become members of our Bandwagon Wine Club as well.
(Unfortunately, some out there in the Sunshine State are still restricted: we are unable to ship to the dry counties of Lafayette, Liberty, Madison, Suwannee and Washington.) So sorry!

~~ ~~ ~~ ~~ ~~ ~~ ~~ ~~

SO...where CAN we ship, and why?

We get this question all the time. Though the Federal government decreed that individual states could make their own decisions about direct-to-consumer shipping, this did not necessarily make it easier. Each state has different restrictions and requirements in place, and keeping all this in order is a full time job! At this time, Bogle is able to ship to the 17 states that have the fewest compliance restrictions. Currently, they are: AZ*, CA, CO, FL, IL, IA, MN, MO, NV, NM, ND, OR, RI*, WA, WV, WI and WY. (*These states require a visit to our tasting room to order.)

Since, at this time, Bogle wines are sold in all 50 states nationwide, this is a hindrance mostly with regard to the wines we only produce for sale in our tasting room. We always suggest that prior to having us ship wine out to you, you take a peek at your local retailer or wine shop. You'll probably find what you are looking for, and save a bundle on shipping, that's for sure!
NEW RELEASES
2009 Petite Sirah Rosť, Clarksburg
This lively wine sings of strawberries, sweet summer herbs and flower petals on the nose and palate. The bracing acidity and crisp texture are complimented by Petite Sirah's trademark jammy notes, though they are just an afterthought here. The brisk finish begs for another sip, and another and another...
Currently available at our tasting room in Clarksburg.
2007 Petite Sirah Port, Clarksburg
A richness on the nose is immediately complemented by touches of dark cherry and anise. Hints of exotic liqueurs, jammy berries and just the suggestion of cocoa powder envelop the well balanced mouthfeel. Voluptuous and enticing, this dessert wine will seduce even the most reluctant of drinkers.
Available at restaurants and fine wine shops nationwide.
And reappearing next month...THE PHANTOM!
FOR YOUR CALENDAR...August!
Thursday, August 5th 5pm-7pm
Wine Pouring by Jody Bogle
Bel Air @ Arena Boulevard, Sacramento, CA
Wednesday, August 18th 6pm-8pm
Gala Opening Night -- Yolo County Fair
Yolo Fair Grounds, Woodland, CA
Saturday, August 21st 6pm-9pm
Sip & Stroll 2010 -- Hospice of San Joaquin County Brookside Community, Stockton, CA
Saturday, August 21st 6pm-9pm
Great Chefs 2010 -- Big Brothers, Big Sisters
Holiday Inn @ Capitol Plaza, Sacramento, CA
SIMPLE SUMMER, SIMPLE SUPPER
with Crab Pepper Salad
This recipe is adapted from Cooking Light and is absolutely outstanding! Perfect for a summer evening when you don't want to be anywhere near your oven! To make a vegetarian version, use the vegetable broth and omit the crab. (Serves 4 as a main.)
2 ripe avocados
3/4 cup low fat buttermilk
1/2 cup fresh tomatillos
1/2 cup chicken broth (veggie broth, ok too)
1/2 tsp salt
1 serrano pepper, seeded
1 garlic clove
2 tbsp red or yellow bell pepper, minced
1 tbsp fresh chives, chopped
1 tbsp + 1/2 tsp lemon juice and zest
8 oz. lump crabmeat
Cooking instructions:
Place the first 7 ingredients in a food processor or blender. Process until smooth.
Toss together gently the bell pepper, chives, juice, zest and crab.
Pour soup into 4 bowls and top with an equal portion of the crab mixture. Serve with fresh French bread and some vino...divine!
SUMMER PEACH CRISP
Summer's biggest problem...all the fruit in your orchard gets ripe at the same time! Try this easy and pantry-friendly dessert. Nectarines, apricots and plums work well too. Best served warm with vanilla ice cream, of course!
Ingredients:
8 cups peaches, sliced
1 cup all-purpose flour, divided
2/3 cup granulated sugar
1/4 tsp ground nutmeg
1/4 tsp ground cinnamon
1 cup quick-cooking oats
1/2 cup brown sugar, packed firm
1/2 tsp salt
1/4 cup butter, melted
Cooking instructions:
Preheat oven to 400 degrees.

Carefully combine fruit, 1/4 cup of the flour, granulated sugar and spices in a large bowl. Set aside for 15 minutes.

Coat a 13 x 9-inch glass baking dish with cooking spray. Fill with fruit mixture and bake for 30 minutes until bubbly.

In a separate bowl, mix oats, brown sugar, 3/4 cup flour and salt until well combined. Drizzle the melted butter over the oats, mixing until moistened.
Sprinkle the oat mixture over the fruit and return to the oven. Bake 15 minutes more, or until topping is golden brown.
OUR WINE SUGGESTIONS:
The bright and fresh 2009 Petite Sirah Rosť will pair nicely with the creaminess of the Avocado Soup. For dessert, both the 2009 Moscato or 2007 Petite Sirah Port will wrap up your excellent evening. Enjoy!!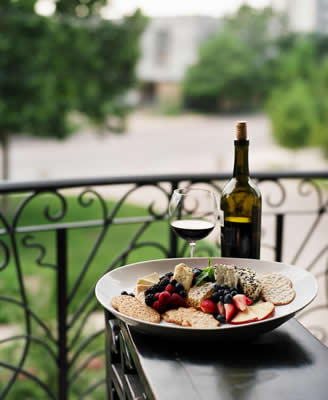 **Have a great recipe or wine pairing you'd love for us to know about? Please send it along to us at info@boglewinery.com!**