BANDWAGON BULLETIN BOARD
MAY 2010 SHIPMENT
DEADLINE for pickup: JULY 12!!
Tickets go on sale July 7th
HOLIDAY CLOSURES
Sunday, JULY 4th
Re-open July 5th!!
Greetings!
Happy 4th of July weekend!! It is official: summer is here and it is time to celebrate with family and friends!! So fire up that grill and crack open a cold bottle of wine! We hope everyone has an amazing, relaxing weekend!
Cheers,
The Bogle Family & Staff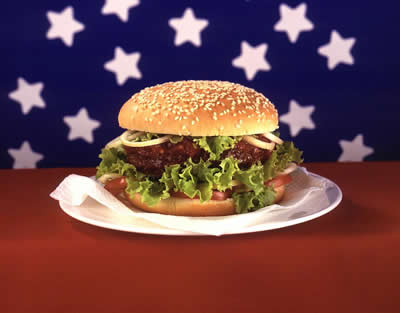 THE VINEYARD VIEW
Summer has finally arrived in Clarksburg! After months of unsettled and lower than normal temps, our vineyards are enjoying consistently warm days and cool nights, courtesy of that Delta breeze! Always about 10 degrees cooler than neighboring Sacramento, the good farm dirt in our fields soaks up the sunshine during the day, while the brisk evenings and nights act like an oscillating fan for the vines above. These temperature shifts create an ideal growing environment for the grape clusters. The warmth that radiates through the clusters increases the sugar levels, while the nightly cool down increases the acidity in each berry. To become a well balanced wine, the clusters must be harvested with a perfect sugar level, as well as appropriate acidity. These vines are on their way to crafting both!
ART RECEPTION: July 17th 11am-5pm Douglas Newton
The Bogle family and staff are proud to host the work of Douglas Newton for our July art reception. Mr. Newton will share both a collection of his artwork, primarily in the medium of ink on paper, as well as music from his new cd
Don't Look Down
. The show will remain at Bogle through August 29th. For more details,
http://www.douglasenewton.com/default.html
.
NEW RELEASES
It's back!! Always a favorite, this fun summer sipper is full of the flavors of fresh Bartlett pears (just in time for the Pear Fair) and beautiful night-blooming jasmine. Slightly sweet in style, this wine is pool and picnic ready...just throw it in the ice chest!
Currently available at our tasting room in Clarksburg.
2009 Chardonnay, California
This wine shines of green apple and pear, tropical pineapple and some toasty spices of nutmeg and cinammon. It's like Grandma's apple pie, resting on the counter to cool. Pair this wine with nearly anything...!!!
Available at restaurants and retailers nationwide.
2008 Petite Sirah, California
Our heritage varietal is known for its trademark inky, jammy qualitites, and this vintage is no exception! Blueberries, boysenberries and a bit of black pepper get wrapped up by a light blanket of toasty vanilla oak.
Available at restaurants and retailers nationwide.
FOR YOUR CALENDAR...July events!
Saturday, July 17th 1pm-4pm
Taste of the Delta Delta Chamber & Visitor's Bureau
Windmill Cove Marina, Stockton, CA
Saturday, July 24th 1pm-5pm
Winery of the Day--California State Fair
Cal Expo Fair Grounds, Sacramento, CA
AND DON'T FORGET>>>
Sunday, July 25th 9am-6pm
The 38th Annual PEAR FAIR www.pearfair.com Courtland, CA featuring wines of the DELTA!
WE COULDN'T DECIDE, SO HERE'S A WHOLE MEAL...

RACK OF LAMB

with Lavender Balsamic Marinade
This is such an easy option for your summer dining! The longer you marinate the meat, the more flavor! And the veggies...just pluck them out of your garden! (Serves 4)
4 racks of lamb, with 3 cutlets each
3 tbsp fresh lavender, chopped
1/4 cup balsamic vinegar
3 tbsp olive oil
2 tbsp lemon juice, fresh
Salt & pepper
A handful of fresh lavender sprigs
Cooking instructions:
In a large baking dish, sprinkle the lamb with the shallots, chopped lavender, salt & pepper.
Mix the vinegar, oil and lemon juice and pour over the lamb. Cover tightly and refrigerate for up to 4 hours.
Prepare your grill to medium-hot temperatures. If you are using a charcoal grill, scatter the fresh lavender over the hot coals.
Cook the lamb for about 15-20 minutes, turning once and basting with the marinade. Use a meat thermometer to test for your desired doneness.
Remember to let the meat rest a few minutes before serving. This give you time to make dish number 2!!
SUMMER VEGETABLES
with Yogurt Pesto
Ingredients:
2 small eggplant For the yogurt sauce
2 large zucchini COMBINE:
1 red bell pepper 3 tbsp pesto
1 yellow bell pepper 1 cup plain yogurt
1 fennel bulb
1 red onion
Olive oil
Salt & pepper
Cooking instructions:
Cut the eggplant into 1/2 inch slices. Sprinkle with salt on both sides and let sit on papertowels for 10 minutes. Brush off the salt and pat dry well.
Cut the zucchini in half lengthwise and cut the peppers in half, removing the stem and seeds.
Slice the fennel and onion into thick wedges.
Brush all the veggies with olive oil and season wtih s & p before placing on the hot grill.
Turn occasionally until the veggies are golden brown and tender. Serve immediately with the yogurt pesto.
PINEAPPLE WEDGES
with Rum Butter Glaze Ingredients:
1 medium pineapple
2 tbsp dark brown sugar
1 tsp fresh grated ginger
4 tbsp melted butter
2 tbsp dark rum
Cooking instructions:
OUR WINE SUGGESTIONS:
Start your meal with the 2009 Chardonnay, then have the 2008 Petite Sirah with the lamb. Finish with the pineapple paired with the 2009 Moscato or 2008 Riesling. Enjoy!!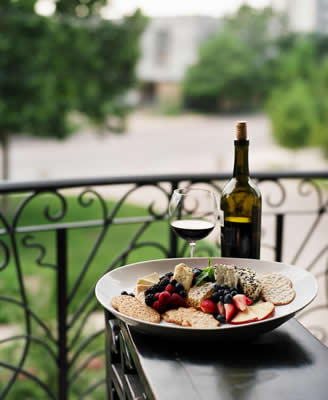 **Have a great recipe or wine pairing you'd love for us to know about? Please send it along to us at info@boglewinery.com!**