BANDWAGON BULLETIN BOARD
MAY 2010 SHIPMENT
WILL CALL MEMBERS
Deadline for pickup :
July 12
HOLIDAY CLOSURES
NONE THIS MONTH
...OPEN DAILY!!
BRING A PICNIC AND ENJOY OUR SUNNY LAWN AREA!!
Greetings!
Summer is right around the corner and it sure snuck up on us!! Are you ready for barbeques, pool parties and fun in the sun? Here's to a great and relaxing summer...wherever you may be!
Cheers,
The Bogle Family & Staff
THE VINEYARD VIEW
With June upon us, the vineyards are really hitting high gear! Though the weather has been unsettled much of this spring, including a fierce storm that swept through last week, our vineyards have avoided much shatter, or cluster damage. This damage to the clusters as they are just forming is most commonly caused by heavy rain, wind or hail at a most inappropriate time. So far, everything is looking great. Winemakers are hopeful that the beginning of summer will be marked by warmer temperatures, allowing the clusters to grow and the grapes to develop those rich, concentrated flavors. Just another example of how farmers and vintners are at the mercy of good ol' Mother Nature!
PATTY BOGLE RETURNS HOME
The Bogle family and staff are very happy to announce that Patty Bogle has returned from Houston, Texas after receiving treatment at MD Anderson Cancer Center. Patty is currently in remission from a recurrence of her leukemia, and will spend the next few months recovering quietly at home. She has plenty to keep her busy: visiting with her children and grandchildren, working on the family archives and enjoying time at the ranch. The entire family and staff is grateful for her return, and thanks all of you for your well wishes the last few months!
NEW RELEASES
2009 Chenin Blanc, Clarksburg
Clarksburg has long been known as a remarkable place to grow Chenin Blanc. Crisp and refreshing, this wine begins with a surprising touch of fresh anise on the nose. Richer flavors of stone fruits like peaches and apricots balance the mouthfeel, while the soft and supple texture integrates the palate all the way through the honeyed finish. Perfectly balanced acidity will allow the wine to pair well with cheeses, spicy Asian foods or other light fare.

The Chenin is currently available in the tasting room in Clarksburg, but it won't be for long. Most of this wine, already small in production, is sold internationally.
FOR YOUR CALENDAR...tis the season!
Friday, June 4th 5pm-8:30pm
25th Stockton Rotary Club Tasting benefiting Stockton Rotary
Micke Grove Park, Lodi, CA
Saturday, June 5th 4pm-7pm
The Grape Escape benefiting SCVB programs
Cesar Chavez Plaza, Sacramento, CA
Sunday, June 6th 3pm-6pm
A Celebration of Wine
benefiting CSUF Viticulture & Enology
Rancho Vista Del Rio, Madera, CA
Tuesday, June 8th 6pm-9pm
SACTO Spring Mixer benefiting SACTO
Gateway Tower, Sacramento, CA
Saturday, June 12th 6pm-9pm
Wine at Town Center benefiting Rotary Club of El Dorado Hills
Town Center, El Dorado Hills, CA
Saturday, June 12th 6pm-10pm
The Fling and Sing benefiting Cathedral of the Blessed Sacrament Cathedral of the Blessed Sacrament, Sacramento, CA
Sunday, June 13th 2pm-5pm
Delta Traditions Wine & Art Fair benefiting Walnut Grove Church
Ryde Hotel, Ryde, CA
Friday, June 25th 6pm-9pm
8th Annual Wine, Beer & Food Tasting
benefiting Elk Grove Lions
Elk Grove Regional Park Pavillion, Elk Grove, CA
Saturday, June 26th 5:30-8:30pm
King of Feasts benefiting Sacramento Zoo
Sacramento Zoo, Sacramento, CA
ASIAN INSPIRATION...
SZECHWAN SHRIMP
The majority of our Chenin Blanc is sold in the Asian arena, as it pairs so well with the sweet spiciness of Asian cuisine. This dish has been adapted from a version served in Hong Kong. To adjust the heat for your preference, use more or less of the red pepper flakes. (Serves 4)
1 lb large shrimp, peeled & deveined
2 cloves garlic, minced
1 tsp red pepper flakes
1 tbsp fresh, grated ginger
1 tbsp soy sauce
1 tbsp rice wine vinegar
2 tbsp honey
1 tbsp ketchup
1 tbsp cornstarch
3 tbsp water
1/4 cup sliced scallions
Cooking instructions:
Heat a large skillet or wok to med-high heat. Add one tbsp vegetable oil.
Salt and pepper the shrimp and add to hot pan. Sauté one minute on each side, or until shrimp turns just pink. Remove from heat and reserve.
In the hot pan, quickly sauté the garlic for one minute. Add the next 6 ingredients, from pepper flakes to ketchup. Reduce heat and cook for about 5 minutes, until all flavors are incorporated.
In a small bowl, mix the cornstarch and water. Pour into the skillet, stirring constantly, until the sauce becomes thick and bubbly.
Return the shrimp to the skillet, tossing to coat. Remove from heat and garnish with the scallions.
Serve as an appetizer or as a main dish over rice.
OUR WINE SUGGESTIONS:
The acidity of the 2009 Chenin Blanc will cut through the sweetness and spice of this dish.
Our
2008 Merlot
would also be an excellent companion.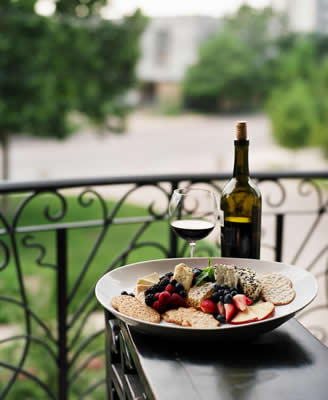 **Have a great recipe or wine pairing you'd love for us to know about? Please send it along to us at info@boglewinery.com!**