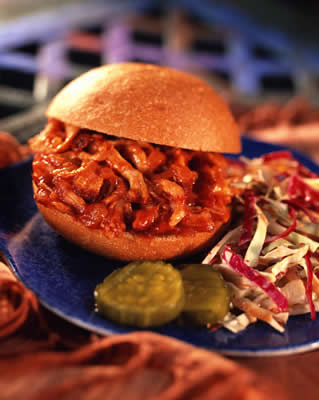 Nothing is better than coming home to the aroma of dinner - DONE! - in your kitchen. Serve this pork dish with hot biscuits or pile on the plate, Southern-style. (Serves 6-8)
Ingredients:
3-4 lb pork butt roast, bone-in or boneless
1 cup yellow mustard
1 cup sugar
1/2 cup brown sugar
1/4 cup cider vinegar
1/2 cup red wine vinegar
2 Tbsp chili powder
1 tsp black pepper
1 tsp white pepper
1 tsp cayenne pepper, or more, to taste
1 Tbsp soy sauce
1 Tbsp liquid smoke
Cooking instructions:
Season the pork roast with salt and pepper. Place in your slow cooker. (TIP: using non-stick cooking spray inside the cooker before use will help aid clean-up later!)
Combine the remaining ingredients, whisking well, and pour over the pork. Set the slow cooker to the 8-hr setting. Try to turn the meat twice throughout the day, but if you can't, no big deal.
When finished, the meat will literally be falling off the bone. Remove the large pork pieces from the cooker and place on a cutting board. Using two forks, shred the pork, removing any fatty portions and discarding the bone. Return the shredded meat to the cooker and mix with the sauce.
Serve with rolls and traditional coleslaw, and don't forget the red wine! Mmmm.