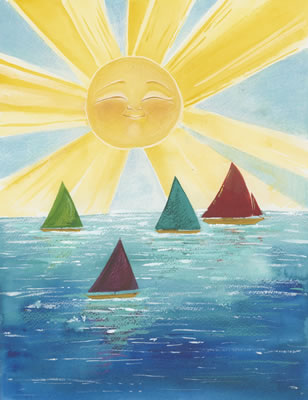 Greetings!
Hope you are well and enjoying the remnants of summer and sunshine. Soon it will be fall and we will find ourselves adjusting to what the next season brings.

What are your favorite fall activities? Football? School activities? Car rides with the top down? Planning a vacation in cooler weather? Soaking up as much sun and water as possible before the weather changes? Slowing down? Christmas shopping? Planning holiday events?

Regardless what your plans are for this next season, don't forget the simple things. Have fun, laugh a lot, smile often, give hugs, offer comfort, lend a hand, call a friend, walk barefoot in the grass, run in the rain, take a walk, pray, slow down, eat ice-cream, watch a sunset, listen to music, go to a movie, write a love letter, lighten up, take a nap, bake cookies, pet a dog or cat, take a bubble bath, get a manicure, ride a bike, put a puzzle together, smell flowers, light scented candles and acknowledge yourself for being who you are and who you are becoming.

You can add your own ideas but whatever you do, share some of these activities with someone you care about and carpe diem (seize the day)!

Check out a work in progress website that I am developing for online tools and resources. Visit it often as I am updating content and products daily. This site will be a compliment to my main site, http://www.empoweringpotential.com
I invite you to join me as your partner in possibilities in your life!
Love & hugs,
Denise
985-860-8861 (cell)
denise@empoweringpotential.com
www.ahamassageclinic.com/Life_Coaching
What beliefs, judgments, attachments, interpretations or moods are keeping you hostage in Fear and Anxiety?
What are you resisting?
How would your life be different if you could learn to let it all go?
Partner with me as we bring more of your light to the world!
I am your partner in possibilities! Contact me to take the next step in creating a life you love.
denise@empoweringpotential.com or (985) 860-8861
Living Fully Expressed - 6 week tele-seminar beginning Wed., Oct. 5
click course title for details
Awaken To Your Untapped Energy and Potentia

l
-

Oct. 8, 2011


click course title for details
Healing Your Heart - click course title for details
Best Year of Your Life - click course title for details
Contact me to explore what might be next for you!
I have a limited amount of appointments available for individual coaching. Call or write now to secure your spot!
Denise - 985-860-8861
What Is Take Shape For Life?
Creating health, starting with weight loss
Optimal Health is a whole new approach to well-being that is based on creating health with the Take Shape For Life Program. Three unique components- your Health Coach, the Medifast 5 & 1 Plan, and the Habits of Health-create the foundation and long-term support that will guide you along your journey.
Start by losing up to 2 to 5 lbs per week, quickly and safely
Learn the Habits of Health that can create health for a lifetime
Become a part of a thriving Bio-Network of Clients and Health Coaches who are taking back America's health and wellness
How is Take Shape For Life different?
Take Shape For Life starts with making the decision to get healthy-now.
Achieving a healthy weight is the first step in along the path to Optimal Health. The Take Shape For Life program offers you a free personal Health Coach who will guide you as you lose weight on the Medifast 5 & 1 PlanŽ, by using the clinically proven, doctor-recommended, portion-controlled nutrition of Medifast Meals. Along the way, your Health Coach will share with you the Habits of Health that can help you to make the choices that will allow you take charge of your health for the long term. Reaching a healthy weight is just the beginning-there is much more to come.
The Path to a Longer, Healthier Life
Take Shape For Life really is "for life." We offer much more than just fast, safe, effective weight loss; it's your key to better health. Through the Habits of Health, you learn a healthier way of living. You also get the continuing advantage of personalized one-on-one coaching from a Health Coach, who can keep you on course to help you achieve the results you desire.
Choose Optimal Health today, and become a part of the Take Shape For Life Bio-Network and the thriving, vibrant, grassroots movement of Health Coaches, Health Professionals, and Clients who are redefining the path to health and well-being.
The Solution
Take Shape For Life is a company committed to taking back America's health, one person at a time, through:
High-quality, portion-controlled nutrition with Medifast Meals
Free one-on-one support from a Health Coach
Learning The Habits of Health that help you achieve long-term Optimal Health
The infrastructure of an ethical, financially sound, publicly traded company (NYSE: MED)
The ongoing support of the Bio-Network-a community of doctors, nurses, dietitians, and other health professionals, along with Health Coaches-who are working together, sharing information, and inspiration with one another
Call me at 985-860-8861 or
Click here for more information!
Click Here for an updated Calendar of events for 2011
Your partner in possibilities
in your next step!

Visit my website, www.empoweringpotential.com for additional partnership, coaching and consulting opportunities.
My interview with POV Magazine

Empowering and Inspiring People to Reclaim Their Authenticity,
Wholeness
and
Potential, Moment by Moment


Denise Palmisano, CICP
Certified Integrative Coach Professional
985-860-8861
denise@empoweringpotential.com