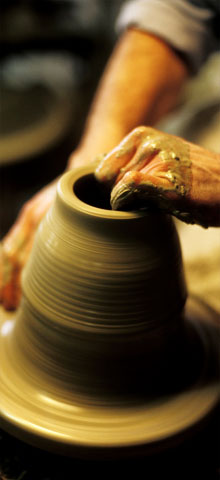 Greetings!
I appreciate you stopping by. Sit back, relax and just imagine a world of possibilities within your reach. What does it feel like to breathe that in?

My message today is simple and direct, "you are the potter of your life". You, your life situations, people and the universe are constantly moving, changing, transitioning and evolving. Where we will all end up is yet to be known. However, you don't have to sit around and just let it go by. You have choices along the way and those choices will mold your future. You can take responsibility for shaping your life into one with no regrets, no incompletions and a sense of purpose.

I heard a story one day that went something like this. Two friends were discussing regrets of risks not taken and something still missing in their lives. One guy asks the other guy what's one thing that you have always wanted to do? His friend replies, I have always wanted to play the piano but I can't do that now. Do you know how old I will be by the time I learn to play the piano? His friend replies, the same age you will be if you don't.

Action is the one thing that is necessary for anything different to be a possibility.

How will you feel when you let another 6 days, 6 months or 6 yrs go by without taking ACTION in the areas that matter to you?

You are not alone. Here are some opportunities to support you in creating a life you love.

Highlighting:
Companion Coaching Relationship, An Individual Call to Action
The Next Step

- This is a

6 month course within a

group setting that will support you in creating an intention and purpose filled life. Within the structure of this course, you will have ample time and practice as we introduce, develop, design and integrate skills that will have you become more connected in your relationships and more engaged, available and fulfilled in your life situations and circumstances.
Scroll down to The Next Step section below for further details on this course.
The AHA section for a Community Connections gathering in Houma, Aug. 22.
Love & hugs,
Denise
985-860-8861
denise@empoweringpotential.com
www.empoweringpotential.com
www.ahamassageclinic.com/Life_Coaching

My Brand New Service
A Call to Action:
From Convenience to Commitment

Ready to turn up the abundance, integrity, passion & rigor in your life?

Have your dreams, goals and desires become more of a

Fantasy than a Reality?

Are you settling for what's comfortable, convenient & complacent?

Join me in a Companion Coaching Relationship.

This is as real as it gets.



Introducing
:
8 criteria for Total Well-Being

4 exercises that transcend old programming

5 questions to keep you on track

Be careful what you wish for, you just might get it!
I have had lots of people call or write to say, "I wish you were here". You have also expressed
interest in my workshops, coaching and products. I am bringing it all to you. That's right!
If necessary, I will come to you, regardless of where you live, work or play as you go about your daily life in your personal, group, corporate or social interactions.

I will be beside you, every step of the way to support you and hold you accountable.

Your very own, ON-SITE personal and private coach, mentor and teacher. I will work with you to design thoughts, words and actions that bridge the GAP from where you are to where you say you want to be. We'll turn the current Gap into a

Guided - Action - Plan

to ensure your success!

Distance is NO excuse. I trust there are highways, airways or waterways that will make this possible.

Limited spaces are available.
Call or write to discuss a package that works best for you.

YOU HAVE THE POWER to reinvent yourself moment by moment. ARE YOU READY to experience how good it could really be - TO BE YOU?

The Next Step:

A six month journey of
Creating an Intention & Purpose Filled Life


YOU HAVE THE POWER to reinvent yourself moment by moment. ARE YOU READY to experience how good it could really be - TO BE YOU?
Save the Date! September 18, 2010
The Journey begins
You will experience compassion for your complexity and marvel at your magnificence. Are you ready to take THE NEXT STEP?



This education promises to:



increase your capacity for new action
update & enhance your listening, communication and relationship skills

increase your competence in the area of knowing and trusting what is important to you

bust through your limitations

end the people pleasing, avoidance of conflict, attention seeking and playing small in life games

clean up the past
clear the clutter in your thoughts, words and actions

have you be better equipped to accept and embrace your ongoing, natural, imposed and designed evolution and transformation.
Click here to be directed to the webpage details.



Testimonials:



I've had individual coaching sessions and various workshops with Denise and though the titles might have changed the intense learning that takes place within has not. Denise has a special gift for uncovering the "layers" that we bring to these workshops and guides us to the true, authentic being that we all strive for. She accomplishes this in a genuine, loving manner that makes everyone feel safe and secure.


- Tommy Sledge,

June, 2010

At the crossroads of retirement and wondering what is next for me, both Female and Fabulous and the Next Step courses granted me the peace and excitement of exploring , a knowing trust and guidance to be the wonder that I am.


-Sonja Pitre, NBCC Counselor, Ontological Coach




In person, individual and group coaching: Houma, LA

Visit me at: AHA Massage Clinic and Salon

6270 West Park Ave
Houma, LA 70364
985-872-4266

www.ahamassageclinic.com/Life_Coaching
Book your 30 minute or 60 minute session today!

Call 985-872-4266 to schedule an appointment

.

Click here for details
You are Invited to attend our Open Awareness Group



August 22 from 2-5pm at AHA Massage Clinic.



Please R.S.V.P. to Denise@empoweringpotential.com

We are inviting people to fellowship, speculate and learn. If you know of anyone else that might be interested, please invite them to attend. There are no course pre-requisites. This is an inclusive not exclusive community of people interested and committed to personal growth and community connections.



Topic for discussion TBA.

Refreshments will be served.
YOU HAVE THE POWER to reinvent yourself moment by moment. ARE YOU READY to experience how good it could really be - TO BE YOU?

Click Here for the current Calendar of events for the remainder of 2010

I want to be your partner in possibilities in your next step!


Visit my website, www.empoweringpotential.com for additional partnership, coaching and consulting opportunities.

Empowering and Inspiring People to Reclaim Their Authenticity, Wholeness and Potential

Moment by Moment


Denise Palmisano
,

CICP
Certified Integrative Coach Professional
985-860-8861
denise@empoweringpotential.com
www.empoweringpotential.com
Facebook
Twitter
Linkedin