Greetings!

Hope you are well. I can't believe we are already a week into June. Temperature wise, it feels like it is the middle of summer. Please take every precaution to stay hydrated and cool. You wouldn't want to ruin your summer plans by needless consequences from over exposure. Don't forget the hats and sunscreen.

I know the temptation is to cram every minute of daylight with activity. I am inviting you to be present in the moment by moment experiences as you play, relax, rejuvenate, refresh and reconnect with yourself and others. Before you know it, summer will be over and it would be great to have sealed in that which was meaningful and important to you.

Don't let these couple months just end up as a bad memory on the credit cards or in your physical exhaustion. Make this summer a conscious choice not a consumerism casualty.

Have a safe week.



Love & hugs,
Denise
985-860-8861
denise@empoweringpotential.com
www.empoweringpotential.com
www.ahamassageclinic.com/Life_Coaching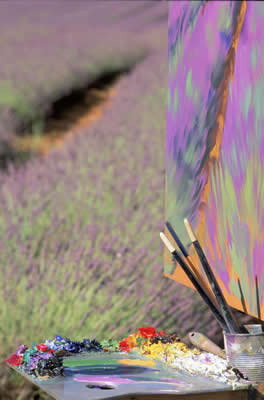 Creativity: Connecting to your confidence and clarity

by Denise Palmisano


When I saw this photo, I felt a sense of calm and connection. I was immediately transported back to when I was in 6th grade taking an oil painting class. The teacher encouraged us to just paint what we saw. She meant, translate what we saw in the pear on the table with our paints onto the canvas. She didn't say paint the pear exactly as it is on the table. Or, at least that's how I listened what she said. I don't remember any judgments on her part that we missed the mark on capturing the actual size or color of the pear. That obviously wasn't the point of her class. That was my first experience that I can trace back to a moment of creativity, confidence and clarity. Can you connect to your first expression of creativity? What did you feel when you brought an experience from the inside to life on the outside?

I experienced freedom and acceptance. There weren't any rules or confines to what could emerge. It was an invitation to allow the experience of how I was moved to be captured in the colors and strokes that I used. What a feeling! I knew what I felt and that confidence had me engaged and alive. I didn't have to sensor or stress over what colors I used or what it was supposed to look like. This was both light and fun as well as deep and authentic. Imagine that, even to this day, I associate fun with freedom and acceptance. In the state of creating, possibilities are unlimited. I am able to connect to me and to the outer world. My authenticity is a demonstration of my confidence and clarity of what is wanting to be brought forth. I don't have to explain it, justify it or make excuses for it. Creativity is me inside out.

So, for me, my first canvas probably wouldn't have won an award but it opened my eyes, heart and soul to listen for the stirrings deep inside wanting to emerge. My experience was enough to teach me that within each of us is a stirring, a yearning. There is something inside of you wanting to be brought forth, born, created, demonstrated, exhibited, presented, illustrated, etc.

It might be an idea, a concept, a recipe, art, woodworking, sculpting, painting, sewing, knitting, drawing, building, creating a new game with the kids, photography, building a model car, landscaping, designing a house, public speaking, teaching, mentoring, writing a book, poetry, taking piano lessons, etc.

What is that stirring and yearning inside of you? What could you do this week to bring forth your freedom and acceptance to pour out an expression of your creativity, confidence and clarity?



We are all born with curiosity. Reclaim your desire to discover, play, create, dream and experience your heart and soul's desire. The world is waiting for your authentic expression!



I would love to hear what you created! Drop me a line at denise@empoweringpotential.com


Time Sensitive Offers in June

Visit me in person for individual or group coaching @ AHA Massage Clinic and Salon in Houma. Click here. Please visit AHA Massage Clinic's business page on Facebook.
Please check the website www.empoweringpotential.com often for updates.

I hope you will join me on this journey. Let's co-create the future!!! I want to be your partner in possibilities in Your Next Step!


In person, individual and group coaching: Houma, LA

Visit me at: AHA Massage Clinic and Salon

6270 West Park Ave
Houma, LA 70364
985-872-4266


www.ahamassageclinic.com/Life_Coaching
Book your 60 minute or 30 minute session today!



Call 985-872-4266 to schedule an appointment or to sign up for the new group beginning in July

.

Click here for details
YOU HAVE THE POWER to reinvent yourself moment by moment. ARE YOU READY to experience how good it could really be - TO BE YOU?
I Ain't Settlin

: Awakening & co-creating authentic, dynamic
and lasting relationships

Join us for 2 days of conversations and exercises that will allow you to:

Update & enhance your listening, communication and relationship skills
Discover what your heart longs to experience in your relationships

Trust yourself to make choices and take actions in alignment with your heart's desire

Declare standards and boundaries
Clear the clutter and energy from past relationships

Open the space for new relationships to evolve
Design new life, energy and passion into existing relationships
If you are serious about experiencing peace, joy, love, acceptance, passion and fulfillment in your relationships then you won't want to miss this exploration into the HEART and its basic human need to experience love.



This course is for singles and couples.



Click Here

for the June 26 & 27 course details.






Click Here for the current Calendar of events for the remainder of 2010

I want to be your partner in possibilities

in your next step!


Visit my website, www.empoweringpotential.com for additional partnership, coaching and consulting opportunities.

Empowering and Inspiring People to Reclaim Their Authenticity, Wholeness and Potential

Moment by Moment


Denise Palmisano
,

CICP
Certified Integrative Coach Professional
985-860-8861
denise@empoweringpotential.com
www.empoweringpotential.com
Facebook
Twitter
Linkedin