Greetings!

Summer is already here. I hope you are looking forward to spending quality time with your children, family and friends. Whatever your plans are for the summer, be sure to include lots of fun, play, relaxation and rejuvenation. Now is the time to make memories with those that you love. Before you know it, they are either grown or gone. Make this summer one to cherish!

Now is also a great time to heighten your attention to safety on the highways and waterways since more children, teenagers and adults will be out and about riding bikes, golf carts, motorcycles, skateboards, roller blades, swimming, boating, etc.

Also plan for protection from the elements. Don't forget the sunscreen, hats, adequate footwear, life jackets, outer wear, gear, first-aid kits and lots of water to stay hydrated.

So while you probably won't see me on a skateboard or a motorcycle this summer, you will see me expanding my connections with my family, friends and community. That is what I cherish and look forward to.

Keeping in alignment with that and what is important to me, I have lots of new opportunities in store for the summer and fall that are sure to enhance your life experiences and the quality of your relationships. Be sure to read the rest of this newsletter for details and check the website often for updates.

I hope you will join me on this journey. Let's co-create the future!!! I want to be your partner in possibilities in Your Next Step!



Love & hugs,
Denise
985-860-8861
denise@empoweringpotential.com
www.empoweringpotential.com

Ready, Set, ?

by Denise Palmisano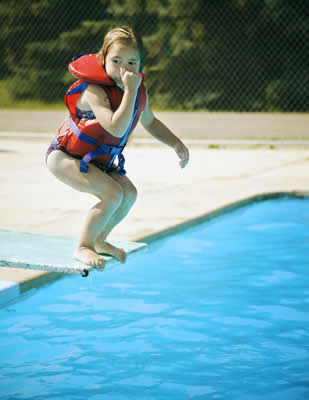 What do you think is going through her mind right now as she prepares to jump? Do you think she will jump? Do you think she will change her mind and not jump? What do you think her experience will be if she jumps? What do you think her experience will be if she backs off of the diving board and doesn't jump?



Imagine that's you on the end of that diving board.

Think of a situation in your life as though you are on the edge of that diving board with a choice to either jump or turn around and back away from your original plan or commitment. What do you think you will experience in that situation if you moved forward? What do you think you will experience if you back away and don't move forward?

What are your thoughts telling you to do or not do? What are the beliefs that are controlling those thoughts? When or where did you take on those beliefs? Whose beliefs are they? Are those beliefs enhancing your possibilities or limiting them? What would be available if you were to challenge those beliefs and trust yourself to choose your own beliefs about this situation?

Are you going to take a leap of faith and trust yourself to handle whatever comes up whether you jump or not in the situation
being shown to you?
Are you making up a story that not jumping means that you have backed away from what is important to you or that you are a failure?

Regardless of what you do, you will have an experience and a story about your choice and about yourself that will either enhance or limit your future possibilities in future situations. There is no right or wrong answer here.

To be able to surrender the fear of not being able to handle the outcome regardless of the choice is the work at hand.

You see, I don't think we are afraid to jump. I think we are afraid of our reaction or response to what happens after we jump. The invitation is to choose to stop making every situation a problem and choose without fear or regret.

I suggest that getting clear on what is important to you will have your choices be experienced with more peace and acceptance.

Remember to take this one step at at time, moment by moment. Staying on the fence and not choosing is a recipe for suffering. I remember a quote, "Nothing happens until something moves". Either way, get off the fence, then you will know what step is next.



What would you need to know, learn, request or experience for you to be at peace and in acceptance of your choice to jump or not jump in this situation?



What will you choose in this situation? Ready, set, ?





Security is mostly a superstition. It does not exist in nature, nor do the children of men as a whole experience it. Avoiding danger is no safer in the long run than outright exposure. Life is either a daring adventure, or nothing.

-Helen Keller

In person, individual and group coaching: Houma, LA

Visit me at: Aha Massage Clinic and Salon

6270 West Park Ave
Houma, LA 70364

Office hours will begin in June.
Wednesdays - 10:00am - 7:00pm
Thursdays - 9 am - 6:00pm

Book your 60 minute or 30 minute session today!



Call 985-872-4266 to schedule an appointment or to sign up for the new group beginning in July

.

New Group Program to begin in Houma in July:

I am starting a new group session that will meet twice a month on the 2nd and 4th Monday of the month from 7:00pm to 9:00pm. A 3 month commitment will be required to maintain the energy, integrity and learning of the group dynamics.
This meeting is open to people that
;
have a desire and commitment to enhance a particular area of life

are interested in being in conversation about transition or change

are currently experiencing challenge, setbacks or difficulty moving through limitations and blocks of energy, focus or discipline

want to create a network of support and accountability.
Some common areas of concern are health and well-being, relationship with self, relationship with others, money, intimacy, spiritual awareness, moods and emotional well-being, dignity, self-trust, wholeness and career.

What might be possible in your own life if you truly believed that you had the power and potential to create a life you love and an abundance of possibilities through the transition, change and challenges in your life?

YOU HAVE THE POWER to reinvent yourself moment by moment. ARE YOU READY to experience how good it could really be - TO BE YOU?


Click Here for the current Calendar of events for the remainder of 2010


I Ain't Settlin

: Awakening & co-creating authentic, dynamic
and lasting relationships

Please join us for 2 days of conversations and exercises that will allow you to:

Update & enhance your listening, communication and relationship skills
Discover what your heart longs to experience in your relationships

Trust yourself to make choices and take actions in alignment with your heart's desire

Declare standards and boundaries
Clear the clutter and energy from past relationships

Open the space for new relationships to evolve
Design new life, energy and passion into existing relationships
If you are serious about experiencing peace, joy, love, acceptance, passion and fulfillment in your relationships then you won't want to miss this exploration into the HEART and its basic human need to experience love.

Click Here

for the June 26 & 27 course details.





The Shadow
Effect!
Reclaim and enhance the Relationship with Yourself as you step into your power, find your voice and express yourself.

June 12 & 13, 2010

-

A two day course

- Click here for details on the course I will be facilitating regarding the human shadow. Awakening to Your Untapped Energy and Potential at The Red Shoes in Baton Rouge, LA.

Call the Red Shoes, 225-338-1170 to register.





June 21, 2010

-

Book Club

-

Details to follow.

A facilitated conversation of the book, The Shadow Effect with me, Denise Palmisano.

See book details by clicking here




Community Connections

Click on the blue link below for details.
Community Connections - Free Monthly study-share-support gathering



Baton Rouge

- First Wednesday of the month 7-9pm, The Red Shoes



Lafayette

- location and date TBA



Houma

- Aha Massage Clinic - date TBA

YOU HAVE THE POWER to reinvent yourself moment by moment. ARE YOU READY to experience how good it could really be - TO BE YOU?

Visit my website, www.empoweringpotential.com for additional partnership, coaching and consulting opportunities.

Empowering and Inspiring People to Reclaim Their Authenticity, Wholeness and Potential

Moment by Moment


Denise Palmisano
,

CICP
Certified Integrative Coach Professional
985-860-8861
denise@empoweringpotential.com
www.empoweringpotential.com
Facebook
Twitter
Linkedin