About Finn Financial Group
The Finn Financial Group is a full-service, specialty planning firm with a commitment to ensuring the long-term financial stability of its clients. We believe this can best be achieved through a stream of guaranteed , tax-advantaged payments carefully tailored to each individual's specific needs. Our diligent work has resulted in a long list of satisfied clients across all lines of advocacy and a high degree of trust.
Finn Financial Group, LLC
260 Newport Center Drive, Suite 100
Newport Beach, CA 92660
Phone:

949.999.3322
Cell:

949.274.5485
Fax:

949.999.3375
E-Mail:
[email protected]
Website:
www.FinnFinancialGroup.com
CA Insurance License: 0A96173
"With a friend at hand you will see the light
If your friends are there then everything's all right"
- Elton John, Bernie Taupin -
Way back in the dark ages of communication, prior to 2004, people kept in touch in all sorts of ways that seem almost quaint by today's standards.
They wrote letters, made phone calls, even sent emails.
But as you might have noticed, much of what we grew up thinking we knew about keeping in touch has changed. In case you have been in a cave these past few years, much of the change has been driven by this little guy:
In 2004, Facebook was launched.
To say it has changed the way people keep in touch is more than a slight understatement. As the automobile did to the horse and buggy before it, iPhones, texting and social media seem poised to replace many of the more traditional ways of keeping in touch.
And for a traditional guy like me who once said of the Internet, "This thing's a joke! It'll never work," I've decided to not take the same chance with this particular technological advance.
Thus, I'm writing to make sure I let you know about our newest method of keeping our clients informed. Not surprisingly, it's called:
While we will still maintain our current e-newsletter to keep you abreast of topics of interest in your personal and professional lives, you will find our Facebook posts to be more succinct, yet more wide ranging, enabling you to focus easily on those topics of particular interest to you.
So please take a moment to visit our Facebook page and
, to ensure you receive the regular updates, let us know you "Like" us by clicking the "Like" button on our firm's home page. And please let us know if you have a page also that we may reciprocate!
I hope you like our Facebook page as much as we like providing you with valuable content you'll find interesting and helpful. I look forward to your feedback since we exist only to serve our customers.
Wishing you continued success and goodwill in the year ahead, thank
you for the opportunity to be of service!
Our Services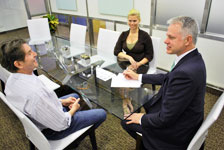 The Finn Financial Group provides customized, guaranteed future income options and ancillary services to a variety of clients throughout the United States. We pride ourselves on our commitment to the overall financial well-being of the individual. For a greater understanding of the services we provide, click on your area of interest.