About Finn Financial Group
The Finn Financial Group is a full-service, specialty planning firm with a commitment to ensuring the long-term financial stability of its clients. We believe this can best be achieved through a stream of guaranteed , tax-advantaged payments carefully tailored to each individual's specific needs. Our diligent work has resulted in a long list of satisfied clients and a high degree of trust.
Finn Financial Group, LLC
260 Newport Center Drive, Suite 100
Newport Beach, CA 92660
Direct:

949.999.3322

Toll Free: 800.531.7466

Cell: 949.274.5485
Fax:

949.999.3375
E-Mail:
[email protected]
Website:
FinnFinancialGroup.com
CA Insurance License: 0A96173
A Conversation with:

Laura Tarbox, CFP
Top American Financial Planner Discusses Her Views on

Structured Settlements and Fixed Annuities
For more than 30 years, Laura Tarbox has distinguished herself as the kind of financial planner many other financial planners aspire to be like. Regularly ranked among the "Best Financial Advisors" in the country by
Worth
magazine and earning similar plaudits from other respected publications, Laura heads
The Tarbox Group
, a prominent wealth management firm in Newport Beach, California.
Highly regarded for her client-centric practice which purposely limits the number of clients
it services and employing a holistic, personalized team approach to client advising, she and her team of fee-only financial advisors commit themselves to helping their clients achieve optimum financial success.
We sat down with Laura recently to discuss her views on fixed annuities in general and structured settlements in particular.
DAN FINN: Many financial planning professionals fail within just a few years of starting in business. What's been the key to your tremendous longevity and success?
LAURA
TARBOX:
From the very start, I made a commitment to focus 100% of my energy on servicing the clients I had, not spending time soliciting clients I didn't have. This, along with the addition of some highly talented team members who share this focus, has resulted in an amazingly high client retention level.
DAN FINN:
I'm assuming your clients run the gamut in terms of risk tolerance. Where do fixed term annuities fit into your practice?
LAURA TARBOX: Besides the obvious situation where a client simply prefers guaranteed lifetime income from a highly secure life insurance company, we serve as trustees for some fairly substantial estates. Some of those clients develop estate plans calling for children, grandchildren, spouses, partners, nieces, nephews, etc. to receive a fixed cash flow each year upon the death of the grantor. In these instances, it's generally more cost-effective to the client to arrange for the purchase of an annuity to meet this goal. Plus it's pretty easy! Absent the annuity, we'd need to constantly monitor and manage assets in a smaller sub-account or trust, which can be very inefficient.
DAN FINN:
But couldn't you make more money if you did manage the sub-account?
LAURA TARBOX:
Perhaps. But if the annuity is a better choice, then it's a better choice. It's all about doing what's right for the client and helping them accomplish their financial goals.
DAN FINN:
This speaks volumes since, as a fee-only financial planner, you might recommend annuities even though you don't make any money when annuities are purchased?
LAURA TARBOX:
That's correct! We are paid by our clients and ONLY by our clients to provide objective financial advice. When we recommend annuities, it's because the annuity makes the most sense in that particular situation.
DAN FINN: Switching to Structured Settlement annuities for a moment, what would you say to anyone presented with an opportunity to enter into one of these arrangements?
LAURA TARBOX: Naturally it would depend on the situation and the unique goals of each person but generally speaking, structured settlements are an excellent opportunity for those who qualify. It's hard to beat guaranteed income that is 100% income tax-free. Especially when coupled with the security of a highly-rated life insurance company the Risk/Reward Ratio is very attractive.
DAN FINN: We hear this less frequently since the "Great Recession" began but historically people might reject a structured settlement offer because they viewed themselves as being "very sophisticated about money" and felt they "could do better" on their own. What's your reaction to comments like these?
LAURA TARBOX: Regardless of one's level of financial sophistication, it's extremely rare to find anyone who can't benefit from some form of guaranteed income. Even if for no other reason than diversification. At our firm, we manage accounts for some very high net worth clients who view themselves as extremely sophisticated about money. Yet most would jump at the chance to receive guaranteed tax-free cash flow with tax equivalent yields on par with historical stock market yields. For people in the highest possible tax bracket every year, tax-free income becomes even more desirable. These clients likely wouldn't structure all of their recovery. But for the secure portion of their portfolio, a structured settlement would seem a very sensible choice for most.
DAN FINN: So, depending on the client and the circumstances, you think structured settlements make sense?
LAURA TARBOX:
They definitely make sense! I don't think anybody wants to suffer a personal, physical injury just to qualify for tax-free income but for those who have been injured and are offered a structured settlement, they should think long and hard before passing on the opportunity.
DAN FINN:
You've been an outspoken critic of variable annuities throughout your career. Do you still feel the same way?
LAURA TARBOX:
I do. The merging of investment vehicles with an insurance product seems, in theory, like a sensible idea. But when you analyze most variable annuities, it becomes apparent there are better ways to accomplish the goals they purport to help clients achieve.
DAN FINN:
How so?
LAURA TARBOX:
Well, for starters they're loaded with fees that seem to never end. Fees on fees on more fees! But to what end? That's the question no one has ever been able to answer to my satisfaction. If one needs insurance, they should buy insurance. If one chooses to invest in the market, they should invest in the market.
DAN FINN:
You're not alone in your thinking among your peers on this subject apparently.
DAN FINN:
So you're not anti-annuity per se? Just anti-annuity that tries to be something more than a traditional annuity?
LAURA TARBOX:
That's right. Unfortunately, the bias against variable annuities has clouded people's judgment about the fixed annuities we're talking about.
DAN FINN:
Any final thoughts?
LAURA TARBOX: Fixed annuities are an appropriate choice for many situations. Fixed Structured Settlement annuities are particularly attractive for a whole host of reasons. The tax advantage is good. They're simple to understand. They're secure. And because they contain no hidden management fees or expenses, they're a good deal.
DAN FINN: A good note to end on. Thank you for your time, Laura. Best wishes for continued success!
LAURA TARBOX: Thanks, Dan. It's been a pleasure.
To learn more about Laura and The Tarbox Group, visit her website at
TarboxGroup.com
. For additional information or for help with a structured settlement or fixed term annuity, please call to let me know how we can help.
Thank you for the opportunity to be of service!
Dan Finn, CPCU, CSSC
Certified Structured Settlement Consultant
Our Services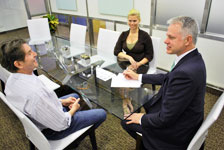 The Finn Financial Group provides customized, guaranteed future income options and ancillary services to a variety of clients throughout the United States. We pride ourselves on our commitment to the overall financial well-being of the individual. For a greater understanding of the services we provide, click on your area of interest.