Hope by
Emily Dickinson
Hope is the thing
with feathers
That perches in the soul,
And sings the tune--without the words,
And never stops at all,
And sweetest in the
gale is heard;
And sore must be the storm
That could abash
the little bird
That kept so many warm.
I've heard it in the chillest land, And on the strangest sea; Yet, never, in extremity, It asked a crumb of me.
Food For Thought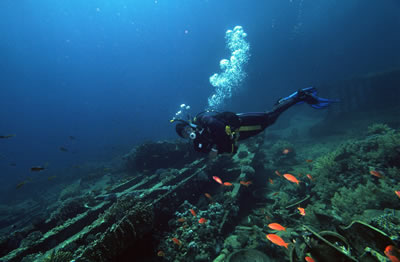 "We don't drown from falling in the water. We drown from staying there."

Anonymous

If circumstances cause us to stay in the water for a bit before rescue comes, we need to be smart about it. Find the tools, support and knowledge we need to survive. The scuba diver does not intend to live in the water forever. He is just a visitor to this strange place. And you will not live in this land of cancer forever.
Your job is to survive it.

You can do that.

You must first believe that you can do that.

Welcome to our 1st issue of Illuminate

We are so excited to be bringing you our very first issue of thehoptree.com newsletter, Illuminate. We chose this name because of its association with seeing things more clearly. In order to see more clearly we need knowledge. And there is no better way to learn than from the stories of others who have traveled the path ahead of us.
Every month we will feature a new Guest Author who will share their experiences along this journey with cancer as they search for hope and encouragement. We are so honored to open our first newsletter with the story of Liz Adamsom. Click on the block to your left to read her amazing story of not just surviving cancer, but thriving with cancer.
As part of our evolving monthly format, we plan to bring you sources of new research into the science of hope as scientists around the world repeatedly prove the link between hope and healing. There will be a section listing books we have read and recommend. We will also take you to areas of thehopetree.com website that you may be aware of yet. This month we feature the Scinece of Hope page - rich in information and resources about the real world research driving this movement around the globe. We will also showcase one symbol a month from The Hope Tree TM to help you become more familiar with all 48 symbols on the sculpture. This month, we feature the Lotus.
The high-calling of offering hope and encouragement is our mission on thehopetree.com and it remains our mission here. Let us hear from you about what inspires you and what you would like to see next!
My best to you all,
Guest author, Liz Adamson
Liz Adamson is an amazing woman from Ohio who has decided to thrive while fighting cancer - not just survive. Between chemotherapy treatments she is putting finishing touches on her one-woman show about this very subject. A soon to be released video of her remarkable performance brings her story to life in a way that inspires us all to make the most of every day - no matter what our challenges may be.
Continue reading Liz's story in her own words.
Laughter really is the best medicine . . .

We have all heard for years that laughter has healing powers. Now there is proof. Research projects through out the world continue to confirm the fact that laughter releases healing chemicals to our organs and tissues which encouraging healing These chemicals also signal our brains that it is safe to be hopeful and positive - both precursors to hope.


Featured Hope Tree Symbol: Lotus
It is in the muck and the mire of the pond bottom that the roots of this impossibly beautiful flower - the symbol of enlightenment in many cultures - finds a way to thrive. Indeed, this plant needs the muck and mire to grow properly. In addition to providing nourishment, this unlikely environment helps the lotus blossom regulate its temperature in order to attract insects that it needs to reproduce.
Much like illness providing us with a seemingly impossible environment in which to grow, we look to the lotus as a symbol of hope that great beauty and life will come from adversity. It is in fact a by-product of that adversity. The great Desmond Tutu tells us: "Suffering is indispensable to glory."
The lovely petals on the lotus flower open to accept light, moisture, air and life giving insects that will let it live for many generations. In much the same way that we must find a way to open ourselves - even amid the muck of mire that cancer creates - to the life giving nourishment of love and hope offered by others.
Click here to learn more about all 48 symbols of hope on The Hope Tree sculpture.


There are many fine authors out there who have written very inspiring books about the power of hope and encouragement. Every month we will recommend several that we find to be exceptional.

Click on the titles below and go directly to amazon.com for detailed information, reviews about the book and the author plus the ability to place orders.

The Anatomy of Hope by Jerome Groopman, MD

It All Begins With Hope by Ronna Jevne




IN OUR NEXT ISSUE,
find out how Jason LaGrange and his family are doing . . .
In our November 2011 issue of Illuminate we will hear from Guest Author, Jason LaGrange. You have all asked so often for an update and at long last, here it is. Jason fills us in on how he and his family are doing since the filming of The Amazing Story of The Hope Tree where we all grew to love them following the passing of his wife and the children's mother, Crystal. Hope is still a very important part of their lives.
This issue also showcases another symbol from The Hope Tree: Community. We will then delve into new research into the science behind the power of hope. And look for more book recommendations too.
We'll see you then!
Contact Info
Carol Jeanotilla
303-646-2500