Upcoming 2011
Events
Lexington Public Library
Jul/26/11 6:30pm (Tue)
Lexington, KY

ImageNation FREE Outdoor Film and Music Festival
Jul/28/11 8:30pm (Thu)
New York, NY

Mountain View
Aug/26/11 7:00pm (Fri)
Mountain View, CA

Places to get the What's On Your Plate? book
506 Clement Street (at 6th Avenue), San Francisco, CA 94118


4315 E Mississippi Ave, Denver, CO 80246


16 North Main St, Kent, CT 06757


671 Sun Valley Road, Ketchum, ID 83340


1301 E 57th St, Chicago, IL 60637


455 Southland Drive, Lexington, KY 40503


3564 Clays Mill Road, Lexington, KY 40503


408 Southland Drive, Lexington, KY 40503


620 Old Santa Fe Trail, NM 87505


Did You Know?
Bullfrog Films is our educational and community-based distributor, contact Stephanie Miller for info.
Dear Friends of WOYP?,
In this issue:
* Baker & Taylor helps get WOYP? book into stores
* Summer Screenings
* Rachel for FIRST LEGO League team interviews Sadie
* Our featured recipe from the WOYP? Book

And more...
Baker & Taylor


distributes WOYP? the book
Baker & Taylor is a leading distributor of books, videos, and music products to libraries, institutions and retailers.
We are proud to announce that they now distribute What's On Your Plate?, the book. Please tell your local book buyer to get the book on their shelves! If you are a bookseller, please call 800 775 1800 to place your orders right away.
Summer Screenings
Summertime outdoor screenings like the one in Harlem on July 28th are are especially nice for city dwellers. It gives everyone a great opportunity to go outside when the night is cooling down after the sunsets. Please check our sidebar on the left for details and links for other summer screenings. If you would like to host your own summer time movie night, it's not too late! Please contact Stephanie Miller of Bullfrog Films to schedule your summer screening.
Rachel and FIRST LEGO League
In late June we were approached for an interview by a very smart girl named Rachel who is working with three other girls on a FIRST LEGO League team who are working on a Food Factor problem for the Global Innovation awards. Rachel and Sadie exchanged some ideas through an email interview and we'd like to share one clip:

Rachel: Did filming the movie change the way you eat at home or where you buy your food?

Sadie: Filming the movie changed eating at home a little, but it mostly affected the way I eat when I'm not at home. I definitely feel like I make better eating choices when I'm just hanging with my friends than when I'm at home, because I see what other people are eating. When you see what foods you could be eating, and then see that you made the healthiest choice, that definitely puts it in perspective.

We wish Rachel and her team 4th Motor much luck in their application and hope that Sadie and Safiyah's stories can help along the way.
Featured Recipe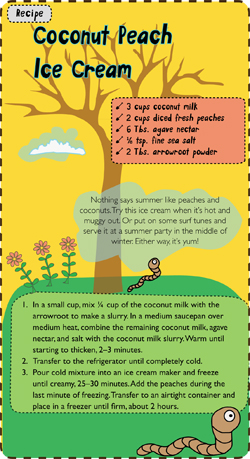 Here is our Coconut Peach Ice Cream recipe (click for the .pdf) which we're sharing with you as a thank you for being a loyal newsletter follower.

Since it's just so hot out and peaches are in season, we thought we would share a little project that the whole family can enjoy. This ice cream is featured in the dinner party at the end of the film - you can see Caleb putting it all together with Bryant Terry.

This is one recipe out of many in our book. If you like this one, pick up a book to find many more! Also, you can kee looking forward to more featured recipes in future newsletters.
What's On Your Plate? Wants To Get Social With You


Did you know that we have a Facebook Fan page? And a Twitter account? Stay up to date by following What's On Your Plate? there!

We also keep a YouTube channel and Flickr photostream. Let us know if you want to contribute your pictures to these collections!
Keep It Cool As A Cucumber in July!
Enjoy your CSA and local produce in high season this month!
All the best of the season
Cat, Mary, Tanya, and Rosie
ADVISORY COUNCIL:
Kate Adamick Dan Barber Chef Ann Cooper
Judith Helfand John S. Johnson Van Jones
Jonathan Kevles Anna Lappé Katrina T. Monzón
Raj Patel Kim Perry Michael Pollan Robert Saken, M.D.
Anna Deavere Smith Bryant Terry Alice Waters Aaron Woolf