Upcoming 2010
Screenings
Apr/16/11 7:30pm (Sat)
Los Altos Hills, CA
Did You Know?
Bullfrog Films is our educational and community-based distributor, contact Stephanie Miller for info.
Dear Friends of WOYP?,
In this issue:
* The WOYP? Book is available in local bookstores and Amazon.com.


* The WOYP? Second Edition Curriculum is coming out!


* The NYC Angel Family veggies are available this summer, sign up with The Neighborhood School CSA


* Our first featured recipe from the WOYP? Book

And more...
The What's On Your Plate? Book is available in stores near you!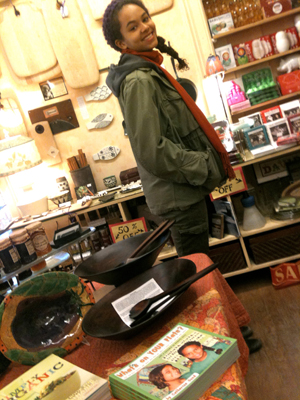 Sadie at The Heron
Our book is already available at these local booksellers!
16 North Main St, Kent, CT 06757
1301 E 57th St, Chicago, IL 60637
993 Lexington Avenue, New York, NY 10021
2 W. 14th Street, New York, NY 10011
200 5th Avenue, New York, NY 10010
126 Franklin Street, Brooklyn, NY 11222
1920 NW Lovejoy Street
, Portland, OR
97209

Check our book webpage for daily updates. If you don't see your local seller, please ask them to carry it, or send us their name and we'll offer our materials.
Coming Next Week...
The What's On Your Plate?
* Improved and Updated *
Second Edition Curriculum!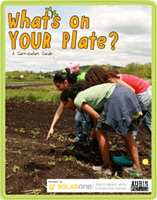 We've updated our curriculum! The second edition of our classroom companion to What's On Your Plate? is available in our shop now.
Our second edition of the curriculum was improved by collaborating with middle school teachers in Ohio and Wisconsin. We have expanded the activities, up-to-date text and lesson plans.
Our curriculum will be available for shipment at the end of March, so get your orders in. If you know of a classroom in need of What's On Your Plate? please tell them to contact us or let us know, and we'll make sure to get in touch with them.
In the Shop:
bundle packages of WOYP? stuff

Can't decide whether to get the WOYP? DVD or the book? A T-Shirt or a pack of WOYP? buttons? You don't have to, because they are now available in bundle packages. You can buy the book and the DVD together for $39.95, or get the Home Bundle, with the DVD, the book, a T-shirt, a pack of buttons and Olivia the Onion for $69.95! Woah! It's all available online at our shop!
The NYC Angel Family Farm CSA is accepting new contracts



The Neighborhood School CSA set up after the film with the Angel Family featured in the film is accepting new member agreements for their third season.

The CSA pickup is at the Neighborhood School on 3rd Street in New York City. If you are interested in joining our CSA group this year, please email Kristy at

[email protected]

.

Also, please check out The Neighborhood School CSA's blog, for regular updates on events, recipes, and ideas.
Featured Recipe


Here is our Salmon a la Julie recipe (click for the .pdf) just for you to thank you for being a loyal newsletter follower. This is one recipe out of many in our book. If you like this one, pick up a book to find many more! Also, you can look forward to more featured recipes in future newsletters.
What's On Your Plate? Wants To Get Social With You



Did you know that we have a Facebook Fan page? And a Twitter account? Stay up to date by following What's On Your Plate? there!

We also keep a YouTube channel and Flickr photostream. Let us know if you want to contribute your pictures to these collections!

March Forth!
We're really looking forward to springtime at Aubin Pictures!
All the best of the season
Cat, Tanya, Mary, Kristy, and Nate
ADVISORY COUNCIL:
Kate Adamick Dan Barber Chef Ann Cooper
Judith Helfand John S. Johnson Van Jones
Jonathan Kevles Anna Lappé Katrina T. Monzón
Raj Patel Kim Perry Michael Pollan Robert Saken, M.D.
Anna Deavere Smith Bryant Terry Alice Waters Aaron Woolf