November 2010
Screenings
Nov/07/10 1:30pm (Sun)
Lima, PA


Nov/09/10 6:00pm (Tue)
Eugene, OR


Nov/10/10 7:30pm (Wed)
Selinsgrove, PA
Nov/20/10 11:00am (Sat)
Deerfield, IL
Nov/21/10 5:00pm (Sun)
Saratoga Springs, NY
Did You Know?

Bullfrog Films is our educational community-based distributor, contact Stephanie Miller for info.

Dear Friends of WOYP?,
In this issue:
* The WOYP? Home DVD is available!


* We Wrote a Book!

* Buy your WOYP? gift bundles!

* WOYP? has screened in 41 states!

And more...
What's On Your Plate? on DVD
We're thrilled to announce that the DVD is available for home use for $24.95. You can buy your own copy on our website, Bullfrog Films,
Amazon
,
in select stores nationwide, and stream it on
Netflix
. After you've watched the film, please post reviews on Amazon or Netflix. We appreciate your help spreading the word! Please consider buying DVDs for all of your friends and family! It's the perfect holiday gift.
You can also buy the DVD on our website:
We Wrote a Book!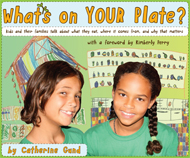 Our

What's On Your Plate?

book includes stories, activities and recipes for all ages. It is now available for pre-order through our website. Priced at $19.95, the book is 120 pages of kids and their families talking about what they eat, where it comes from, and why that matters. We even have a foreword by Kimberly Perry. It makes a great holiday gift!


It's Cold Outside, Bundle Up!

We have an assortment of bundle options in our store: DVD and Book for 39.95, if you're looking for just the right WOYP? holiday gift to give, our home bundle is our best value and includes a DVD, Book, t-shirt, stuffed onion, and a set of buttons- excellent stocking stuffers, all for $69.95. Check out everything in our shop.
What's On Your Plate?
has been screened in 41 U.S. States, plus Washington D.C.!
We're so excited! But let's not stop there. We want this whole great nation to hear what Sadie and Safiyah and all the amazing people in the film have to say.
The only states where the film hasn't been publicly screened are:
Delaware
Hawaii
Louisiana
Missouri
Nebraska
Nevada
New Mexico
South Dakota
Wyoming
So if you live in one of these places, or know anyone who does, please help bring WOYP? there!
What's On Your Plate? Wants To Get Social With You


Did you know that we have a Facebook Fan page? And a Twitter account? Stay up to date by following What's On Your Plate? there!

We also keep a YouTube channel and Flickr photostream. Let us know if you want to contribute your pictures to these collections.

ADVISORY COUNCIL:
Kate Adamick Dan Barber Chef Ann Cooper
Judith Helfand John S. Johnson Van Jones
Jonathan Kevles Anna Lappé Katrina T. Monzón
Raj Patel Kim Perry Michael Pollan Robert Saken, M.D.
Anna Deavere Smith Bryant Terry Alice Waters Aaron Woolf