June 2010
Screenings
Today 7:30pm (Tue)
New York, NY
Today 7:30pm (Tue)
New York, NY
Jun/27/10 7:00pm (Sun)
Reading, PA
Did You Know?

Bullfrog Films is our educational community-based distributor, contact Stephanie Miller for info.

Dear Friends of WOYP,


In this issue:
* HuffPo interviews Sadie and Safiyah!

* CSA Season 2 kicks off

* Hollywood Reporter interviews Director Catherine Gund

* Baum Forum in the Bronx

* Let's get Social

And more...
What's On Your Plate? In The News!


Paul

a Crossfield recently interviewed Sadie and Safiyah for an article that was published both in Civil Eats and on The Huffington Post. The article is wonderful and has a nice mention of the Angel Family. Check out the article

here!

Angel Family CSA 2010 Season



We've started our second season of the Angel Family Farm CSA at The Neighborhood School. The first shares went out on June 15th. For this year, they've added eggs and fruit shares to pickups! Get your protein and pectin from the Angels!


Women in Film share WOYP? experience in Hollywood Reporter
The Hollywood Reporter interviewed Catherine about the Women in Film Finishing Fund outreach grant that we received last summer. Please see the full article here.
Bronx Baum Youth Forum 2010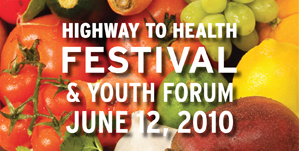 On June 12, 2010 What's On Your Plate? came to the Baum Youth Forum, Highway to Health in the Bronx. It was a beautiful day and we were happy to see everyone there. Despite some technical difficulties, we had a great discussion with the kids in the audience about community gardens, local food and improving school lunches. Thank you to all who attended!

Sadie and Safiyah Q&A on YouTube


When What's On Your Plate? kicked off the Environmental Film Festival in March in Washington, DC, Sadie and Safiyah had a great Q&A with over 1,000 students after the screening. The questions and the answers are outstanding. Go kids go! Please check it out here!

What's On Your Plate? Wants To Get Social With You



Did you know that we have a Facebook Fan page? And a Twitter account? Stay up to date by following What's On Your Plate? there!

We also keep a YouTube channel and Flickr photostream. Let us know if you want to contribute your pictures to these collections!

June is here! CSA shares are coming!!!


The flowers are blooming and we've started adding compost to our window gardens!
Catherine, Tanya, Mary, Nate, and Cassie
ADVISORY COUNCIL:
Kate Adamick Dan Barber Chef Ann Cooper
Judith Helfand John S. Johnson Van Jones
Jonathan Kevles Anna Lappé Katrina T. Monzón
Raj Patel Kim Perry Michael Pollan Robert Saken, M.D.
Anna Deavere Smith Bryant Terry Alice Waters Aaron Woolf