Fetch Tickets Now
For National Dog Party Day!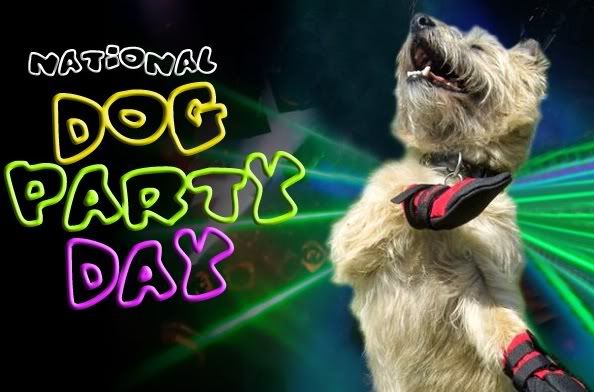 Book this date, bring your dog and get ready to paw-tee with a purpose! Games include K9 Karaoke, Tunnel of Love, Snoopy Says and much more. Tickets are $25 apiece and attendees take home gift bags valued more than double that plus have the opportunity to win mega prizes!
What are you waiting for? Space is limited and proceeds help three pawsome charities. Click here to the party site you plan to attend: New York City, San Diego or Miami.
The key people in Miami, New York and San Diego talk about the PAW-tee of the Year on a special episode of the Oh Behave Show on Pet Life Radio. Tune in now by clicking HERE.
And a special salute to our top dog sponsors Beneful, PetSmart and Pets Best Insurance. Take well deserved (play) bows!
Learn more by visiting National Dog Party Day. Support this cause by becoming a Facebook Fan of the National Dog Party Day by clicking HERE and tell your pet pals!
Be a Facebook Fan of Zeki the Cool Cat!
Arden's cool cat, Zeki is inviting all feline friends to become fans on her Facebook page. Please just dash over to Zeki the Cool Cat and hit the LIKE button. Zeki travels all over America with Arden at pet expos, speaking events and as the only cat in the Pet Tech pet first aid program. She happily allows Arden's pet first aid students wrap her in a towel, check her pulse and practice more hands-on skills - asking only for low-sodium deli turkey meat in return.
Zeki survived a brutal knife attack as a young stray and now loves being a feline ambassador who enjoys meeting people and yes, even d-o-g-s! See the latest Zeki adventures by following her on her Zeki the Cool Cat Facebook page. Be the 15th person to email Arden with the code word, Zeki, and win an autographed copy of Arden's best-selling book, The Cat Behavior Answer Book. Talk about me-WOW!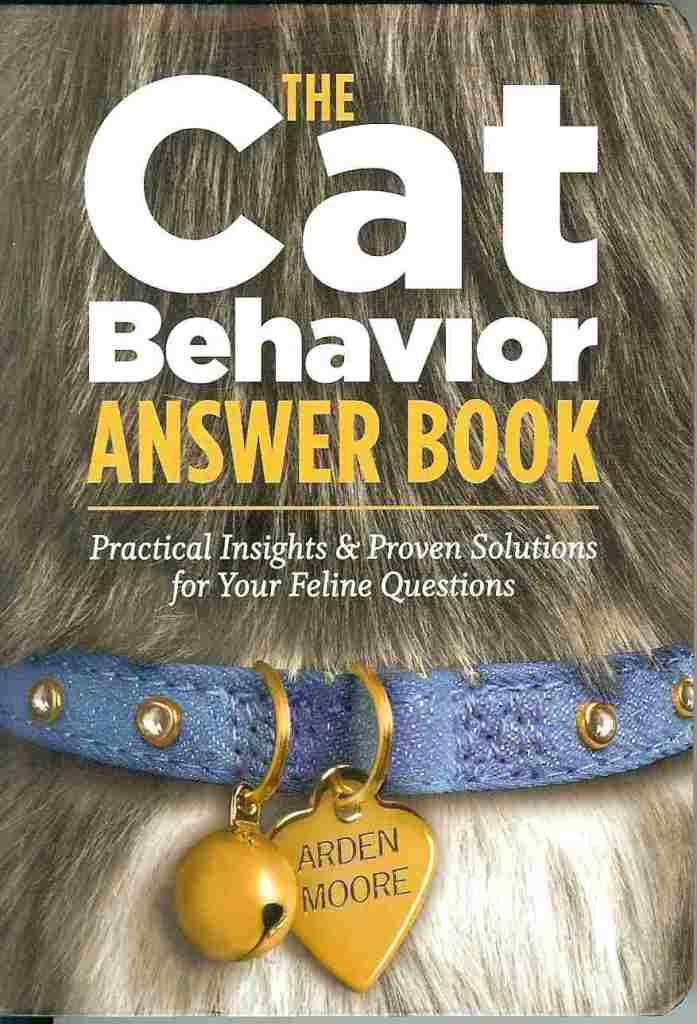 Tagg Keeps Tabs On Your Pet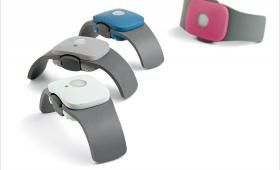 Keeping tabs on your dog has never been easier thanks to the sophisticated GPS tracking talents of Tagg™, the pet tracker. Even if your wayward dog made a splash in a pool or lake, the Tagg™ tracker is on the case, quickly notifying you of your dog's whereabouts on your smartphone or computer.
Congratulations, Margery Ohlson! You are the winner from last month's e-newsletter and will receive the Tagg™ master kit plus three months of service for your new pup! Tagg™ trackers will also be among the super special prizes being awarded at National Dog Party Day on June 22 in Miami, San Diego and New York City. To learn more about how Tagg gives you peace of mind, please click HERE.
What Your Dog Doesn't Want You To Know
Do toy breeds really enjoy purse rides? What's the real reason your Lab ate your sofa? Many coveted canine secrets, hopes and dreams are revealed in the new book, Things Your Dog Doesn't Want You to Know: Eleven Courageous Canines Tell All. Co-authors Hy Conrad and Jeff Johnson prove to be lively guests on Arden's Oh Behave Show on Pet Life Radio. Click HERE to catch their episode. And, be the 13th person to email Arden with the code word, Moonbeam, and win an autographed copy of this book that comedian Steve Martin delivered this paws-up review: "I laughed, my dog howled."
Dogs in the City!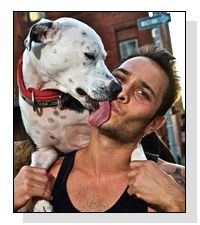 One out of every eight New Yorker proudly shares their home with a dog or more. The Big Apple needs help to prevent canine chaos and on the job is dog guru Justin Silver, host of the new CBS-TV Show, Dogs in the City that airs on Wednesday nights. Silver made a repeat guest appearance on Arden's Oh Behave Show on Pet Life Radio to discuss how he uses his canine charm, wit and NYC attitude to resolve issues between people and their pets. Click HERE to tune in and hear how he helped Beefy the bulldog and other clients - and be sure to catch his new show.
Updates on Actress Megan Blake and Super Smiley!
Actress and pet adoption advocate Megan Blake and her spokesdog Super Smiley are working on a feature film in North Carolina about the true story of Susie, the dog who was set on fire and inspired Susie's Law to protect animals. Susie, we are happy to report, has recovered and has a wonderful home.
Megan returns to the Left Coast just in time to lead attendees in a special Super Smiley Flash Mob at the National Dog Party Day event in San Diego on June 22 at Camp-Run-A-Mutt. Get ready to dance - for a grr-eat cause and learn more about Smiley by clicking HERE. Woof power!
Thundershirt for Cats!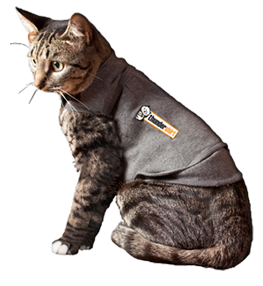 Following its success with restoring calmness in thousands of dogs, the makers of Thundershirt
have created a new version for cats. The feline Thundershirt applies gentle, constant pressure that calms cats when they feel anxious or fearful - like trips to the veterinary clinic or getting their nails clipped. Last month's lucky winner is Pat O'Shea!
This comfortable clothing works by applying gentle pressure that produces a calming effect on the nervous system. Got a cat who is easily scared? Be the 12th person to email Arden with the code word, Thundershirt, and you can be a winner! Learn more by clicking here www.thundershirt.com/cats.
Play It Safe - Enroll in a Pet First Aid Class!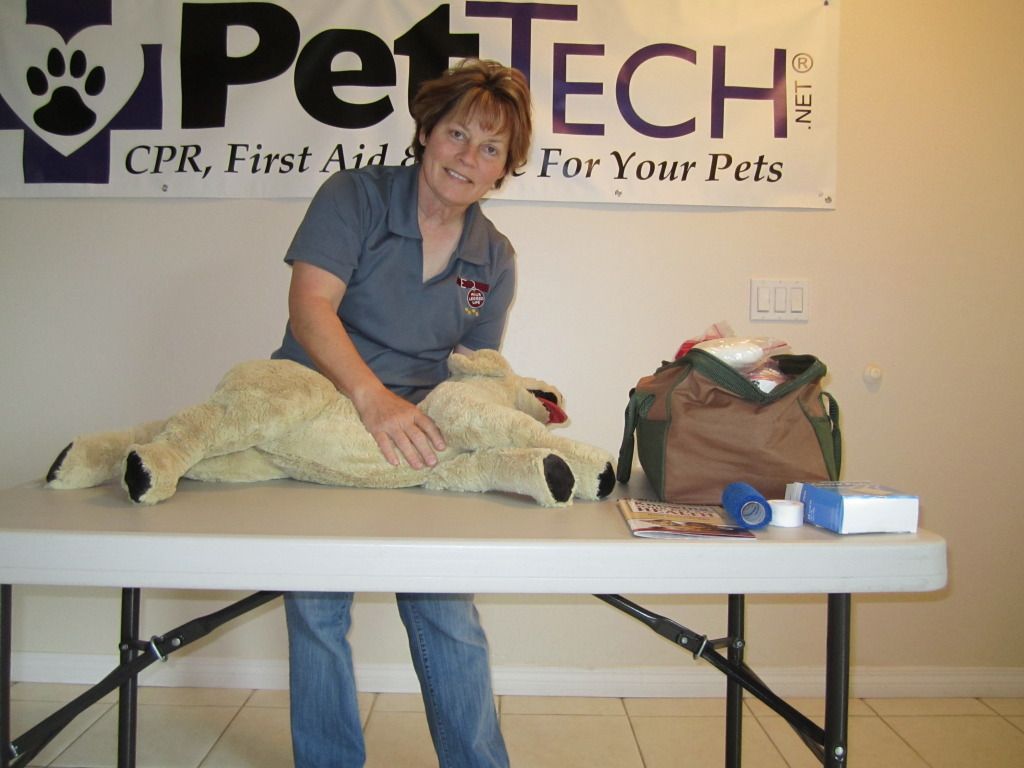 As a Pet Tech certified instructor, Arden Moore customizes hands-on training classes up and down the West Coast. With her tolerant four-legged "teacher's pets" - her dog, Chipper and her cat, Zeki - Arden recently conducted three classes at the Palm Springs Animal Shelter where staff, volunteers and board members earned two-year certification.
Sign up for a pet first aid, safety, CPR and wellness class by contacting Arden and by visiting her Pet First Aid 4 U site. Final request, please become a Facebook Fan of Arden's Pet First Aid site by clicking LIKE and asking your pet pals to join you - here's the link.
Winners of Dr. Marty Becker's New Cat Book!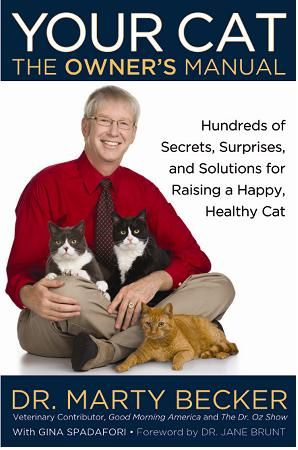 Famous veterinarian Marty Becker
is letting the cat (secrets) out of the bag in his latest book aptly called,
Your Cat: The Owner's Manual: Hundreds of Secrets, Surprises, and Solutions for Raising a Happy, Healthy Cat.
Dr. Becker is the spokesperson for Vetstreet.com
, the top website for veterinarian-reviewed pet-care info as well as the resident veterinarian on The Dr. Oz Show and veterinary correspondent for ABC's Good Morning America show.
Many of you vied to get your paws on his new book and the meow-va-lous winners are Kippy Greicar and Karen Payne. Congrats! For details on Dr. Becker, please visit his site.
Booda Designer Flyer Fetches a Winner!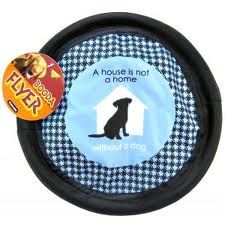 Congratulations Randi Schwartz! You fetched a Booda Designer Flyer toy from Petmate for your dog! This flyer, made from durable parachute material, not only flies, but also floats, making it ideal for land and water play. It comes in oodles of dog-themed designs, too. Way cool! Learn more about Petmate's grrr-eat lineup of pet products by visiting www.petmate.com.
Make Fleas Flee with DERMagic!
Take (play) bows, Tara Whitnah and Christi Cokely! You won DERMagic Flea Shampoo Bars for your pets! DERMagic bars contain certified organic ingredients handmade in the Pacific Northwest that contain the natural flea-killing power of diatomaceous earth. The makers of DERMagic Skin Care offer a line of bars and liquid shampoos and conditioners formulated to condition and hydrate the skin, fight bacterial microbes and fleas and ease tangles in coats. Learn more by visiting DERMagic
.
Let Arden 'edu-tain' you!
Looking for a professional speaker, MC or workshop leader for your next event - one guaranteed to "edu-tain" your audience? Arden is America's Pet Edu-Tainer™ She informs and delights audiences all over North America on pet trends, pet behavior, pet safety and more. Click HERE to book Arden at your next pet event!
Like what you see? Email Arden about creating an email marketing and social media campaign for your business or non-profit group!
Work WITH Your Dog on June 22!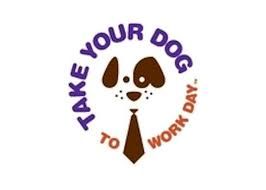 Here's your chance to have your canine share your cubicle - or other workplace. Pet Sitters International is sponsoring the 14th annual Take Your Dog to Work Day® on June 22! We bet work attendance will be sky high on this day because of the opportunity to work 9-to-5 with your canine pal. Why, a recent study by Virginia Commonwealth University researchers identified many health benefits acquired by having dogs in the workplace.
Since 1999, PSI has sponsored this special day to raise awareness for pet adoptions. Among some of the unexpected job sites planning to participate this year are 1-800-Got-Junk, Archdiocese of Anchorage, Georgia Department of Transportation and our personal favorite: Replacement, LTD - distributor of fine china in McCleansville, NC. Tone down tail wagging there, doggies!
Four Legged Life founder Arden Moore is happy to once again be a partner in TYWTWD. We invite you to sniff around the site and enter the TYDTWDay photo contest. Don't delay - enter today!
And, get into a fun work mood, by downloading the new PSI song called Take Your Dog To Work Day. Grab your dog, click HERE and get ready to dance, dance, dance!
Hanging 20 for a World Record!

Keep your paws crossed. A pack of dogs, including Arden Moore's gutsy terrier-miniature poodle mix named Cleo, will attempt to set a world record by having the most dogs on a surfboard riding the fetching waves of the Pacific on June 16. The record is hoped to be set on June 16 during the Coronado Bay Resort dog surf event.
Here is a photo taken by the amazing and talented Dale Porter of Killer Image during a recent practice surf run at the Del Mar Dog Beach. At one point, a dozen dogs, ranging in size from Nani, a Bernese Mountain Dog to little Cleo, successful rode in several waves. Famous surfer Scott Chandler has created a special surfboard for these dogs. With the aid of So Cal Surf Dogs, led by founder Peter Noll, Chandler hopes to not only shatter world records but also raise money for some worthy dog charities. Learn more about this group of dogs who love making a splash by clicking HERE. Hang 20 - to the nth paw power!
Sunscreen for Pets!

Make sure the summer is made in the (safe) shade for your pets by protecting from sunburns and the nasty UVB rays. Dr. Ann Hohenhaus, DVM, a veterinary oncologist, offers these tips:
Never use sunscreens that contain zinc oxide on your dog or cat. Zinc oxide is safe and effective on people but toxic to pets.
Dab pet-safe sunscreen such as Bullfrog

on the nose as well as the skin of pets with thin coats before heading outdoors.

Protect your dog's eyes in the glaring sun with canine rash guard shirts and visors that have UPF 50 and Doggles

, protective and stylish eyewear.
To learn more and see the complete story by Dr. Hohenhaus posted on Vetstreet.com, please click HERE.
Spotlight: Mark Winter - Pet Life Radio Producer

Each month, Arden spotlights people who make this planet a better place for pets and people. This month, she salutes Mark Winter, executive producer of Pet Life Radio
, the world's No. 1 pet podcast network with 50-plus shows.
Think of Mark as the Wizard of Oz, working quietly behind the scenes to produce a lineup of pet podcasts that cater to anyone who loves every kind of pet - from dogs, cats, birds to iguanas. Pet Life Radio is also a national media sponsor for National Dog Party Day and Take Your Dog to Work Day.
Never one to sit still, Mark recently unleashed a new animal television network called Chommmp! (yep, three m's in the word). Chommmp! Animal Television Network features high quality original pet and animal entertainment TV programming. Among the programs are Super Smiley Flash Mob, Kyra - Do More with Your Dog and Dogs Gone Wild. Sniff around Pet Life Radio and Chommmp! Paws up for all you do for pets and their people, Mark!
Booda Offers Three Giveaways!

Petmate
knows about how to offer safe toys for high-energy, need-to-chew dogs. That's why Petmate is offering not one, but three giveaways in this e-newsletter. Booda tug-o-rama twirl rope tug, Booda tug-o-rama single loop rope tug and Booda tug-o-rama double loop robe tug are up for grabs to the 4th, 8th and 12th persons who
email Arden
with the code word, Booda.
These durable Booda rope toys feature nylon and rubber to give dogs hours of chewing, tugging fun. Their rubber-coated loops and knotted ends also give dogs the option to play with each other or their favorite two-legger. Learn more about Petmate's array of pet products by clicking HERE.
It's a (Towel) Wrap, Kitties!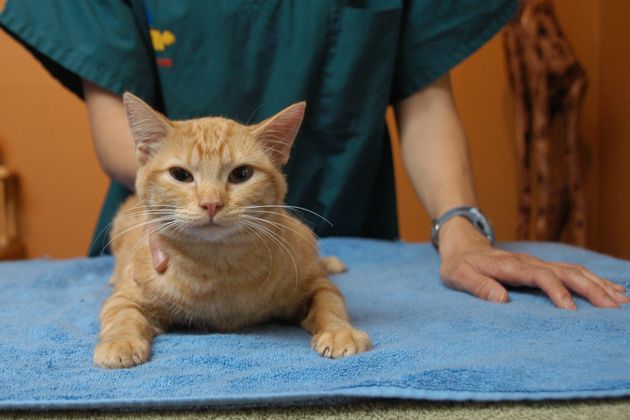 When you need to trim your cat's nails or give her medication, there's a common household item that can make the procedure go much more smoothly - and safely: a large bath towel.
Dr. Sophia Yin, DVM, a veterinarian and applied animal behaviorist, offers toweling tips to keep you scratch free, including:
Never rush or force your cat into a towel.
Position your cat on top of a towel that is on a flat surface.
Loosely wrap the towel over your cat's back while she eats.
To learn more and see an illustrated guide to using the 'scarf wrap' towel technique on a cat, please click HERE for the full article written by Vetstreet.com editor Arden Moore. Learn more about Dr. Yin by clicking here www.drsophiayin.com.
Lights, Cameras...Fascinating Pets!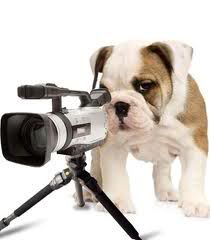 We're on the hunt for fun, funky and fascinating videos that spotlight cats, dogs and other animals. Please send your favorites to Arden
to share in the next issue. This month, the new pet website for cool and cute things called Crittr.com
offers this short video about a Chihuahua with a very special athletic talent whenever someone blows air in his face. Take a look HERE
. Don't worry, no harm was done to this Chihuahua. In the second video contribution from Critter.com, a determined kitten is trying to prevent his feline friend from enjoying a catnap. Take a look HERE
.
Cats Go Crazy for Ducky World!
Yeowww!
That's the buzz word often associated with Ducky World
, makers of paw-some catnip toys that truly
filled with the best organically grown catnip in the world that are sure to get your feline to yeowww with excitement!
Ducky World is treating you loyal feline fans by awarding not one, but three giveaways. Be the 5th, 10th and 15th person to email Arden with the code words, Ducky World, and win a set of three Yeowww! My Cats Balls prize.
Congratulations to last month's winners: Diane Smith, Tanya Stalker and Sandra Friedman. We will be connecting you with the dandy Ducky World team soon to arrange for your prizes to be mailed to you so your felines can put a capitol "F" in fun. Learn more about Ducky World by clicking here www.duckyworld.com.
Arden is Unleashed on America!


For "Mutts" More on Moore: