Don't be 'Ruff" with Planet Earth!
Fast-growing puppies love to gnaw and chew, but you don't have to sacrifice your left leather shoe or the arm of your sofa. Here's a win-win for your pup and Planet Earth - Petmate's Eco-Friendly puppy plush toys. Designed for pups and small dogs, the adorable lineup is made of 100-percent recycled stuffing on the inside and natural wool on the outside. Another bonus: machine washable to dash away the drool! Be the 5th person to email Arden with the words, plush toy, and you will score one for your pup.




Petmate also offers a second life for empty water bottles. Just slide over one of Petmate's series of squeak toys and viola - instant Booda® Squeakbottle™ - a toy that delivers the crunch of a water bottle and the squeak of a plush toy. Squeakbottles come in five sea-life characters. Be the 10th person to email Arden with the words, squeakbottles, and win one for your canine chum. Check out other grr-eat Petmate products by visiting www.petmate.com.


Vetstreet.com's Top Global Pet Expo Picks
Vetstreet.com unleashed its savvy team of editors and America's Veterinarian Dr. Marty Becker at the recent Global Pet Expo in Orlando. They scrutinized all the products on display and after much consideration, selected what they deem to be the top 15 pet products.
So, who made the cut? Curious as a cat to find out? Well, just click HERE and check out the slide show of honored products. And while you are on the site, click on some of the medical and behavior stories Vetstreet.com offers as well - for your pet's sake!
Zeki and Arden Talk C-A-T
With the aid of her charming rescue cat,
Zeki
, pet behavior consultant
Arden Moore
conducted two feline workshops at the new
Palm Springs Humane Society
for its staff, board members and volunteers. As Zeki strolled up and down the rows greeting attendees and agreeing to be wrapped in a towel, Arden discussed feline behavior and offered tips on how to distinguish ferals from strays. Learn more about this shelter and its mission by clicking
HERE
.
And speaking of fine felines, be the 9th person to
email Arden
with the code word, lobster, and you can win a new catnip-filled Lobster cat toy from
Petco
. Your tabby will bring out her hunter as she stalks and pounces on this soft toy that makes crinkle sounds and emits enticing catnip aroma. Learn more about pet products by visiting
www.petco.com
.
Ante Up for Animals, Please!
Like to play poker? Here's a sure bet. If you're in the New York area, head to the hot new restaurant on the Upper East Side -- DoppioSenso (between 84th and 85th streets) tonight at 7 p.m. and participate in the Ante Up for Animals fundraiser event. Revel in a night of poker, cocktails and hors d'oeuvres and help out a grrr-eat charity:
Last Chance for Animals.
Learn more by clicking
HERE
and more about LCA by visiting its site
HERE
.
Let Your Dog Eat Cake!
Sniff, sniff? What's that great smell coming from the kitchen that is making tails wag? Why, it is a new dog cake kit created by K9 Cakery. Designed for quick and easy baking of homemade dog treats, each kit contains ingredients to make 12 miniature cupcakes for dogs in either a conventional oven or a microwave. It also includes one package of Fido's Frosting mix made of all-natural yogurt.
Call it a canine cake bake off, but the three winners of free K9 Cakery dog cake kits are Jackie Starker, Christina Mastromatto and Dixie Patch. Can we say, dee-lish? Learn more about K9 Cakery by clicking HERE.
Allia Is All About Cats, Dogs and Prizes!
Author
Allia Zobel Nolan
is not only prolific (150 books and counting) but popular! Many of you vied to get your paws on autographed copies of her latest pet books. And, the lucky winners of her new feline book,
I'd Rather Be A Cat: The Official 'Better Than Dogs' Cat Book
, are
Lucia Colella-Yantosca
and
Leslie Galliker
. Winners of her new canine book,
Dog Confessions: Shocking Tales Straight From the Doghouse
, are
Corye Donham
and
Karen Lee Stevens
. Congrats to all! And, learn more about Allia by visiting her site:
www.alliawrites.com
.
Chill Out Doggy with A Hydro Bone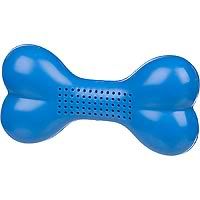 Here's a terrific toy for 365 days a year - it's the Hydro Bone Dog Toy available at Petco stores. Think of it as the ultimate chew and fetch toy for your canine pal. Made of molded rubber with a foam core, it absorbs and then squirts water out through its specially designed holes. Your dog will delight in this fun water game toy. Be the 11th person to email Arden with the code words, hydro bone, and win one for your dog. Learn more about Petco's vast toy lineup by visiting www.petco.com.
Spot Speaks Winners!


Renowned veterinarian
Nancy Kay, DVM
has quite a fan following. Many of you vied to win autographed copies of her two grrr-eat books. The winners are
Cathy Torres
for
Speaking for Spot: Be the Advocate Your Dog Needs to Live a Happy, Healthy, Longer Life
and
Barbara Fuscsick
for
Your Dog's Best Health: A Dozen Reasonable Things to Expect from Your Vet
. Congrats! And be sure to check out Dr. Kay's award-winning blog,
Spot Speaks
by clicking
HERE
.
Erik's Hope - A Real Page Turner!
Melissa Garvan, take a well deserved (play) bow! You are the winner of an autographed copy of the inspiring book, Erik's Hope: The Leash That Led Me To Freedom by authors Andrea Chilcote and Sara Burden. Arden wrote the foreword for this book. Andrea was a guest on Arden's Oh Behave show on Pet Life Radio. Listen to this episode by clicking HERE. Learn more about Erik's Hope by visiting www.erikshope.com.
Sign Up for Pet First Aid Classes
Calling all pet lovers and pet professionals! Show how much you truly love your dogs and cats by enrolling in a pet first aid class. Pet Tech certified instructor Arden Moore customizes these hands-on training classes up and down the West Coast. Sign up for a pet first aid, safety, CPR and wellness class taught by Arden and earn a certificate. Next class: Saturday, March 24 in Oceanside. Sign up today by clicking HERE. Depending on the class, you might get to practice your skills on Arden's very tolerant class aides: her dog, Chipper and her cat, Zeki! Register today by contacting Arden and visit her new pet first aid site called Pet First Aid 4 U. Play it safe - for your pet's sake!
Let Arden 'edu-tain' you!
Looking for a professional speaker, MC or workshop leader for your next event - one guaranteed to "edu-tain" your audience? Arden is America's Pet Edu-Tainer™ She informs and delights audiences all over North America on pet trends, pet behavior, pet safety and more. Click HERE to book Arden at your next pet event!
Like what you see? Email Arden about creating an email marketing and social media campaign for your business or non-profit group!
Saluting Going Green Friendly, Puppy Power and St. Paw-trick's Day!
St. Patrick's Day isn't exclusive for two-leggers. Include your cool cat and delightful dog in the festivities on March 17 when everyone becomes Irish - at least for a day. Looking for that lucky 4-leaf clover? Have your scent hound help you in the search! Forget kissing the Blarney Stone - get a smooch from your beagle!
Pet lifestyle expert
Wendy Diamond
shares a few savvy ways to enjoy a genuine St. Paw-trick's Day:
Turn your pet green - safely. If your dog is game for a temporary coat color change, use non-toxic, all-natural vegetable dye to make your white Poodle shimmer like a shamrock.
Drink responsibly. Enjoy a pint of Guinness while filling your dog's bowl with Bowser Beer, a non-alcoholic, non-carbonated drink treat. Learn more at www.bowserbeer.com.
Play Irish Dog Trivia. Stage a trivia contest and award a prize to the guest who can name the most dog breeds with Irish heritage.
So, how will the hounds and other pets celebrate this holiday? Click
HERE
to see a fun slide show of pets all across the country.
Paws Up to Puppies!
Nationally noted professional dog trainer Mikkel Becker brings out the best in pups of all sizes - and always in a positive way. Her advice: puppy training begins Day 1. In Vetstreet.com, Becker identifies five often-neglected training tips that can ensure your pup becomes a well-behaved adult dog.
Click HERE for the full article, but here's a sampling:
Prevent jumping up from the beginning. It's hard to resist a puppy jumping up to deliver kisses, but it's important to establish a "no jumping up to greet" rule from the start. Rather than coddling and hugging a puppy when he jumps up, simply ignore him until he has all four feet on the ground. If he knows from the very beginning that jumping up never earns attention, he will be less likely to thrust his paws on you as an adult.

Be careful what tricks you teach first. Whichever trick a dog learns first in training is often the behavior he will revert back to when he is confused or frustrated. Because of this, Becker likes to teach "sit" and "down" as foundation behaviors. Tricks to avoid teaching first: spin, jump, bark and shake.
Beneful Begins 2nd Dream Dog Park!
A lucky shelter rescue named
Honey Belle
inspired her owner, Jenny Wilson to enter the 2nd annual
Beneful $500,000 Dream Dog Park Contest
. Jenny's inspirational video on how to convert an average dog park in Alabaster, Alabama into a dream dog park proved to be the winning entry.
Arden
serves as pet behavior consultant for this annual contest and teams up with
Jason Cameron
, host of DIY network's Desperate Landscapes show.
Look for the official unveiling sometime this summer and be sure to visit
Beneful's
official site to learn how you can vie for a $500,000 Dream Dog Park in your town. Click
HERE
for details. Woof!
Spotlight: Singer Kellie Pickler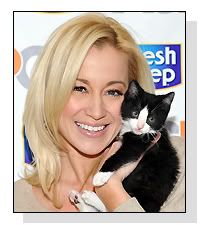 Each month,
Arden
spotlights people who make this planet a better place for pets and people. This month, she salutes country singing sensation
Kellie Pickler
. She has teamed up with
Fresh Step
cat litter to raise money during Cat Appreciation Month. And, like the title on her new album, this former American Idol finalist is "100 Proof" in her quest to be a true advocate for pets.
Kellie recently talked about all things feline - and canine-with Arden Moore on her
Oh Behave Show on Pet Life Radio
. She also did a little country crooning. Tune in and take a listen by clicking
HERE
. And find out more about how Kellie is raising money and awareness to benefit the
ASPCA
by clicking
HERE
.
Lights, Cameras...Fascinating Pets!
We're on the hunt for fun, funky and fascinating videos that spotlight cats, dogs and other animals. Please send your favorites to
Arden
to share in the next issue. This month, we showcase a multi-talented, high-energetic Jack Russell terrier who will make you feel tired just waiting all that he can do. Click
HERE
.
Road Trip, Anyone? Woof!
Bringing out the suitcase often causes many dogs to unleash full-body wiggles at the anticipation of joining their favorite people for a travel adventure. Where or for how long doesn't matter to them - they are just excited to be your travel mate.
Arden
unleashes a few ways to make your next trip a doggone great success:
Pack with a purpose. Keep pet travel essentials in your vehicle. Arden recommends a water bowl, bottled water, extra leash and collar with identification tags, poop bags, an old towel, pre-moistened wipes, a basic first-aid kit, necessary medications, a copy of health records, bedding, treats, one or two favorite toys and at least a 3-day supply of food.

Dine at odd times. Try to dine at pet-permitting restaurants and outdoor cafes during off peak times, such as mid-morning or late afternoon. Weekdays are usually quieter than weekends. Be sure to have exercised your dog with a brisk 30-minute walk before dining to help calm him down. Pick a six-foot or four-foot leash that you can securely tether around one of your chair legs to keep your dog from roaming freely or disturbing other diners.

Paw it forward. Set a good example for the next person traveling with his or her pet. Have your dog be in a sit-stay when you check in at the front desk. Abide by the pet rules and always leave a generous tip for the housekeeping staff - especially if you have a shedding dog like Arden's Chipper, a golden retriever-husky mix. These gestures create a positive impression that will benefit other pet lovers.
Bonus advice: make sure our canine travel mates are safe in the middle seats or in the back - and out of paw's reach of the steering wheel. Petco makes a Premium Car Seat Barrier that installs quickly and easily in most vehicles and keeps your pooch from accessing the front seats. This canvas barrier features a mesh window so you can also keep an eye on your dog. Be the 13th person to email Arden with the code words, car barrier, and you will win one for your vehicle
National Dog Party Day 2012!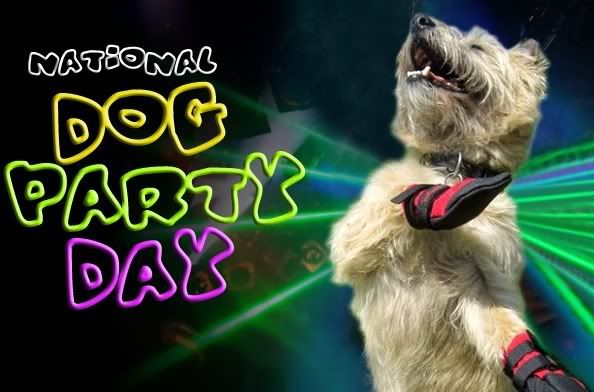 It's never too early to plan for a paw-tee! Mark your calendars for a Double Dog Day celebration on
June 22, 2012
. This is the day that you will "work like a dog by day and party like a pup at night" for two great events:
Take Your Dog to Work Day
- sponsored by an
Pet Sitters International
National Dog Party Day
-- created by
Arden Moore
founder of
Four Legged Life
. We are unleashing fun at three party sites: New York, Miami, and San Diego. Click
HERE
to get involved and become a sponsor.
Arden is Unleashed on America!


For "Mutts" More on Moore: