A wonderful way to celebrate this holiday season is to give to others. Arden shines the spotlight on these nonprofit groups, big and small from all across America that can benefit by your acts of kindness. Consider donating your time, talent or monetary contribution to these groups that merit Arden's "pawsome" designation for 2011.
Join the Cause with Daniel-
the 26-toed Cat

Most cats sport 18 toes, but those with more are known as polydactyl. Among them is Daniel, a 26-toed rescued feline who is now serving as the "poster cat" for the fundraising campaign under way to benefit the Milwaukee Animal Rescue Center.
This handsome orange tabby is helping the shelter raise money for a new facility by hoping people will donate $26, $1 for each of his toes. Learn more by clicking
HERE
.
Shop for a Good Paws Cause
Love to shop? Love your pet? Celebrate this dual delight by participating in the AdoptAShelter.com's annual Animal Charities Through Holiday Shopping Cause. It's as easy as 1-2-3. First, choose your favorite shelter to adopt. Second, go shopping at one of your favorite online stores like Amazon or iTunes (400 top retailers are participating). Each purchase earns money for your chosen shelter. Third, ka-ching! Shelters receive money from all purchases.
There's no registration, no passwords needed. For more details, please click visit www.adoptashelter.com. I told you it was easy!
We're Wild about This Sanctuary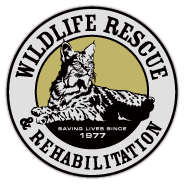 Situated on 187 acres near Kendalia, Texas, the Wildlife Rescue and Rehabilitation Center has been a true welcoming national sanctuary for donkeys, geese, turkeys and hundreds of other wildlife in need since 1977. The center offer many ways you can get involved, by making donations or volunteering for its events and more.
Aid Animals in Alabama
Adorn your Christmas tree or decorate your home for the holidays and help save a dog's life. Just participate in the Shelby Humane Society's Shelter Partners Program. Based in Shelby County, Alabama, this volunteer-driving program provides second chances for thousands of dogs. We invite you to browse the dogs photographed on its
site
, select a dog image you like best and purchase a special ornament. The cost is $50 plus a $5 shipping fee. Learn more by clicking
Special e-Holiday Cards Available
Are you a fan of Betty White? (Seriously, who isn't?) Follow her lead by supporting the Morris Animal Foundation, a non-profit group that funds grants for companion animals and wildlife. Betty has served on its board for more than three decades.
Just in time for the holidays, you can save a postage stamp and order the special e-Holiday cards with proceeds benefitting the Morris Animal Foundation. For each $10 contribution, you may choose one of seven eCards and personalize it with your own special message for a special person in your life. Learn more by clicking HERE.
Paws for You is THE Place
At Paws 4 You Rescue in Miami, Florida, its top priority is to save animals from euthanasia. Every day, this non-profit group does what it can to provide veterinary care, training and support to sick, injured and homeless companion animals. This group hosts many fundraisers and offers a lineup of pet products with 100 percent of profits donated to its shelter.
We invite you to sniff around its site, do a little shopping and make space on your social calendar to participate in one of its upcoming events. Learn more by visiting www.paws4you.org.
Be a True Friend for Life
Voted the Best Animal Shelter in Arizona in 2010, the Friends for Life Animal Rescue earns this accolade every day through its many programs aimed at getting companion animals healthy and in loving, permanent homes. If you wish to remember a loved one, find THE gift for that hard-to-buy-for person on your gift list and reduce your shopping stress, head the homeless pets by participating in this shelter's annual Holiday Angel program.
Simply send a contribution in a person's name and select the animal you wish to sponsor with your donation. The lucky person will receive a special ornament to adorn their tree. Learn more about this shelter and this program by clicking
HERE.
National Dog Party Day 2012!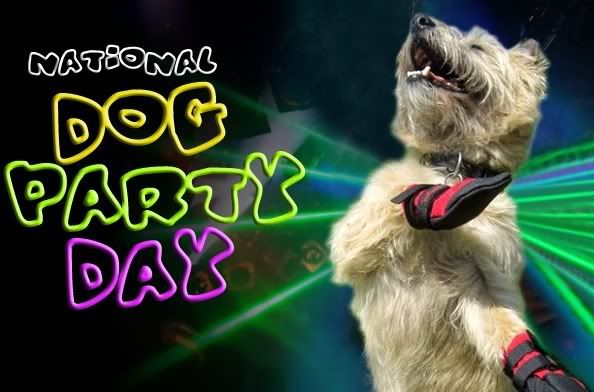 It's never too early to plan for a paw-tee! Mark your calendars for a Double Dog Day celebration on June 22, 2012. This is the day that you will "work like a dog by day and party like a pup at night" for two great events: Take Your Dog to Work Day - sponsored by Pet Sitters International and National Dog Party Day™ -- created by Arden Moore, founder of Four Legged Life. We are doubling with four party sites for 2012: New York, Miami, San Diego and LA. Click HERE to read the press release to get involved and become a sponsor.
Sign Up for Pet First Aid Classes
Calling all pet lovers and pet professionals! Show how much you truly love your dogs and cats by enrolling in a pet first aid class. Pet Tech certified instructor Arden Moore customizes these hands-on training classes up and down the West Coast. Sign up for a pet first aid, safety, CPR and wellness class taught by Arden and earn a certificate. Depending on the class, you might get to practice your skills on Arden's very tolerant class aides: her dog, Chipper and her cat, Zeki! Register today by contacting Arden and visit her new pet first aid site called Pet First Aid 4 U. Play it safe - for your pet's sake!
Let Arden 'edu-tain' you!
Looking for a professional speaker, MC or workshop leader for your next event - one guaranteed to "edu-tain" your audience? Arden is America's Pet Edu-Tainer™ She informs and delights audiences all over North America on pet trends, pet behavior, pet safety and more. Click HERE to book Arden at your next pet event!





Like what you see? Email
about creating an email marketing and social media campaign for your business or non-profit group!
Arden is Unleashed on America! For "Mutts" More on Moore:
Paws Up!


From our fur-filled home to yours, Arden and her Furry Fab Four - Chipper, Cleo, Murphy and Zeki -- wish all of you a grr-eat holiday season! Our pets are truly gifts we should celebrate 365 days a year!

To keep the holidays safe and make them sensational for you and your pet, Arden offers these tips:
Showcase your favorite - and fragile - holiday ornaments and keepsakes off the tree and on enclosed shelves out of paw's reach.
Replace flame candles with battery-operated ones to prevent burns to whiskers, paws and tails. Substitute poinsettias, holly and mistletoe with silk versions to avoid accidental poisoning.
Discourage chewing by spraying holiday lights and electric cords with Bitter Apple, a taste not appealing to dogs or cats.
Don't fall prey to begging eyes by giving turkey bones, gravy or other rich foods to your pets. These foods can lead to choking, stomach upset or pancreatitis.
Maintain your daily walks with your dog and play sessions with your cat. Regular exercise does a body good - and helps fend off stress.
Arden Plays Santa Paws!

If you are puzzled by what to get your favorite dog or cat or pet pal person, fret no more. Arden Moore happily presents the 3rd Annual Santa Paws Gift Guide.

Read closely and you will find some "pawsome" giveaways up for grabs! Be sure to tune into Arden's OH BEHAVE! show on Pet Life Radio - Episode #160 to learn more about these "fur-tastic" holiday gift ideas and well-deserving pet causes.

Helping Arden make the selections this year are three "top dogs" in the pet world: Dana Humphrey, president of Whitegate PR; Stacy Mantle, founder of PetsWeekly.com and Rick Tamargo, founder of HauteorNotPets.com - plus a (hush, hush) special secret Santa who is offering lots of pawsome pet gifts!

So, it's time to sit and stay - and learn how you can get your paws on these terrific pet products!
TAGG Keeps Tabs on Your Pet 24-7
Thanks to
TAGG the Pet Protector
, you can know where your dog is any time, any day Using Global Positioning System and wireless technology, TAGG is a tracking device that looks like a wristwatch and securely attaches to your dog's collar. It works on all smart phones, iPods, iPads, Mac and Windows-based computers, providing alerts to your pet's location.
Arden has tested it successfully on
Cleo
, her poodle-terrier mix and TAGG kept working even while Cleo was hanging 20 at a surf competition. TAGG also works on cats who are 10 pounds or more.
Play it safe by getting a TAGG for your pet. One lucky person will win a TAGG simply by being the 13th person to email
Arden
with the code word, TAGG. To learn more about how this high-tech product works, please visit
www.tagg.com
.
Wellness is Dee-licious!
Cat and dogs are purring and drooling in delight thanks to
Wellness
expanding its line of holistic healthy treats. Among the new varieties for well-behaved dogs are
Pure Rewards® Venison & Salmon Jerky
and
Pure Rewards® Turkey & Salmon Jerky
. Bring contentment to cats are
Pure Delight® Chicken & Lamb
plus
Pure Delights® Turkey & Salmon
snacks. All are 100-percent nature with nothing artificial.
Be the 5th person to email
Arden
with the code word, Wellness, and win a special treat prize package for your pet. Please indicate if you have a dog or a cat. Learn more by visiting
www.wellnesspetfood.com
.
Earth Heart™ Keeps Your Dogs Calm

The holidays can be stressful for everyone, including your dog. Fortunately, the makers of
Earth Heart ™
are here to keep your canine feeling cool, calm and collected during the holidays and every day of the year. Their motto: healthier dogs are just a mist away.
Earth Heart™ offers a line of top products that use pure essential oils and other plant-based ingredients for dogs. You can win a special four-pack of these special mists:
Canine Calm, Travel Calm, Guard Well and Buzz Guard
, by being the 7th person to email
Arden
with the code words, Earth Heart. Learn more by visiting
www.earthheartinc.com
.
Travel in Style with
Sturdi Products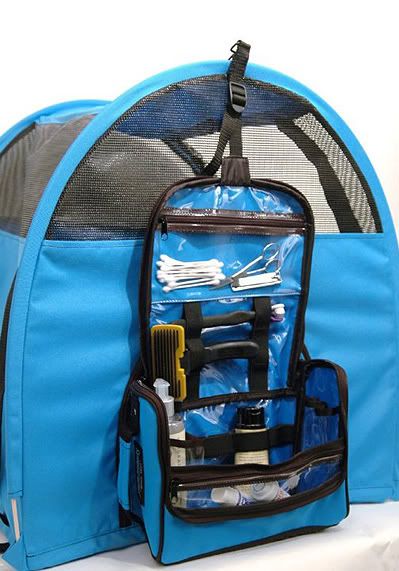 Whether you have two legs or four feet, nobody likes to be disorganized or harried while traveling,
Sturdi Products
not only makes terrific carriers for dogs and cats that score high marks for fashion and functionality, but they also make hanging travel organizers. These organizers are purr-fect to stash your toiletries or stow your pet's medicine and treats.
Sturdi Products is giving away TWO travel organizers. Be the 4th and 8th person to
email Arden
with the code words, Sturdi Products. Learn more by visiting
www.sturdiproducts.com
.
Hey Doggy, Paws Off the Steering Wheel!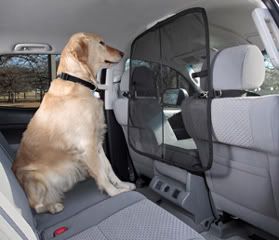 Keep your love-to-travel dog safe in your vehicle and prevent him from "inviting" himself to the front passenger seat or trying to take over the steering with the
Solvit Front Seat Net Pet Barrier
. This easy-to-install barrier is made of micro-mesh material that is guaranteed to be claw proof. It fits all vehicles with headrests.
Drive free from pet distractions by getting this Solvit product. One lucky person will win this by being the 6th person to
email Arden
with the code word, Solvit. Learn more about this and other Solvit products by visiting
www.solvitproducts.com
.
Say Goodbye to
Doggy Breath!

Next to your veterinarian,
TropiClean®
is your No. 1 health dental ally for your dog and cat. Made with safe, natural ingredients, the TropiClean® lineup includes the
Clean Teeth Gel, Mint Foam, Water Additive and Fresh Dental Chews for Dogs.
Look for the
Clean Teeth Gel and Water Additive for Cats
coming soon.
For this holiday gift guide, TropiClean® is offering a full gift pack of its dental product. Be the 5th person to email
Arden@fourleggedlife.com
with the code words, TropiClean. Learn more by visiting
www.tropiclean.net
.
Sniff! Sniff! I Smell Healthy Treats! Yum!
Make every day feel like a holiday for your dog with
Stella & Chewy's®
freeze-dried
Carnivore Kisses
and
Carnivore Crunch
treats. These healthy treats are made with wholesome ingredients packed with vitamins and probiotics, but free of grain, fillers and artificial preservatives. For your favorite feline, check out Stella & Chewy's® new line of freeze-dried dinners for cats.
One lucky dog will win a jar of Carnivore Kisses and a bag of Carnivore Crunch when their person emails
Arden
with the code words, Stella and Chewys. Learn more by visiting
www.stellaandchewys.com
.
Keep Your Dog's Coat Healthy
When it comes to keeping a pet's coat healthy and itch-free,
Zymox®
has the solutions from A to Z. Among the many effective and safe ear, skin and oral care products from
Pet King Brands
are the
Zymox® Shampoo for Itchy Inflamed Skin
and
Zymox® Rinse for Itchy Inflamed Skin
. Both serve as the first line of defense against infectious microbes in your pet's skin.
Zymox® is giving away a shampoo-conditioner gift back to the second person to email
Arden
with the code word, Zymox. Please indicate if you have a dog or a cat. Learn more by visiting
www.zymox.com
.
Bright Ideas for Your Nightly Dog Walks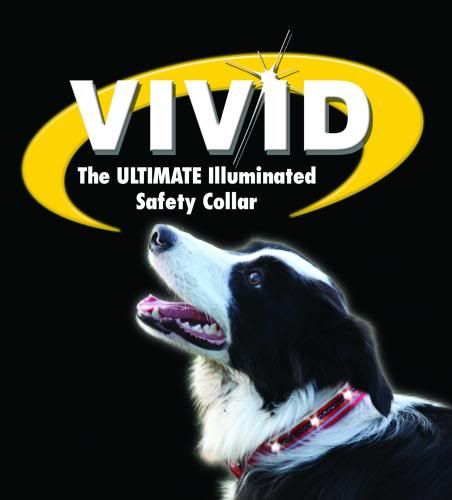 The creative folks at the
Company of Animals
are constantly coming up with new, safe and effective products to bring out the best in your pet. For this holiday season, they unveil the
Vivid Collar
- the ultimate illuminated safety collar. Put it on your pet and it is visible for more than 1,000 feet at night during your evening walks.
Get your paws on a Vivid Collar by being the 8th person to email
Arden
with the code words, Company of Animals. Learn more by visiting
www.companyofanimals.us
.
Dogs Drool for This Meaty, No-Mess Treat
Deliver delicious - and drip-free - holiday cheer to your dog with the ingenious roll-on treat dispenser known as
Lickety Stik™
from
Pet Safe®
. Arden's dogs,
Chipper and Cleo
- and her cool cat,
Zeki
- love, love, love this nutritious treat that yields only one calorie per 10 licks.
Win a three-pack featuring
Savory Chicken, Braised Liver
and
Smoky Bacon
for the pet on your holiday gift list by being the 12th person to email
Arden
with the code words, Lickety Stik™. Learn more by visiting
www.petsafe.net/licketystik
.
Ding Dong! Pet Food Delivery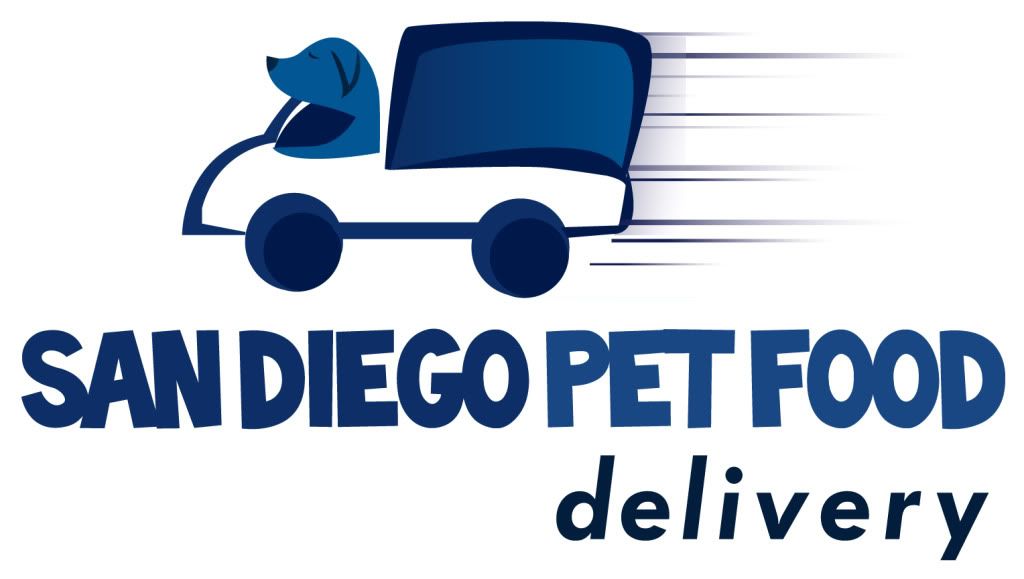 If you live in the San Diego area, you may never have to worry about running out of pet food and having to dash out to the store again. Helping you save time are
Russ and Lori Blauert
, owners of
IB Pet
, a pet supply store in Imperial Beach, and operators of a pet food delivery business that services all of San Diego.
They deliver the very best pet food brands, specializing in raw frozen foods, as well as a full line of flea medications, toys, treats and supplies right to your door. You can win a gift basket of healthy food, treats and toys valued at $75 by being the 4th person from the San Diego area to email
Arden
with the code word, delivery. Learn more by visiting
www.sdpfd.com
.