We need your vote! Each week, Arden Moore hosts 'top dogs' and 'cool cats' in the pet world on her Oh Behave Show on Pet Life Radio that draws more than 750,000 listeners. For the third year, the Oh Behave Show is the ONLY pet podcast to reach the finals in the annual International Podcast Awards! As one of Arden's pet pals, we ask that you take a minute and cast your vote for the Oh Behave Show in the 2011 Podcast Awards.
Just dash over to www.podcastawards.com and scroll down to the GENERAL category. Click on OH BEHAVE and then scroll down and enter your name and email. Easy! Vote once a day until the Oct. 27 deadline.

Remember, this is a non-PAW-tisan request! We need your flea-free support!
Hot Men, Cool Cats!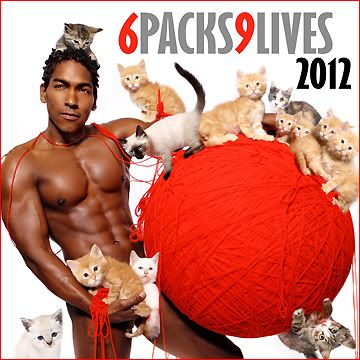 Real men love cats. Men with muscles pose with cats and kittens in a special
2012 6 Packs/9 Lives calendar
to benefit
Found Animals
, a Los Angeles-based nonprofit animal group. Join Oh Behave Show host
Arden Moore
as she interviews the internationally acclaimed photographer
Adam Bouska
and Mr. May - model
Igor Jadrovski
- about creating and posing for this calendar. Tune into the
show
, listen carefully for the code words and be one of10 to win a free stud-filled calendar. Just email
Arden@fourleggedlife.com
.
Cat Calls!

When you team up two experts on all things feline, you're bound to produce a meow-va-lous winner. And, that is just the case with the newest cat book to hit the shelves:
Cat Calls: Wonderful Stories and Practical Advice from a Veteran Cat Sitter
. This book is
co-authored by Jeanne Adlon
,
New York City's first full-time professional cat sitter
, and
Susan Logan
,
Cat Fancy
editor. And, as an added delight, the foreword is penned by
Jim Davis
, creator of Garfield.
Whether you're looking for commonsense cat-care advice or you simply want to relax with stories about little cats in a big city, Cat Calls is sure to please. Be the 8th person to email
Arden
with the code words,
Cat Calls
, and you will win an autographed copy of this book.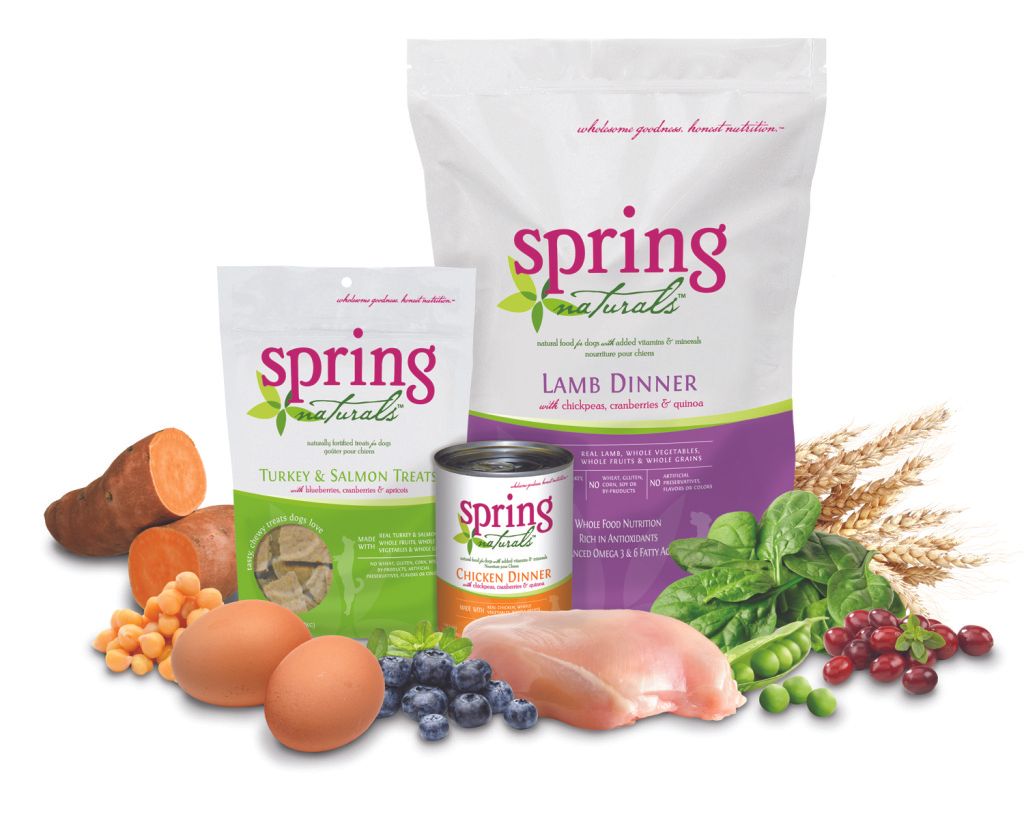 Time for dogs to drool. At the SuperZoo in Las Vegas, we discovered Spring Naturals, a complete family of natural dinners and treats designed to nurture the health and wellbeing of dogs of any age and size. Be on the lookout for Spring Naturals at specialty pet stores soon. In the meantime, we will give away a complete set of 4 treat bags - featuring beef, turkey, chicken & lamb plus turkey & salmon to the 12th person to email Arden with the code words, Spring Naturals. Don't delay - your dog is wagging his tail in anticipation! Learn more about Spring Naturals by clicking here www.springnaturals.com.
Sign Up for Pet First Aid Classes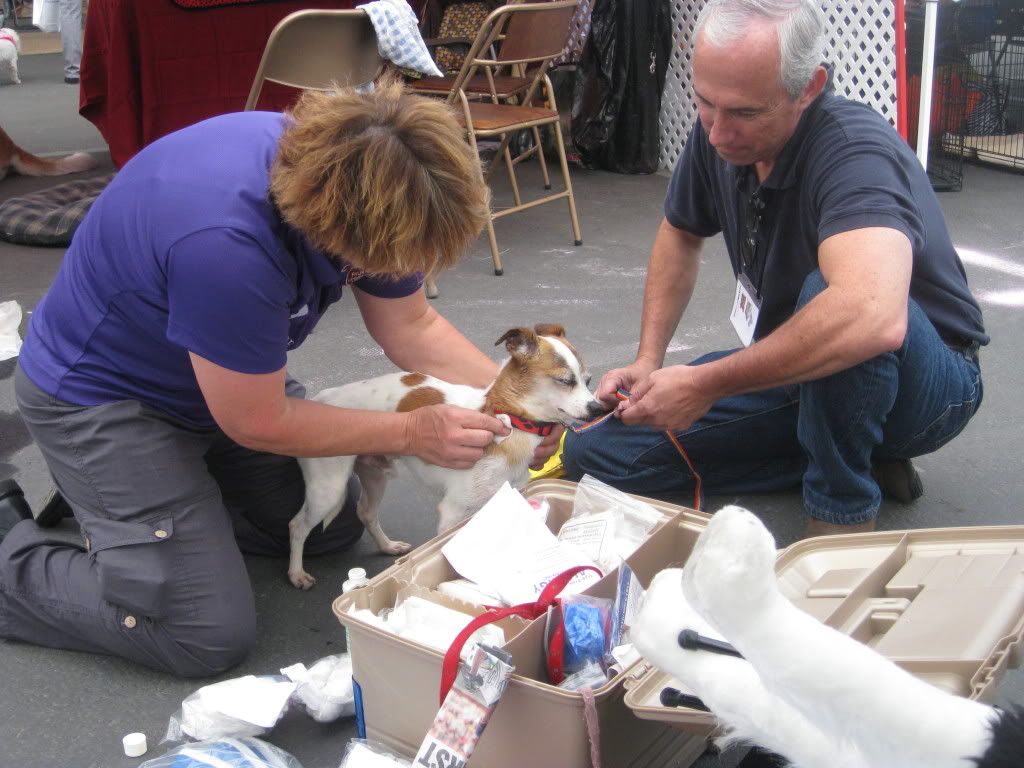 One hour after giving a pet first aid talk on stage at the San Diego Pet Expo, Pet Tech certified instructor Arden Moore rushed to an adoption tent to break up a fight between two Jack Russell terriers in a small cage. In the fight, both dogs got bloody. This is the photo of Arden tending to the attacked dog. Fortunately, injuries were minor and both dogs are okay. But it serves as a reminder of how important it is to know what to do in a pet emergency when minutes count. Be your dog or cat's best health ally by signing up for a hands-on pet first aid, safety, CPR and wellness class taught by Arden and earn a certificate.

Depending on the class, you might even get to practice your skills on Arden's very tolerant class aides: her dog, Chipper and her cat, Zeki! Next class: Oct. 29 in Oceanside. Register today by contacting Arden and visit her new pet first aid site called Pet First Aid 4 U. Play it safe - for your pet's sake!
Mhu Ghu Collar and Leash Winner!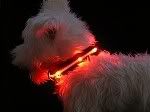 Congrats to Kathryn Hall! Your dog can strut in Fido fashion now that you were the winner of a sleek L.E.D. leash and collar designed by Mhu Ghu -- nearly a $50 value! Mhu Ghu donates 10 percent of all purchases to animal non-profit groups.
Say Ahhh for Doggy Spas
Take a (play) bow,
Suzanne Orban-Stagle
! You won a
Warren London Dog Spa Gift Bag
valued at $45. This gift bag contains fur butter, grape seed paw revitalizer, organic fragrance, nail polish pen (yes, you read right) and a dog nail file - an ideal gift to celebrate a birthday or other special canine occasion. Check out the other products by clicking here
www.warrenlondon.com
.
Perfect Puppy in a Week!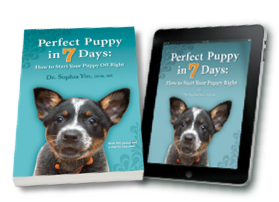 Jan Raissian
- you're the doggone lucky winner of an autographed copy of the mutts-read book,
Perfect Puppy in 7 Days
by
Sophia Yin, DVM
, a world-famous veterinarian and animal behaviorist. Her book features 400 photos and a step-by-step plan to guide you through potty training, socialization and life skills plus comes with online access to a puppy socialization check-list and a poster on the body language of dogs. For all of you planning to adopt a puppy, please dash over to Dr. Yin's website:
www.drsophiayin.com
without delay!
Dogs Have Angels Too Winner

Jocelyn Shannon correctly sniffed out the clues and wins an autographed copy of the fetching new book by Sarah Cavallaro called Dogs Have Angeles Too. Get a copy today and follow the tale of Miss Pink, a former marketing executive who finds herself homeless and fending for herself and a pack of adorable shelter dogs up for adoption. Cavallaro is the former founder of Emerald Films in New York City and a published poet.
Pups on the Runway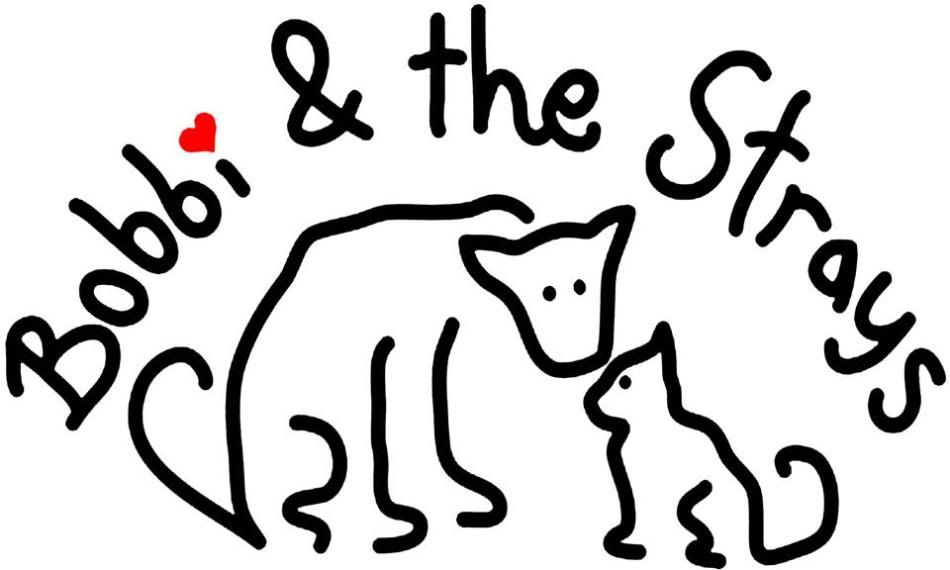 The 1st Annual "Pups on the Runway - Halloween Costume Ball" to benefit the Mayor's Alliance for NYC's Animals group Bobbie and the Strays will take place Oct. 28 at the Starlight Loft at the Roger Smith Hotel in New York City. Actress Megan Blake and her Super Smiley Flash Mob 4 Pet Adoption Tour will be dancing and delighting two- and four-legged attendees. There will also be a fashion show, fantastic prizes and much more. For details, click here: http://pupsontherunwayfundraiser-efbevent.eventbrite.com/
Santa Paws Holiday Gift Guide!
Want to reach 750,000-plus pet parents this holiday season? Here's your chance. Spotlight your pet products online and on the air in the 3rd annual Santa Paws Gift Guide. For $100, your product will be included in the special Arden Moore Knows Pets holiday e-newsletter being unleashed on Dec. 6 and earn a shout out during the Oh Behave holiday show on Pet Life Radio. Double the exposure and double the fun! For details, contact Dana Humphrey, president of Whitegate PR.
National Dog Party Day 2012!
It's never too early to plan for a paw-tee! Mark your calendars for a Double Dog Day celebration on June 22, 2012. This is the day that you will "work like a dog by day and party like a pup at night" for two great events: Take Your Dog to Work Day - sponsored by Pet Sitters International and National Dog Party Day™ -- created by Arden Moore, founder of Four Legged Life. We will be announcing the party locations and the non-profit pet groups who will be our benefactors soon. Email Dana for more info.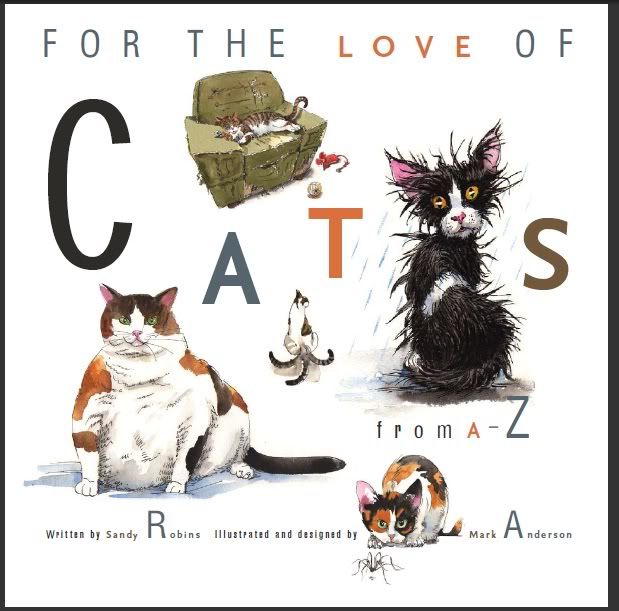 It is quite obvious that many of you love cats by the stiff competition for an autographed copy of Sandy Robins' latest book, For the Love of Cats From A to Z. Time to announce the winner: Suzanne Temple. You correctly emailed the code words, love of cats. Learn more about pet trend and product expert Sandy Robins by visiting her site www.sandyrobinsonline.com.
Let Arden 'edu-tain' you!
Looking for a professional speaker, MC or workshop leader for your next event - one guaranteed to "edu-tain" your audience? Arden is America's Pet Edu-Tainer™ She informs and delights audiences all over North America on pet trends, pet behavior, pet safety and more. Click HERE to book Arden at your next pet event!
Like what you see? Email Arden about creating an email marketing and social media campaign for your business or non-profit group!
Have a Spook-tacular Howl-i-ween!

Recently, Arden Moore was a guest pet expert on Martha Stewart's Living Radio Show and shared these ways to prevent Halloween from turning into YOWL-i-ween for your pets:
Keep chocolate candy and sugar-free gum out of paw's reach - both can be toxic if ingested by dogs and cats.
Maintain your pet's dignity. Not all four-leggers enjoy being dressed in costumes. Make sure the costume allows your pet to see and move easily.
Treat your dog to a fun romp or game of fetch during Halloween day. A tired dog is a happy dog.
Keep cats, especially black ones, inside on Halloween night.
Usher your pets into a room with pet amenities while catering to the door-bell ringing trick-or-treaters to reduce stress and prevent them from darting out the front door.
And no tricks, here are a couple of treats you can win just in time for Halloween! The feline-friendly folks at Imperial Cat have delighted cats for many generations with their creatively-designed corrugated cardboard scratchers. Be the 5th and 10th person to email Arden with the code word, scratchers, and you will win either the hanging Halloween skeleton scratcher or the horizontal Halloween scratcher and Imperial Cat Company www.imperialcat.com will deliver your prize just in time for Halloween!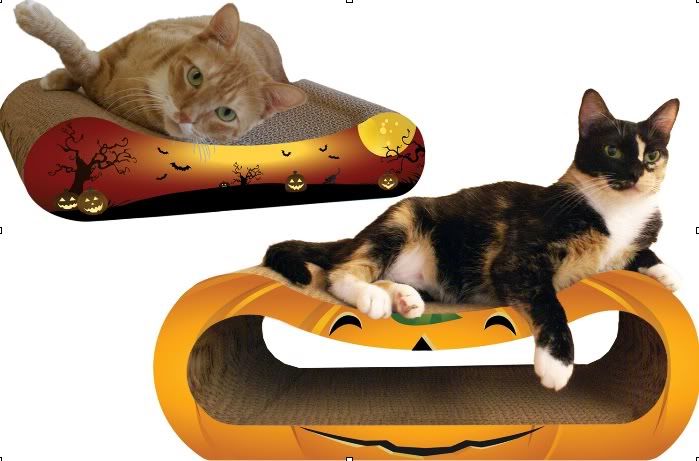 Next treat: Delight your cat with the Catspurr Halloween toy shaped like a friendly ghost from DuckyWorld www.duckyworld.com.
This toy is filled with the best organically grown catnip in the world - sure to get your feline to yeowww with excitement! Score this prize by being the 7th to email Arden with the code words, Ducky World.
Hey, dogs! We are giving away two Lickety Stiks™ - the brand-new, tasty liquid dog treat made with 100-percent all-natural ingredients. It features a special roller-ball top that lets dogs lick without packing on the pounds. It's just 1 calorie per 10 licks and comes in three flavors: smoky bacon, savory chicken and braised liver. Be the 3rd and 5th person to email Arden with the code words, Lickety Stik, and win this mess-free treat for your dog!
Learn more by clicking here.
Zeki's Fabulous Feline Adventures!
Arden Moore's
always-up-for-new-adventures Turkish Van mix named
Zeki
is back from two appearances: first she
me-wowed
the crowd at
SuperZoo
in Las Vegas and then won over more feline fans at the
San Diego Pet Expo
. Who says all cats are homebodies? For both events, Zeki took cat naps inside a zebra-striped kitty condo, complements of
Sturdi Products
.
At SuperZoo, Zeki received an autographed baseball by Hall of Famer Orel Hershiser, accepted butt sniffs from Tillman, the famous skateboard-surfboard riding Bulldog and nearly became the ring bearer for a wedding in the Elvis chapel! Catch all the action from SuperZoo by tuning in to the special Oh Behave episode on Pet Life Radio by clicking HERE. And, check out these short videos of Zeki and Arden Moore from SuperZoo:
Zeki meets Tillman video: WATCH NOW.


Zeki visits the Imperial Cat booth:
Celebrity dog trainer Laura Nativo and her jump-happy dog, Penelope Super Fly:
At the San Diego Pet Expo, Zeki enjoyed being fed turkey by San Diego Pets Magazine publisher Casey Dean
and cuddled by Victoria Stilwell, host of Animal Planet's "It's Me or the Dog Show."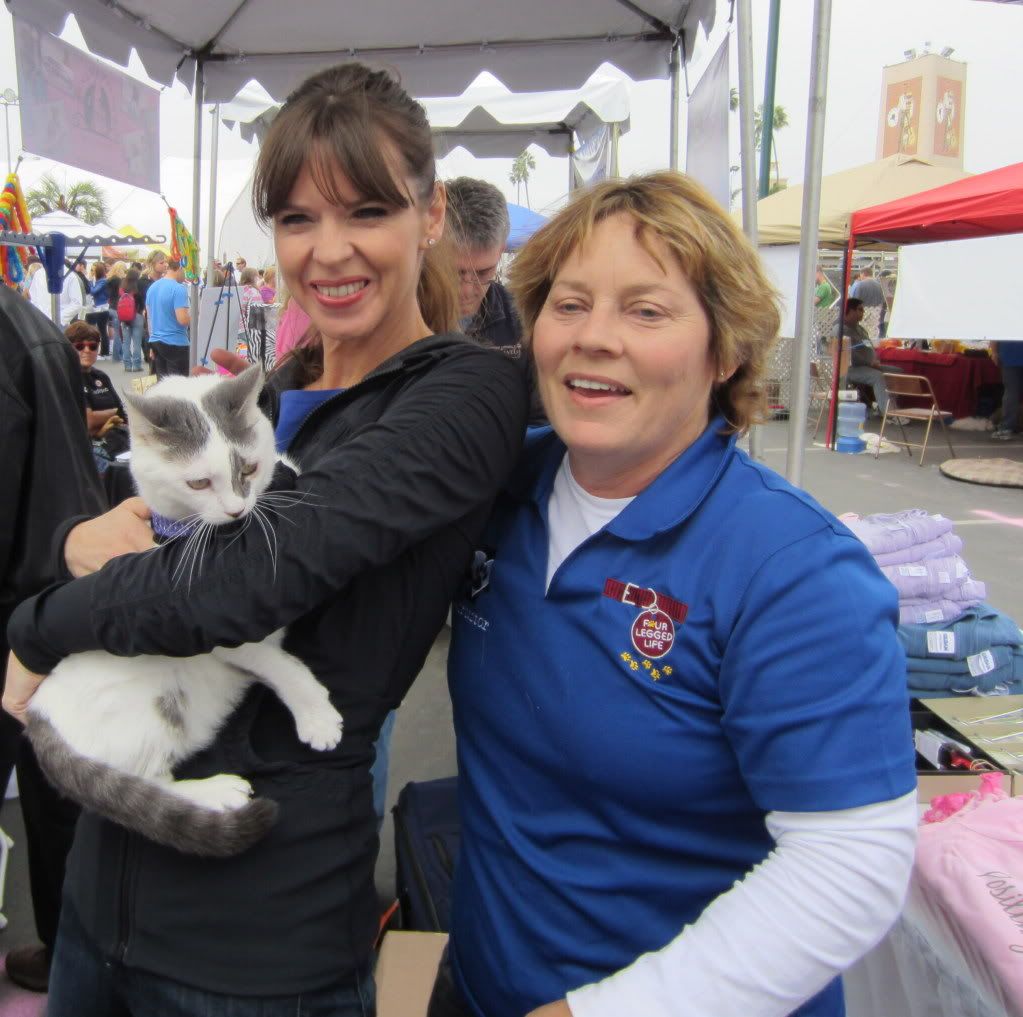 Victoria has been a guest on Arden Moore's Oh Behave Show on Pet Life Radio THREE times! Click HERE for a short video of all three meeting at the pet expo.

Two more fun videos from the San Diego Pet Expo:

Arden Moore stages a dog party to promote the 2012 National Dog Party Day: WATCH NOW.

Cheer for the dock-diving determination of Jack, the Cairn terrier whose pet parent is Dawn Celapino, founder of Leash Your Fitness www.leashyourfitness.com: WATCH NOW.
Spotlight: Hero Dog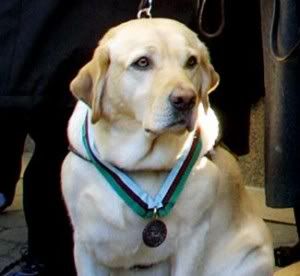 Each month,
Arden
spotlights people who make this planet a better place for pets and people. This month, she salutes
Roselle
, a guide dog who led her blind owner,
Mike Hingson
, safely down 78 flights of stairs following the 9/11 attacks on the World Trade Center. Roselle, who passed away earlier this year, was honored at the first
American Humane Association Hero Dog Awards
ceremony
presented by
Cesar® Canine Cuisine
at the Beverly Hilton Hotel in Los Angeles. More than 400,000 votes were cast by the dog-loving public.
We also salute and give paws up to these eight finalists who won their categories:
Sadie (from Westminster, CO), the certified accelerant detection K-9 who works with the Major Crimes Unit of the Colorado Bureau of Investigation
Zurich (Des Plaines, IL), the certified service dog who helps care for and enriches the life of his sick partner
Stacey Mae (Guffey, CO), the therapy dog who has helped collect thousands of teddy bears from around the world for sick children in hospitals
Military Working Dog Bino (Las Cruces, NM), who has served as a Narcotics Detection/Patrol K9 for almost eleven years
K9 Sage (Hagerman, NM), not only served at the Pentagon on 9/11 but continues search and rescue work today
Harley (Fountain Hills, AZ), the hearing dog who has given his owner self-confidence and a feeling of equality with others that she had not experienced before
Ricochet (Escondido, CA), the dog who surfs with special needs kids and people with disabilities for therapeutic purposes.
Spooky Buddies Movie Prizes!
Cast five camera-loving Golden retriever pups with legendary comedian
Tim Conway
and actor/comedian
Harland Williams
in a Halloween
Disney
flick and you unleash pure fun for all ages. Join Oh Behave Show host
Arden Moore
as she chats with
Tim
Conway, Harland Williams and producer
Robert Vince
about their new movie, "
Spooky Buddies
." Listen closely for the special code words mentioned on the show and win a free copy of Disney's "Spooky Buddies." The DVD is being given away to the first 10 who
email
. Don't delay -tune in to this hilarious episode of
Oh Behave
and win a free DVD!
Lights, Cameras...Fascinating Pets!
We're on the hunt for fun, funky and fascinating videos that spotlight cats, dogs and other animals. Please send your favorites to
Arden
to share in the next issue.
Here is our top pick for this month submitted by
Judy Fridono
and her
SURF-ice dog, Ricochet
that playfully depicts an agile elephant surfing:
WATCH NOW
.
Arden is Unleashed on America!


For "Mutts" More on Moore: