Zeki heads for SuperZoo - Me-WOW!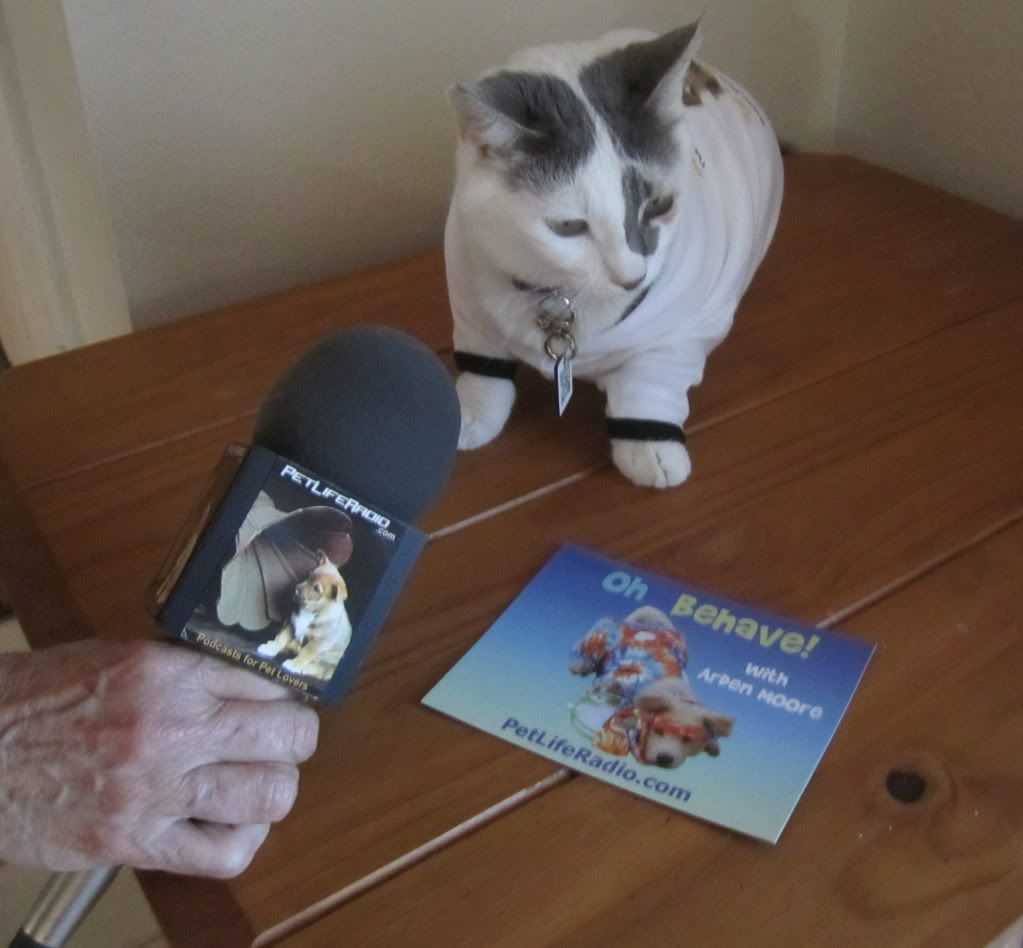 Most cats prefer being homebodies, but not Arden Moore's spunky Turkish Van mix named Zeki. This always-up-for-new-adventures cat will join Arden at the SuperZoo in Las Vegas this week. Zeki will be the featured feline drawing crowds at the Sturdi Products www.petcarrier.com booth #3242-43 and will sport her Pet Life Radio t-shirt as Arden tapes an Oh Behave! show from this major pet trade show that features more than 10,000 pet companies from 41 countries. If you're attending, stop by and meet Zeki.
Zeki survived a brutal knife attack as a stray and overcame a nasty eye infection as a foster cat before being adopted by Arden. Her survive-to-thrive tale was profiled in Cat Fancy and an episode of Tales for the Pet Lovers Heart television special. She now charms crowds - yes, even those with dogs - during pet talks by Arden and on occasion, pet first-aid workshops. Her only wage demand - turkey treats! Got a travel kitty with a tale to tell? Email Arden and the best tale will win an autographed copy of Planet Cat, the book she co-authored with Sandra and Harry Choron.
Pick the VPI Hambone Winner!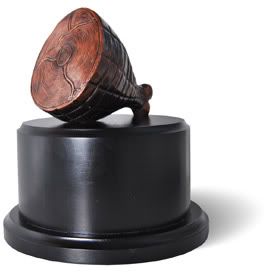 Talk about a realcat-astrophe! Meet a tabby cat named Eddy who chased a fly onto a hot wood stove, burning all four paws. And a Labrador named Gus who ate five pounds of cookies in one setting. Both are doing just fine now, thank you. These are just two of the dozen unusual pet health insurance claims up for top honors in the third annual
Hambone Award sponsored by
Veterinary Pet Insurance. Dash over to this site and cast your vote. Don't delay as the contest ends on Sept. 20!
The award is aptly named in honor of a dog who got stuck in a refrigerator after eating an entire Thanksgiving ham - and survived. The award is designed to educate pet owners about the importance of preparing for the unexpected. VPI is the oldest and largest provider of pet health insurance.
Sign Up for Pet First Aid Classes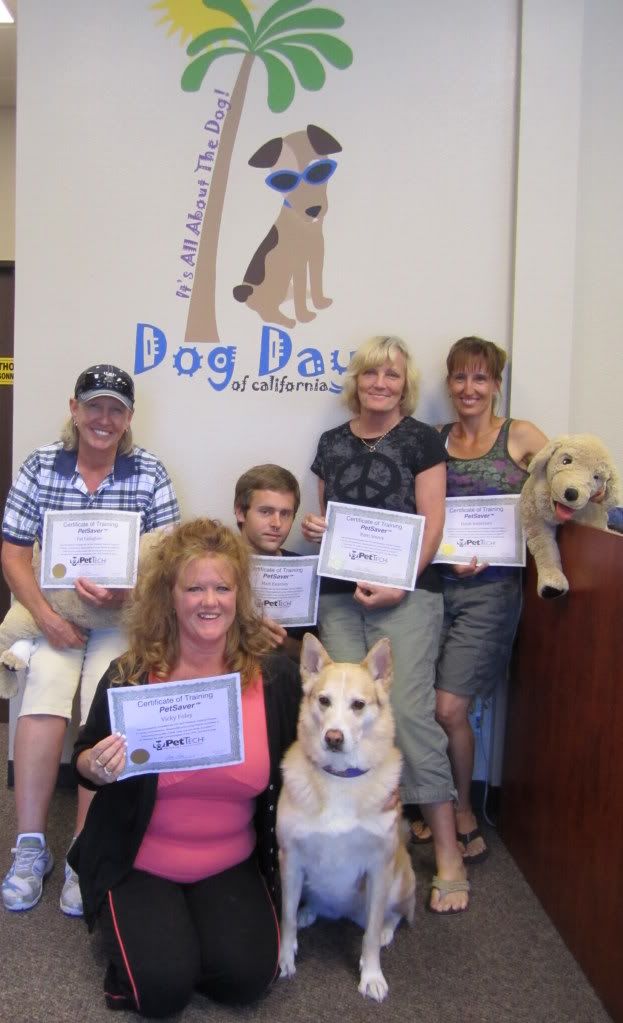 Be your dog or cat's best health ally by signing up for a pet first aid, safety, CPR and wellness class taught by Pet Tech certified instructor Arden Moore. This is a hands-on training class that provides you with the skills you need in pet emergencies - especially when minutes count. Depending on the class, you might even get to practice your skills on Arden's very tolerant class aides: her dog, Chipper and her cat, Zeki! Upcoming classes: Sept. 24 at Queen B's Art and Cultural Center in San Diego and Oct. 1 at Planet Earth Yoga Studio in Seattle. Spaces still available - register today by dashing over to the class page - click here.
Play it safe - for your pet's sake!
Win a Mhu Ghu Collar and Leash!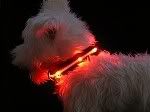 Now you can walk your dog in style and safety - even at night! Mhu Ghu, a leader in Fido fashion, is offering sleek and simple L.E.D. leash and collar - nearly a $50 value! Please note that the giveaway collar fits a large dog.
Mhu Ghu donates 10 percent of all purchases to animal non-profit groups. Be the 8th person to email Arden with the code words, Mhu Ghu, to win. For all of you, please take a look at the products on the Mhu Ghu site. If you type in HollyWOOF1 in the coupon area, you can earn 50 percent off of any purchases made by Sept. 30.
A Mutt-Read:
Dogs Have Angels Too

Follow the tale of Miss Pink, a former marketing executive who finds herself homeless and fending for herself and a pack of adorable shelter dogs up for adoption in the fictional new book by Sarah Cavallaro called Dogs Have Angels Too.
From the first page, you will get drawn into this dog-eat-dog world of recessionary New York City and the adventures of the irrepressible Miss Pink. During her adoption walks, she meets a series of colorful characters from the Big Apple. Be the 12th person to email Arden with the code words, Miss Pink, and win an autographed copy of this book. Cavallaro is the former founder of Emerald Films in New York City and a published poet.
The Why Behind Pet Names
We asked. You answered. In our contest to discover the story behind the naming of your pet, we have two lucky winners who will receive autographed copies of Arden's book, Happy Dog, Happy You.
Winner Lourdes Lebron explains the meaning behind the moniker, Tuffy for her dog: "When I went to pick him up at 10 weeks old, he was tugging at the breeder's shoelaces and she said to me, 'This one is a tough one.' On the ride home, I remembered him tugging at the laces and said to myself, 'Tuffy! Perfect!'" Winner Linda Yared is a big fan of mystery shows and named her black Labrador Jessica B. Fetcher because her dog - true to her retriever heritage - loves to fetch and in honor of the former TV show character, Jessica B. Fletcher. Congrats Lourdes and Linda!
Paws Up to Doggy Spas
Your dog deserves a bit of pooch pampering and the owners of Warren London dog spa and grooming products is ready to help. Be the 9th person to email Arden
with the code words, doggy spa, and you will win a Warren London Dog Spa Gift Bag (a $45 value). It contains fur butter, grape seed paw revitalizer, organic fragrance, nail polish pen (yes, you read right) and a dog nail file. This is a perfect gift to celebrate a birthday or other special canine occasion. Check out the other products by clicking here.
Cool Winners Earn Red-Hot Prizes!
Paws up to Tiffany Hammer Manson, the lucky winner of the 3.5 gallon Critter Cooler (a $144 value).
These durable coolers also feature ant blockers and locking wheels and an insulated cover to keep the water cool. Learn more by clicking here. And, Denise Doll, you won the Is It Too Hot for Spot static cling window thermometer. This specially designed thermometer gives pet owners real time information to make intelligent choices when traveling with their pets. Learn more by clicking here.
Lickety Stik Winners! - Yum!
Wow! Many of you vied to win samples of Lickety Stik™, a tasty new liquid dog treat made with 100-percent all-natural ingredients. It features a special roller-ball top that lets dogs lick without packing on the pounds. It's just 1 calorie per 10 licks and comes in three flavors: smoky bacon, savory chicken and braised liver. Arden's dogs, Chipper and Cleo find it nutritious and delicious!
And, the winners are ...Sue Caya and Lori Thomas - congrats! Look for this innovative healthy treat to appear on store shelves this fall. Learn more by clicking here.
Fetching News from Planet Dog
Fetch this great news! Tara Whitnah is the lucky winner of Planet Dog's new Glow for Good Ball that fits perfectly in its Wood Chuck®. Glow for Good Ball illuminates in the dark and is bouncy, buoyant, mint-scented and yes, recyclable. The wood chuck is ergonomically engineered with bamboo and reused cork for comfort and grip ability. Together, they make it a cinch to grab the ball and throw for distance easily. Nice!
We're happy to report that 100 percent of the proceeds from the sale of this new Glow for Good Ball will be donated to the Planet Dog Foundation, a nonprofit group that funds the training, placement and support of service dogs helping people.
Leashes and Lovers Book Winner!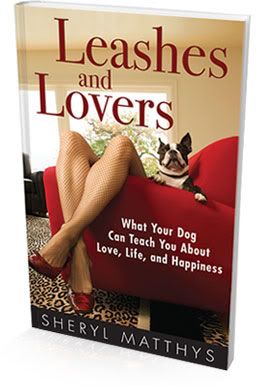 Author Sheryl Matthys, best known as The Dog Expert®, knows how your dog can teach you about love, life and happiness. It's all in the pages of her mutt-have book, Leashes and Lovers. She will be sending an autographed copy to our lucky winner, Kayla Stevens - congrats! Learn more by visiting her website by clicking here: http://leashesandlovers.com/thebook.
National Dog Party Day 2012!
It's never too early to plan for a paw-tee! Arden Moore, creator of National Dog Party Day™ www.dogpartyday.com, has announced that the 2nd annual event will take place on June 22, 2012. And, last this year, we will partner with Pet Sitters International, creators of Take Your Dog to Work Day, for a double dog day celebration in which we 'work like a dog by day and party like a pup by night!"
Let Arden 'edu-tain' you!
Looking for a professional speaker, MC or workshop leader for your next event - one guaranteed to "edu-tain" your audience? Arden is America's Pet Edu-Tainer™ She informs and delights audiences all over North America on pet trends, pet behavior, pet safety and more. Click HERE to book Arden at your next pet event! Arden will be a featured speaker at the San Diego Pet Expo in Del Mar Fairgrounds on Oct. 15-16. She will host a dog party and share some pet first aid/safety tips on stage.
Like what you see? Email Arden about creating an email marketing and social media campaign for your business or non-profit group!
Weddings, Proms and Dogs!
Move over, yappy hours - you are so (yawn) 2010. Time to showcase two new tail-wagging trends: dogs in weddings and proms just for pooches! If you are getting ready to say "I do" and a pup plays a big part of your life, then consider contacting Colleen Paige, celebrity pet lifestyle expert and wedding designer. She will unleash pawsome ways to include pets in your wedding and 30 percent of her gross profits for her services will be donated to the Animal Miracle Foundation and Network to help save homeless and abused animals. Learn more about dogs as ring bearers and more by clicking here.
And paws up to Cheryl Crowley, the creative force behind the inaugural Pooch Prom taking place Sept. 24 in Palm Beach Gardens, FL. Picture a beagle in a tuxedo or a Yorkie in a frilly gown at this event that will be highlighted by the crowning of a Prom King and Queen. Crowley's prom idea is designed to benefit Drug Abuse Treatment Association, a nonprofit group to help children and families. Learn more by visiting www.poochprom.org or checking out the column I wrote in the September issue of The Coastal Star.
Perfect Puppy in a Week!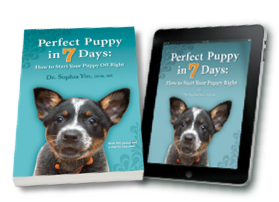 What a difference a week can make. Especially if you heed the tips unleashed by Sophia Yin, DVM, one of the country's top veterinarian and animal behaviorist, in her new book, Perfect Puppy in 7 Days.
I jokingly refer to the first year of a puppy's life as The Wonder Year - as in you wonder what you were thinking in getting a rambunctious, always-into-mischief young pup. But Dr. Yin is here to save your sanity by arming you with ways to make training fun and effective starting Day 1 when you bring home that pup.
Her book features 400 photos and a step-by-step plan to guide you through potty training, socialization and life skills. Among her surprising pointers:
Avoid using a food bowl. Use a food puzzle instead to train your pup to earn his chow and engage him in problem-solving tasks.
Don't succumb to whining. If you let your pup out of her crate when she starts to bark or whine, you unintentionally reward her for this behavior. Instead, wait until she is quiet to let her out.
The book also comes with online access to a puppy socialization check-list and a poster on the body language of dogs. Be the 13th person to email Arden with the code word, puppy and win an autographed copy of Perfect Puppy in 7 Days.
Celebrate Happy Cat Month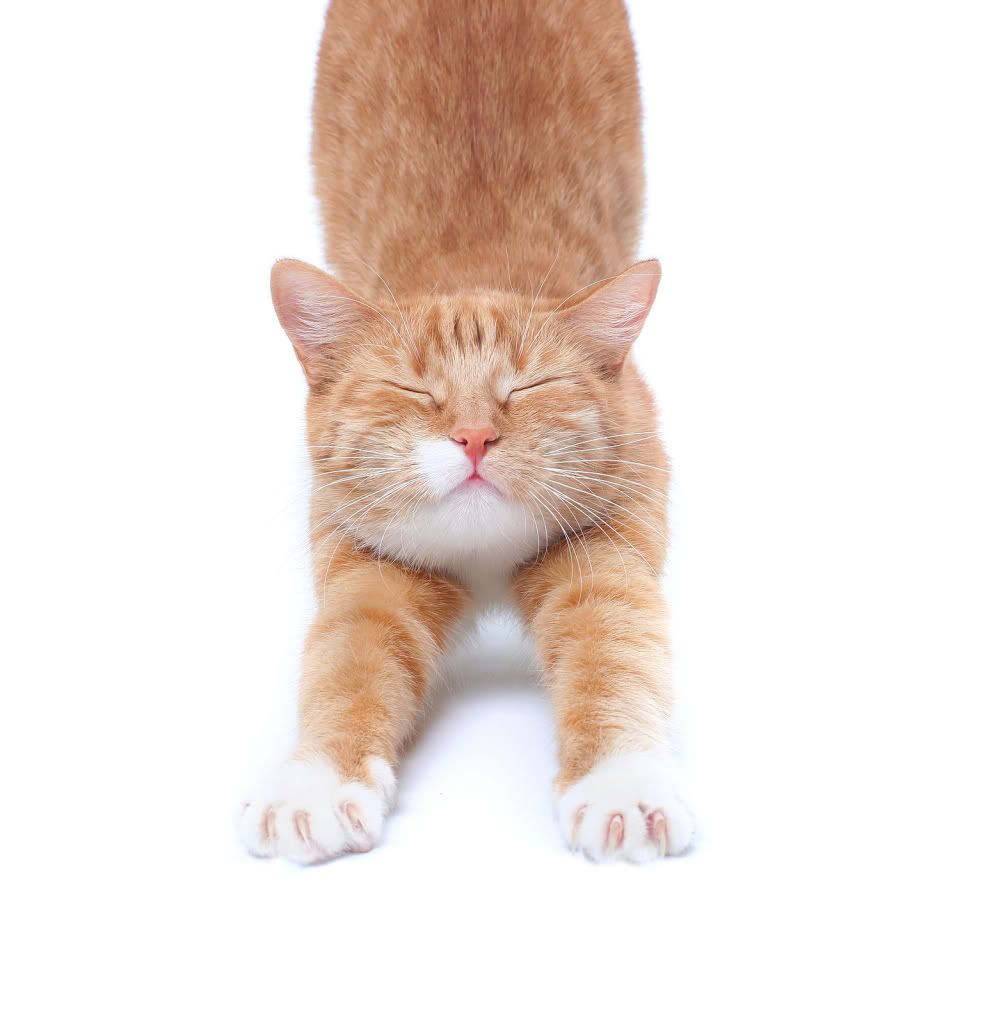 Cats outnumber dogs in American households, but you never hear anyone hosting a cat party. Well, it's time to honor our fine felines. September is designated as Happy Cat Month. In tribute to tabbies and other cool cats, the CATalyst Council offers 10 ways to ensure your cat is content and happy.
Among the meow-va-lous tips:
Scratch the surface. Cats should have places they are allowed to stretch and care for their claws. Scratching is an important aspect of feline behavior. Providing a long and sturdy scratching post in a vertical, horizontal or angled position is a good way to keep your cat happy ... and your sofa, too!
Work for food. Feline obesity is a huge problem in this country, and one way to combat it is for owners to make their cats work for their food. Food toys are available to channel a cat's natural hunting drive and release kibble in small amounts. Another option is to hide a cat's food in different places so that they have to find it. Working for food makes a cat happy because it's great physical and mental exercise.
Provide prey toys. One of the easiest ways to make a cat happy is with a new prey toy. Cats are natural hunters and love chasing, pouncing, leaping, swatting and stalking prey, even when it's not the real thing. There are many types of prey toys available on the market; with a little creativity, owners can even make their own out of common household items.
Get the Scoop on Doggie Doo DNA
Frustrated by neighbors who don't pick up after their dogs? Or worse, step in a smelly mess? Tune in for this special episode of the Oh Behave show (Episode #151) on Pet Life Radio as we explain the CSI-like DNA-technology being used to identify poop perpetrators. Host Arden Moore chats with Jim Simpson, president of Poo Prints and Debbie Logan, an apartment manager for a pet-friendly complex in New Hampshire, as they discuss how this DNA testing works and give you the real scoop...on poop!
Some poop facts for you to ponder:
A medium-sized dog compiles up to 276 pounds of poop per year, according to Simpson. Logan estimated about 5 percent of her residents of her residents with dogs were habitual violators. That equals more than 3,300 pounds of unclaimed poop in one year.
Poop left lingering packs a health risk. According to the U.S. Centers for Disease Control and Prevention, dog poop can easily become infected with parasites (such as hookworms, ringworms, tape worms and salmonella), causing serious kidney disorders, intestinal illness, cramps and diarrhea in people who come in contact with it. Yuck - and yikes!
Spotlight: A Tripawed Named Maty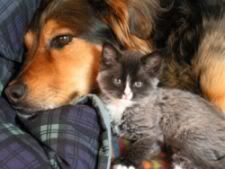 Each month, Arden spotlights people who make this planet a better place for pets and people. This month, she salutes an Australian Shepherd mix named Maty, who happily takes on my roles despite losing her back left leg as a puppy during to a staph infection. Maty serves as goodwill ambassador at the Humane Society of Central Oregon in Bend, teaching assistant in classrooms, 'mom' to frightened feral kittens and world-class athlete. Maty serves as a stellar example of never letting disabilities keep you from living life to the fullest.
According to shelter official Lynne Ouchida, Maty ranks as the first 3-legged dog to qualify and compete in two Skyhoundz Worlds Canine Disc Dog Championships. She's always willing to go paw-to-paw with four-legged dogs in competitions like Frisbee, skijoring, fastest runner, best trick and fastest eater.
Learn more about his amazing dog by viewing this short video HERE and by visiting her section on the shelter's website: http://www.hsco.org/maty.
Fetch This Wave!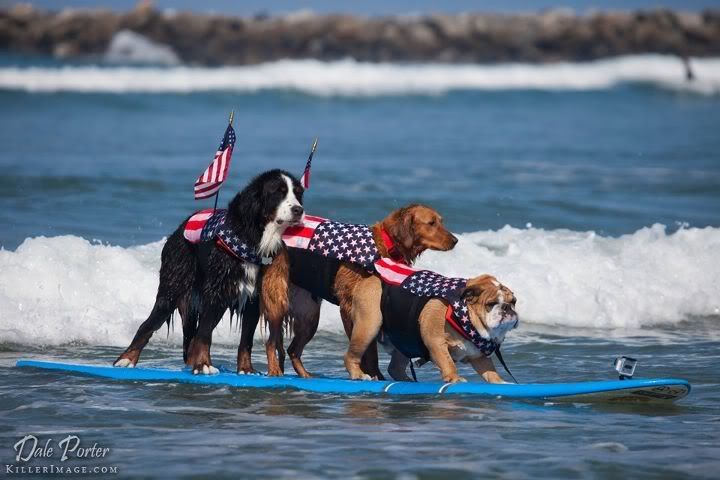 Arden's dogs, Chipper and Cleo, are among the newest members of the So Cal Surf Dogs group. On Sept. 25, join us and a team of tail-wagging surf stars at the 6th annual Surf Dog Surf-a-thon at Del Mar Beach to benefit the Helen Woodward Animal Center. To learn more about this event and how you can help, visit www.animalcenter.org.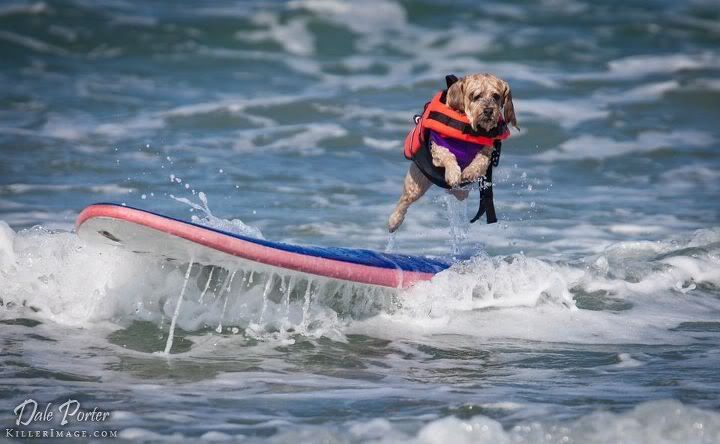 Check out the cool So Cal Surf Dogs by visiting www.socalsurfdogs.com. Discover why these dogs really know how to hang 20! And paws up to the very talented photographer Dale Porter www.killerimage.com to taking these photos. Yes, that IS Cleo soaring off the surfboard!
Lights, Cameras...Fascinating Pets!
We're on the hunt for fun, funky and fascinating videos that spotlight cats, dogs and other companion animals. Please send your favorites to Arden to share in the next issue.
Here is our top pick for this month -- The Owl and the Pussycat. Check out this unique friendship between a high-flying owl named Gebra and a play-minded black cat named Fum:
Watch on YouTube
.
The ABCs on C-A-T-S!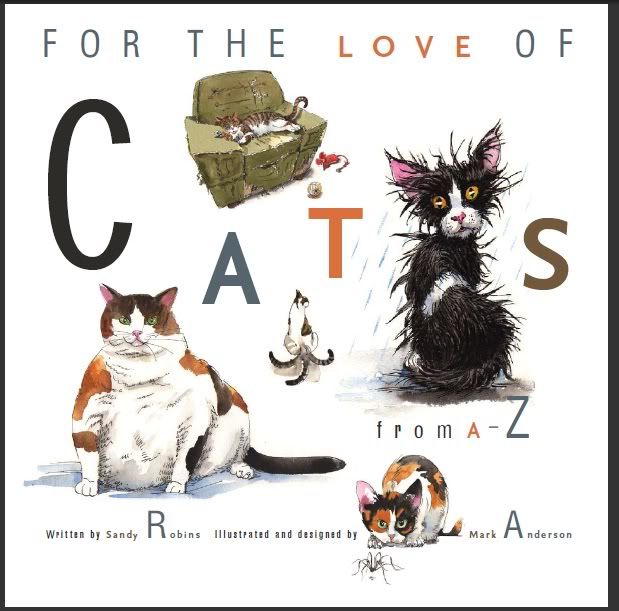 Cats put the "c" in candid, the "a" in attitude, the "t" in tenacious and the "s" in ... so what! We are delighted to share the news of a new book for cat lovers. Pet expert Sandy Robins' latest book is called For the Love of Cats From A to Z and it is beautifully illustrated by Mark Anderson. Sandy captures our special relationship with felines by using an alphabet full of fun verses, informative text and colorful illustrations. A sampling: "D" is for domain. Your cat owns your favorite chair, whether it's vacant or you're sitting there.
Be the 4th person to email Arden with the code words, love of cats, and win an autographed copy of this book. Learn more about Sandy Robins by visiting her site HERE.
Test Your Pet Trivia Knowledge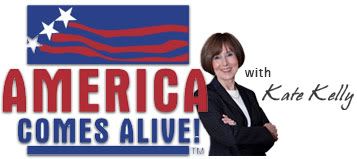 Historian, author and dog lover
Kate Kelly
shares fun facts, history and tail-wagging trivia about all things dogs as a guest on
Arden Moore's Oh Behave Show on Pet Life Radio
(Episode #150). Tune in to discover the real reason Dalmatians were picked to be fire house dogs, how
Rin Tin Tin
overcame a challenging puppyhood to become a movie star and much more. And learn more about Kate and her
America Comes Alive
site by clicking here.
www.americacomesalive.com
.
Arden is Unleashed on America!


For "Mutts" More on Moore: