The Real Cat's Meow!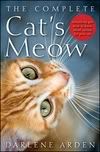 In reviewing this book, actress and animal advocate Betty White summed it up best: "This is a book to be treasured by every cat lover - and we are legion." She is referring, of course, to the latest book by longtime pet author extraordinaire Darlene Arden. It is aptly titled, The Complete Cat's Meow and Darlene unleashes a comprehensive take on all things feline, from kitten hood to senior cat citizen care. Pawing through the pages, here are a couple cool cat tidbits:
A cat's outer ear features 32 muscles to enable them to rotate each ear independently.
A cat's 24 facial whiskers are connected to the nervous system and aid in navigating tight spaces as well as in his sense of smell.
Be the 9th person to email the other Arden - Arden Moore - with the code words, cat's meow, and get your paws on an autographed copy of Darlene Arden's fascinating book. Learn more about Darlene by visiting her website: www.darlenearden.com.
Is Your Dog Driving You C-r-a-z-y?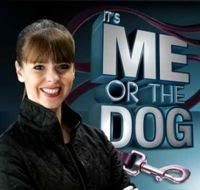 Tick, tock. Only a few days remain to answer the casting call to appear on the next season of Animal Planet's "It's Me or the Dog" show starring world-renowned dog trainer Victoria Stilwell. Show producers are looking for people with BIG personalities who are bickering, arguing and disagreeing about the family d-o-g. So, if you live in the New York City area and at your wit's end with a dog issue that's tearing your family apart, don't delay - click here
www.ItsMeOrTheDog.com or email the producers at dog@shedmediaus.com. The casting call deadline is July 15. And, tune in to the Oh Behave show as host Arden Moore interviews world-renowned dog trainer Victoria Stilwell and Zena Van Ackeren, casting director for Animal Planet-TV's "It's Me or the Dog" show. Listen by clicking HERE. Learn more about Victoria's no-nonsense, positive reinforcement training technique by visiting her site:www.positively.com.
Paw-tee with a Purpose, America!
It's official - America loves to party like a pup! The first annual National Dog Party Day staged in New York City and San Diego drew enthusiastic crowds while raising money and awareness for two great charities: the San Diego Humane Society and SPCA and Mayor's Alliance for NYC's Animals NDPD creator Arden Moore partnered with Pet Sitters International, sponsors of Take Your Dog to Work Day for a double dog day celebration on June 24.
Click HERE to see a short video taken by professional photographer Dale Porter at the San Diego party held at the Hotel Indigo on the newly created National Dog Party Day YouTube channel.
It's NEVER too early to paw-ticipate in the
2012 National Dog Party Day to be held on June 22. We plan to expand to more cities and benefit more pet causes! To sponsor and get involved, please contact Arden. Let's paw-ty with a purpose, America!
Sign Up for Pet First Aid Classes

Be your dog or cat's best health ally by signing up for a pet first aid, safety, CPR and wellness class taught by Pet Tech certified instructor Arden Moore. This is a hands-on training class that provides you with the skills you need in pet emergencies - especially when minutes count. Depending on the class, you might even get to practice your skills on Arden's very tolerant class aides: her dog, Chipper and her cat,
Zeki!
Arden offers two pet safety classes as well as courses on cat and dog behavior - and can customized for pet parents as well as pet professionals. For details, please dash over to her website, Four Legged Life and click on this LINK. Play it safe -- sign up today!
Bo Knows Pet Safety!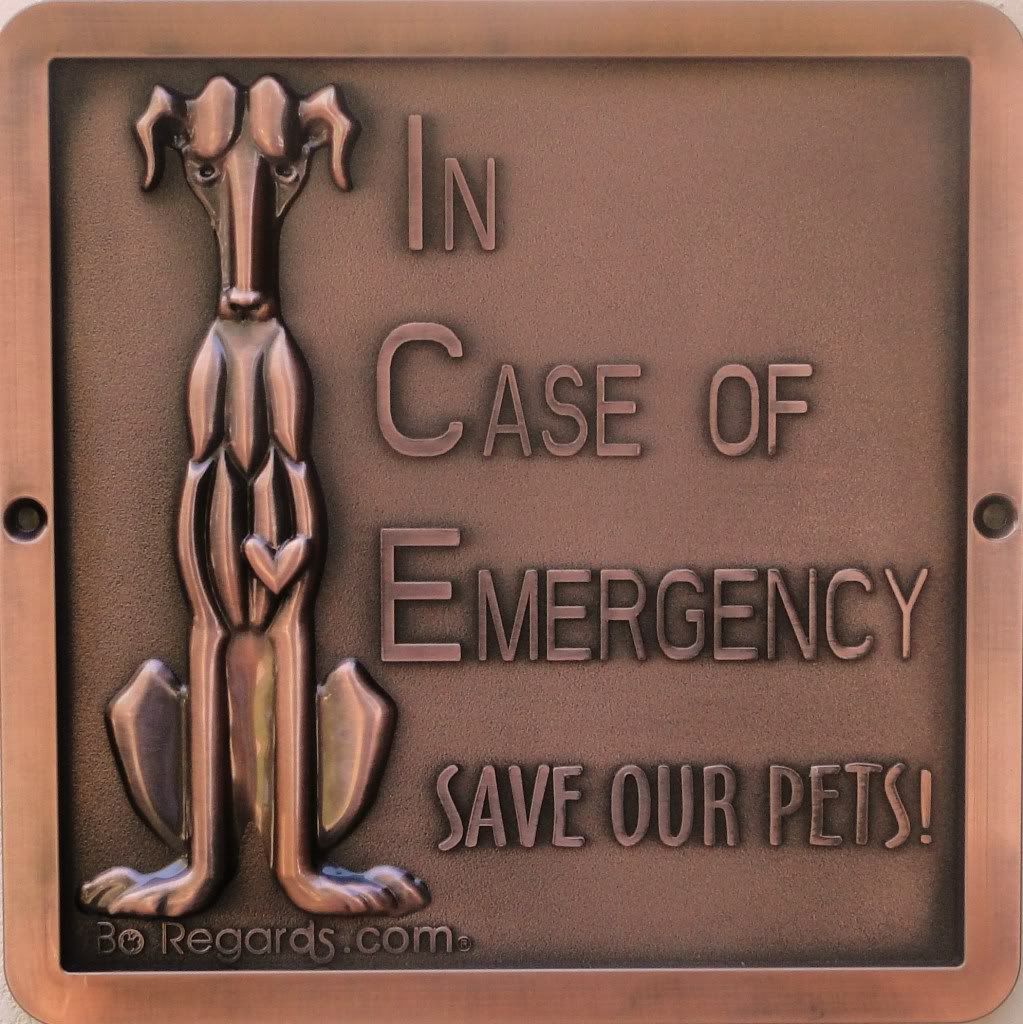 Tragically, every 22 seconds in America, a fire department responds to an emergency situation. And more than 500,000 homes are damaged or destroyed by fires each year. To help alert firefighters about the presence of pets in a home, the people from BoRegards, Inc. have designed beautifully crafted I.C.E. Plaques (in case of emergency) that come in three finishes that you can mount near your front entrance. Be the 5th person to email Arden with one of the 12 "Fire Safety Tips for Pets" posted on the Bo Regards website and win one of these protective plaques.
Best Pet Ever!
In our minds - and hearts - our pets are simply the best. The fine folks of Fetch! Pet Care have engineered a cool contest this summer to determine who has the "best pet ever' based on votes from friends and family. The top vote getter will receive a year's worth of pet sitting from Fetch! Pet Care and be spotlighted on its website. Entering is easy - just click here: www.fetchpetcare.com. Rally your supporters as the contest ends on Aug. 5!
Christmas in July?!
If you live in Southern California or Chicago, here's your chance to be a pet good citizen by helping a worthy shelter or rescue group get their paws on $25,000 worth of food and supplies. Kriser's, a multi-unit retailer specializing in all-natural pet food and supplies, is staging a Facebook promotion that ends on July 18. The shelter with the most votes in both locations will each win this generous prize. Here's the link to vote: https://www.facebook.com/kriserspets. Help your local pet group and feel like a jolly Santa "Paws"!
Soup's On! Chicken Soup Pet Book Winners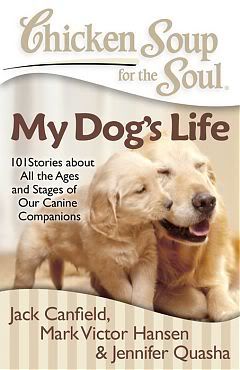 Many of you vied to win signed copies of the latest Chicken Soup book series as authored by multi-talented Jennifer Quasha. And the winners are: Pat O'Shea for Chicken Soup for the Soul: My Cat's Life and Christina Mastromatto for Chicken Soup for the Soul: My Dog's Life. Congrats! Learn more about Jennifer by clicking here www.jenniferquasha.com.
Instyle Dog Travel Kit Winner!

Take a (play) bow, Jane Miller! You were the 10th person to email Arden with a smart dog travel tip and won the Wag & Go Outdoor Pack Deluxe travel kit from
Instyle Dog. This deluxe travel pack - valued at more than $50 - features a Kurgo Wander Pack, black-and-orange vest, adjusted saddlebag system to store snacks, keys, a Pet Zen Trail Bowl & Bottle, portable pup feeding aid, collapsible food bowl and more! Jane's tip: "Never leave your dog in your car even with windows cracked when it is too hot." Grrr-eat advice, Jane! Learn more about InStyle Dog products by visiting
Let Arden 'edu-tain' you!
Looking for a professional speaker, MC or workshop leader for your next event - one guaranteed to "edu-tain" your audience?

Arden

is America's Pet Edu-Tainer™ She informs and delights audiences all over North America. Click HERE to learn more.


Like what you see? Email Arden about creating an email marketing and social media campaign for your business or non-profit group!
Road Trip - Bow-WOW!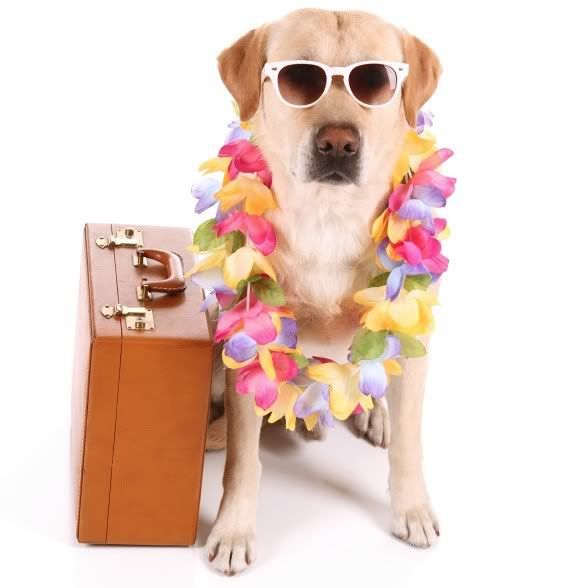 We are truly a nation on the go and for many of us that includes bringing our dogs - and cats - along for the ride. According to the 2011 Pet Travel Statistics compiled by
PetRelocation.com
, 58 percent of people report they will travel with their pets this summer and 28 percent spend more than $1,000 each year on travel-related pet expenses. The number of people who choose to stay at pet-friendly hotels has jumped a startling 10 percent from 2010 to 2011 with 78 percent saying that they purposely pick a hotel because it puts out the welcome mat for traveling pets.
As editor-at-large for
Fido Friendly
,
Arden
frequently travels all over North America and joining her quite often are her canine travel mates,
Chipper and Cleo
. Whether it is a trip four states away or a short trip to a friendly dog park, Arden always plays it safe by fitting her dogs with pet harnesses attached to a zipline in the back of her SUV so they are not running loose in the car. She regularly tests pet products for national publications and gives paws-up approval to the "triple protection" offered by
Solvit Pet Products
: the Cargo Area Net Pet Barrier, PupZip Vehicle Zipline and Vehicle Safety Harness. Like Arden, the
Solvit Pet Products
people are firm believers in the motto, "No pet left behind" and in pet safety. Just like we need to wear seat belts, our pets need to buckle up for safety. Win this 3-in-1 travel safety package valued at $110 by being the 7th person to
email Arden
with the code words, pet safety restraints. And sniff around their website as they offer a wide range of ramps, stairs and pet travel products.
Marty Becker, DVM
, "America's Veterinarian" just completed a national bus tour to promote his latest book, "
Your Dog: The Owner's Manual"
. He unleashes these travel tips:
Dogs can get bored on long car rides, so bring along pet toys and puzzles to keep them occupied.
Carry an emergency pet first-aid kit, a muzzle (injured pets can and do bite!) and extra pet food and bottled water.
Make sure your pet sports and ID tag with your cell phone number and keep a photo of your pet in the glove compartment and on your cell phone so you can show people in case your pet gets lost during a trip.
Learn more about Dr. Becker and his lifelong commitment to bringing out the best in pets by visiting
www.drmartybecker.com
.
Meet Tout Suite - THE Travel Kitty!

Debunking the notion that cats are homebodies, meet Tout Suite, a rescued cat who has logged more than 130,000 miles and easily earned the nickname, The Travel Kitty. Tout Suite frequently teams up with actress and animal adoption advocate Megan Blake on her cross-country adventures. They've traveled by planes and cars - still hoping for trains to finally give the paws-up to allow pets on board.
Megan rescued Tout Suite from an ice storm a few years ago and together, they teamed up on PBS' "Animals Attractions" TV show. They now serve as a spokes-team for Toyota. To ensure you and your cat have a 'meow-va-lous" travel time together, Megan offers these tips:
Keep up on your cat's peticures - trim his claws so they don't catch on something or scratch and cause injury.
Introduce your cat to a soft-sided travel carrier like a Sherpa. Leave the carrier door open in your home and place treats, a favorite toy or a small bed inside to increase its "real estate" value to your cat. Make it a safe, welcoming place for your cat.
Fit your cat with a harness inside the carrier for air travel. Airport security officials require you to remove your cat from the carrier before walking through the screening area. So, snap a leash on the harness before you remove your cat and hold him tightly to your chest with his back against you to prevent an unplanned kitty escape in the airport!
Learn more about Tout Suite and Megan by visiting www.meganblake.com and tuning into the Megan's new Super Smiley Show on Pet Life Radio by clicking here: www.petliferadio.com/supersmiley.html. And special thanks to Kim Swartz for providing this photo of Tout Suite with the pilots!
Cool Down Those Hot Dogs
Make a splash with your hot dogs this summer by treating them to safe, fun water play. Depending on your dog, that could mean swimming, surfing or romping in a splash pad at a dog park. Arden serves as the pet behavior expert for the
Beneful Dream Dog Park
contest that awards a $500,000 dream dog park to a community each year. This year's winning site - Johns Creek, GA features not one, but two splash pads designed by
H20 Fido
. Park organizers report that the splash pads definitely draw dogs of all sizes and ages.
Unlike people who sweat through their pores, dogs pant and cool through their foot pads. Walking or swimming in cool water helps them beat the heat. Never try to cool overheated dogs by spraying them with cold water or putting them in a container with ice - the extreme cold can shock their systems.
Some dogs love to swim and some even like to surf. For these water activities, please fit your dog with a canine life jacket to reduce the risk of drowning. The makers of
Ruffwear
pet gear are giving away one small and one medium life jacket to the 4th and 5th persons who email Arden with the code word, Ruffwear. These are top-of-the-line durable, lightweight life jackets that feature a topside handle. Learn more by visiting Ruffwear by clicking here:
www.ruffwear.com
.
Spotlight: Puppy Up Walk
Each month, Arden spotlights people who make this planet a better place for pets and people. This month, she salutes Luke Robinson and Ginger Morgan, the force between a determined Puppy Up! walk campaign to fight cancer in pets. Their motto: "A cancer-free world starts with one mile, one dog at a time." Luke and his two dogs, Murphy and Hudson, walked 2,000 miles from Austin to Boston to fulfill the promise he made to his dog, Malcolm, who died from cancer. Luke then created 2 Million Dogs on the belief that if two dogs can walk 2,000 miles to bring awareness to cancer, surely 2 million dogs can walk two miles.

Helping him coordinate this ambitious annual mission is Ginger, who serves as "Chief Puppy Up Officer." Her tireless task involves rallying communities all over the country to host Puppy Up walks taking place on Nov. 6. Learn how you can get involved and help Luke and Ginger battle cancer in pets by visiting http://2milliondogs.org.
Lights, Cameras...Fascinating Pets!
We're on the hunt for fun, funky and fascinating videos that spotlight cats, dogs and other companion animals. Please send your favorites to Arden to share in the next issue. Here are our two picks for this month.
Video #1: Demonstrating the real truth about cats and dogs, this spirited kitten named Visa and a cat-adoring Pit Bull named Spike play hard - and nap hard together. Click HERE. Big paws up to Louise Holton, founder of Alley Cat Rescue, for sharing this video that illustrates the strong friendship bonds pets can form. Learn more cat health, behavior, spay-neuter programs and adoption efforts spearheaded by Alley Cat Rescue by clicking here www.saveacat.org.
Video #2: Proving laughter knows no language barrier, a sweet Siberian husky brings out the giggles in an infant. Take a peek by clicking HERE.We're on the hunt for fun, funky and fascinating videos that spotlight cats, dogs and other companion animals. Please send your favorites to Arden to share in the next issue.
Arden is Unleashed on America! For "Mutts" More on Moore: