Lights, Cats, Betty White?!
Ageless wonder and animal advocate Betty White is getting catty - for a good cause. She is judge for the Morris Animal Foundation's Happy Healthy Cat Campaign's photo contest. You can submit photos in three categories: happy cats, cats with people and cats with d-o-g-s. The contest is sponsored by Sergeant's Pet Care Products and the deadline to enter is Dec. 15. Winning photo will be featured on the cover of the MAF's newsletter, Animal News. For more details, click HERE.
Treasured Books
Congrats to Allia Zobel and Julia Lusk, of Clemson, SC, for being the winners of autographed copies of Richard Lederer's new books, A Treasury for Dog Lovers and A Treasury for Cat Lovers.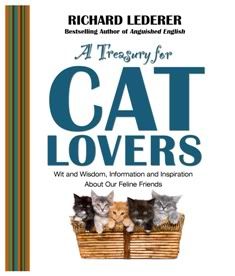 Name That Songwriter!

Paws up to Marcia Breithaupt, of Naples, FL for knowing that Bobby Troup wrote that catchy tune, "Get Your Kicks on Route 66." She wins a free one-year subscription to Fido Friendly magazine, the 'mutt-have' lifestyle and travel magazine for people and their on-the-go dogs. Learn more by visiting www.fidofriendly.com.
Win DuckyWorld Basket!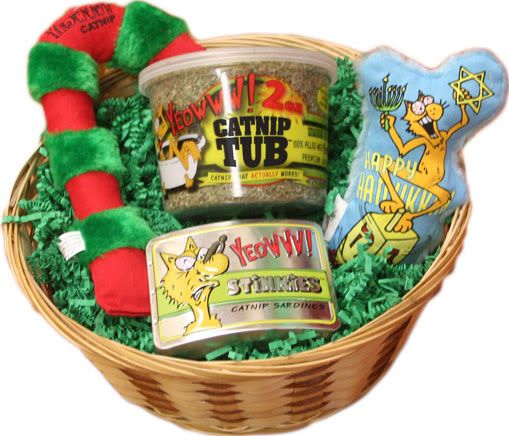 Cats go c-r-a-z-y for catnip, especially the organic catnip-filled toys made by Ducky World. Be the 5th person to email Arden with the correct scientific name for catnip and win a giant Ducky World gift basket. Learn more by visiting www.duckyworld.com. Now that's truly the cat's me-WOW!
Let's Get Tidy, Cats!
Hey, cat lovers! Time is ticking away to enter "America's Most Welcoming Home." Nov. 16 is the deadline to enter your essay, written in your cat's voice, on why your home is inviting, tidy and clean for the Purina® Tidy Cats contest. Judges are TV personality Evette Rio, smell expert Bonnie Blodgett and animal expert Dr. Pia Salk. The grand prize winner receives $5,000, year's supply of Tidy Cats® litter and a party featuring a celebrity chef. Don't delay - enter today! Details are available at www.TidyCats.com.
Sniff Out This Movie!


You'll laugh. You'll cry. You'll wanna be a dog! All of this is captured in the new movie, "Sniff: The Dog Movie." This tail-wagging tale stars Neil Morrissey and Amanda Plummer plus dogs who skateboard, surf, blow bubbles and appearances by Mikey and Gabby, pups in training for
Guide Dogs for the Blind
. Be the 4th to email Arden with the code word, sniff, and get your paws on this edu-taining DVD. Learn more by visiting
www.sniffthemovie.com
.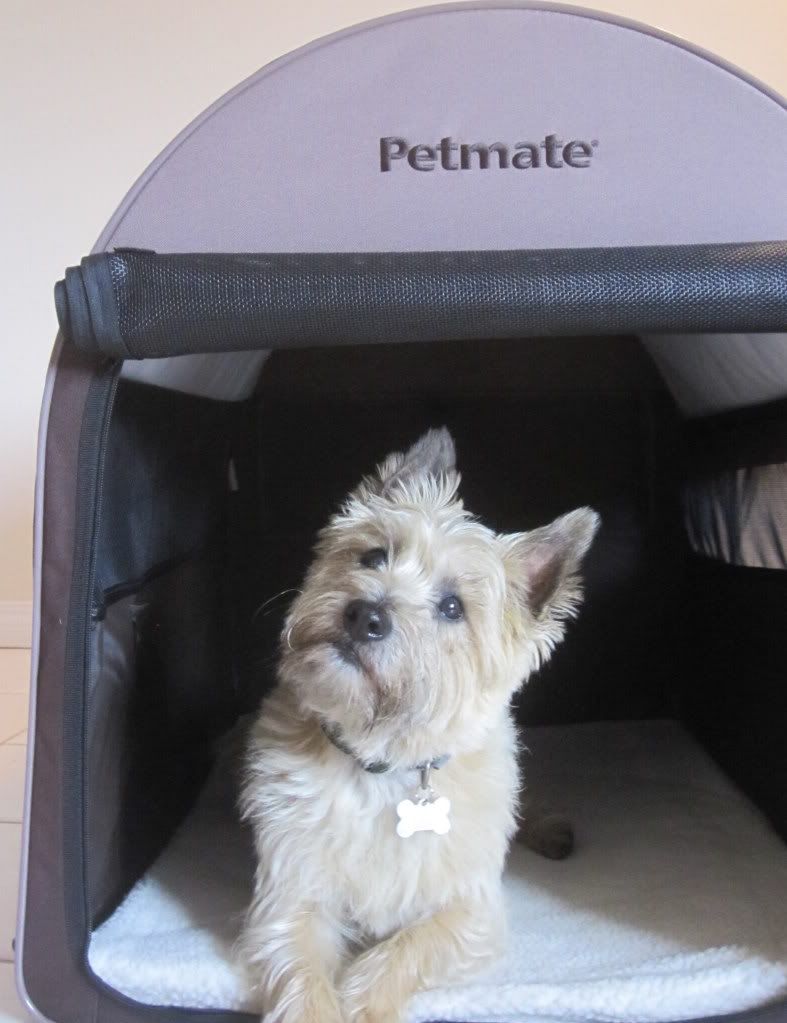 Hollis Dixon, of San Diego, take a (play) bow! Your dog, Mango, will travel in style - and safety thanks to winning the Petmate Portable Pet Home, a collapsible, lightweight carrier that sets up in seconds and is ideal for use in the car, in the hotel room and even at the beach. Learn more by visiting
www.petmate.com
.
Paws Up To Pet Safety
Donna Naylor, of San Antonio, TX and Anita Campbell, of Lee's Summit, MO, are winners of pet-care pocket guides created by Denise Fleck, a certified pet first-aid and CPR instructor, author and animal care expert. Learn how you can protect your pet by getting these pocket guides by visiting www.sunnydogink.com.

Wishes Come True at OC Pet-a-Palooza
Arden Moore "edu-tained" crowds with dog parties and cat chats at the recent Orange County Pet-a-Palooza event in Irvine, CA. She also made a donation to Make-a-Wish Foundation of America to Sherry Buchbinder and her dog, Doc Barker, canine ambassador. Learn more by visiting Barker's Fund
HERE.
DERMagic Winner
You might say that
Leslie Schroeder,
of Greensboro, NC cleaned up by being the lucky
DERMagic
winner. She will receive a trio of DERMagic
's certified organic shampoo bars for her dog. These all-natural, steroid-free skin care products are designed to treat hot spots, manage and other skin conditions. Learn more by visiting
www.DERMagic.com
.
Play It Safe with Trimline

No pet wants to be called a cone head. Say goodbye to those rigid, hard-to-maneuver Elizabethan collars and hello to a pet's best surgical recovery aid: the
Trimline Veterinary Recovery Collar
This soft, blue collar is easy to put on and keep on and lets your dog or cat eat, sleep, drink and play without a fuss. Professional pet sitters, veterinarians and professional pet groomers are starting to ask for Trimline by name. Watch this 4-minute Trimline Recovery Collar on
YouTube!
Click
here
to learn more.
Let Arden 'edu-tain' you!

Looking for a professional speaker, MC or workshop leader for your next event - one guaranteed to "edu-tain" your audience?

Arden

is America's Pet Edu-Tainer™ She informs and delights audiences all over North America. Click HERE to learn more.


Like what you see? Email Arden about creating an email marketing and social media campaign for your business or non-profit group!
Dog Thoughts

Download
this
iPhone
app on iTunes, take a photo of your dog, shake your phone and watch your
Dog's Thoughts
appear!
When it comes to our pets, it's time to talk turkey - as in straight talk - on the many ways that they are blessings in our lives. They happily take on the roles as our confidents, coaches and caregivers.
As you prepare for your Thanksgiving feast, I hope you pause and give thanks for that special dog, cat or other pet in your life. I'm grateful that my Furry Fab Four of Chipper, Cleo, Murphy and Zeki keep me feeling enriched and grounded 365 days a year.
Sharon Sakson shares many ways dogs aid in our physical and emotional health in her new book, Paws & Effect: The Healing Power of Dogs. Get your paws on an autographed copy by being the 5th person to email
Arden
and correctly answering these canine questions:
Who is the patron saint of dogs?
What dog breed was noted by Aztec priests for its healing abilities?
Name an illness that dogs can be trained to detect in people.
On Thanksgiving, call your dog over to the couch and be sure to catch 2-hour National Dog Show on NBC. David Frei and Mary Carillo will co-host this event expected to draw 20 million dog-loving viewers. The show is presented by Purina®. Share a quick note or photo that demonstrate your gratitude for your pet with Arden and win an autographed copy of her books, Happy Cat, Happy You or Happy Dog, Happy You. Folks living in the tri-state area of New York, New Jersey and Connecticut are eligible to win an Evermore Pet Food prize, learn more at www.evermorepetfood.com.

Bounty of Books!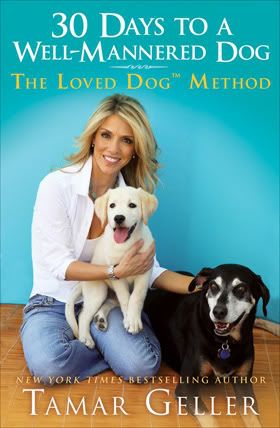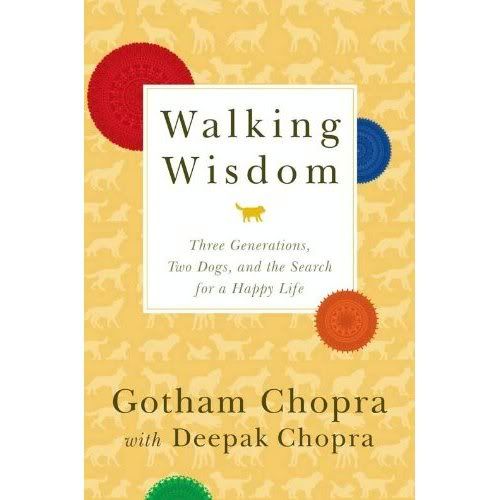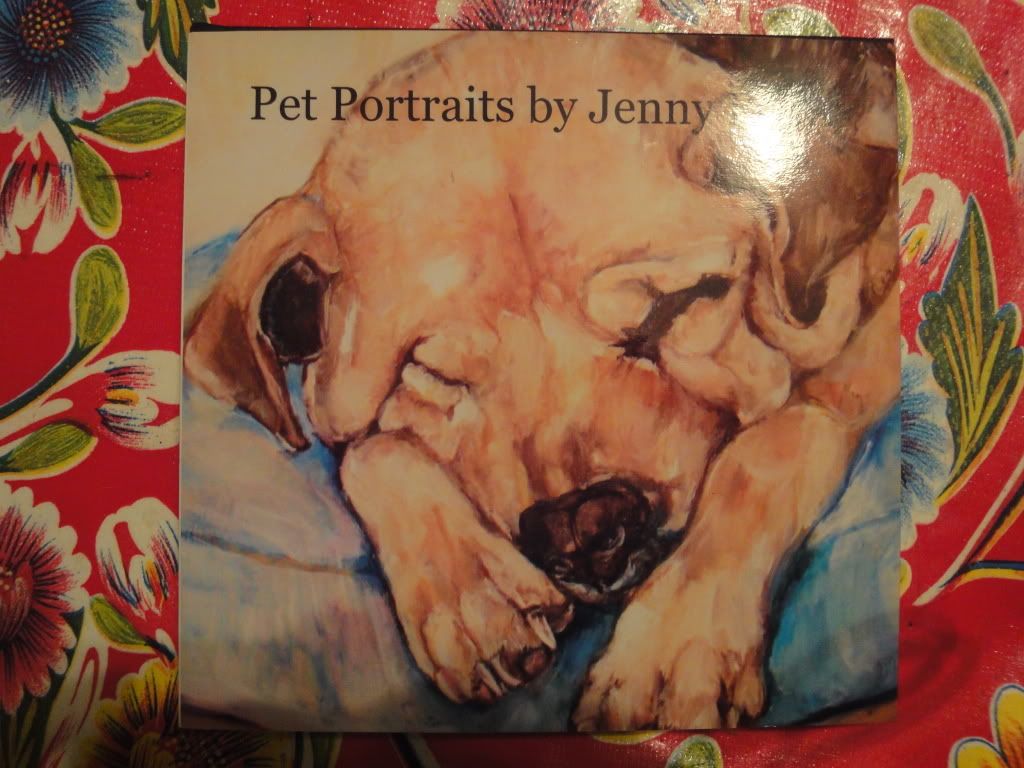 Looking for canine inspiration? A fun way to bring out doggy manners?
Or desiring witty remarks from a savvy cat? You're in luck! Four remarkable
authors - Gotham Chopra, Tamar Geller, Jennifer Freed and Jenny Belin-- have
unleashed books that are definitely worth pawing through their pages. Each
is giving an autographed copy. Email Arden
with
the book title of your choice and she will announce the winners in next
month's issue. Now, let's give paws and applause to:
In the Spotlight: Cancer Crusaders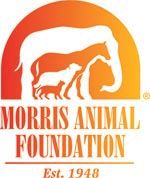 Each month, Arden salutes people and groups doing grr-eat work to benefits pets. This month's pick: the Morris Animal Foundation and Veterinary Pet Insurance, two groups leading the fight to combat cancer. November is Pet Cancer Awareness Month. Check out this inspiration-filled video that highlights the MAF's Canine Cancer Campaign by clicking HERE.
You can play a vital role by keeping tabs on your pet's health and booking regular veterinary visits. Here are 4 ways to help prevent cancer in your pet:
Provide your pet with bottled or filtered water that is free of chemicals such as lead, nitrates or arsenic that can be in tap water.
Don't smoke. Exposure to second-hand smoke can cause lung cancer, lymphoma and nasal sinus cancer in household pets.
Keep your pet at a healthy weight and serve diets that do not contain artificial preservatives or flavors.
Avoid using house or garden pesticides and switch to organic, non-toxic products to reduce the risk of your pet developing lymphoma.
For more ways you can help, visit
www.curecaninecancer.org
.
Honoring 2010's Top Pet and People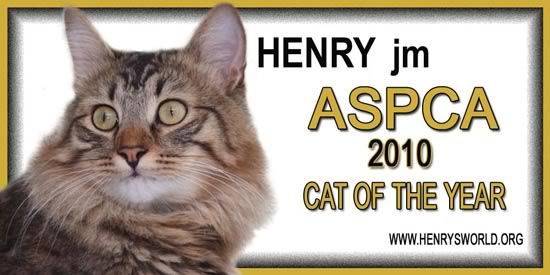 Each year, the American S
ociety for the Prevention of Cruelty to Animals honors pets and people at a special Humane Awards ceremony in New York City. This year's honorees include:
Cat of the Year: Henry, a three-legged cat from La Jolla, CA who teaches lessons of hope to people of all ages across the world. www.henrysworld.org
Dog of the Year: Pearl, a Labrador retriever from Ojai, CA trained as a search and rescue dog.
Kid of the Year: Olivia Bouler, 11-year-old from Islip, NY who raised money for wildlife affected by the oil spill in the Gulf.
Public Service Award: Firefighters of Ladder 116 in Queens, NY for rescuing animals in a store fire.
Henry Bergh Award: Horse advocate Kathleen Schwartz-Howe of Woodbine, MD

Learn more about these and other ASPCA winners by clicking here www.aspca.org.

'MEW'SINGS & MUTTISMS™
It's surprising more dogs and cats don't suffer from an identity crisis. After all, they know the names of our friends and family, but do they really know our names? I asked my four pets, "Where's Arden?" and none showed any sign of recognition.
Just who decided to declare that cats have nine lives? Why not 2 or 10?

Look for Santa Paws 2010 Gift Guide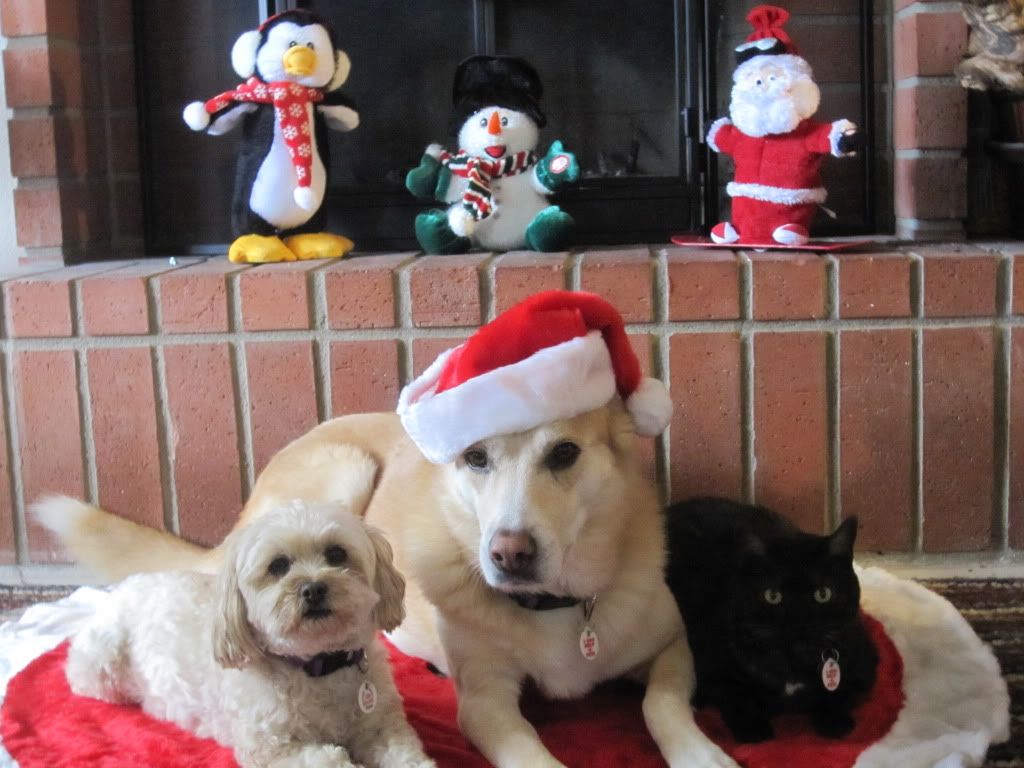 Be sure to check out next month's issue of Arden Moore Knows Pets as we will unveil a list of holiday gift ideas for that special dog, cat or pet lover in your life and shine a spotlight on worthy charitable pet groups, big and small. There's still time if you wish to sponsor your product. For details, contact Dana Humphrey dana@whitegatepr.com.
Podcast Award Nomination
Please cast your vote for
Arden Moore's Oh Behave Show
in the
2010 Podcast Award Contest
. Hurry - voting ends Nov. 21 and you can only vote once. Please nominate in these two categories: People's Choice and General. Click
HERE
for the nomination form. Under Podcast Name, write Oh Behave and under Podcast URL, use this tiny url:
http://bit.ly/91ijXd
. At the bottom, fill out your name and email and indicate you are a listener for the vote to count. Thank you, thank you!