Got Dog Park Envy?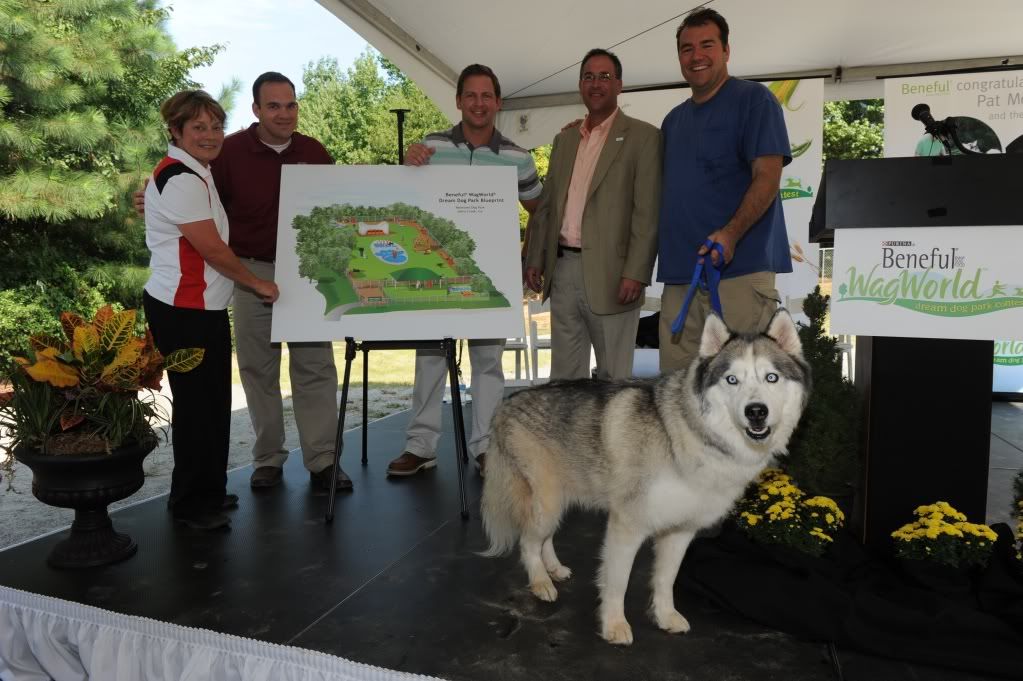 Talk about bow-WOW! Come next spring, the town of
Johns Creek, Georgia
will own bragging rights to a $500,000 Dream Dog Park, thanks to resident
Pat McNeely
who submitted the winning entry in a national contest sponsored by
BenefulŪ and Wag World
. Construction is being supervised by TV personality and design expert
Jason Cameron
(of DIY Network's Man Caves show fame) and
Arden Moore
will ensure the place truly caters to the dogs.
The park will sport a paw-shaped splash pad, bone-shaped ramps, tunnels, rubber mulch paths, synthetic grass, canopy tents, drinking fountains and much more. Learn more by visiting
www.benefuldreamdogpark.com
and catch Arden's short videos on her
YouTube
Channel.
The first, fifth and 10th person to email
Arden
with the code word, "Beneful," will receive a coupon good for up to $30 in BenefulŪ chow for their dogs.
Go Green, Jan!

Jan Raissian

of Williamson County, Tennessee was the 10th person to email Arden with the code word, "green" and wins a

Greener Pup Cuddle Bug Bed

. The Greener Pup beds are made from 100-percent recycled plastic, feature washable covers and are overstuffed to be extra cozy. 100 percent of profits from each sale of these eco-friendly dog beds benefits

Ace of Hearts Non-Profit Foundation

, a group dedicated to placing dogs in loving homes. Click HERE to learn more.
Connecticut Goes to Dogs or Cats - You Decide

The small, proud state of Connecticut has an official insect (the European mantis) and a state troubadour (

Pierce Campbell

), but alas, needs to boost its dog and cat ratings. So, the

American Kennel Club

www.akc.org and

Cat Fanciers Association

www.cfa.org teamed up to sponsor a fun "meet the breeds" voting contest that ends Sept. 20.

Playing on Connecticut's stereotypes, this group asks you to vote for dog or cat breed in such categories as Old money: the Pointer or the Persian? Both rank among the first registered breeds. State size (third smallest): Norfolk terrier or Singapura? Both are small, but confident breeds. Check out the other categories by visiting www.meetthebreeds.com where you can also learn more about the 160 dog breeds and 41 cat breeds being showcased Oct. 16-17 at the Jacob Javits Center in New York City.
Sleep in Style




Kelly Bailey

of San Diego was the eighth person to email Arden with the code word, "Kashmir" and wins a custom -knitted sleeping bag made of machine washable wool by

Wool and Kashmir Couture

www.woolandkashmir.com. These sleeping bags are made in the USA and are delivered inside organizational storage bags. Congrats, Kelly!
Play It Safe with Trimline

Trimline Veterinary Recovery Collar
. This soft, blue collar is easy to put on and keep on and lets your dog or cat eat, sleep, drink and play without a fuss. Professional pet sitters, veterinarians and professional pet groomers are starting to ask for
Trimline
by name. Watch this 4-minute Trimline Recovery Collar on
YouTube!
Click
here
to learn more.
Let Arden 'Edu-tain' You!

Looking for a professional speaker, MC or workshop leader for your next event - one guaranteed to "edu-tain" your audience?
Arden
is America's Pet Edu-Tainer™ She informs and delights audiences all over North America. Click
HERE
to learn more.
Like what you see? Email
Arden
about creating an email marketing and social media campaign for your business or non-profit group!
Dog Thoughts

Download
this
iPhone
app on iTunes, take a photo of your dog, shake your phone and watch your
Dog's Thoughts
appear!
In honor of
Pet Smile Month
, yes, you read that correctly, let's acknowledge some ways that our dogs and cats put the grin back on our faces, joy in our hearts and the pep in our step.
Here are some ways to bring out the healthy best in you and your pet pal from
Arden's
best-selling books,
Happy Dog, Happy You
and
Happy Cat, Happy You
:
Speak in a happy, upbeat tone and let out a few hearty "hee hee's' and "ha ha's" in front of your pet. Studies confirm that happy talk and laughter release feel-good hormones called endorphins and reduce stress.
Call your pet over and read the newspaper or book chapter out loud. Your pet may not understand the words, but feels your energy. Scientists say neurobics - or reading out loud - gives your brain a healthy workout.
Greet each morning with a purposeful s-t-r-e-t-c-h. Enroll in a pet yoga class. Stretching reduces muscle tension and stiffness plus improves blood circulation for the both of you.
Take a power nap with your pet. Thomas Edison, a famous cat lover, advocated taking 20-minute names to revive, recharge and renew. Our feline friends have

purr-fected

this art.
Arden will giveaway autographed copies of her "Happy" books to the 10th and 15th person to email her
arden@fourleggedlife.com
. Please indicate if you want a cat or dog version.
A generation ago, for far too many dogs, their world rarely extended beyond the backyard. Not today. Our canine pals are out and about with us. They take road trips, join us at outdoor cafes and on occasion, join us to "woof" for our favorite baseball team, giving new meaning to the term, 'hot dogs."
Recently,
Cleo
and
Arden
paw-ticipated in the annual Dog Days of Summer event sponsored by the
San Diego Padres
at
Petco Park
. In attendance: 500 dogs - big and little, some dressed in baseball caps and shirts (and a few dresses) and all grinning and wagging tails as they strutted along the field during the pre-game pet parade. You can catch the action on Arden's Oh Behave Show on
Pet Life Radio
(Episode #120) that includes an interview with Hall of Famer and avid dog lover,
Steve Garvey
.
Here are some tips to make sure your next outing goes without a grrr-owl:
Enroll your newly adopted puppy or shelter rescue in a positive reinforcement-based dog training class.
Keep your dog on a six-foot leash or shorter for better control. Leave those retractable leashes at home.
Make sure your dog is up-to-date on all vaccinations, including Bordetella every six months.
Bring water and portable, collapsible dog water bowl.
Pay attention so you can stave off a doggy bark exchange before it escalates into a fight.
In the Spotlight: Dawn Celapino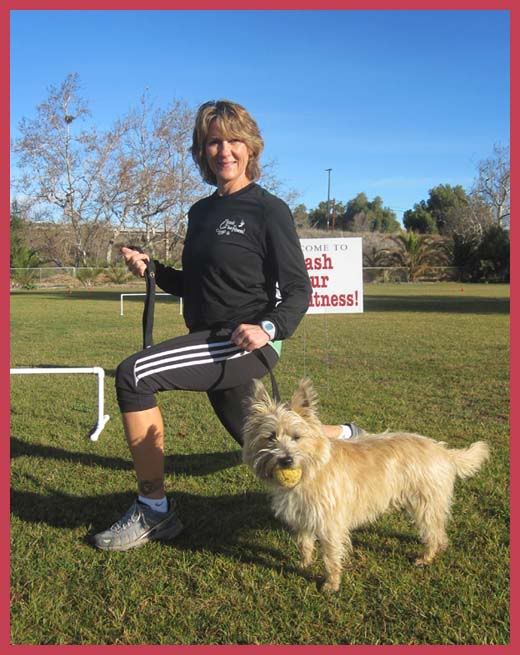 Each month, Arden salutes people and groups doing grr-eat work to benefits pets. This month's pick:
Dawn Celapino
, founder of
Leash Your Fitness
, a workout class for you and your dog. With her equally fit Cairn terrier,
Jack
, Dawn puts the fun in fitness for people and dogs of all ages and sizes.
An ACE-certified personal trainer for 18 years, Dawn began LYF a couple years ago after adopting Jack.
"I hated having to leave Jack at home while I went to a gym to teach or workout," she says. "He's my best workout partner."
Starting with one class and a handful of attendees, Dawn has expanded the number and type of classes all over San Diego County. Class themes include drill, walking, boot camp and doga yoga. She hosts fun get-aways like people-dog kayaking and weekend camping that give new meaning to the term, "pup tent." She also strives to raise money and awareness for non-profit pet groups.
Dawn has been featured in national magazines like
Fido Friendly
www.fidofriendly.com
and TV, including Animal Planet. Personally, she has helped me get back in shape and shed more than 20 pounds. Jokingly, I am considering changing my name from Arden Moore to Arden
Less
. Learn more about Dawn and Jack by visiting
www.leashyourfitness.com
. Check out the short video and "I Love Dogs" theme song. Get fit - and have fun - the Leash Your Fitness way!
Paws Up to Guide Dogs for the Blind!
September is designated at National Guide Dog Month. Since 1942,
Guide Dogs for the Blind
has given more than 11,000 blind and visually impaired people a new leash on life by pairing them up with specially trained service dogs. This non-profit group, based in San Rafael, California, spotlights the powerful connection between people and dogs in many ways. Their slogan: "Using our power of partnering to improve quality of life."
Laugh, love and learn by checking out the Guide Dogs' blog, e-newsletter, videos and more by visiting
www.guidedogs.com
. You'll be in grr-eat company. Actress
Betty White
, a long time animal advocate, has co-authored a couple books with
Tom Sullivan
that celebrates guide dogs. Check out
Leading Lady: Dinah's Story and Together: A Novel of Shared Vision.
'MEW'SINGS & MUTTISMS™

Dogs spend a lot of time sniffing each other's rear ends to download info. We complain when people stink and have "BO" (body odor), but do dogs view "DO" (doggy odor) as a welcomed scent?

I have yet to meet a single cat suffering from a midlife crisis - or lamenting about having a bad hair day.
Time to question the validity of the term, "work like a dog." In this age of pampered pets, I'd gladly swap one of my work weeks with the "mutts-do" that Chipper and Cleo accomplish in a week.