Meet Yogi - One Marvelous Mutt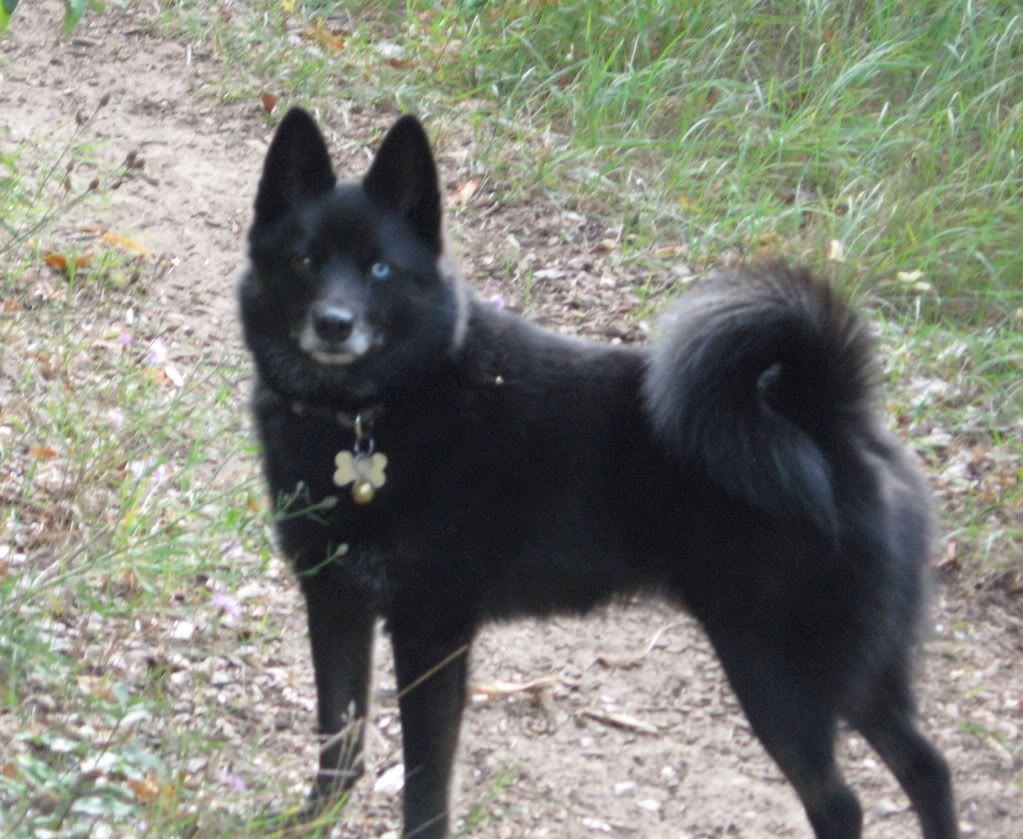 Yo, Yogi!
Marsha Wheaton
submitted her story on how she adopted this blue-eyed Schipperke mix in our contest celebrating National Mutt Day (July 31). She wins a $50 gift certificate from
Muttropolis,
learn more at
www.muttropolis.com
. Click to Arden's blog on
Four Legged Life
-- to read Marsha's winning entry. Yogi is one lucky pup! Marsha runs a professional pet sitting company called
Dog Mom At Your Service
.
Share a Tail Tale and Win $1,000 or an iPad

Eager to get your paws on $1,000 or an iPad? Submit a compelling story/photo about how pet insurance helped your pet in a contest sponsored by North

American Pet Health Insurance Association

. Entries must be received by Sept. 15. For more details, visit www.napia.org or email petinsurancemonth@napia.org. Good luck!
Martha Stewart Dishes Up A Winner!

Catnip and Frisky Felines

Yeowwwwl! This word best describes how cats go bonkers for organic catnip-filled toys made by Ducky World Products. Kudos to

Kathy Brunner

(and her cool cat, Alice) for winning a

Ducky World

gift basket. Learn more about catnip by tuning into Arden's Oh Behave Show on Pet Life Radio - Episode #115.
Doing the Doggy Strut

Carla McBee

was the fifth person to email Arden and won a pair of

Bark 'n Boots Grip Trex

- the all-condition, all-terrain dog boots from

Ruffwear

. These boots work year round to keep paws safe from nasty weather, grass allergies and injuries. Learn more by visiting www.ruffwear.com.

Bo-WOW, Jen Faye!

Take a (play) bow,

Jen Faye

. She won an autographed copy of the newly revised book,

How to Behave So Your Dog Behaves

by

Sophia Yin, DVM

, renowned veterinarian and applied animal behaviorist from San Francisco. Learn more about dogs, cats and Dr. Yin by visiting www.DrSophiaYin.com.

Cat Confessions Book Winner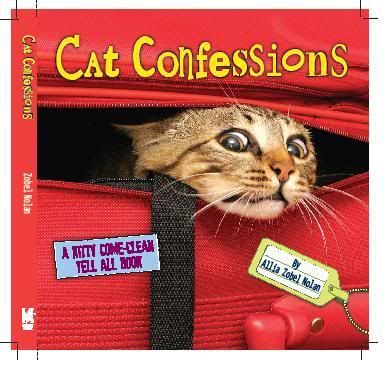 Lucia Colella
emailed Arden to declare that prolific author
Allia Zobel
, hails from Connecticut. Knowing this geographical fact earned Lucia (and her cat, Georgina) a copy of Zobel's latest book,
Cat Confessions: A 'Kitty-Come-Clean' Tell All Book
." Congrats, Lucia! Learn more about Allia by visiting
www.alliawrites.com
.
Help Will Bounce Back and Land a Loving Home

Mayor's Alliance for NYC's Animals
report that this pup named
Will
is in stable condition. If you would like to make a tax deductible donation to help pay for Will's care and other pets in need, do so through the Mayor's Alliance Picasso Veterinary Fund at
www.animalalliancenyc.org
. While recovering, Will sported a
Trimline Veterinary Recovery Collar
. This soft, blue collar is easy to put on and keep on and lets your pet eat, sleep, drink and play without a fuss. Watch this 4-minute Trimline Recovery Collar video on
YouTube!
Click
here
to learn more.
Let Arden 'Edu-tain' You!

Looking for a professional speaker, MC or workshop leader for your next event - one guaranteed to "edu-tain" your audience?
Arden
is America's Pet Edu-Tainer™ She informs and delights audiences all over North America. Click
HERE
to learn more.
Like what you see? Email
Arden
about creating an email marketing and social media campaign for your business or non-profit group!
Dog Thoughts

Download
this
iPhone
app on iTunes, take a photo of your dog, shake your phone and watch your
Dog's Thoughts
appear!
The Fang Shui Way

Is your house drowning in pet fur, tattered toys and spilled kibble? Tired of guests whispering that your house has "gone to the dogs...or cats"? Help is here.


We salute these products that ensure a neat home for you and your furry roommates:
100 percent of profits from each sale of these eco-friendly dog beds benefits
Ace of Hearts Non-Profit Foundation
, a group dedicated to placing dogs in loving homes. The
Greener Pup
beds are made from 100-percent recycled plastic, feature washable covers and are overstuffed to be extra cozy. Be the 10th to email Arden with the word "green" to win a bed for your dog. Click here to learn more:
www.greenerpup.com
.
Cats dig high places to snooze and survey their surroundings.
Feline Furniture
offers a wide array of well-crafted cat beds, trees, hammocks, furniture, trees and even "catios" - patio furnishings for felines. Learn more by visiting
www.felinefurniture.com
.
Treat your pet to a cozy slumber inside a custom -knitted sleeping bag made of machine washable wool by
Wool and Kashmir Couture.
Learn more at
www.woolandkashmir.com
. These sleeping bags are made in the USA and are delivered inside organizational storage bags. Be the 8th person to email Arden with the word "Kashmir" to win a sleeping bag for your small pet.
Neater Feeders
are designed to be kick proof and spill proof to keep your kitchen floor clean and dry at chow time. Learn more by visiting
www.neaterfeeder.com
.
Arden offers these pet-friendly home décor tips:
Buddy up to your vacuum cleaner. Select a brand made for pet hair and zip it around twice a week.

Match furniture with your pet's fur color to keep "hairy evidence" not so obvious.

Protect your sofa from pet slobber with washable pet throws and covers. Yank them off when guests arrive.

Replace carpet with tile or wood flooring - easier to clean and doesn't harbor pet odors.

Treat your pet to regular grooming and nail trims. A clean pet is a happy pet.

Avoid "stinky" toys and treats like rawhides that can make your den smell like a dude ranch.
Play Ball!

Let's s-t-r-e-t-c-h those dog days of summer by enjoying the grrr-eat outdoors with your canine chum. If you need some ideas, consider taking your dog to a major league baseball park. If you dress her up, you give new meaning to "hot dog." We sniffed out about 14 ball parks that are dog-friendly, including the aptly named, Petco Park, home of the San Diego Padres.
Turns out that the Pittsburg Pirates can boast having the most "barks in the park" with six this season. The San Francisco Giant get a paw's up for doing this event the longest as they get ready to host their 14th annual Dog Days of Summer on Aug. 29. Check with your local team to find dates/rules. Heed these tips to make the outing a home run of fun:
Bring well-mannered, socialized pups.
Show proof that your dog is up to date on vaccines.
Skip the trimmings & condiments if you treat your dog to a piece of your hot dog.
Exercise your dog before the game so he won't be tempted to run the bases.
Keep your dog on a six-foot leash and don't forget to pack your poop bags.
Hang 20!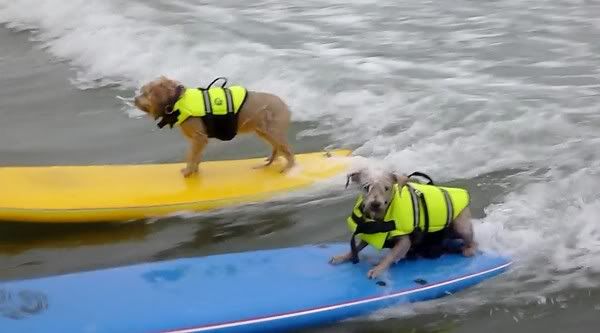 For coastal canines, dog surfing is the latest "in" sport, especially in California. Arden's dog, Cleo loves to "hang 20" and now surfs backwards! If your dog digs water and waves, make sure he wears a life jacket before stepping on to the board. Enroll him in a dog surf school - yes, they do exist. And remember to reward him when he is ON the board with treats and praise - not when he is OFF the board. Otherwise, he will learn to simply jump off the board to try to score treats. Learn more by visiting www.surfdog.kintera.org. Catch Cleo and her new surfing pal, Snow, in this video on Arden's
Facebook page
.
Share your favorite "Dog Days of Summer" story/photo and win a $25 Petco gift card and autographed copy of Arden's book,
Dog Parties
. Email
Arden
. Deadline is Sept. 1.
In the Spotlight: Monica Plumb Kid Pet Crusader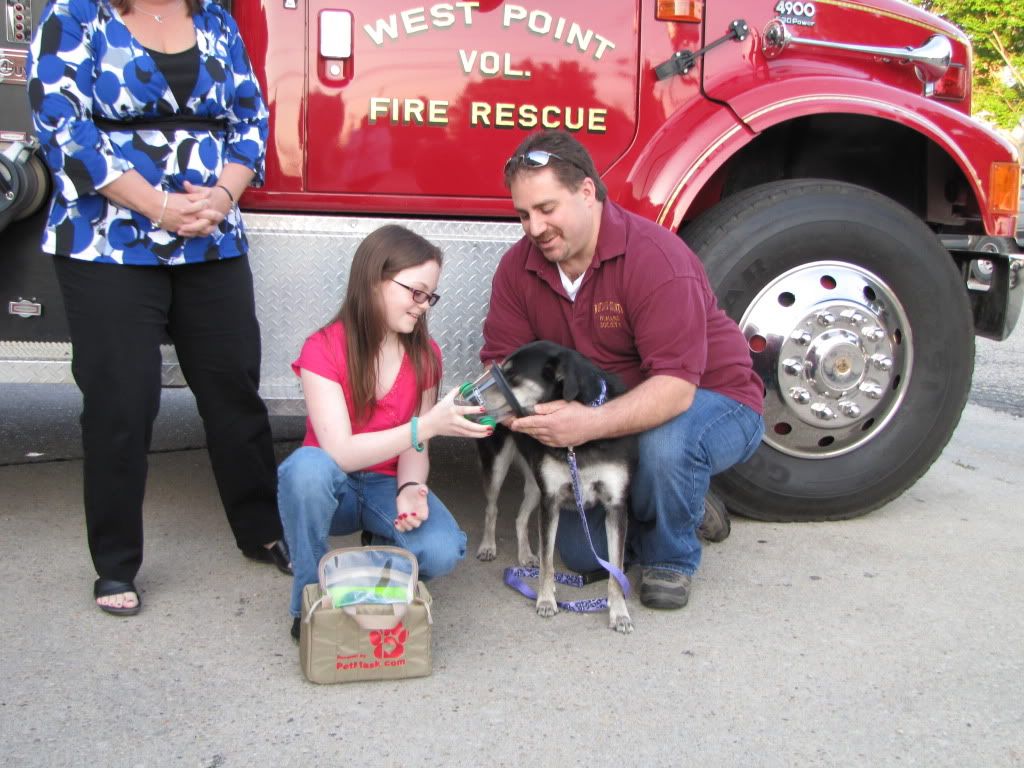 Each month, Arden salutes people and groups doing grr-eat work to benefits pets. This month's pick: 12-year-old
Monica Plumb
of Powhatan, Va. Dismayed to discover that most fire departments lack pet oxygen masks, she created the
www.petmask.com
website to raise money to buy these life-saving devices. Thanks to her, about 300 fire stations from Maine to Alaska - plus some in Canada -- now carry these masks. Each pet oxygen mask kit costs about $70. If you would like to make a donation and/or become a sponsor for a specific fire station, please contact Monica at
sponsorship@petmask.com
. As Monica says, "Every penny counts! I hope to provide pet oxygen masks to every fire station that needs them."
Monica's efforts have earned her the 2009 ASPCA "Tommy Monahan" Kid of the Year Award and 2009 United Animal Nations' Animal Choice Award. She proves that you are never too young to make a difference.
Looking for an all-encompassing way to keep your pet healthy? Your timing is great. Aug. 31 is
National Holistic Pet Day
. Learn about holistic medicine by tuning into Arden's Oh Behave Show on
Pet Life Radio
(Episode #61) that features
Jean Hofve, DVM
, one of the nation's most respected holistic veterinarians. She has written many books, including the latest,
The Complete Guide to Holistic Cat Care
(co-authored with Celeste Yarnall, PhD.) She also conducts seminars, performs nutritional consultations and creates pet-safe spirit essences. Click
here
to learn more.