Gifts That Make Tails Wag!

What percentage of people gives gifts to their pets on holidays or special occasions?
Be the third person to e-mail
Arden
with the correct answer and win a
grrr-eat
Spring Basket ($29.95 value) by
My Paws.
The Spring Fun Basket includes: two stainless steel bowls, a Frisbee, a bandana, squeaky toy and all natural treats. Use coupon code "FIVEOFF" and enjoy $5 off any basket purchased through April. Learn more by visiting
www.mypaws.biz
.
Victors of "Super" Bowls

Wow! A lot of you must dig the

EatBetter® Bowls

and

DrinkBetter® Bowls

for your chowhound as we got avalanched by submissions.

Grrr-eat

news! The makers of these uniquely designed bowls that curb gulping and reduced water spills are happy to give bowls to these 10 lucky entrants:

Anita Campbell, Marcy Piasecki, Renee Lewis, Barbie Klapp, Yvette Gonzales, Kelly Kearny, Kristen Burton, Dorell Sackett, Jacqueline Pino and Tammy Folino

. Learn more by visiting www.contech-inc.com.


Pet Cartoons by Buck Jones

Tina Taucher

tuned into Arden's Oh Behave show featuring cartoonist

Buck Jones

and was the first to e-mail the code word, Blaze, to win a personalized pet cartoon from this award-winning cartoonist. Congrats, Tina! Learn how you can get your paws on a Buck Jones original - click here.
Thundershirt Winners

Have no fear, doggie - Thundershirt is here! This revolutionary, snug-fitting dog shirt helps dogs coping with separation anxiety, fear, thunderstorm phobia and more. Winning Thundershirts for correctly identifying Florida as the Lightning Capital and Fleetwood Mac as the musical group are

Jan Brown

and

Diane Murowany

. Learn more about the Thundershirt by clicking here: www.thundershirt.com.

Listen to an interview with Thundershirt spokesperson

Phil Blizzard

and TTouch creator

Linda Tellington

on www.PetLifeRadio.com.

Yummy for the Tummy

Scoring homemade Fresh Fetch Pet Foods meals customized for their dogs are

Maura Warnecke

and

Kippy Greicar

. Bone appétit! Learn more by visiting www.freshfetchpetfoods.com.


Help for Hairy Hounds!

Goodbye, dust bunnies!
Elissa Wolfson
and
Patti Roseman
won new FURminator® deLuxe deShedding tools that feature FURejector buttons to clean and remove loose hair from the tool with ease. Learn more by visiting
www.FURminator.com
.
T-r-e-a-t-s Spell Delicious!

Becky Hough
and
Kelly Kearny
won delicious
Stella & Chewy's®
all-natural Carnivore Kisses™ and Carnivore Crunch™ treats. Learn more by visiting
www.stellaandchewys.com
.
Play it Safe with Trimline

No pet wants to be called a cone-head. Say good-bye to those rigid, hard-to-maneuver Elizabethan collars and hello to a pet's best surgical-recovery aid: the
Trimline Veterinary Recovery Collar
. This soft, blue collar is easy to put on and keep on and lets your pet eat, sleep, drink and play without a fuss. Watch this 4-minute Trimline Recovery Collar video on
YouTube!
Click
here
to learn more.
Make It a Clean Sweep This Spring
For your spring-cleaning projects, having the right tools makes all the difference in saving time and making your place shine. So, even if you do have a lovable shedder or a tail-wagging drooler, our friends from
Arm & Hammer
are here to help you clear the air of any unwanted pet odors. Just heed these tips:
Throw out any pet toys that show too much love, and donate any items your pet is less fond of to a neighborhood pup or local shelter.
Avoid using ammonia based products to clean up pet stains. The smell can trigger your pet to have more accidents.
Use 2-in-1 odor-eliminating tools to combat pesky pet odors, like ARM & Hammer's combo pack of Pet Fresh premium vacuum bags with Pet Fresh Fresh-ins. Fresh-ins are small white pouches packed with the natural power of ARM & HAMMER® baking soda that are emptied into a vacuum bag or dust cup, to safely and naturally neutralize odors inside and outside the vacuum.
Life with our pets can be hairy at times. Here's your chance to win an Electrolux Versatility vacuum (a $299 value) or one of five spring-cleaning Arm & Hammer bucket prizes. Be the first to
e-mail Arden
with the correct answers to this quiz:
Name three dog breeds notorious for shedding.
Name three drool-prone dog breeds.
Dog Thoughts

Download
this
iPhone
app on iTunes, take a photo of your dog, shake your phone and watch your
Dog's Thoughts
appear!
Sniff out
Four Legged Life.com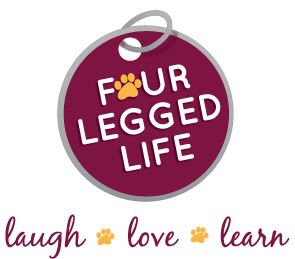 Laugh, love and learn about all things pets at
Four Legged Life™
, the new, online pet community created by
Arden Moore
and launched on April 1 - no fooling!
"Each day, dogs and cats teach us many life lessons - if we pay attention," says Arden. "Dogs bring out the grins in us. Cats teach us the importance of power naps. They help us become better people."
Four Legged Life™ showcases engaging pet videos, top pet radio shows, buzz-generating blog, surprising tips about cats and dogs, quality pet products and much more.
So, what are you waiting for? Click here and share something a funny photo, story or video about your pet on the
Four Legged Life blog
and Arden will reward the best entry with a $50 gift card to Petco. Bo-WOW!
What? A Scuba-Diving Cat?!


Scuba Cat Photo by Gene Alba
Who says cats hate to swim? Meet Hawkeye, a calico who not only paddles in the family pool, but who also - gulg! gulg! - wars a customized scuba suit and enjoys underwater adventures with her best canine pal, Mutley.
Scuba Dog Photo by Gene Alba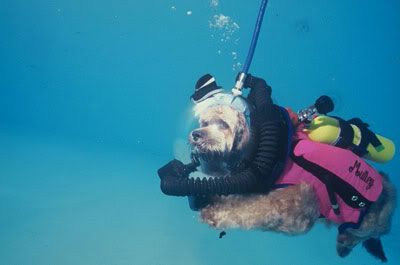 The pair belongs to scuba diving enthusiast
Gene Alba
, of Redding, Calif. The scuba pet duo makes quite a splash on YouTube. Check out this video
here
.
Whether the body of water is an ocean, lake or pool, water therapy is a good aerobic exercise for dogs. In fact, water's natural buoyancy can be far kinder on dogs than long walks on concrete sidewalks or arduous hikes on rocky terrain.
Marty Becker, DVM
, known as "America's Family Vet," shares these six safety tips for your water-loving dog:
Avoid rivers with strong currents or keep your dog on a long line.
Avoid water that is stagnant or that has algae on it.
Never let your dogs swim in small ponds constructed to drain water from housing developments or ponds at golf courses. Lots of parasites live in those ponds.
After each swim, rinse you dog off in clean water.
Give your dog time to play around in shallow areas and bring floatable toys and treats that float.
End the water workout before your dog becomes overtired.
Be the fifth and 10th person to
e-mail Arden
with the code word, water, and
win a WaterDog
automatic outdoor drinking fountain. Contact
www.contech-inc.com
to learn more about WaterDog. Harness more pet advice from Dr. Becker at
www.drmartybecker.com
or
www.petconnection.com
.
'MEW'SINGS & MUTTISMS™

Good thing rude comments roll off our dogs and cats like, well, water off a duck. Otherwise, they might take offense to such inappropriate comments as, "He's such a dog!" or "She's being so catty!"
Extra! Extra! The definition of recycling - canine-style: re-using those plastic sleeves from daily newspaper deliveries as poop pickup bags.
Performing yoga at home can be challenging, especially when you are trying to hold a "downward facing dog" pose and your canine pal takes that opportunity to deliver sloppy kisses to your face - right, Chipper?
IN THE SPOTLIGHT:
All My Children's Julia Barr

Each newsletter, Arden shines the spotlight on a "top dog" or "cool cat" in the pet world. This month, we salute actress and animal advocate
Julia Barr
. You know her best as the intriguing - and savvy - Brooke English on ABC-TV's popular "All My Children" daytime drama. But Julia Barr has been steadily benefiting the lives of dogs and cats all over America without a lot of drama. She has served as lead celebrity spokesperson for The Fund for Animals and is now reaching out to the Save the Animal Rescue Team. And she loves her dog, Lucy and cats, Ned and Margaret.
Tune into the Oh Behave! show (Episode #105) on
Pet Life Radio
and listen at Julia dishes on what life is like on a soap opera and discusses the latest "cat fight" between her character and Erika Kane (aptly played by Susan Lucci). Learn more about Julia by visiting
www.juliarosebarr.com
.
Bring out the true party animal inside you and learn how to sneak in good doggy manners in a fun way.
Arden Moore
will be a featured speaker at the
Southern California Pet Expo
in Ontario on April 11. Her topic: dog parties. This event, will feature more than 10 vendors and more than two dozen pet-related shows and exhibitions, including demonstrations by splash dogs, Frisbee-catching dogs and stunt dogs. Don't miss it! Learn more at
www.calpetexpo.com
.