No Gulping Allowed!
To slow down your speedy chowhound or super slurper, the makers of the

EatBetter® Bowl

and

DrinkBetter® Bowl

offer unique design solutions. Their water bowl features a float configuration that encourages slower drinking and reduces water spills and choking. Their food bowl's wishbone center slows down eating to enhance digestion and reduce bloat. Be the 5th person to email Arden with the code words: "healthy bowls" and win a set. Learn more by visiting www.contech-inc.com.


Did Someone Say Treats?

Yummy, delicious and nutritious - these words describe
Stella & Chewy's®
all-natural Carnivore Kisses™ and Carnivore Crunch™ treats. Treat your dog right by being the 3rd person to email
Arden
with the code words: "Stella and Chewy" and win these lip-smacking products. Learn more by visiting
www.stellaandchewys.com
.
Your Best Teacher: Your Dog

Congrats,

Trish Penick

of San Diego! You won an autographed copy of

Leashes and Lovers

, the sensational new book by

Sheryl Matthys

, The Dog Expert® and founder of Leashes and Lovers, the online social and business community for dog lovers.

Check back to Leashes and Lovers on March 31 for the virtual book launch and have a chance to win a gift package: Best Books by Arden Moore!


HSUS and Trimline:
Take a Bow

To counter pet overpopulation, the Humane Society of the United States sponsors Spay Day USA and works with shelter and rescue groups to provide low-cost spay and neuters for dogs and cats. Paws up to

Vicki Stevens

, HSUS Spay Day Coordinator! This year,

Trimline Veterinary Recovery Collar

partnered with the HSUS and provided free samples and special discounts to event organizers of its soft, blue collar that helps pets recover easily from surgeries. Learn more by visiting www.humanesociety.org/spayday.
Watch this four-minute Trimline Recovery Collar video on YouTube! Click here to learn more.
Give Your Pet the Brush Off

Doing the impossible, the makers of

FURminator®

just got better. Be the first person to email a photo of your hairy pet to Arden and win a new FURminator® deLuxe deShedding tool. It comes in three sizes and features a FURejector button to clean and remove loose hair from the tool with ease and a sleek, ergonomic handle that is easy to grip. Be sure to indicate the "make, model and year" of your pet so the right sized grooming tool can be delivered to you. Learn more by visiting www.FURminator.com.


.


Garfield's Zip Code Revealed

Pet Airways Winner

Congrats to
Susan Baker
and her miniature poodle, Cubby, of Atlantis, FL for winning a free round-trip ticket on Pet Airways! Susan and Cubby (named for her beloved Chicago Cubs), make frequent trips from their Florida home to Chicago and look forward to Cubby riding in style aboard Pet Airways. Learn more by visiting
www.petairways.com
.
Bravo! Best in Show

Nora Parker
of Madison, NJ aced my Best in Show quiz that saluted
David Frei
, lifetime dog lover, breeder and beloved co-host of annual Westminster Kennel Club Dog Show. Nora's correct answers: 1B - Best in Show is the 2000 movie that spoofed the real Westminster KC show; 2C - This dog show features 7 classes; 3B - This dog show ranks second to the Kentucky Derby as the country's oldest, continuous sporting event. Nora wins an autographed copy of Arden Moore's book,
Dog Parties
. Find out who the top dogs were from this year's show by visiting
www.westminsterkennelclub.org
.
Mine, Mine, Mine

Patti Roseman
of Pensacola, FL is the lucky winner of the award-winning documentary called Mine. This mutt-see movie chronicles the impact Hurricane Katrina had on people, animal rescuers and adopters of Katrina dogs and cats. Learn more about Mine here:
www.filmmovement.com
.
Dog Thoughts

Download
this
iPhone
app on iTunes, take a photo of your dog, shake your phone and watch your dog's thoughts appear!
Let Arden 'edu-tain' you!

Looking for a professional speaker, MC or workshop leader for your next event - one guaranteed to "edu-tain" your audience? Arden is America's Pet Edu-Tainer™ She informs and delights audiences all over North America. Click
HERE
to learn more.
Like what you see?
Email Arden
about creating an email marketing and social media campaign for your business or non-profit group!
Coming up next month... Arden is ready to unleash something exciting, and it all revolves around your four-legged friend!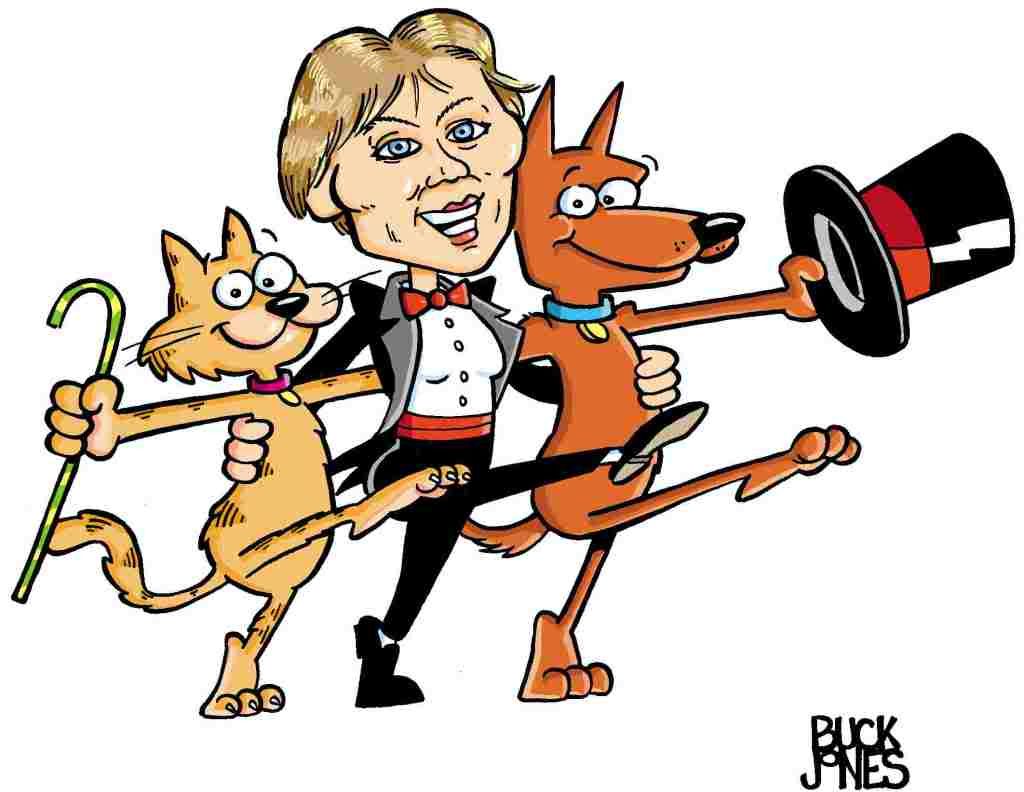 Dogs Drool for Real Food!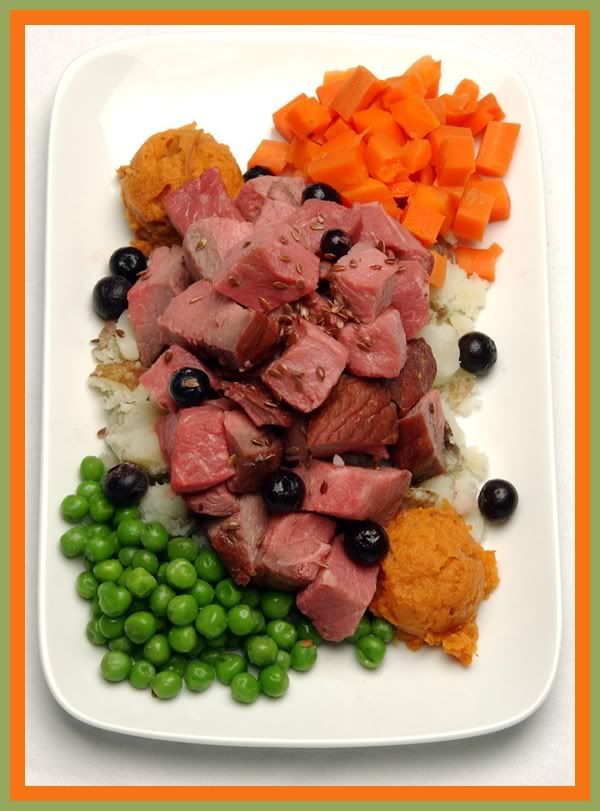 The way to win a dog's heart is through his belly. In celebration of
National Pet Nutrition Month
, Arden serves up some meaty advice to keep your dogs and cats at their healthy best:
Avoid these no-no foods: grapes, onions, real bones and definitely, chocolate.
Make sure the first ingredient is a real protein source, such as chicken or salmon, not a meat byproduct or even worse, wheat or corn.
Base your pet's nutritional needs on his age, breed, activity level and health. Work with your veterinarian to tweak your pet's diet.
Since the 2007 pet food recalls, many people turned to making meals for their pets. But providing the right nutrients can be tricky - and time consuming. That's why Arden salutes
Fresh Fetch Pet Foods
, makers of a new generation of customized homemade meals truly fit for dogs of all ages and breeds.
Co-founders
Jay and Mike
host the educational
Fresh Fetch Village blog
that addresses cutting-edge food issues, including the hidden dangers of high fructose corn syrup in commercial dog foods.
Be the 4th person to email
Arden
and score a week's worth of Fresh Fetch Pet Food for your dog - and watch him drool with delight. Learn more by visiting
www.freshfetchpetfoods.com
.
Campaign for Betty White on SNL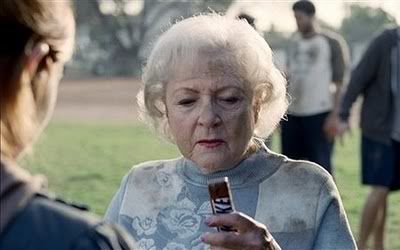 One of Arden's all-time favorite guests on her Oh Behave Show on
Pet Life Radio
(Episode #56) is the ageless and amazing
Betty White
. At 88, this lifetime pet advocate shows no signs of slowing down. Case in point: the Snickers ad that aired during the Super Bowl that featured her being tackled in a flag football game.
Saturday Night Live
is just
thinking
about inviting Betty to host the show. Think? What's to think? Betty told
People
magazine she is willing. Learn more by clicking here:
http://www.bettyconfidential.com
Tell
Arden
your favorite Betty White moment/story and we will share it next month. Missed the Snicker ad? Click
HERE
to watch.
Far too many dogs suffer from thunderstorm phobias, separation anxiety and other fears. They pant. They pace. They howl. And, they can become destructive.
Phil Blizzard
, of Durham, NC, knows this only too well - his dog, Dosi suffered from noise anxiety for far too many years. Medications didn't work, so Blizzard, an engineer, designed a snug-fitting creation called the Thundershirt. Today, Dosi is happy and calm.
His creation has earned paws up from
Linda Tellington Jones
, the founder of the Tellington Touch method - and hundreds of pet sitters and dog trainers. My dog,
Chipper
, panics whenever she sees or hears a skateboard during walks. I put a Thundershirt on her and now she walks with more confidence.
Phil wants to help your fearful dog, too. He is offering two Thundershirts to the first two who can answer this mini-quiz:
1.
Name the state known as Lightning Capital.
2.
Name the group and song for the lyrics, "Thunder only happens when it rains."
Zip off your answers to
Arden
and click here to learn more about the
Thundershirt
and Linda Tellington Jones and
TTouch
. Both were guests on my Oh Behave show on
Pet Life Radio
- tune in to Episode #104 set to "air" next week.
IN THE SPOTLIGHT:
Cartoonist Buck Jones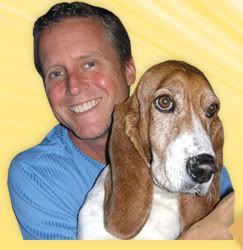 Each newsletter, Arden shines the spotlight on a "top dog" or "cool cat" in the pet world. This month, we salute
Buck Jones
, a nationally-recognized top cartoonist and illustrator who always adds a dash of humor and delight. Home is Iowa for Buck, but his talents go global. This prolific artist's work has appeared in dozens of books and countless magazines, including
Dog Fancy
and
Cat Fancy
.
His latest creation: One-of-a-kind pet cartoon artwork that brings your pet's personality to life. Check out some cool examples at
Pet Cartoon Gifts
. To win, tune into his guest appearance on Arden's Oh Behave Show on
Pet Life Radio
(Episode #103) and be the first to send Arden the special code word from the show. Don't delay - tune in now!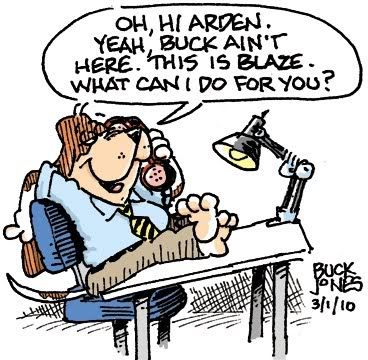 Learn more about Buck and check out his always-insightful blog by visiting
www.buckjonesillustrator.com
and
http://buckyj.blogspot.com
.
Hey Kitty - Strike a Pose with DuckyWorld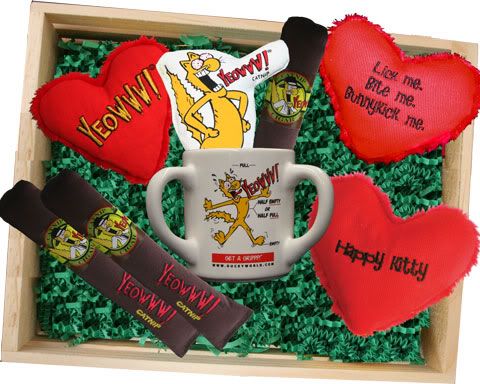 Calling all feline fans!

DuckyWorld

invites you grab your digital camera and capture your cat doing his litter box thing.

Kathy DeVan

, of Sumter, S.C. sent us this hilarious photo of her cool cat, Purrdee and wins a Ducky World gift baskets that include 3 YEOWWW! Hearrrt Attack toys, 3 YEOWWW! cigars, 1 YEOWWW! Desmond the signature cat toy, and a 3handled "Get a Grip" coffee cup! Two more gift baskets are available this month.


To enter, send a high-resolution photo, 300 dpi 5x7 photo of your cat on or in the litter box to Arden - pronto! DuckyWorld toys are made in the USA. They proudly stand by their motto: "If your cat toys don't say YEOWWW!, what makes you think your cat will?"

Hop on the 'Make Mine Chocolate' Crusade

If
Megan Chaney
has her wish, people would heed the motto, "Make mine chocolate" - as in bunny-shaped candy - instead of adopting baby bunnies this Easter season. Far too often, people adopt baby bunnies on impulse during Easter and don't know what it takes to really bring out the best in that bunny as a pet.
Chaney is founder of
Luv-A-Bun Rabbit Rescue
, a nonprofit group that rescues abandoned and neglected rabbits in Palm Beach County, Florida. Arden recently interviewed her for her Paws Up for Pets column in
The Coastal Star
. Chaney shared these rabbit facts:
Timothy hay ranks as the favorite food for pet rabbits, followed by romaine lettuce.
Females are capable of becoming pregnant again within an hour of giving birth, so definitely spay and neuter your bunny pets.
Bunnies can learn to hop on a leash and harness and use a litter box.
If you want to adopt a bunny or volunteer in rabbit rescue, visit
Luv-A-Bun Rabbit Rescue
and check out its rabbit videos on YouTube at
www.youtube.com/user/luvabun
.
Read Arden's full column in
The Coastal Star
here:
http://thecoastalstar.ning.com/profiles/blogs/paws-up-for-pets-learn-before