TRCS Tuition Assistance Continues: $21,000
We Still Need Your Help!
We have been blessed with more than $21,000, but we still have a distance to go to get to our goal of raising $35,000. The Tuition Assistance Fund helps families who rely on financial aid to send their children to TRCS.
The above thermometer will track our progress as we work toward our goal of raising $35,000 by June of 2012. Donations can be sent to the school by mail, or made online by credit card by clicking here.
Adopt-A-Student Sponsors
Please support these local businesses who are supporting our school and families:
Gold Sponsors:
Silver Sponsors:
Bronze Sponsors:
Annoucing a New TRCS Spiritwear Design!
We have new shirts in stock with the "Eagle Wing" design! These t-shirts feature white printing on a blue or black shirt -- and are available for only $10 in sizes Youth XS through Adult 3X! Quantities are limited, so get your shirt today!
If you'd like to have the print put onto a shirt of your own choosing, bring it to the elementary school office, and we'll add the logo for only $5!
We're closing out the old to bring in something new! All in-stock TRCS SpiritWear is now 25% off, so stop in the school offices and pick up a deal for your child (or yourself!) and help promote our great school to the community!
Greetings!
If you'd like to join the Meet and Greet prior to our "Evening With Frank Peretti" there are still a limited number of sponsorship opportunities available.
Click here
for more info.
We also have a limited number of Mr. Peretti's newest book, "Illusion," for sale at the front desk for $26.99.
If you haven't bought tickets yet -- make sure you get them ASAP and avoid the "Last-Minute-Longview" rush! Tickets can be purchased at the Columbia Theatre box office (888-575-8499) or online at
www.columbiatheatre.com
.
Please mark your calendars for the following items:
March 20th: Jr./Sr. High Open House, 6:30 p.m., Open Enrollment Begins
March 27th: TRCS presents "An Evening With Frank Peretti," 7 p.m., Columbia Theatre for the Performing Arts, tickets available at theatre box office or at www.columbiatheatre.com, $12-$15
April 2nd - 6th: Spring Break, School Closed
June 13th: Snow Make-Up Day


Please continue to check out our
website
for up-to-date info, and
email
us if you have questions or comments.
TRCS Tuition Assistance Fund Needs Your Help
Helping Others
Over the years I have seen people joining hands to help one another through crisis events. School communities often pass the word and lend a hand when someone is sick or there is a loss of some kind. I have seen it when people have had economic problems as well. What a blessing to be in a community!
We have such a need at this time. Our Tuition Assistance is based on "helping hands." Those that have a bit extra give to the Tuition Assistance so that families that are stretched financially can get that $500-$2,000 to make it possible to have their child here at TRCS. We are family. Can you help at this time? Our goal was $35,000 and we are over $20,000. Fellow community families need your help. Click here to make a donation.
Volunteers Make the Difference
A teacher's work is never done just like a Mom and Dad's work is never done. So how does the work get done? I don't know what your plan is at home but at school we use volunteers to fill the gaps.
A volunteer may sort and file papers. A volunteer may read a story to children. A volunteer may help with a project, practice math, or even help with an art project.
We also have volunteers that help with events. They may sell tickets, set up or clean up at events, organize displays or whatever needs doing. This past week, to get ready for Festival of Learning, volunteers helped Mrs. Pickner with signage and the art display.
Who benefits? The children benefit or the families benefit. We can keep tuition down as we don't have to hire other helpers. The quality of teaching improves as the teachers can focus on student learning.
Next year: we will still need volunteers. Everyone that volunteers still has to go through a background check. Volunteers will have to sign in when beginning and leaving in the school office.
What changes: We will no longer track hours of volunteer service and credit accounts. The cost to the school was defeating the intent of "reducing costs" for the school. This change allowed us to keep the tuition increase to a minimum.
Please volunteer at your school. Be a part of this community.
Win Tickets To See Frank Peretti
TRCS is Giving Away FIVE PAIRS of Tickets on Facebook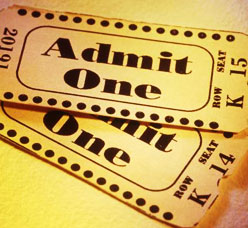 If you'd like to come to see Mr. Peretti, or just want some extra tickets so you can invite your neighbors,
take a minute to enter this contest
via the TRCS Facebook page. All you have to do to enter is become a fan of our page. The contest ends at 6 p.m. on the 20th, so enter soon!
Jr./Sr. High School Update
TRCS Take First Place at ACSI MUSICALE for the THIRTEENTH YEAR RUNNING!
At the TRCS band competition at Northwest University on March 6 & 7 in Renton, the band again took first place at the ACSI Musicale for small school bands. This was the 13th time in a row that the band has placed first. Again, they stepped up with outstanding performances at both the competition and the command performance. The performance has been put on "YouTube" so you can search and perhaps get a blessing from the great music presented that evening.
Spring sports are in full swing--especially tennis and golf!
Our sophomores and a of couple juniors are taking the HSPE tests--state tests for reading and writing. We currently require our students to pass this test to receive a diploma from TRCS.
TRCS Athletic Update
Boy's Basketball Academic State Champions!
TRCS winter teams just completed terrific seasons. Our cheerleaders supported both the boys' and girls' basketball teams. They represented our school very well. Their school spirit was evident and the athletic ability was amazing! Two highlights for the cheerleaders were the "Flash Mob" routine (check it out here on YouTube) at the King's Way game and the "Florescent Light Show" at the Seton game. Team GPA was 3.55.
Our girls' basketball team took fourth place in league and lost their first game in the distirct playoffs. Stephanie Maldonado earned a Second Team All Conference Award. Alex Schmidt and Mikayla Bell were Honorable Mention selections and the team GPA was 3.53. Coach Rob Hayes was voted the Coach of the Year for his great work with our athletes and the league.
The TRCS boys' baskteball team took the next step to becoming a very good team. They finished in third place in the Columbia Valley League with Josh Caddel earning Co-Player of the Year! Sean Powell earned a Second Team All Conference Award with Ian Hoffman earning an Honorable Mention. What was most impressive: the boys' team GPA was 3.7. This outstanding feat was recognized by the WIAA. Our boys' basketball team was the 1B State Academic Champions for the winter season. Our Head Coach, James Murphy was named Coach of the Year in the Columbia Valley League as well.
Way to go Coaches and Athletes!
Child Development Center Update
Building a Foundation for a Lifetime of Learning
Enrichment Classes
From music, to gymnastics, to yummy scents of cupcake decorating, children are enjoying and experiencing learning during the current Enrichment classes. It has been an opportunity that has been so well received, that we have had waiting lists on each class and parent questions regarding the next offering times. Spring Enrichment Classes will be announced soon, and we are looking forward to once again providing opportunities for your child to grow and learn.
Early Education Partnership
Much has been done in the manner of trainings for staff with the 3-5 year-old community of learners. The goal is "All Programs Excellent-All Children Prepared for Success, Building the Foundation of a Lifetime of Learning." Preschool teachers attended a Math literacy workshop at Broadway, while others attended a workshop at the Progress Center on Sensory Issues. It has been a rich month of many opportunities for staff development. Please feel free to set up a conference time with your child's teacher if they can further assist you with any questions you may have regarding your child's development or classroom environment.
Do You Goodsearch?
This is EFFORTLESS Fundraising!
If you're not already doing it, take a minute to change your internet search window to default to
www.goodsearch.com
, and select Three Rivers Christian School as your charity of choice. Did you know this simple act brings in hundreds of dollars to TRCS every year?
"Give thanks to the Lord, for He is good, for His steadfast love endures forever."
- Psalm 136:1 (ESV)