LosGatosWellness.com




No Tomato Sauce, Sauce

Serves 2 - 4

Prep Time: 20 minutes

Ingredients

· ¼ tsp dried basil or oregano
· 1 Tbsp olive oil
· ¼ tsp savory
· pinch salt
· 1 to 3 tsp fresh lemon juice
· 3 cloves garlic, minced
· 2 tsp parsley, chopped
· 4 oz. jar roasted and marinated red peppers, pureed
· 2 to 3 tsp dark brown sugar

· ¼ cup red wine

· ½ cup minced red onion

[recipe cont. below]

Vegan Chili Pepper Mousse

Photo by: theblendergirl

Serves 4 - 6

Prep Time: 10 minutes

Ingredients

· ¼ tsp chili pepper flakes

· 1 packet (12 oz.) firm silken tofu, organic

· ⅓ cup Green and Black's Organic Fairtrade Cocoa

· ⅓ to ½ cup Agave Nectar (depending on your taste)

· 2 tsp natural vanilla extract

· 2 Tbsp raw peanut butter or raw almond butter

[recipe cont. below]

Los Gatos Chiropractic and Wellness Center

May 2011 Newsletter

We are pleased to share our newly redesigned newsletter and website, www.losgatoswellness.com. Our articles are current and fresh with updated posts that are now highly searchable on the website. You'll find over 65 blog posts, including Medical Resources and Healthy Recipes. We're also active on Facebook and Twitter!

Our newsletters and website are written to provide you with tools and information you need to pursue better health. We invite you to contact our office with any further questions (408) 891-8222.


-Dr. Kate Fox & Dr. Jennifer Walker

Trouble Losing Weight? Watch For These Common Weight Loss Traps

Let's face it. It's easy to want to lose weight. But the real question is whether you're willing and able to do what's necessary to be successful.

Lets talk about the common traps that many people fall into with dieting.

Low calorie diets:

Many diets drastically reduce calorie intake. This is the kind of diet that can put your body into starvation mode.

Once the body goes into crisis and is starving, you will find that it holds on to every single calorie that it can and then turns these into fat storage.

These diets will cause people to lose a little bit of water weight, but gain it back in fat storage.
Fluid diets or prepared meals:

These diets are less effective because they don't teach you any of the skills necessary to properly feed and nourish your body.

Without this knowledge, you can quickly gain the weight back when you transition to regular food.
Fat Flush Cleanses: Most of these are found online and have very little, if any, supporting factual information.

What we do know is that this is a good way to lose fluid and not fat.

What should you look for when choosing a diet? Look for one that suggests results of about 1 pound per week with consistent diet and exercise, and one that helps you make better food choices by showing you what good healthy portions are.

So let's say you have tried everything and the pounds are not coming off. Then what do you do? Here are some very common culprits that can prevent you from losing weight.

An imbalance of your male to female hormones.
High stress levels can actually make you gain weight by spiking your level of cortisol, which is associated with the increase in abdominal fat.

When your cortisol level increases it creates unstable sugar levels leading to impulsive eating.
Low levels of Thyroid hormone can make it nearly impossible to lose weight.

Additionally, the resulting fatigue can make exercise very difficult.

Starting your day starving is counter productive.

Don't forget to jump start your metabolism with a good healthy breakfast.

Lifestyle changes take a lot of work and commitment. If you are having trouble we would love to assist you in anyway we can.

Are You Allergic to...Your Cell phone?!

We've all heard about seasonal allergies and food allergies. But did you know that there are some pretty darn unusual allergy and allergy triggers out there? Here are a few that will amuse as well as make you think next time you're feeling a bit under the weather!

Nickel: Nickel is a metal found in your cell phone, blue jean buttons and musical instruments like flutes. People with a nickel allergy will experience dry and itchy red rashes at the point of contact.

Henna tattoos: Kids love them (and parents are relieved that they're temporary) but henna ink contains p-phenylenediamine which can cause skin problems. The chemical can also be found in some hair dyes.

A loved one: Hugging and kissing someone when you have a severe nut allergy can be serious business. A young girl developed hives from hugging her dad who had just shaved with a product containing nut-oils. As far as kissing goes, allergens can remain in the saliva for up to 24 hours and can be resistant to teeth brushing!

Exercise: Physical exertion can result in exercise-induced asthma. This can happen to those who have food allergies, as well as the seasonal type.

Weather: Extreme hot and cold temperatures can result in hives or asthma attacks. If you have seasonal allergies, the drop in barometric pressure can cause an increase in sinus pressure and headaches.

Exercise mats: Some people are especially sensitive to latex. Add a sweaty body in polyester and nylon exercise wear and you have a great recipe for itchy and irritated skin.

Swimming pools: Pollens can create a thin and almost invisible film on a pool's surface. Dive right in and you might find yourself with itchy and watery eyes!

Caterpillars: The hair on some caterpillars contains a toxin that can cause an allergic reaction. While your bug collecting days may be over, these little hairs can float in the air like pollen and be just as troublesome.

Ladybugs: These pretty little bugs are a new seasonal indoor allergen. Because they don't like the cold, Asian ladybugs often end up indoors causing hay fever, coughing, wheezing and watery eyes.
No Tomato Sauce, Sauce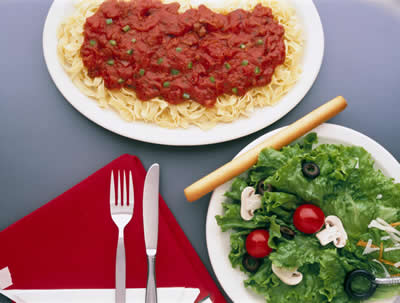 (recipe continued from side bar)
I love this recipe because it looks and tastes VERY much like a good Italian tomato sauce! I smiled a lot when I first tasted it!
Instructions:
Sauté onions (minced adds a more tomato-ish texture) and garlic in the olive oil until onions are tender.
Add parsley, savory and basil (or any combination) salt and sugar (dark brown is best). Stir.
Add the pureed red peppers, lemon juice and red wine and simmer until the sauce thickens.
Serve with pasta of your choice and enjoy!
I really like capers, feta and roasted pumpkin seeds on top!
*Allergens: Basil, Brewers yeast, Capsaicin/peppers, Citrus, Corn, Fermented, Fructose, Fruit/vegetable, Garlic, Grape, Lemon, Miscellaneous, Nightshade, Olive, Onion, Parsley,
Spices, Sugar, Sulfites, Yeast
Vegan Chili Pepper Mousse
(recipe continued from side bar)
Instructions:
Throw all ingredients in your blender and puree until smooth and well combined. You might have to stop and scrape the sides of your blender to make sure it is all mixed through.
Spoon mixture into martini glasses or serving bowls, and chill in the fridge for a couple of hours to yield the best results. The mixture will thicken slightly and the flavor of the chili will strengthen. However, I have scoffed this after half an hour and been more than satisfied.
Like I always say, people take the first bite with their eyes. I like to serve this in gorgeous
clear shallow cocktail glasses to elevate this into my "simple but special" file.
Serve with fresh raspberries, a dollop of soy cream, and some crushed raw almonds.
The different textures and flavors make this a winner on every level.
*Allergens: Fermented, Fructose, Legume, Nut, Soy, Sugar
**Please note - For those of you with severe wheat, gluten, and dairy allergies - The Green and Black's cocoa (and a lot of others) is produced in a factory that also works with wheat, milk, hazelnuts, almonds, cashews, pistachios and Brazil nuts. It is not in contact with peanuts.
Disclaimer
Material in this newsletter is provided for informational purposes only and is not intended to diagnose, prevent, treat or cure any condition. It is not a substitute for medical care and is not intended to address individual situations and needs.