The Mayor's Proposed 2011-2012 Budget: Upcoming process
I wanted to share with you some more information about the City budget process. As you know, the Mayor submitted his Proposed 2011-2012 Budget to the City Council on Monday, Sept. 27, 2010. The Council takes it from here.
The Human Services Department will present our budget to City Council at 3 p.m. on Tuesday, Oct. 5, 2010. This will be live streamed on the Seattle Channel. The Council will hold three public hearings on the budget. One was held on Sept. 29, 2010; the remaining two hearings are on:
Wednesday, Oct. 13, 2010, 5:30 p.m.
The Brockey Center at South Seattle Community College
6000 16th Ave. SW 98106
Tuesday, Oct. 26, 2010, 5:30 p.m.
Seattle City Hall, Council Chambers, 2nd floor
600 Fourth Ave. 98104
For much more detail on the budget, please visit the Mayor's Web site.
Finally, an update on my confirmation process. The Housing, Human Services, Health & Culture Committee unanimously approved my confirmation on Sept. 22, 2010. The Full Council will likely vote on confirmation on Oct. 11, 2010. (In the link above, advance the video 37 minutes to watch the confirmation discussion.)
Dannette R. Smith
Acting Director, Seattle Human Services Department
Roberto Maestas, 1938-2010
Last month, Seattle and the entire human services community lost a great friend in Roberto Felipe Maestas, long-time executive director and a founder of Seattle's El Centro de la Raza. Mr. Maestas passed away on Sept. 22, 2010 from complications due to cancer. He was 72 years old.

Roberto Maestas was a tireless champion of social justice, civil rights and human services for low-income people of all races and ethnicities. The Seattle Human Services Department has funded numerous programs at El Centro de la Raza for many years.

Born in New Mexico, Mr. Maestas lived and worked in the Yakima Valley before coming to Seattle to attend school. At the University of Washington, he became an activist with fellow Chicano students and eventually formed a broader coalition with black, Native American and Asian/Pacific Islander young people. After completing his master's degree, Mr. Maestas played a major role in starting a program at South Seattle Community College to provide adult basic education and English as a Second Language. When funding for the program was eliminated in 1972, he joined a diverse coalition of teachers and students in staging an extended "camp-in" at the abandoned Beacon Hill Elementary School. This led to the creation of El Centro de la Raza in that facility, where the agency still operates.

A memorial celebration for Roberto Maestas was held on Sept. 29, 2010. In lieu of flowers, Mr. Maestas' family asks that contributions be made in his name to El Centro de la Raza. Funds will be used to establish a college fund for needy Latino students.
HSD staff profile: Willie Seals
As an adolescent growing up in Seattle's Central Area, Willie Seals remembers hearing negative messages about his future, including advice from his guidance counselor at Garfield High School to lower his expectations. "A lot of people were telling me what I couldn't do, not what I could do," he recalls.

Nearly 15 years later, Seals is a college graduate working for the Seattle Human Services Department (HSD), and is taking courses at Seattle University towards a master's degree in public administration.

Seals is currently working as a program specialist for the New Citizens Program in the department's Early Learning & Family Support Division, but his first encounter with HSD was as a Garfield sophomore in the Upward Bound program, which helps high school students enter two- and four-year colleges. The program particularly focuses on young people from low-income families with no history of college education.

With the academic guidance and encouragement from Upward Bound counselors, Seals went on to community college and eventually graduated from Chicago State University. After several post-college jobs in the youth development field with the YMCA, he "returned" to Upward Bound in 2007 as a full-time counselor. Among the programs he has helped coordinate is the Accounting Career Awareness Program for high school students of color, held each year at the University of Washington.

With his experiences in Upward Bound and working with kids, Seals feels very strongly about providing positive messages for youth and giving back to the community. "I have a passion for working with youth," he says. "I want to inspire young people, get them motivated and interested in career opportunities outside of sports and entertainment."

Seals eventually wants to open an independent school for young men of color.
Seattle's Early Reading First program to continue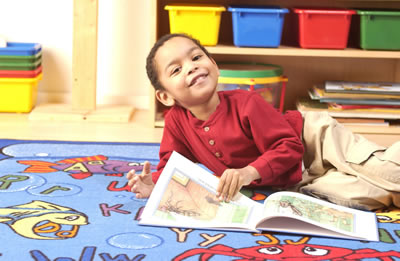 With the recent approval for a no-cost extension from the U.S. Department of Education, the
Seattle Early Reading First (SERF) program
will continue providing professional development, family literacy, kindergarten transition, and classroom materials to preschools serving low-income children in Seattle.
The Seattle Human Services Department received nearly $4 million in 2007 to enhance the early language, literacy and pre-reading development of preschool-age children. In the 2007 award year, just 32 projects nationwide received ERF funding and SERF was the only project in Washington state to receive funding. This is the second ERF grant the City of Seattle received; the first was awarded in 2002.
SERF has partnered with preschools Causey's Learning Center, We are the World, the YMCA of Greater Seattle and the YWCA of Seattle and King County. Program partners include Child Care Resources, Seattle Public Library, Seattle Public Schools, and the University of Washington. The program has proven to be highly effective; the most recent student assessments revealed an average score of 106.7 on the national Peabody Picture Vocabulary Test for all 12 classrooms, exceeding the U.S. Department of Education goal by 21 points. For more information about SERF, please e-mail
Ann-Margaret Webb
, Seattle Human Services Department, or call her at 206-615-1112.
Request for Investment (RFI) program to prevent violent relationships
The Seattle Human Services Department's Domestic Violence and Sexual Assault Prevention (DVSAP) division aims to fund a single, collaborative project for $100,000 for 24 months to help vulnerable youth 10-14 years old develop the skills to identify, prevent and terminate demeaning, violent and potentially exploitative relationships.

Youth who are homeless, minorities, LGBTQQ, immigrants or refugees are often vulnerable to exploitation by adults and their peers. For LGBTQQ youth, talking about their relationships may be difficult, and discussing violence within their relationships presents compounded stigmas, especially when combined with fear of homophobia. In a sample study of prostitution-involved youth, young women of color were over-represented.

Proposals for this Request for Investment (RFI) must come from a partnership of agencies and prevention activities should be focused in the Seattle area. The RFI is tentatively scheduled to be released in mid-October. Please keep checking this Web site for the timing of the RFI release.
DV forum focuses on housing, homelessness
On Sept. 17, the Seattle City Council and the Seattle Human Services Department co-hosted a public forum, "Through the Lens of Domestic Violence: A Look at Housing and Homelessness," to develop policies to provide sustainable housing solutions for domestic violence victims and survivors. To view the video session, please click here. (103 min). For more information, see this copy of the PowerPoint presentation.
Aging and Disability Services Advisory Council seeks members
Mayor Mike McGinn is seeking candidates for four open positions on the Aging and Disability Services Advisory Council. All four positions are two-year terms beginning in January 2011. The Advisory Council is a 27-member volunteer council that identifies the needs of older people and adults with disabilities in the community. To be considered, please send the application, a current resume and a short bio by Nov. 1, 2010 to gigi.meinig@seattle.gov. Electronic submissions are preferred. To send a paper submittal, address it to Gigi Meinig, Seattle Human Services Department, Aging and Disability Services, PO Box 34215, Seattle, WA 98124-4215. For more information about the ADS Advisory Council, please visit this Web site or contact Gigi Meinig by e-mail or phone: 206-684-0652.
Be prepared for the weather!
It's time to dust off those Agency Emergency Plans and start thinking about next steps to move your planning forward. To find out what you and your agency can do to get ready for winter weather and learn from colleagues at other organizations, attend, "Weather or Not: Be Prepared" on Oct. 14, 2010, 9:30 a.m. to noon, at the Tukwila Community Center. The Vulnerable Populations Action Team, in partnership with American Red Cross, King County Office of Emergency Management, the Seattle Office of Emergency Management and the City of Renton, are partnering to support preparedness for community-based organizations. To RSVP or for more information, e-mail
Robin Pfohman
, Public Health Seattle & King County, or call her at 206-263-8759.

Seattle Foundation has new Web site
The Seattle Foundation launched a new Web site last month that may be of interest to human services providers. The site, called the
Giving Center
, provides information for prospective donors on 675 nonprofits in the community doing a wide range of work. Financial and evaluation information is included for each organization described.
Oct. 21 Town Hall forum on family homelessness
As part of a research project on family homelessness, Seattle journalists and Seattle University research assistants, will discuss their work at a Town Hall forum on Thursday, Oct. 21, 2010, 7:30 p.m., at Town Hall at 8th and Seneca. The panel discussion, moderated by KUOW's Steve Scher, is open to the public. Click here for more information and to buy tickets ($5 donation to Seattle/King County Coalition on Homelessness). The journalists' in-depth news coverage began in a three-day series produced by the Seattle Time. "Invisible Families: The homeless you don't see"was published Aug. 29-Aug. 31, 2010.
City to co-host free Financial Planning Day on Oct. 23
Dozens of Seattle-area financial planners and other professionals will offer free advice on budgeting, financial planning, retirement and estate planning, paying for college, and more at
Financial Planning Day
on Saturday, Oct. 23, 2010 at North Seattle Community College.
Financial planners will meet one-on-one with attendees to answer questions. Also on hand will be representatives of nonprofit organizations that are part of the Seattle-King County Asset Building Collaborative/Financial Education Providers Network who will help people with debt/credit issues, foreclosures, money management, public benefits, and more. All of the advice will be offered with "no strings attached" and no financial products or services will be sold.
For more information, please e-mail
Jerry DeGrieck
, Seattle Human Services Department, or call him at 206-684-0684.
Life Lines is published monthly by the City of Seattle's Human Service Department. Our mission is to connect people with resources and solutions during times of need so we can all live, learn, work and take part in strong, healthy communities. For more timely or breaking news, visit our blog, Human Interests, or visit our Web site. If you have questions, please e-mail David Takami or call 206-684-0253.