Dear Island Lover,

Recent rainfalls have turned Catalina into the lush island paradise that dreams are made of. This spring is sure to blanket the Island's hills with colorful wildflowers that reach as far as the eye can see. In addition, scheduled to open this spring are Catalina's newest eco-adventure activities. Introducing the new Zip Line Eco Tour and Sea Trek Undersea Adventure. You'll have an experience of a lifetime visiting Catalina Island in Spring of 2010!
FUN, SAFE & EXCITING
ECO ADVENTURE TOURS
Experiencing the magical wonders of the undersea world has never been easier. Now you can comfortably stroll the ocean floor viewing Catalina's giant kelp forests amongst the abundant variety of marine life on the new
Sea Trek Undersea Adventure
. Trekkers do not need any prior diving experience and don't even need to know how to swim!
Imagine flying through the air at 40 miles an hour over 300 feet above beautiful Descanso Canyon, stopping at 5 different platforms along the way to give you a chance to take in breathtaking views of the Pacific Ocean and the island's vegetation below. All while learning about Catalina's unique flora and fauna. Catalina Island's new
Zip Line Eco Tour
will be an adventure you will never forget!
Click
HERE
to find out more about Discovery Tours new Eco Adventure Tours.
Reserve your hotel room now while rooms are available! View our website www.stlauren.com or call 800-645-2475 for information on accommodations and to check availability at Hotel St. Lauren.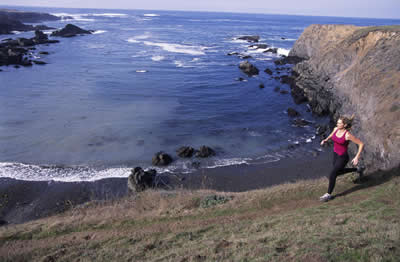 Runners Welcome!
The Buffalo Run
on February 27th, 2010 is the ultimate in trail running using the East End trails of Catalina Island. This half marathon course takes you from sea level to a 1600 foot elevation then return to sea level. You will experience spectacular views of San Clemente Island and Avalon. The race also features the popular flat and fast 5k course. Many parts of the half marathon course are in areas that are not accessible by the public without permits. The course is beautiful, with unbelievable vistas and pristine trails that few get to traverse.
Enjoy breathtaking scenery while running 26.2 miles over the Island in the
Catalina Marathon
on March 13, 2010. The race traverses mostly dirt trails and roads through areas of the interior of the Island where very few have gone. Starting in Two Harbors on the west end of the Island and ending in Avalon on the East end of the Island, it is a challenging Marathon, but worth every mile! You may even run into some buffalos along the way.
For more information on these and other Catalina Island running events visit
Pacific Sports LLC
Hotel St. Lauren room rates are now
50% off the standard rack rate for Buffalo Run 1/2 Marathon weekend 2/26-2/28/10 and 25% off the standard rack rate for Catalina Marathon weekend 3/12-3/14/10. Reserve online now www.stlauren.com or call 800-645-2475

A relaxing family get-away to Catalina Island for Easter will be a great way to bring everyone together. With lots of fun family activities and the Island in bloom, it'll be a breath of fresh air from the day to day hustle and bustle of the mainland.
Be sure to join in at the City of Avalon's Annual Easter Egg Hunt on Saturday, April 3rd at the grassy lawn between The Sand Trap Restaurant and Avalon Schools. The Hunt begins promptly at 9:30am and is free for the children of the community and visitors alike.
Hotel St. Lauren is now offering 35% off the standard rack rate for Easter Weekend reservations. Reserve now while rooms are available! View our website www.stlauren.com or call 800-645-2475 for information on accommodations and to check availability.
We know you'll enjoy our centrally located 42-room ocean view hotel with all its modern amenities and spectacular view of Avalon Harbor, all just a short walk away from Avalon's year-round attractions. We look forward to hosting your Catalina escape. Reserve online today or call 800-645-2471.

We hope you enjoyed receiving this update. If we have reached you in error, we sincerely apologize. Simply click on the link below to instantly Unsubscribe.
We're looking forward to having you as our guests.
Reserve online today or call 800-645-2475 for special packages.

Wish you were here!
Hotel St. Lauren
Reserve Today!

Hotel St. Lauren's "Secret Season" Packages
From $89.96 per person/double occupancy
Available for Sunday through Thursday arrivals until March 25, 2010

Packages Include:

-Accommodations at Hotel St. Lauren

-Round-trip boat transfers on Catalina Express

-Glass Bottom Boat tour

-Round-trip taxi transfers

-Morning Coffee

Call 800-645-2475 or book online at

www.stlauren.com


*Holidays subject to higher rates.

Hotel St. Lauren Meetings and Events
Consider Catalina Island and Hotel St. Lauren for your next business meeting or event. Our group coordinator will assist you with all the details for your group retreat. Whatever your group's size or needs, St. Lauren's expert staff will coordinate with all of the Island's facilities and attractions, arranging festive dining options, meetings facilities, group sightseeing or activities, and your round-trip boat transportation at the best rates you will find. Contact Hotel St. Lauren group sales , to handle all your travel and meeting needs.
Our 6th floor ocean view sundeck is the ideal location for company arrival receptions, business luncheons and social gatherings of up to 50 people.
For more information on group meetings and events call the St. Lauren Group Sales Dept. at 800-645-2475 ext 107 or email
groups@stlauren.com
St. Lauren Weddings
Hotel St. Lauren's ocean view sundeck, with its breathtaking panoramic view of the City of Avalon and Pacific Ocean is the perfect setting for your Island wedding. Please call our group coordinator for more details and personalized attention 310-510-2299 ext 107 or email groups@stlauren.com
Earth Day in Catalina
Thursday, April 22, 2010
Explore the natural side of Catalina Island and enjoy organic food, green living displays and demonstrations, family activities and live music on the waterfront. Free entry into the Wrigley Memorial & Botanical Gardens!