The Book of Zentangle

We have been working on and talking about this book for years. We have been collecting notes, ideas and images for this project s
ince we began Zentangle
. However, day-to-day tasks and urgencies made it easy to procrastinate putting it all together.
Finally, we decided that if we were going to finish this book, we had to do something different. We realized we needed a space where we weren't distracted and could focus for days together on just our book. So, we looked for a place not too far away where we could rent a room. We chose Salem, Massachusetts, because of its Peabody-Essex Art Museum.
When we arrived, we rearranged our hotel room so that Maria had a table on which to paint next to the window and I set up my computer nearby.
We stayed for three days and worked with uninterrupted focus. It was wonderful. We did go to the museum once, but mostly we worked. We made tremendous progress. There was a little tea room nearby when we needed a break and there were a variety of restaurants in the area.
We got so much done that we went again. The second time it rained all three days and we got even MORE done! We were beginning to see a finished book take shape. Once that major structural work was accomplished, we could finish everything else at home.
And here it is!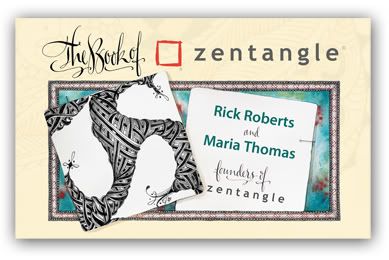 Maria and I drove up to our printer in Lowell and picked up part of the print run the day before we set up for seminar, so they were literally "hot off the press!"

This book tells our story of how we came up with Zentangle, and what's behind its development and direction. We tell our story in words, illustrations and Zentangle art. As we write in our introduction:



"A guidebook to Paris isn't Paris; but when you visit Paris, you'll enjoy it more with a good guidebook. This is a guidebook to Zentangle. It can help you awaken your ability, nourish your awareness, and find your way to a joy that has been there with you all along."





We are grateful for the reviews that we have seen so far. Thank you to all who have commented.




Maria's sister, Sue, works with us. Sue took a book home for her husband to read. The next day, Sue's husband called us.

"Now I get it!" he exclaimed. "You've told me about Zentangle, Sue's told me about Zentangle, but I never appreciated it until I read this book. It's amazing! Do you realize what you've accomplished?" Maria and I stood in our kitchen holding a phone between us as he enthusiastically went on (and on) saying really nice things about the images and the writing and how well the book was organized and produced.

We are so happy with how this book turned out. Our printer did a wonderful job in reproducing Maria's illustrations.

We think you will enjoy it. And we think that your friends and family who wonder "What's so special about Zentangle?" will better understand the magic that tanglers have discovered.

Hardcover, 146 pages, 6 x 9.5 inches (150 x 240 mm), f

ull color, with bibliography and index.

$39.95