| | |
| --- | --- |
| | The Latest Departures |
Teaching the basics of annual giving fundraising to very interested audiences in Hong Kong and Singapore this past month caused me to think about all the excuses that could be made for slow development of an annual giving tradition there. Local cultures -- while very charitable -- generally lack a history of supporting one's alma mater. There are generations of alumni who've never made a gift, so why should they start? And many schools don't have good addresses, phone numbers, email info, or any idea where to begin.
And they don't care. They admire the established philanthropic culture in other parts of the world, where alumni voluntarily support their favorite schools, and in the process, make an ongoing expression of affinity as well.
So they're getting down to business and taking the steps necessary to growing and advancing a giving culture of their own. While it's often tempting in the U.S. to simply say that "our alumni love this place, they just don't choose to express it through their giving," know that in other corners of the world they're rolling up their sleeves and doing something about.it.
I'm continuing to be impressed with the ways that FaceBook, MySpace and other Web resources are being adapted for annual giving use. If you're trying to figure it all out, a good place to start is the It's An Annual Giving World group on Facebook, which is linking annual giving professionals from around the globe. You can find it here: http://www.facebook.com/group.php?gid=4101144266
We're pleased to be working with a number of new or returning clients and projects, including the Minneapolis College of Art and Design, the Fuqua School of Business at Duke University, the Potomac School, the New York Presbyterian Hospital, Bryant University, Roger Williams University, George Washington University and the City University of Hong Kong.
Look for us on the program session agenda this Winter at two CASE Europe programs and some great upcoming programs in the online Annual Giving Roundtable series.
Bob Helps CASE Say "Hello" and "Ni Hao" In Asia

In September, 2007, Bob presented CASE's first-ever annual giving masterclass programs in Asia, with programs at the World Trade Center in Hong Kong and the Marina Mandarin Hotel in Singapore. The inaugural events kicked off CASE's Asia programming and included an in-person welcome from CASE President John Lippincott.
Pictured with Bob (far left, to right) are: Professor Shih Choon Fong, president of the National University of Singapore (NUS), John Lippincott, president of CASE, and associate professor Teo Choo Soo, director of the office of alumni relations for NUS.

Is Direct Mail Dead?
November's Annual Giving Roundtable online series programs offer two looks at direct mail. If you're starved for some direct mail creativity, or just want some ideas on structuring the direct mail plan, there are two direct mail programs for you on Wednesday, November 14th.
The Best New Direct Mail Samples 2007-08 (Wednesday, November 14th at Noon Central Time) For the past three years, Bob Burdenski has co-hosted the FundList Direct Mail Exchange, an annual sharing of mail samples between schools and other not-for-profit institutions. Each year, he's up to his armpits in samples, packing the boxes that provide annual giving staffs with a treasure trove of creative direct mail ideas. In July, 2007, a record 150 institutions participated in the 8th-Annual Direct Mail Exchange.
Join Bob for a rundown of his favorite samples from this year's FundList direct mail deluge. Along with lots of samples, we'll have lots of discussion about the best approaches to organizing your direct mail calendar, production and process.
A Dynamic Direct Mail Plan -- How To Structure A Direct Mail Calendar For The Annual Fund (Wednesday, November 14th at 2:00 p.m. Central Time) Eight years ago, Bob wrote a CASE Currents article that asked, "Is Direct Mail Dead?" Eight years later, it's still alive and kicking, and in some ways a more useful tool than ever before. But, how do we organize our direct mail calendar?
Bob provides an introduction to developing a direct mail plan - from prospects and timelines to mail shapes, sizes and rates. How do we use vendors, how do we measure results, and how do we raise more dollars through good old fashioned snail mail?

Facebook, MySpace And Annual Giving? Fundlist Members Reveal How They're Connecting
My 18-year-old niece was registered on Facebook before she even set foot on campus and attended her first class at Loyola University in Chicago this fall. And her older graduating counterparts are now leaving campuses around the world with a new Facebook social orientation that didn't exist just a few years ago.
It appears that Facebook endures beyond graduation day for many, so does the popularity of YouTube, MySpace, LinkedIn and other sites create new opportunities (as well as a few challenges) for annual giving?
Who's figuring out what to do about it? The reliable on-line innovators on FundList offered their ideas recently:
"As the volunteer for a 5-year reunioning class at my institution, I utilized MySpace to keep my particular class updated about homecoming events and to keep them informed as to where we stood with the class goal. Although I didn't use it for direct solicitation, I did however post a link for online giving and did receive small gifts. I'm currently constructing a MySpace page for our young alumni (GOLD as you have termed them) and hope to construct one very soon for our current students. There are other departments on campus, such as student affairs, who already have them in place." -- Carletta Simmons, North Carolina Central University
"I created a Facebook group for young alumni two weeks ago that has about 100 members and counting. I've been posting pictures from past events, as well as posting information about the importance of giving including a link to our make a gift site. I plan on utilizing the Message All Members function to send a message near the end of the calendar year and near the end of the fiscal year with an ask that also drives them back to our website." -- Adam Gertz, University of North Carolina at Chapel Hill
"This year with the Graduation Gift committee we set up a Facebook group for seniors to join to get information about the campaign. About 55 people have joined since we created the group about three weeks ago. That's almost 10 percent of the senior class. This is encouraging because normally we only have 10-15 percent of the class participate in the campaign for the whole spring semester. I think Facebook is a great way to get in touch with young grads and students." -- Laura Rose, Pacific Lutheran University
"We use our (Facebook) group as a "donors only" group and post all general information on our public access website: sgc.agnesscott.edu. After someone makes a gift to the Campaign, they are listed on our website's donor listing as well as invited to join the SGC "donors only" group on facebook. My facebook group is closed which means that "Administrative approval is required for new members to join. Anyone can see the group information, but only members can see the discussion board, the wall, and photos." The Campaign Co-Chairs and I are the "administrators" of the group so we are the only ones who can make major changes to the group profile. Others can post pictures or comments." -- Kirby Hager, Agnes Scott College
"We have had a (phonathon) Facebook Group for about six months now. The group is called "I get paid to ask your parents for money... UW Chapter" The description says, "We get paid to call your friends and parents to ask them for money. We are trained to talk anyone into anything. Gotta love the phonathon!!!" I have assigned it to our supervisor and he has had some fun with it. I really think the group is a great idea. I use it to announce things like our end of year BBQ. We have noticed that it creates a bond with the callers and is something that they check almost obsessively- so it is much easier to get people to fill in for shifts using Facebook that it is with either the phone or e-mail." -- Sara Asbury, University of Wyoming Foundation

Annual Giving on the (Very) Small Screen: Web Video's Got An Appeal
One of the remarkable things about digital video is its accessibility -- any Hollywood director in the making can put together his or her own edited video. It's just as easy to distribute, also, with public sites like YouTube ready to present your artistic work to the world.
Does this have any relevance to annual giving? You can be the Simon Cowell judge. Here are five samples of annual giving related videos currently available on the Internet:
Microsoft's Employee Annual Giving Campaign -- It won't have Sylvester Stallone worried, but this Rocky-inspired video reminds Microsoft employees to participate in the company's annual giving campaign in support of local and national philanthropic causes. Watch it here.
Support Dickinson: The Annual Fund -- Vice President for Development, Donald Hasseltine discusses the ways in which alumni support is critical to the Dickinson experience. Watch it here.
We Write The Checks: The Eanes Educational Foundation -- The foundation raises funds for the Eanes Educational School District in Austin, Texas, for the purpose of "funding the gap between adequate and excellent." Here, two parents channel Barry Manilow to make a musical case for support. Watch it here.
Rice University's Reunion Giving Committee Training -- Reunion Giving training for alumni volunteers conducted by the Annual Gifts leadership and reunion staff. Gary Chiles '86, Annual Gifts Vice Chair discusses the key points of reunion giving volunteer role and the Rice Annual Fund case for support. Amanda Shagrin, Associate Director of Annual Gifts, covers counting annual gifts. Adrian Matthys, Associate Director of Annual Gifts, discusses the class goals. Charlene Sadberry '05, Assistant Director of Annual Gifts, reviews the classmate calling sheet. Gary Chiles '86 share tips for successful conversations with classmates and demonstrate these tactics through role-plays with Reunion Giving Co-chairs. Watch it here.
And finally, a Reunion "Batch" of '77 Slideshow from St. Vincent Academy in the Philippines -- The food looks different (particularly the whole fish), but the party remains the same. Watch it here.

Hamilton Senior Gift Committee Announces Environmental Fund
The Hamilton College Class of 2008 Senior Gift Committee has revealed the winning idea for their senior gift campaign. The gift option that won by an impressive number of votes was the Class of 2008 environmental endowment fund. Presented by senior co-chairs Ned Gilliss and Blythe Winchester, the gift will be a yearly grant awarded to a Hamilton student or campus organization in order to fund a green project on campus or environmental research. The fund also will be accompanied by a planted tree and plaque to commemorate the '08 gift. Gilliss expressed confidence in the campaign's successful start, citing the high number of class participants in the gift survey and the strong support for the winning idea.
This year's gift committee will definitely have some big shoes to fill," said Winchester, referring to the success of the Class of 2007's senior gift campaign. Last year's graduating class set new Hamilton records for amount of money raised and class participation rates. More than 97 percent of the Class of 2007 contributed to their senior gift. Based on these impressive figures, this year's committee confidently plans to set its sights high.
During the gift presentation, President Joan Hinde Stewart also addressed the group of seniors, alumni, faculty and guests. She encouraged the current seniors to consider not only the skills and knowledge that they will carry with them when they graduate, but also the legacy they will leave behind. "When each student leaves Hamilton," President Stewart stated, "a little part of their spirit remains on the Hill." She stressed that the senior gift is an important way for graduating students to acknowledge the invaluable skills they've gained from their Hamilton education, and to make a positive and lasting impression on the Hamilton community.
After her address, President Stewart introduced alumnus George Baker '74, whom she described as the "embodiment of love and loyalty to this institution." Baker spoke to the group about the importance of philanthropy. He is chairman of the Annual Fund and was recently elected to the Board of Trustees. Baker said that giving back to the College is one thing that all Hamilton alumni can share, and that every member of the Hamilton community has, in some way, benefited from the generosity of alumni. Hamilton ranks among the top U.S. institutions for percentages of alumni who contribute to their alma mater. Baker said that for the past 26 years, Hamilton has experienced annual alumni participation rates of 50 percent and higher. He claimed that by contributing to the senior gift campaign, seniors begin their own important habit of "personal philanthropy," and have the opportunity to make a donation that will go to a tangible purpose.

Is Athletic Fundraising's Gain, the Annual Fund's Loss?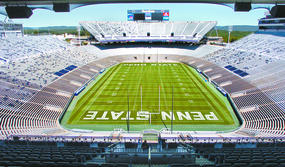 Some of the most important lessons in 21st-century college sports aren't being taught on locker-room chalkboards or in crowded arenas and stadiums.
Last spring, for example, on a picture-postcard morning in Pennsylvania's emerald heartland, more than 100 Penn State coaches, from field hockey to football, converged on a main-campus meeting room. The seminar awaiting them had nothing to do with strategy, recruiting or motivational techniques.
It was instead a daylong tutorial on how to raise cash. "We wanted to talk to them about their role in fund-raising," said Joe Battista, executive director of the Nittany Lion Club, Penn State sports' primary money-raising arm, "how they can help us."
While experts predict athletic giving will continue to boom, a recent survey also suggested that it might be affecting overall college contributions in a negative way. It revealed that donations going to sports increased from 14 percent of overall contributions in 1998 to 26 percent in 2003.
According to a recent Journal of Sports Management survey, nonathletic gifts to universities constituted 85 percent of all those donations in 1998. Five years later, it had shrunk to 74 percent. "That trend seems particularly noticeable at what you'd think of as top 50 [sports] schools," said Jeffrey Stinson, a North Dakota State marketing professor who co-conducted the survey. "The more elite academic schools, like those in the Ivy League, appear to have more immunity."

Alumni Credit Cards Drawing Attention From Lawmakers
Student government representatives and an Iowa lawmaker are calling for restrictions on credit card marketing at the state's public universities.
Sen. Joe Bolkcom, an Iowa City Democrat, said he is troubled that the University of Iowa and Iowa State University are endorsing, promoting and profiting from credit cards that are being marketed to their students.
The Des Moines Register reported this week that Iowa's two largest public universities are aggressively marketing credit cards to students as part of an arrangement that generates millions of dollars for the schools' privately run alumni organizations. Bolkcom said he has long been concerned about the relationship between the public universities and private lenders.
Several other states have passed similar legislation this year, sometimes in the face of stiff opposition from cash-strapped universities and their alumni. Matthew Pfaltzgraf, the government relations liaison for University of Iowa Student Government, said a committee of students plans to lobby for some of the same restrictions proposed by Bolkcom, such as the elimination of giveaways. "We also want to address the shadowy relationships universities have with financial institutions like credit card and student loan companies," he said.

Quick Links...