Contact Us
234 W. Florida St.
Milwaukee WI 53204
414-220-9870 phone
414-220-9901 fax
President
Ann Pieper Eisenbrown
Leasing
Marianne Burish
Siegel-Gallagher
Join us on:



Refer us to someone who turns into a new customer and we'll buy lunch for your entire office! Call us at 414-220-9870.
You can use the convenient "Forward Email" link right under this column at the bottom of the newsletter to send this to someone you know.
Our Properties
The Mayer
342 North Water Street
Milwaukee WI, 53202
234 Florida
234 Florida St.
Milwaukee, WI 53202

The Saddlery
233 N. Water St.
Milwaukee, WI 53202

RiverGlen
100-202 E. Capitol Dr.
Milwaukee, WI 53212
Pieper Properties eNews
J U L Y 2 0 1 1
Happy Independence Day Weekend! What will be on your plate as we celebrate our nation's adoption of the Declaration of Independence? Hot dog fans: did you know that Nathan's Hot Dog Eating Contest in Coney Island supposedly started in 1916 as a way to settle a dispute among four immigrants as to who was the most patriotic?
Next time you are outside The Saddlery on Water Street, take a look up at the distinctive capitals on the 5th floor arches. Well over a hundred years old, the intricate detail on the capitals remains largely intact. But don't let that historical detail fool you, the building boasts all the modern amenities of the 21st century, including fiber connections.
As always, please let us know your thoughts and suggestions about our properties. We're here to take care of your work environment. Just click here to send an email to me.
If you like, you can easily share this newsletter just by clicking on the Forward Email link on the bottom left.
Ann Pieper Eisenbrown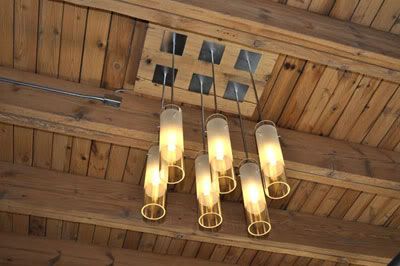 LEEDing the way to high performance and sustainability
Are you familiar with LEED (Leadership in Energy and Environmental Design)? It is the United States' preeminent program for the design, construction and operation of high performance buildings. 234 W. Florida has achieved a Silver certification for its Core and Shell (CS) design and construction, and all of our office buildings are registered for Existing Building Operations & Maintenance (EBOM) certification. While we are proud of the CS certification, the EBOM certifications will also show that we operate our buildings sustainably, every day, as we have for many years. LEED-EBOM evaluates a building within the context of seven areas:
site sustainability (i.e. urban redevelopment or greenfield, availability of public transport)
water efficiency (sink, toilet, urinal, shower efficiency)
energy and atmosphere (EnergyStar rating, building commissioning)
materials and resources (sustainable purchasing, solid waste management)
indoor environmental quality (indoor air quality, green cleaning, no smoking)
innovation (propose new credit not in the above)
regional priority (propose regional credit not in above)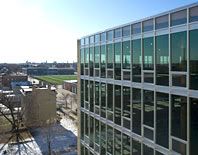 This month we focus on materials and resources. The materials and resources section of LEED-EBOM encourages reducing the environmental impact of materials brought into the building as well as minimizing the materials removed from the building that would go to the landfill or incinerator.
Materials brought into a building and questions to ask about them include:
Paints, finishes, sealants, adhesives: is it low-VOC (Volatile Organic Compounds generate the "new paint" smell that can actually cause respiratory discomfort)?
Carpeting and backing: is it recycled?
Furniture: is it recycled or refurbished? Is it available within a 500 mile radius (reduces transportation impacts as well as supporting local economies)?
Electric: can it come from a renewable source such as solar or wind?
Lamps: are they low-mercury?
Waste reduction strategies include reducing waste at the source and reusing materials (thus diverting them from the waste stream as well as negating the need for new raw material extraction). Recycling and/or properly disposing of items regularly used in the course of business reduces waste as well as toxins going into the waste stream: paper, batteries, toner cartridges, electronics, glass, plastic and cardboard. Building alterations or additions can be thoughtfully designed to reduce construction waste, for instance, by using standard size building materials, and by making the space flexible for future adaption.
Questions? Comments? We welcome your involvement!
Next month we will look at indoor environmental quality.
Welcome!
Welcome to 234 Florida, Idea Transformation!
"Idea Transformation is an entrepreneurial consultancy focused exclusively on technology start-ups. We work closely with you to focus your business. We'll assist with concept refinement, funding, manpower planning, third party developer orchestration, and sales strategy development. And we'll do so with a sense of pragmatism and urgency in order to achieve that all-important initial revenue event. "
Green Tips
Tip #1:
Now that brighter, longer days are here, consider if you really need all the overhead lighting on. Will natural lighting or task lighting be sufficient? Did you know that reducing lighting load also reduces the cooling load, and associated cooling energy usage and costs?
Tip #2:
Avoid phantom plug load. Did you know that about 10% of your electricity bill each month is spent on appliances and lights plugged in, but not turned on? That's over a month's electricity bill in a year!
Use a power strip to turn off equipment at the end of the day, and unplug appliances such as coffeemaker and microwave when not in use.
Neighborhood Close-Up: Zak's Cafe
Zak's Café recently opened at 231 S. Second Street in a beautifully restored space. Breakfast people rejoice: they offer a breakfast menu for those early morning meetings! Lunch, weekend brunch, and dinner are also available.
The breakfast menu includes:
Gonzo Breakfast Burrito: three scrambled eggs with onions, peppers and cheddar; hash browns; choice of Neuske's bacon, sausage or ham.
Brioche French Toast: thick cut then dipped in cinnamon and almond batter with whipped butter and Wisconsin maple syrup, accompanied by fresh fruit.
Two Eggs Any Way: two farm fresh eggs cooked to order, served with toast, hash browns and choice of Nueske's bacon, sausage, or ham. A simple classic.
Lunch offerings include:
BLATO: Thick cut Bacon, Lettuce, Avocado, Tomato, and Onion on Brioche
A.I. Broiler: Hot Cappicola, Smoke Ham, Giadinera Peppers, Spinach, Provolone and a special blend of herbs, broiled to perfection
Ahi Tuna: Fresh Ahi tuna steak served on a bed of arugula with vinaigrette dressing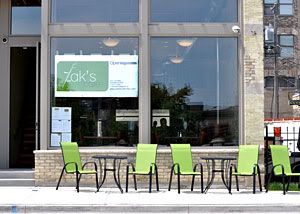 Zak's Cafe
231 South 2nd Street
(414) 271-5555