LEEDing the way to high performance and sustainability
Are you familiar with LEED (Leadership in Energy and Environmental Design)? It is the United States' preeminent program for the design, construction and operation of high performance buildings. 234 W. Florida has achieved a Silver certification for its Core and Shell (CS) design and construction, and all of our office buildings are registered for Existing Building Operations & Maintenance (EBOM) certification. While we are proud of the CS certification, the EBOM certifications will also show that we operate our buildings sustainably, every day, as we have for many years. LEED-EBOM evaluates a building within the context of seven areas:
· Site sustainability (i.e. urban redevelopment or greenfield, availability of public transport)
· Water efficiency (sink, toilet, urinal, shower efficiency)
· Energy and atmosphere (EnergyStar rating, building commissioning)
· Materials and resources (sustainable purchasing, solid waste management)
· Indoor environmental quality (indoor air quality, green cleaning, no smoking)
· Innovation (propose new credit not in the above)
· Regional priority (propose regional credit not in above)
This month we focus on energy and atmosphere. Buildings consume approximately 39% of the energy and 74% of the electricity produced annually in the United States, according to the US Department of Energy. The energy and atmosphere section of LEED-EBOM encourages the reduction of building energy consumption and the improvement of building energy performance. This, in turn, reduces pollution generated by power plants, enhances occupant comfort, and lowers operating costs.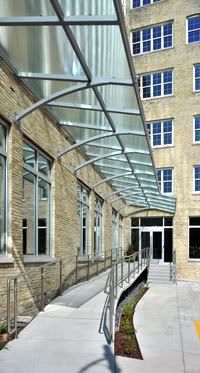 For example, all of our buildings have common area lighting timers, and some also have daylight sensors (which turn off lights when there is plentiful natural light during business hours). In addition, all renovated toilet rooms, shower/locker rooms and conference rooms have lighting occupancy sensors; some offices also have them.
Furthermore, all of our mechanical systems have programmable controls, which control settings are checked at least twice a year. As the buildings move towards the LEED-EBOM "performance period", a third party will visit each building to audit energy consumption and recommend any improvements. The performance period is when the buildings document LEED-EBOM practices, prior to final LEED certification.
Last but certainly not least, each of our buildings is tracking energy performance in pursuit of an EnergyStar rating. EnergyStar assigns a rating from 1 to 100, depending on how the building's energy performance compares to that of its peers.
Questions? Comments? We welcome your involvement!
Next month we will look at materials and resources.