Contact Us
234 W. Florida St.
Milwaukee WI 53204
414-220-9870 phone
414-220-9901 fax
President
Ann Pieper Eisenbrown
Property Manager
Leanne Rutowski
Leasing
Marianne Burish
Siegel-Gallagher
Join us on:



Refer us to someone who turns into a new customer and we'll buy lunch for your entire office!
You can use the convenient "Forward Email" link right under this column at the bottom of the newsletter to send this to someone you know.
Our Properties
The Mayer
342 North Water Street
Milwaukee WI, 53202
234 Florida
234 Florida St.
Milwaukee, WI 53202

The Saddlery
233 N. Water St.
Milwaukee, WI 53202

RiverGlen
100-202 E. Capitol Dr.
Milwaukee, WI 53212
April showers (both rain and snow) really do bring May flowers! April also brought the boat slips back to the Ale House at The Saddlery Building. Stop by their deck in May to enjoy the river, live beer and fresh music.
Our feature photo this month is a familiar sight to the tenants of 234 Florida. It's the distinctively modern bench and polished concrete floor in the lobby that sets the tone of our renovation - sleek modernism meets traditional Milwaukee character.
As always, please let us know your thoughts and suggestions about our properties. We're here to take care of your work environment. Just click here to send an email to me or Leanne, our Property Manager.
If you like, you can easily share this newsletter just by clicking on the Forward Email link on the bottom left.
Ann Pieper Eisenbrown
LEEDing the way to high performance and sustainability
Are you familiar with LEED (Leadership in Energy and Environmental Design)? It is the United States' preeminent program for the design, construction and operation of high performance buildings. 234 W. Florida has achieved a Silver certification for its Core and Shell (CS) design and construction, and all of our office buildings are registered for Existing Building Operations & Maintenance (EBOM) certification. While we are proud of the CS certification, the EBOM certifications will also show that we operate our buildings sustainably, every day, as we have for many years. LEED-EBOM evaluates a building within the context of:
LEED-EBOM evaluates a building within the context of seven areas; this month we focus on water efficiency. Water efficiency encourages the use of strategies and technologies that reduce the amount of potable water consumed in buildings. Reducing the use of potable water not only reduces water usage but also energy usage. It takes energy to heat and distribute water, and then remove and treat wastewater. Water usage is being or will be reduced at your building via low-flow toilets (1.28 to 1.6 gpf) and in some cases waterless urinals. In addition, our buildings generally feature low-flow faucets in toilet rooms and kitchenettes (1.5 gpm), as well as low-flow showerheads (1.75 gpm). Energy usage is reduced via water heaters on timers so the water is only heated during business hours...when it is needed. Lastly, while our urban properties have little or no exterior landscaping, those that do are planted with native plants that do not require regular irrigation once the plantings have been established. Questions? Comments? We welcome your involvement!
Next month we will look at energy and atmosphere.
Welcome!
Welcome to 234 W. Florida, WECC! Wisconsin Energy Conservation Corporation (WECC) is a national leader in the design and implementation of award-winning energy savings programs for utilities, municipalities and regulators across the U.S. and Canada. www.weccusa.org
Showcase
RW Armstrong is a global engineering consulting firm located at The Mayer Building (342 N. Water Street). For nearly 50 years, the company has helped clients in transportation, hospital and medical, aviation, water and utilities, Federal program, and developer markets solve complex infrastructure and building challenges and improve the quality of life in communities around the world.
The firm offers a full spectrum of services from consulting, design, and planning, to program management, construction, construction management, and design-build. www.rwarmstrong.com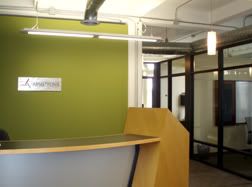 Green Tips
Click to learn more about MMSD's rain barrel program, for the home. You can reduce water pollution, lower your water costs, and help preserve Lake Michigan -- all by capturing water from your roof's downspout into a rain barrel. Rain barrels are fun, and easy to install!
You can also learn about the Urban Ecology Center's 100 Gallon Challenge here together with something you can do at home. The challenge is for every household in Milwaukee to reduce the amount of water that goes into the sewerage system during a heavy storm session by 100 gallons
Neighborhood Close-Up: Third Ward Caffe
A pioneer in Third Ward dining, Third Ward Caffe still holds the prize for authentic Italian cuisine - and conveniently, right around the corner from the Mayer building.
Located in a converted 1875 produce warehouse on the historic "commission row" the restaurant is run by Jane and Randy Nelson. Today the menu features veal, beef, chicken, pizza and over 20 pastas complimented by seasonal specials which take advantage of the herbs and vegetables grown on their 20 acre Door County farm. This authentic menu is enhanced by over 100 specially selected Italian wines.
Spring specials include:
- Chilled fresh asparagus w/hard cooked egg & Italian dressing
- Seafood salad of squid, prawns, octopus & mussels
- Jumbo spinach ravioli filled with asparagus in lemon-cream sauce
- Half moon shaped ravioli filled w/duck, paired w/duck sausage, artichoke-cream sauce
- Grilled chicken, lamb, & garlic sausages w/cannellini beans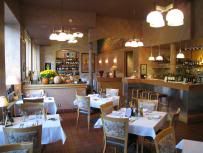 Third Ward Caffe
225 E. Saint Paul Ave.
414-224-0895
Tuesday-Saturday 11am-2:30pm
Friday & Saturday 5pm-10pm
Website and menu