LEEDing the way to high performance and sustainability
Are you familiar with LEED (Leadership in Energy and Environmental Design)? It is the United States' preeminent program for the design, construction and operation of high performance buildings. 234 W. Florida has achieved a Silver certification for its Core and Shell (CS) design and construction, and all of our office buildings are registered for Existing Building Operations & Maintenance (EBOM) certification. While we are proud of the CS certification, the EBOM certifications will also show that we operate our buildings sustainably, every day, as we have for many years.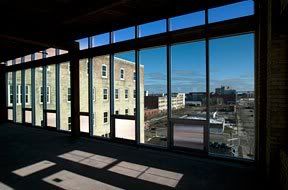 LEED-EBOM evaluates a building within the context of seven areas; this month we focus on Site Sustainability. Site Sustainability addresses the environmental concerns related to landscape, hardscape, and exterior building management practices. Implementing sustainable, long-term site maintenance practices is especially important because environmental damage to a site may take years to remediate. For instance, 234 Florida has native plants, which require less maintenance and irrigation, and fewer or no chemical fertilizers and pesticides. 234 Florida also has a light-colored parking lot, reducing the urban heat island effect. All of our buildings require low VOC paints and sealants on the exterior (contributing to better air quality), and Green Seal certified window-washing solutions (reducing chemical runoff). In addition, all of our buildings are easily accessible via public transport, and offer bike racks as well as on-site or nearby shower facilities (options that reduce transportation emissions). Lastly, while our urban buildings have little or no green space and open habitats, we are exploring an exciting "off-site" option in another part of our city to help preserve an open habitat and promote native vegetation. Questions? Comments? We welcome your involvement!
Next month we will look at water efficiency.
Welcome
Welcome to The Mayer Building, Carroll & McDonald!
Carroll & McDonald, LLC is a law firm focusing on employee rights and small business litigation.
Pieper Properties Electronics Recycling
Every year, in honor of Earth Day, we encourage you to properly dispose of any used electronics by placing them in designated places in your building. We are also happy to come directly to your offices if you have several pieces to dispose of. Just give us a call at 414.220.9870 or email Leanne, our property manager. We will collect all the used electronics and take them to the proper recycling facility. Here's where to place your used electronics:
The Mayer - basement level, directly across from elevator
The Saddlery - outside garbage room, to the left of the doors
234 W. Florida - next to toner/print cartridge recycling shelf by trash dumpsters