Mari Pat's Communication Missive Volume 10

Summer
2011
Dear Clients, Colleagues and Community,

Welcome. As the weather turns warmer, I hear many of you share that you are out cultivating the soil and preparing for summer planting. There is hoeing, bed forming, digging, trenching and all sorts of another important steps that go into producing a lovely garden.

It is not unlike what we do as business professionals to grow and develop. We continually fine-tune and hone our skills and cultivate new ones. It is the recognition that we have the ability to realize our dreams and produce the results we are after. Ralph Waldo Emerson once said, "The creation of a thousand forests is in one acorn."

I invite you to read my missive and my wish is that the seeds I plant with you today will ignite new ideas and support you in reaching your goals.

Mari Pat Varga

4 Keys to a Successful Media Interview
Be Bold, Bundle, Bridge and Bounce

Sitting down for an interview with the media assumes a few things: You are prepared, you've done your homework, you know about the reporter and the publication... All of these elements are important but once you begin keep in mind the following:


Be Bold: Know what your headline is and make it bold. "Early childhood education is the single most important element in closing the achievement gap." "Talent drives strategy, strategy does not drive talent."
Bundle: There is the "magic of three." Bundling key ideas in a group of three makes your message memorable and makes you easier to quote. "We believe in the power of sales, service and support." "Our customers value our quality, convenience and cozy atmosphere."
Bridge: You will be challenged in an interview. You will be encouraged to enter into controversial topics. Don't resist or become defensive, instead accept what is thrown at you and bridge to what is most important. "I appreciate that you'd like to focus on our numbers for the quarter but what is likely more valuable to your listeners, is what is happening overall in the market."
Bounce: A great interview is one that displays energy and builds momntum. Gaining control of an interview is not only about your verbal acuity it is also about your personal energy. Look attentive, lean forward, listen intently, and be expressive. Your enthusiasm will translate into credibility, conviction and commitment.

Communicating through Change

A formula for leader's focus



When an organization is going through change, communication takes on a critical role in driving the success of the change.

For leaders, it is a focus on

Strategic Communication: What is the business case for change? Why are we moving in this new direction? What is at stake if we don't succeed?
Vision: Who are we becoming and how will we get there?
Roles and Responsibilities: What is each team member's role? Make it personal.
Resources: Describe the tools and support mechanisms in place to facilitate success.
Engagement: Make sure employees see the direct line of sight between what they do and how they can impact and influence the results.
Reward and Recognition: Describe the incentives for participation and contribution.
Promote Two-Way Opportunities for Feedback: Provide channels for employees to share their experiences, challenges and achievements with senior leaders.

Communicating through change is much more than newsletters and requires attention and a strategic approach. If you do, you will improve performance, build momentum and model the way to work for continued progress in your business transformation.

Recommended Reading


Wired and Dangerous

The perfect storm of customer anxiety caused by the recession; customer frustration caused by too much high tech with too little high touch; and, the power and reach of the internet has created a wired and potentially dangerous customer. Overnight they can bring down a dispassionate company (or even a dictatorial country) with instantaneous "word of mouse" messages to their cyber-friends. Serving the new normal customer requires novel, un-normal methods that can rebalance an out-of-sync relationship.

I would like to recommend a provocative new book call Wired and Dangerous: How Your Customers Have Changed and What to do about it by my friends Chip Bell and John Patterson. Several of their previous customer loyalty books have been best-sellers. Count on this book being a wake-up call for how to serve today's digital natives, no longer just digital immigrants. It will provide you the powerful perspectives and easy-to-use practices needed to be successful in this challenging era of "customer as king." #Wired and Dangerous

http://amzn.to/ko5Dya

Entering the Human Age

A Thought Leadership Paper from the Manpower Group. Previous eras were defined first by the raw materials that transformed them-stone, iron and bronze; then they were characterized by the domains people conquered with ever-improving technology-industry, space and information. Now, it will be human potential itself that will be the catalyst for change and the global driving force-economically, politically and socially.

This new reality of optimizing human potential will be the single most important determinant of future business success and growth in the Human Age. It will require business and government leaders to re-examine how they unleash and leverage human potential in an increasingly volatile and shifting world. http://

www.manpowergroup.com/humanage/index.html

Obama's wise words
Stay in the collective conversation


President Obama and First Lady, Michelle, appeared on Oprah during the final weeks of her 25th season. Toward the end of the interview, Oprah asked Obama for a self-critique on his first term. He shared that during his presidential campaign they did a good job of telling the story and creating the vision of what his presidency would look like. He added, however, that once in office and needing to face all the issues and problems at hand, they forgot to continue the conversation with the American people in the way they had during the campaign. His team was so immersed in governance and putting all the pieces of the puzzle together they lost sight of the importance of the collective conversation that included, "This is why we are doing what we are doing and here's where we are going..." He said that it was more than a loss of connection, it was loosing the thread that helps people see the future and work together to achieve it.

Obama's self-critique is a great reminder to all leaders about the value of keeping the vision and mission top of mind for all constituents. We must provide the rationale for the actions we are taking to ensure that we are connecting the dots between our people, our practices and those we serve.

Speaking of People
Leaders share success secrets



Cheesecake Factory's Founder, David Overton

, was recently quoted saying, "You have to devote your resources to training, from the cooks to the customer service. In this business, its all location, location, location. But once you grow, it's all people, people, people."

United Airlines CEO Jeff Smisek

, speaking about the merger of United and Continental Airlines and how he plans to ensure that the combine entity maintains equal levels of customer satisfaction: "I'm a big believer in culture, especially in the service business, and what we are creating is a culture based on what I like to say are the two things my mommy taught me: Treat other people like you'd like to be treated, and never tell a lie. If you have a workforce that enjoys each other, they trust each other, they trust management, they're proud of where they work - then they are going to deliver a good product. You can lecture and train, but unless they really believe in who they work for, and trust each other and trust management, you won't get that. My management team and I are focused on developing the new culture. It won't be precisely Continental's culture, and it sure won't be United's old culture. It'll be the best of both."

In Character
Expression Exercise


Each month in Vanity Fair magazine they feature an actor communicating 3 different scenarios through facial expression and gesture only - in a section they call "In Character." In March's issue, for example, Brooke Shields portrayed the following situations:

A celebrity at a White House Dinner finally confronting a creepy "crasher" who has been stalking her all evening.
A Kansas homemaker on vacation in Vegas enjoying a hypnotist who successful programmed her husband to quack like a duck.
A mom watching her 15 year old daughter freeze during a high school production where she sings "Doin' What comes Natur'lly".

I love to see what each actor does to communicate the different outlandish situations. It is a simple but powerful exercise that demonstrates how our body language and facial expression can speak volumes and often communicate much more than words ever could.

Challenge yourself by reading the scenarios and sharing with your mirror, your interpretations.
Sixty Second Videos: Let us help you tell your story in a visual and compelling way!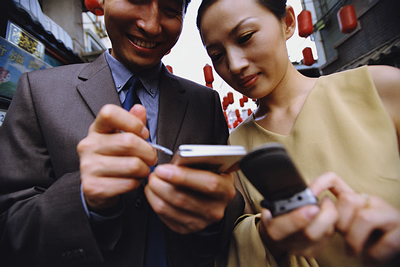 Do you use video to market yourself, your products or services?

With the popularity of social media - including Facebook and You Tube - video is becoming increasingly popular as a way to personalize your communication and make it more visually appealing. Are you using this channel to capture your value proposition, elevator speech or provide a preview of your services?

In our recent LinkedIn survey 98% of our respondents said YES they use video to do everything from providing a tour of their product line to sharing their company value proposition on their website to posting book reviews to incorporating video into blogs, articles, and ads.

If you are interested in knowing more about how to design, deliver and produce a dynamic video to tell your story, contact us today! We'll assist you with all aspects of the project from message design to production and delivery.

Thank for your time and attention. I wish you a wonderful summer that includes some relaxation and rejuventation along with a wealth of new and exciting opportunities. As always, let me know how I can support you in fulfilling your goals.

Sincerely,
Mari Pat Varga
Varga & Associates, Inc.