Bull vs. Bear - Point; Counterpoint

Weekly Update - September 10, 2012

In This Issue

The Markets:

The major indices closed out last week in positive territory despite a disappointing jobs report as investors' disappointment vied with renewed hope that the Fed could take action as early as next week's FOMC meeting. The S&P gained 2.23%, the Dow gained 1.13%, and the Nasdaq closed up 2.26%.

[1]




In light of the sustained rally, we want to discuss some of the forces at work right now and take a look at both the bull and the bear case for coming weeks.



Headwinds could trigger a market decline:



The market run-up puts the S&P trading at 13.3 times forward earnings estimates, meaning that investors are paying just over $13 for each dollar of expected corporate earnings. Given the insipid corporate performance of the second quarter, and reduced expectations for the year, most analysts don't believe that markets will move significantly higher.

[2]

Weak economic fundamentals may be a drag on market movements as we get closer to the end of the year. Last week's disappointing jobs report underscored just how far the economy still has to go before it can be considered healthy. Although the overall unemployment rate fell to 8.1%, that decline can be largely ascribed to discouraged Americans dropping out of the job search.

[3]




Chronic troubles in Europe and Asia may continue to dominate headlines and provoke concern among investors about possible contagion. National elections in the Netherlands and a German ruling on the legality of Europe's major bailout fund could severely hamper efforts to knit Eurozone countries more closely together. Domestically, presidential elections have often produced a great deal of uncertainty in markets. With January's fiscal cliff looming, investors will look to politicians to provide leadership, potentially creating market turbulence as the parties duke it out.



Tailwinds could push equities higher:



There are important events coming down the pike that could lengthen the rally such as additional quantitative easing by the Federal Reserve. This is the big payoff traders have been waiting for all summer, and one of the major factors in the rally. Quantitative easing is getting so much attention because monetary policy is pretty much the only game in town for improving the economy right now, given the political impasse in Congress.

[4]

It's hard to know when the Fed will implement further easing, although many expect it to happen this year.




Activity by foreign central banks in Europe and Asia could also give stocks a bump. Last week's bond-buying announcement by the European Central Bank did a great deal to reassure investors that Eurozone bankers and politicians have the backbone to push through much-needed changes to fiscal and monetary policy. The plan is Europe's most ambitious yet and will be able to buy unlimited amounts of government bonds to stabilize the debt of struggling countries.

[5]




In short, there are a great number of conflicting factors at play right now that could push equities higher or pull markets down. Regardless of how things move, we are committed to keeping you informed and to guiding you as you make investment decisions.



ECONOMIC CALENDAR:
Tuesday: International Trade
Wednesday: Import and Export Prices, EIA Petroleum Status Report
Thursday: Jobless Claims, Producer Price Index, FOMC Meeting Announcement, FOMC Forecasts, Treasury Budget, Chairman Press Conference
Friday: Consumer Price Index, Retail Sales, Industrial Production, Consumer Sentiment, Business Inventories




Performance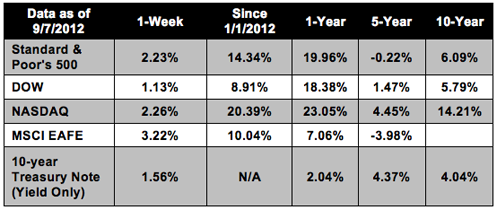 Notes: All index returns exclude reinvested dividends, and the 5-year and 10-year returns are annualized.
Sources: Yahoo! Finance, MSCI Barra. Past performance is no guarantee of future results.
Indices are unmanaged and cannot be invested into directly. N/A means not available.
Headlines

U.S. worker productivity grew in second quarter. Despite slower hiring, companies were able to get more from their workers this spring. Productivity, measured as the amount of output per hour, grew 2.2%, beating the consensus estimate of 1.6%. While this may have a positive effect on corporate earnings, it may mean companies will need to hire fewer workers.
[6]
U.S. economy loses global competitiveness. According to a recent World Economic Forum report, the U.S. economy has become less competitive, slipping two places to become the world's 7th most-competitive economy, just behind Germany and the Netherlands. Economists cited concerns over fiscal health and macroeconomic stability as reasons for the decline.
[7]
China urges greater economic cooperation. While announcing a new government infrastructure fund designed to boost internal spending, Chinese president Hu Jintao expressed concern over the slowing global economy and urged greater cooperation between Asian-Pacific countries. Such an announcement could presage a move to coordinate further monetary policy easing.
[8]
Silver lining: Small businesses added 99,000 new jobs in August. Despite an overall disappointing jobs report, many sectors showed improvement in August. Small and medium-sized businesses added a combined total of 185,000 new jobs in August, compared with 16,000 jobs added by large companies. The service and construction sectors also added significant jobs, indicating that some areas of the economy are doing well.
[9]


"It's not the will to win that matters-everyone has that.

It's the will to prepare to win that matters."



Lemon Crepes with Sweetened Ricotta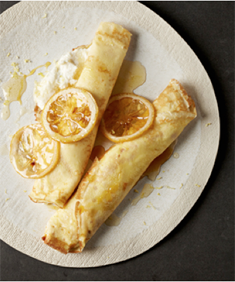 Enjoy a sweet citrus treat with tangy lemon zest and creamy ricotta. Recipe from RealSimple.com.
Ingredients:

1 1/2 cups whole milk

4 large eggs

1 cup all-purpose flour, spooned and leveled

3 tablespoons unsalted butter, melted, plus more for the skillet

1/4 teaspoon kosher salt

1/2 teaspoon finely grated lemon zest 2 teaspoons lemon juice, plus 1 thinly sliced lemon

1/2 cup plus 1 tablespoon sugar

1 cup ricotta

1 tablespoon honey, plus more for serving

Directions:

1) In a blender, blend the milk, eggs, flour, butter, salt, lemon juice, and 1 tablespoon of the sugar until very foamy, about 1 minute. Transfer to the refrigerator and let rest, at least 30 minutes and up to 1 day.

2) Meanwhile, in a medium saucepan, boil 1/2 cup of water and the remaining ½ cup of sugar, stirring, until the sugar dissolves. Add the lemon slices and simmer until tender and translucent, 5 to 7 minutes; let cool.

3) Wipe a medium nonstick skillet with butter and heat over medium heat. Add ¼ cup of the crepe batter and swirl the skillet so the batter completely covers the bottom of the pan. Cook until golden brown, 2 to 3 minutes. Gently loosen the edge of the crepe with a spatula and, using your fingers, flip the crepe. Continue to cook until cooked through, 1 to 2 minutes more. Transfer to a plate. (Don't be disappointed if the first crepe does not come out well; the batter makes enough for 13.) Repeat with the remaining batter.

4) In a small bowl, combine the lemon zest, ricotta, and honey. Dividing evenly, spread the ricotta mixture on the crepes (about 1 tablespoon each) and roll up. Serve topped with the lemon slices and drizzled with additional honey.



Grip Check
After you have hit the ball, can you bring your club back down from your follow-through position and address another ball without readjusting your grip? If you can't hit the next ball without resetting your hands, then your grip is less than it could be. Ben Hogan could hit dozens of successful shots in a row without ever regripping or even readjusting his fingers. A good grip ideally provides a constant and stable connection to the golf club. Genuine accuracy and consistency are not possible with a flimsy grip.

Drink Water First Thing

Even if you don't have time for a proper breakfast, make time for a large glass of water each morning. We lose a lot of water through respiration and dehydration during the night - a period of fasting for the body. To replenish our body and rehydrate, we need to supply it with lots of water in the morning. Within a week, you may notice yourself feeling much less tired in the morning. While many people enjoy plain water, a simple squeeze of lime can freshen the taste and give it more flavor.


Lower Your Household's Water Usage

It's amazing how much water a single household can consume. Showers, gardens, washing machines, and dishwashers consume a tremendous amount of water. To reduce the amount of water your family consumes, try some of these easy changes:


* Keep a bucket or tub in your bathroom to be placed inside the shower to catch water as the shower warms up. Use that water to clean with or in your garden.

* Fill the dishwasher completely before running it. Using a dishwasher consumes less water than hand washing dishes multiple times per day. To maximize its efficiency, fill it up all the way before running.

* Put a bottle or brick inside your toilet tank. Your toilet is the biggest water hog in the whole house. To reduce the water your tank holds, fill a one liter bottle with water and put it inside the tank to displace water and reduce the volume of each flush.

Share the Wealth of Knowledge!

Please share this market update with family, friends, or colleagues. If you would like us to add them to our list, simply click on the "Forward email" link below. We love being introduced!

Investing involves risk including the potential loss of principal. No investment strategy can guarantee a profit or protect against loss in periods of declining values.


Diversification does not guarantee profit nor is it guaranteed to protect assets


The Standard & Poor's 500 (S&P 500) is an unmanaged group of securities considered to be representative of the stock market in general.


The Dow Jones Industrial Average is a price-weighted average of 30 significant stocks traded on the New York Stock Exchange and the NASDAQ. The DJIA was invented by Charles Dow back in 1896.


The MSCI EAFE Index was created by Morgan Stanley Capital International (MSCI) that serves as a benchmark of the performance in major international equity markets as represented by 21 major MSCI indexes from Europe, Australia and Southeast Asia.


The 10-year Treasury Note represents debt owed by the United States Treasury to the public. Since the U.S. Government is seen as a risk-free borrower, investors use the 10-year Treasury Note as a benchmark for the long-term bond market.


The Housing Market Index (HMI) is a weighted average of separate diffusion indices based on a monthly survey of NAHB members designed to take the pulse of the single-family housing market. Each resulting index is then seasonally adjusted and weighted to produce the HMI.


The Pending Home Sales Index, a leading indicator of housing activity, measures housing contract activity, and is based on signed real estate contracts for existing single-family homes, condos and co-ops. The PHSI looks at the monthly relationship between existing-home sale contracts and transaction closings over the last four years. The results are weighted to produce the index.


The Chicago Board Options Exchange Market Volatility Index (VIX) is a weighted measure of the implied S&P 500 volatility. VIX is quoted in percentage points and translates, roughly, to the expected movement in the S&P 500 index over the upcoming 30-day period, which is then annualized.


The BLS Consumer Price Indexes (CPI) produces monthly data on changes in the prices paid by urban consumers for a representative basket of goods and services. Survey responses are seasonally adjusted and weighted to produce a composite index.


The Conference Board Leading Economic Index (LEI) is a composite economic index formed by averages of several individual leading economic indicators, which are weighted to produce the complete index.


Google Finance is the source for any reference to the performance of an index between two specific periods.


Opinions expressed are subject to change without notice and are not intended as investment advice or to predict future performance.


Past performance does not guarantee future results.


You cannot invest directly in an index.


Consult your financial professional before making any investment decision.


Fixed income investments are subject to various risks including changes in interest rates, credit quality, inflation risk, market valuations, prepayments, corporate events, tax ramifications and other factors.


These are the views of Platinum Advisor Marketing Strategies, LLC, and not necessarily those of the named representative or named Broker dealer, and should not be construed as investment advice. Neither the named representative nor the named Broker dealer gives tax or legal advice. All information is believed to be from reliable sources; however, we make no representation as to its completeness or accuracy. Please consult your financial advisor for further information.


By clicking on these links, you will leave our server as they are located on another server. We have not independently verified the information available through this link. The link is provided to you as a matter of interest. Please click on the links below to leave and proceed to the selected site.