Dirty Words: Europe, Facebook

Weekly Update - May 21, 2012

In This Issue

The Markets:




Characterized by ongoing fears about Europe and a messy Facebook IPO, last week was another rough one for the markets. The S&P fell 4.3% in five straight trading sessions, its steepest weekly decline this year, and the Dow lost 3.52%, while the Nasdaq closed down a whopping 5.28% for the week.

[1]


As we approach the end of a month largely defined by selloffs, the real question to ask is: What has changed in the world since April? Last month, positive corporate earnings and upbeat economic indicators fueled market rallies. However, with earnings season behind us and domestic economic reports proving disappointing, investors have turned their attention back to Europe, worrying its crisis will spread overseas. Particularly troubling is a potential Greek exit from the Euro and a deteriorating Spanish banking system, reminding us that the sovereign debt crisis is far from over.

[2]

At this point, it is probably safe to say that Europe's fiscal situation qualifies less as an isolated crisis, and more as a "new normal" - a painful situation with after effects that will be felt for years to come. Though Greece's departure from the Eurozone appears more and more likely, Europe is not on the brink of collapse. In fact, cutting Greece off from the euro faucet might actually serve as a warning to voters and politicians and encourage them to get their financial house in order. All said, Europe's currency and integrity will likely survive, but the recovery will be long.


Friday's Facebook IPO, which should have been a bright spot in a bad week was bungled by a trading software glitch and had a very tepid market debut, hovering within 0.6% of its IPO price. In reaction, investors began selling off other social media and technology stocks, pushing the technology sector down for the week.

[3]


When thinking about investment strategies, rather than fretting over market forces out of our control, let's turn our attention to this "teachable moment" on the importance of diversification.* Investors who are over-exposed to Europe or who immediately jumped on the Facebook bandwagon are probably very concerned about recent market movements; however, investors who didn't put all their eggs in one basket and who are taking a long-term view, can look for value opportunities without potentially risking their whole portfolio. This is precisely what we strive to do for our clients!



ECONOMIC CALENDAR:


Tuesday: Existing Home Sales


Wednesday: New Home Sales, EIA Petroleum Status Report


Thursday: Durable Goods Orders, Jobless Claims


Friday: Consumer Sentiment






Performance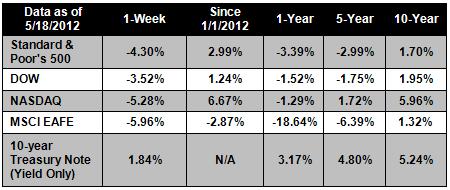 Notes: All index returns exclude reinvested dividends, and the 5-year and 10-year returns are annualized.
Sources: Yahoo! Finance, MSCI Barra. Past performance is no guarantee of future results.
Indices are unmanaged and cannot be invested into directly. N/A means not available.
Headlines:

Fitch lowers Greece credit rating. The country's credit rating was cut to CCC from B- on concerns Greece won't be able to muster the political support necessary to remain in the Eurozone.

[4]
Gas prices fall ahead of Memorial Day weekend. Pump prices may fall as low as $3.25 in some parts of the country as weak demand and lower oil prices push gas prices lower. Consumers in the Pacific Northwest are experiencing high gas prices because of a temporary local gas shortage.
[5]
Housing starts rose in April. According to the Commerce department, construction on new houses rose 2.6% over March, indicating the battered housing market might be improving.

[6]
Leading economic index drops in April after six months of gains. The Conference Board index declined slightly in April, largely due to a drop in applications for building permits for homes and an increase in the number of people applying for unemployment benefits.

[7]


"Success is getting what you want; happiness is wanting what you get."


Chocolate Bread Pudding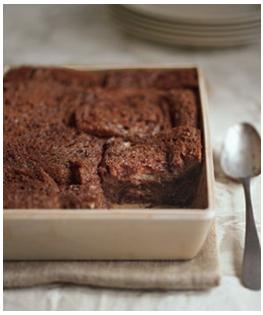 Bring this fuss-free dessert to a dinner party or even a decadent brunch.
Recipe from RealSimple.com.

Ingredients:

8 tablespoons butter or margarine
12 ounces semisweet chocolate chips
1 tablespoon vanilla extract
1 loaf white bread, crusts trimmed
1 pint heavy cream, whipped
Directions:

1) Whisk the milk, eggs, and sugar in a medium saucepan. Add the butter and chocolate and heat over low heat, stirring only until the butter and chocolate melt. Stir in the vanilla.
2) Lightly coat a 13-by-9-inch baking dish with cooking spray. Arrange the bread slices in 3 layers. Pour the chocolate sauce over the bread.
3) Cover with plastic wrap and place another baking dish on top to weigh down the bread. Set aside for 1 hour to allow the bread to absorb the sauce. (Can be made to this point up to 1 day ahead. Refrigerate.) Heat oven to 325° F.
4) Remove the top baking dish and plastic. Bake uncovered 35 to 40 minutes or until set. Serve warm with whipped cream.
5) To fake it...and save 1 hour, 10 minutes: Thaw two 13-ounce packages frozen French toast and cut into 1 ½-inch cubes. Heat oven to 325° F. Lightly coat a 13-by 9-inch baking dish with cooking spray. Place the toast in the dish. Beat 4 cups milk, one 12-ounce can chocolate syrup, and 2 eggs; pour over the toast. Cover with foil and bake 10 minutes. Remove foil and stir. Bake, uncovered, 20 to 25 minutes longer or until set. Serve warm with canned whipped cream. Total time: 50 minutes.


If your putts are always crooked and you can't figure out why, it may not be your fault. Even with expensive putters, it has become relatively common for grips to be assembled improperly. If you haven't already, it is a good idea to check the grip on your putter to ensure it is not crooked. If you don't own a vice, you may need a friend to help you out. Here's how to perform the check:

Wrap a rag around the shaft of your putter and clamp it horizontally in a vice (gently, just enough to hold it). Make sure the putting face is turned upward so you can place a level on it. Once you level the putting face, place the level across the flat of the putter grip. If the bubble is not centered, your grip is crooked. Even a couple degrees will severely affect your putts, and it gets worse when the putt is long.


Working out with a friend is a great way to stick with a fitness routine. Meet each other for a run in the morning or take an aerobics class after work. Just make sure you partner up with a pal you can count on to push you and help you reach your goals.
Use Sustainable Wood in Projects

Shop carefully for the wood used in your next home project. Dimensional lumber that is larger than 2x10 usually comes from rare old-growth forests, which are disappearing from around the world. For larger lumber needs, consider engineered materials made from wood harvested from fast-growth tree species that are glued and finished. These products often perform as good as or better than hardwoods for many applications.

If your project requires solid wood, choose products with the Forest Stewardship Council label that certifies that the wood was responsibly grown and harvested. Another sustainable option is to find salvaged wood products at local used-building materials retailers.

Share the Wealth of Knowledge!

Please share this market update with family, friends, or colleagues. If you would like us to add them to our list, simply click on the "Forward email" link below. We love being introduced!

Investing involves risk including the potential loss of principal. No investment strategy can guarantee a profit or protect against loss in periods of declining values.
*Diversification does not ensure a profit or guarantee against a loss. There is no assurance that any investment strategy will be successful. Investing involves risk and you may incur a profit or a loss.
The Standard & Poor's 500 (S&P 500) is an unmanaged group of securities considered to be representative of the stock market in general.
The Dow Jones Industrial Average is a price-weighted average of 30 significant stocks traded on the New York Stock Exchange and the NASDAQ. The DJIA was invented by Charles Dow back in 1896.
The MSCI EAFE Index was created by Morgan Stanley Capital International (MSCI) that serves as a benchmark of the performance in major international equity markets as represented by 21 major MSCI indexes from Europe, Australia and Southeast Asia.
The 10-year Treasury Note represents debt owed by the United States Treasury to the public. Since the U.S. Government is seen as a risk-free borrower, investors use the 10-year Treasury Note as a benchmark for the long-term bond market.
The Housing Market Index (HMI) is a weighted average of separate diffusion indices based on a monthly survey of NAHB members designed to take the pulse of the single-family housing market. Each resulting index is then seasonally adjusted and weighted to produce the HMI.
The BLS Consumer Price Indexes (CPI) produces monthly data on changes in the prices paid by urban consumers for a representative basket of goods and services. Survey responses are seasonally adjusted and weighted to produce a composite index.
The Conference Board Leading Economic Index (LEI) is a composite economic index formed by averages of several individual leading economic indicators, which are weighted to produce the complete index.
Google Finance is the source for any reference to the performance of an index between two specific periods.
Opinions expressed are subject to change without notice and are not intended as investment advice or to predict future performance.
Past performance does not guarantee future results.
You cannot invest directly in an index.
Consult your financial professional before making any investment decision.
Fixed income investments are subject to various risks including changes in interest rates, credit quality, inflation risk, market valuations, prepayments, corporate events, tax ramifications and other factors.
These are the views of Platinum Advisor Marketing Strategies, LLC, and not necessarily those of the named representative or named Broker dealer, and should not be construed as investment advice. Neither the named representative nor the named Broker dealer gives tax or legal advice. All information is believed to be from reliable sources; however, we make no representation as to its completeness or accuracy. Please consult your financial advisor for further information.
By clicking on these links, you will leave our server as they are located on another server. We have not independently verified the information available through this link. The link is provided to you as a matter of interest. Please click on the links below to leave and proceed to the selected site.
[1]
http://uk.reuters.com/article/2012/05/18/markets-usa-stocks-close-idUKEAP10RI0F20120518
[2]
http://online.wsj.com/article/SB10001424052702303505504577406353283234964.html
[3]
http://uk.reuters.com/article/2012/05/18/markets-stocks-weekahead-idUKL1E8GIE0M20120518
[4]
http://www.bloomberg.com/news/2012-05-17/fitch-cuts-greece-as-leaders-spar-over-euro-membership.html
[5]
http://www.washingtonpost.com/expect-lower-gas-prices-heading-into-memorial-day/2012/05/18/gIQANE0nZU_story.html
[6]
http://www.usatoday.com/money/economy/housing/story/2012-05-16/housing-starts-april/54990892/1
[7]
http://www.usatoday.com/money/economy/story/2012-05-17/unemployment-claims-lei/55033942/1