Jobs Report Spooks Investors

Weekly Update - May 7, 2012

In This Issue

The Markets:




Last week was a rough one for U.S. stocks. The markets started off the week positive, pushed upward by positive corporate earnings, but retreated the last three days to close at a low point, hammered by a disappointing jobs report and renewed fears about a stuttering economic recovery. The S&P lost 2.44% - its worst weekly performance this year, while the Dow lost 1.44% and the Nasdaq fell 3.68%.

[1]




The week's sell off began on Wednesday when the latest ADP Employment Report - usually released before the official Labor Department report - suggested that employment had improved by less than expected. The news was confirmed on Friday when the official numbers showed that employers had added just 115,000 jobs in April, falling well short of the expected 170,000 new jobs. Although the unemployment rate dropped to 8.1%, we can't get excited about it because the fall is primarily due to job-seekers giving up their job search. If we see continued slowness in the job market, it is possible that the Federal Reserve will step up efforts to boost the economy again. Since inflation is still well below the danger zone, the Fed still has room to take action.




Solid corporate earnings have provided a breath of fresh air, showing that business is still humming along. First-quarter earnings among companies in the S&P 500 are currently at 7.8%, well ahead of expectations. However, companies are forecasting a much slower second quarter, a sign that executives are bracing for declining sales.

[2]

Analysts believe that a warm March and an early Easter may have shifted sales to March, cutting into second quarter revenues. Please also keep in mind that companies often sandbag their forecasts in order to artificially beat expectations when the official earnings are posted.




Last week's poor market performance and disappointing jobs report reminds us that our economy and investors nerves are still "recovering." Just as an injured person who undergoes a major surgery will have good days and bad days while recovering, so our healing economy will experience ups and downs




ECONOMIC CALENDAR:
Wednesday: EIA Petroleum Status Report
Thursday: Ben Bernanke Speaks 9:30am, International Trade, Jobless Claims, Import and Export Prices, Treasury Budget
Friday: Producer Price Index, Consumer Sentiment






Performance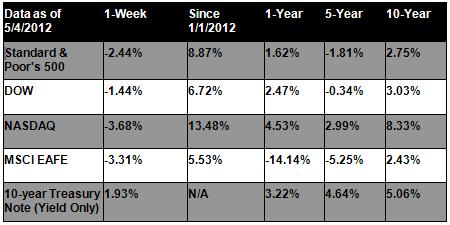 Notes: All index returns exclude reinvested dividends, and the 5-year and 10-year returns are annualized. Sources: Yahoo! Finance, MSCI Barra. Past performance is no guarantee of future results. Indices are unmanaged and cannot be invested into directly. N/A means not available
Headlines:

I'll Have Another beat Bodemeister at the 138th Kentucky Derby I'll Have Another chased down Bodemeister in the stretch to capture the win with a finish time of 2:01.83, while pre-race favorite Union Rags finished seventh.

[3]
Gas prices fall for 18 straight days and oil drops below $100/barrel. The precipitous drop in gas prices will likely continue as global demand weakens, providing much-needed relief during peak summer driving months. Nationally, gas averaged $3.80 a gallon, nearly 20 cents below 2011's $3.99 a gallon.

[4]
April retail sales fall short of predictions, but retail analysts say it is not necessarily a sign of weakened consumer spending. Same-stores sales grew just 0.8%, missing a predicted increase of 1.5%, according to Retail Metrics, Inc.

[5]
Mortgage rates fall to near-60 year lows. 30-year mortgage rates fell to 3.84% this week, potentially spurring a round of refinancing and encouraging housing purchases. However, with mortgage standards remaining tight, it may be difficult for some buyers to qualify for ultra-low rates.

[6]


"Victory belongs to the most persevering."
- Napoleon Bonaparte


Yellow Cake with Strawberry Filling and Chocolate Sour Cream Frosting

This surprisingly easy dessert hides a delicious berry filling inside a simple yellow cake. Recipe from RealSimple.com.
Ingredients:
1 cup (2 sticks) unsalted butter, at room temperature, plus more for the pans
2 1/2 cups all-purpose flour, spooned and leveled, plus more for the pans
1 1/2 teaspoons baking powder
2 teaspoons pure vanilla extract
3 large eggs, at room temperature
1 recipe Fresh Strawberry Filling
1 recipe Chocolate Sour Cream Frosting
1 quart strawberries, thinly sliced
1/4 cup seedless raspberry jam, warmed
Directions:

1) Heat oven to 350°F. Butter two 8- or 9-inch round cake pans, line the bottoms with parchment, butter again, and dust with flour, tapping out the excess. In a medium bowl, whisk together the flour, baking powder, baking soda, and salt; set aside.
2) Using an electric mixer, beat the butter and sugar on medium-high until fluffy, 2 to 3 minutes. Beat in the vanilla, then the eggs one at a time, scraping down the sides of the bowl as necessary.
3) Reduce mixer speed to low. Add the flour mixture in 3 additions and the milk in 2 additions, beginning and ending with the flour mixture. Mix just until combined (do not over mix).
4) Transfer the batter to the prepared pans and bake until a toothpick inserted in the center comes out clean, 25 to 30 minutes for 8-inch pans and 22 to 25 minutes for 9-inch pans. Cool the cakes in the pans for 15 minutes, then turn out onto racks to cool completely.
5) Transfer one of the cooled cakes to a plate and spread with 1 to 1½ cups of the filling. Top with the remaining cake and refrigerate to set, 30 minutes. Spread the top and sides with the frosting.
6) Starting from the outside perimeter, place a ring of the sliced strawberries around the cake, points facing out. Continue layering concentric rings around the cake until you reach the center. Carefully brush with the jam.


Focus on the Finish

A good finish is the bookend to a good swing. While practicing, one of the best ways to develop a proper finish is to start at the address position and slowly take your club to the finished position with no back swing. Pose in a perfect follow-through, hold the pose, and feel it. Once you sense what a good finish position feels like, make a slow, short swing such as a chip or pitch that concludes in that exact position and pay no attention to your back swing for the moment. Just make a swing that finishes in this balanced follow-through position. Repeat the drill several times, and slowly work your way back up to a full swing.


Floss for Heart Health


If, like most Americans, you brush twice a day, bacteria-emitting plaque might still linger between your teeth. This bacterium can enter your bloodstream, causing inflammation that can cause heart disease according to some medical experts. Daily flossing can not only help keep your pearly whites looking their best, but can actually add years to your life.


Be on the Lookout for Excessive Moisture in Your Home
Excessive moisture in your house can cause mold growth (not to mention, structural issue), resulting in poor indoor air quality and health problems. Common sources of indoor moisture include:


* Leaky roofs and windows;

* Bathroom and kitchen plumbing;
* Wet basements and crawl spaces;
* Clogged gutters and standing water around foundations;
* Unvented bathrooms and cooking spaces.

To fight moisture, establish a regular maintenance routine that includes inspecting for leakage or water damage around your home. Survey the outside of your house for proper drainage, foliage too close to your house (which can cause lingering dampness), and that surfaces are graded away from your foundations. Ensure adequate ventilation in your kitchen and bathroom to efficiently remove water vapor.
Share the Wealth of Knowledge!

Please share this market update with family, friends, or colleagues. If you would like us to add them to our list, simply click on the "Forward email" link below. We love being introduced!

The Standard & Poor's 500 (S&P 500) is an unmanaged group of securities considered to be representative of the stock market in general.
The Dow Jones Industrial Average is a price-weighted average of 30 significant stocks traded on the New York Stock Exchange and the NASDAQ. The DJIA was invented by Charles Dow back in 1896.

The MSCI EAFE Index was created by Morgan Stanley Capital International (MSCI) that serves as a benchmark of the performance in major international equity markets as represented by 21 major MSCI indexes from Europe, Australia and Southeast Asia.

The 10-year Treasury Note represents debt owed by the United States Treasury to the public. Since the U.S. Government is seen as a risk-free borrower, investors use the 10-year Treasury Note as a benchmark for the long-term bond market.

The Housing Market Index (HMI) is a weighted average of separate diffusion indices based on a monthly survey of NAHB members designed to take the pulse of the single-family housing market. Each resulting index is then seasonally adjusted and weighted to produce the HMI.

The BLS Consumer Price Indexes (CPI) produces monthly data on changes in the prices paid by urban consumers for a representative basket of goods and services. Survey responses are seasonally adjusted and weighted to produce a composite index.

The Conference Board Leading Economic Index (LEI) is a composite economic index formed by averages of several individual leading economic indicators, which are weighted to produce the complete index.

Google Finance is the source for any reference to the performance of an index between two specific periods.

Opinions expressed are subject to change without notice and are not intended as investment advice or to predict future performance.

Past performance does not guarantee future results.

You cannot invest directly in an index.

Consult your financial professional before making any investment decision.

Fixed income investments are subject to various risks including changes in interest rates, credit quality, inflation risk, market valuations, prepayments, corporate events, tax ramifications and other factors.

These are the views of Platinum Advisor Marketing Strategies, LLC, and not necessarily those of the named representative or named Broker dealer, and should not be construed as investment advice. Neither the named representative nor the named Broker dealer gives tax or legal advice. All information is believed to be from reliable sources; however, we make no representation as to its completeness or accuracy. Please consult your financial advisor for further information.

By clicking on these links, you will leave our server as they are located on another server. We have not independently verified the information available through this link. The link is provided to you as a matter of interest. Please click on the links below to leave and proceed to the selected site.

[1]
http://biz.yahoo.com/mu/update.html
[2]
http://www.reuters.com/article/2012/05/04/us-usa-stocks-earnings-idUSBRE84318620120504
[3]
http://www.vancouversun.com/sports/Kentucky+Derby+2012+full+results+Have+Another+beats+Bodemeister/ 6573278/story.html
[4]
http://www.usatoday.com/money/industries/energy/story/2012-05-04/oil-dips-as-gasoline-prices-fall/54748536/1
[5]
http://www.chicagotribune.com/business/sns-mct-april-retail-sales-fall-short-of-predictions-20120504,0,7987070.story
[6]
http://www.usatoday.com/money/economy/housing/story/2012-05-03/mortgage-rates-new-record-lows/54720362/1