U.S. Gains; World Falters

Weekly Update - April 16, 2012

In This Issue

The Markets:




It was a rough one for the stock market last week as major indices closed out their worst session of 2012 on the back of disappointing economic growth in China and renewed fears about debt-ridden Europe. The S&P fell 2% for the week, while the Dow lost 1.61%, and the Nasdaq closed down 2.25%.


China, the world's second-largest economy, reported first-quarter growth figures of 8.1%, the weakest rate in nearly three years, and below expectations of 8.3%. Stocks fell sharply on the news, stoking fears that a weakened Chinese economy could have global implications

.[1]

Concerns surrounding Spain's debt offering next week renewed fears about the European debt crisis, battering bank stocks and dragging down the euro against the dollar.

[2]




On the other hand, domestic indicators continue to provide a positive contrast to global worries. The most recent Beige Book report released by the Federal Reserve shows that the U.S. economy is improving at a "modest to moderate" pace as solid auto sales, warm weather, and growth in high-tech manufacturing outweighed the effect of high gasoline prices.

[3]

Sales by U.S. wholesalers rose 1.2% in February, and they restocked their inventories at a faster rate in February than January, suggesting they expect a strong spring. Consumer confidence likewise grew in February by the most in seven months. This is especially good news since consumer spending drives nearly 70% of domestic economic activity; if consumers keep spending, the economy will continue to improve.

[4]




Domestically, the U.S. economy really seems to be chugging along, and indicators continue to support a broad recovery. Nevertheless, concerns about the fragile global economy will likely lead to continued volatility in equity markets. The declines experienced over the last two weeks are not difficult to comprehend in light of the outstanding first quarter performance we experienced. In the weeks ahead, analysts will be examining quarterly earnings reports to determine whether the pullback has been exhausted, or if we should expect continued profit taking.


As always, when short-term declines test your resolve, it is critically important to remain focused on your long term objectives and trust that the portfolio strategy you have in place can weather a few squalls.





ECONOMIC CALENDAR:


Monday: Retail Sales, Empire State Mfg Survey, Treasury International Capital, Business Inventories, Housing Market Index


Tuesday: Housing Starts, Industrial Production


Wednesday: EIA Petroleum Status Report


Thursday: Jobless Claims, Existing Home Sales, Philadelphia Fed Survey






Performance

Notes: All index returns exclude reinvested dividends, and the 5-year and 10-year returns are annualized.
Sources: Yahoo! Finance, MSCI Barra. Past performance is no guarantee of future results.
Indices are unmanaged and cannot be invested into directly. N/A means not available.
Headlines:

Five years after the U.S. housing bust sent sales and prices plunging, the spring home-buying season is pointing to a long-awaited recovery. Reduced prices, record-low mortgage rates, higher rents, and an improving job market appear to be emboldening many would-be buyers. Earnings reports Friday from two big banks suggested that more people are taking out mortgages. JP Morgan Chase issued 6% more mortgages from January through March than it did a year ago and got 33% more applications. Wells Fargo issued 54% more mortgages and received 84% more applications.

[5]
Oil prices fall on signs of weaker economic growth. Oil slipped below $103 per barrel on news of softening global demand. If the Chinese economy is slowing down, demand for oil could weaken since Chinese industries are one of the primary consumers of petroleum.

[6]
Small business confidence dropped sharply in March, indicating that small business owners might be feeling the pinch of high gas prices. According to the report, many entrepreneurs plan on raising prices this year in response to higher energy costs.

[7]
Gasoline prices may have already peaked in the U.S. Despite predictions that gas prices would continue their skyward march, the average price of gas nationwide has fallen to $3.90, down 3 cents from a week ago, indicating that the peak might be behind us.

[8]


"Determine never to be idle. No person will have occasion to complain of the want of time who never loses any. It is wonderful how much may be done if we are always doing."
- Thomas Jefferson

Tortilla Soup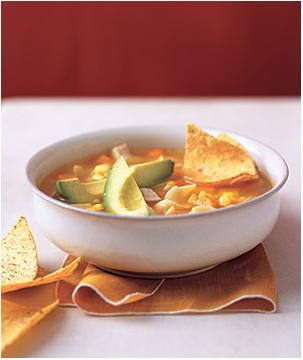 This fast and healthful soup is perfect for a weeknight dinner.
Recipe from Real Simple.
Ingredients:

2 14- to 19-ounce cans chicken noodle soup
1 cup frozen corn kernels
1 avocado, cut into pieces
Directions:

1) In a medium saucepan, bring the soup to a simmer.
2) Add the corn and hot sauce and cook, stirring occasionally, just until heated through, 2 to 3 minutes.
3) Ladle into bowls and serve with tortilla chips and avocado.
Keep Your Emotions in Check

To get yourself back on track after a poor shot, ask yourself these questions:
1) How was my tempo or rhythm?
2) Was I fully committed to the club, target, and type of shot?
3) How well did I visualize the shot in advance?
4) How did that shot "feel"?
By running through this checklist to determine the reason behind a bad shot, you'll keep your tension level low and your emotions in check.
Fight Spring Colds with Ginger

Ginger's oils have long made it useful as an herbal remedy for the nasal and chest congestion caused by the common cold. To use: Pour two cups of boiling water over a 1-inch piece of peeled, chopped ginger; steep the concoction for 10 minutes and strain. Add a pinch or two of cayenne powder and drink as needed for relief.
Keep Volatile Compounds Out of Your Air

Many household products and materials contain volatile organic compounds (VOCs), which convert to gas at room temperature. Outdoors, some VOCs react with sunlight to form smog; indoors, VOCs can irritate lungs and cause allergic reactions, especially in children.
To avoid exposing yourself and your family, choose low-toxic paints that are low in VOCs - ideally with a VOC level below 150 grams per liter. Zero-VOC paints also are available. If a household project calls for fiberglass insulation, look for products that are free of formaldehyde.
Share the Wealth of Knowledge!
Please share this market update with family, friends, or colleagues. If you would like us to add them to our list, simply click on the "Forward email" link below. We love being introduced
!

Investing involves risk including the potential loss of principal. No investment strategy can guarantee a profit or protect against loss in periods of declining values.
The Standard & Poor's 500 (S&P 500) is an unmanaged group of securities considered to be representative of the stock market in general.
The Dow Jones Industrial Average is a price-weighted average of 30 significant stocks traded on the New York Stock Exchange and the NASDAQ. The DJIA was invented by Charles Dow back in 1896.
The MSCI EAFE Index was created by Morgan Stanley Capital International (MSCI) that serves as a benchmark of the performance in major international equity markets as represented by 21 major MSCI indexes from Europe, Australia and Southeast Asia.
The 10-year Treasury Note represents debt owed by the United States Treasury to the public. Since the U.S. Government is seen as a risk-free borrower, investors use the 10-year Treasury Note as a benchmark for the long-term bond market.
The Housing Market Index (HMI) is a weighted average of separate diffusion indices based on a monthly survey of NAHB members designed to take the pulse of the single-family housing market. Each resulting index is then seasonally adjusted and weighted to produce the HMI.
The BLS Consumer Price Indexes (CPI) produces monthly data on changes in the prices paid by urban consumers for a representative basket of goods and services. Survey responses are seasonally adjusted and weighted to produce a composite index.
The Conference Board Leading Economic Index (LEI) is a composite economic index formed by averages of several individual leading economic indicators, which are weighted to produce the complete index.
Google Finance is the source for any reference to the performance of an index between two specific periods.
Opinions expressed are subject to change without notice and are not intended as investment advice or to predict future performance.
Past performance does not guarantee future results.
You cannot invest directly in an index.
Consult your financial professional before making any investment decision.
Fixed income investments are subject to various risks including changes in interest rates, credit quality, inflation risk, market valuations, prepayments, corporate events, tax ramifications and other factors.
These are the views of Platinum Advisor Marketing Strategies, LLC, and not necessarily those of the named representative or named Broker dealer, and should not be construed as investment advice. Neither the named representative nor the named Broker dealer gives tax or legal advice. All information is believed to be from reliable sources; however, we make no representation as to its completeness or accuracy. Please consult your financial advisor for further information.
By clicking on these links, you will leave our server as they are located on another server. We have not independently verified the information available through this link. The link is provided to you as a matter of interest. Please click on the links below to leave and proceed to the selected site.
[1]
http://news.yahoo.com/global-stocks-euro-oil-fall-china-renews-growth-162757125.html
[2]
http://www.bloomberg.com/news/2012-04-14/spanish-bonds-decline-for-second-week-on-debt-contagion-concern.html
[3]
http://articles.marketwatch.com/2012-04-11/economy/31323234_1_retail-sales-auto-sales-report
[4]
http://www.usatoday.com/money/economy/production/story/2012-04-10/wholesale-inventories-sales-february/54144442/1
[5]
http://newssun.suntimes.com/business/11924633-420/home-buying-season-finally-signaling-a-recovery.html
[6]
http://news.yahoo.com/oil-falls-signs-weaker-economic-growth-165940471.htm

l
[7]
http://www.usatoday.com/money/smallbusiness/story/2012-04-10/small-business-owners-confidence/54158558/1
[8]
http://www.news-journalonline.com/news/florida/2012/04/14/gas-prices-may-have-already-peaked.html