An Expected Pullback
Weekly Update - April 9, 2012
In This Issue

The Markets:

Following the strongest quarterly performance since 2008 and the best first quarter performance since 1998, major indices retreated this week, weighed down by disappointing economic reports and renewed concerns over Europe's debt crisis. The string of losses before Friday's market holiday left the S&P, the Dow, and the Nasdaq all slightly lower. This is only the third weekly loss for the stock market in 14 weeks of trading.





A positive ISM Manufacturing Index report pushed stocks higher on Monday, but sentiment shifted on Tuesday as the Fed's FOMC meeting minutes revealed that because of an optimistic view of the economic recovery, the Fed is unlikely to buy bonds to further stimulate the economy. It should not come as a surprise to investors that the Fed's monetary policy is conditional on economic developments. If the economy takes a turn for the worse, there is little doubt that the Fed will step in again.

[1]

Interestingly, you might be inclined to think that an optimistic view from the Fed would be good for stocks, but this highlights that stocks move for a variety of reasons not always linked to economic performance and pundit predictions.




Friday's employment report indicated that jobs growth had slowed considerably in March, but there were also significant positive signs to be found in its pages. The unemployment rate dropped, and the underemployment rate - which counts jobless people looking for work, part-time workers who want full-time jobs, and discouraged job seekers - fell to a three-year low of 14.5% from 14.9% in February, one of the largest monthly drops on record.

[2]

This is a key number in the government's monthly employment report, and it's one that we are happy to see moving down.




Concerns surrounding Europe's sovereign debt crisis flared again after Spain's latest debt auction drew underwhelming demand, and yields on Spanish government bonds rose on fears that they may have trouble paying back their debt.

[3]

Clearly, more time will be needed before we can put this drama behind us.




This week's losses were not at all unexpected. Mediocre economic reports, lingering doubts about the Fed's future monetary policy, and renewed concerns about Europe's problems all played a part in the retreat. We might see further losses in the weeks to come, but let's keep focused on the underlying trends: the U.S. economy is improving, the job market is improving, and we are on track for a solid year of economic performance. When short-term losses threaten your peace of mind, focus on your long-term strategy and remember that we are actively monitoring the economy and world equity markets, and will keep you updated.



ECONOMIC CALENDAR:
Wednesday: Import and Export Prices, EIA Petroleum Status Report, 10-Yr Note Auction, Beige Book, Treasury Budget
Thursday: International Trade, Jobless Claims, Producer Price Index
Friday: Consumer Price Index, Consumer Sentiment






Performance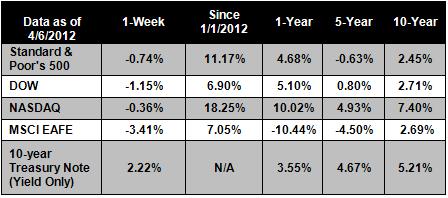 Notes: All index returns exclude reinvested dividends, and the 5-year and 10-year returns are annualized.
Sources: Yahoo! Finance, MSCI Barra. Past performance is no guarantee of future results.
Indices are unmanaged and cannot be invested into directly. N/A means not available.
Headlines:

U.S. retailers report better-than-expected gains in March. Motivated by unseasonably warm weather and a brighter economic picture, shoppers pushed retail sales for the month of March higher than expected with a 3.9% gain, according to data from research firm Retail Metrics, which originally estimated March sales would rise 3.3%.

[4]
Factory orders rose 1.3% in February. The Commerce Department report states that orders to U.S. factories increased in February. Businesses' ordering of more machinery and equipment indicates that many are investing in their companies despite the expiration of a tax credit.

[5]
Independent ratings firm downgrades U.S. credit level. Ratings firm Egan-Jones lowered its senior debt rating on the U.S. to AA, its third highest rating, down one notch from AA-plus. The firm is concerned about the ballooning federal debt, which could rise to $16.7 trillion by the end of 2012.

[6]
Gas prices averaged $3.97 nationwide on Friday. The average price for a gallon of gasoline rose 3.74 cents over the past two weeks, the smallest increase since January, according to the nationwide Lundberg Survey. However, according to the report, gas prices already are falling in some cities, such as Chicago and Los Angeles, indicating that we may have already seen the price peak.

[7]


"Good manners and tolerance, which are the highest manifestation of style, can often transform disaster into good fortune."


Glazed Lemon Pound Cake


This delightful dessert is brightened by lemon zest. Recipe from Real Simple.

Ingredients:
1 cup unsalted butter (2 sticks), at room temperature, plus more for the pan
2 1/2 cups all-purpose flour, spooned and leveled, plus more for the pan
1/2 teaspoon baking powder
2 tablespoons finely grated lemon zest, plus 6 tablespoons lemon juice
6 large eggs, at room temperature
1 cup plain full-fat Greek yogurt
1 cup confectioners' sugar
Directions:

1) Heat oven to 325° F. Butter and flour a 12-cup Bundt pan. In a medium bowl, whisk together the flour, salt, baking soda, and baking powder.
2) Using an electric mixer, beat the butter, granulated sugar, and lemon zest on medium-high until light and fluffy, 3 to 4 minutes. Beat in 4 tablespoons of the lemon juice, then the eggs, one at a time, scraping down the sides of the bowl as necessary.
3) Reduce mixer speed to low. Add half the flour mixture, then the yogurt, and then the remaining flour mixture. Mix just until combined (do not overmix).
4) Transfer the batter to the prepared pan and bake until a toothpick inserted in the center comes out clean, 65 to 75 minutes. Cool the cake in the pan for 30 minutes, then turn it out onto a wire rack to cool completely.
5) In a small bowl, whisk together the confectioners' sugar and 1 of the remaining tablespoons of lemon juice until smooth, adding the remaining lemon juice as necessary to create a thick, but pourable glaze.


Hooking problem? Maybe it's your grip.

Congratulations to Bubba Watson for winning the Green Jacket and the 2012 Masters. By hitting 'the hook heard around the world." Bubba won because of an intentional hook while millions of golfers fight an unintentional hook...
A hook occurs when the club face is closed in relation to your swing path, causing counterclockwise side spin and resulting in a hook to the left or right depending on whether you are left or right handed.
It could be that a simple repositioning of your hands on the club could help. When you hold your club, your non dominant hand should show the thumb and index knuckles. If you start seeing the back of your hand angling up, and/or you see the fingers of your dominant hand, your grip is too strong. To fix this, roll your hands forward towards the target so that the back of your hand faces the hole.



Simple Ways to Include Physical Activity Everyday

Nearly all doctors agree that most Americans could use more activity in their day. Here are a few simple ways you can add more movement to your day without taking a lot of time:
Turn off the TV:
Try turning off the TV once or twice a week and do something physical with your family. Play games, or take a walk - do anything that gets you off the couch.
Walk more:
Look for quick ways to include more walking in your day. When you pick up the mail, take a walk around the block, take the dog out for an extra stroll, or walk on your treadmill for a few minutes before getting ready for work.
Do some physical chores each day:
Shoveling snow, gardening, raking leaves, cleaning out the basement or garage might not count as "vigorous" exercise, but they all add up to a more active lifestyle while keeping your house in order.
Pace while talking on the phone: When you're having a conversation over the phone, pace around, or do some light work. This is a great way to stay moving while keeping up with friends, family, or acquaintances.




Replace Toxic Cleaners with Friendly Bacteria

If you have a clogged or slow-draining sink or tub, you might reach for a standard chemical drain cleaner. However, these cleaners contain super-toxic chemicals that release dangerous fumes, can damage pipes, and will eventually end up in the local water supply. Instead, search your local (or online) hardware store's plumbing section for a bacterial product. These bio alternatives work by establishing colonies of clog-eating, environmentally-friendly bacteria that keep drainpipes clear. To allow your bacterial friends to establish themselves, pour in a little just before your household settles in for the night, after everyone has quit using the sinks and tubs.
Share the Wealth of Knowledge!
Please share this market update with family, friends, or colleagues. If you would like us to add them to our list, simply click on the "Forward email" link below. We love being introduced!

Investing involves risk including the potential loss of principal. No investment strategy can guarantee a profit or protect against loss in periods of declining values.
The Standard & Poor's 500 (S&P 500) is an unmanaged group of securities considered to be representative of the stock market in general.

The Dow Jones Industrial Average is a price-weighted average of 30 significant stocks traded on the New York Stock Exchange and the NASDAQ. The DJIA was invented by Charles Dow back in 1896.


The MSCI EAFE Index was created by Morgan Stanley Capital International (MSCI) that serves as a benchmark of the performance in major international equity markets as represented by 21 major MSCI indexes from Europe, Australia and Southeast Asia.


The 10-year Treasury Note represents debt owed by the United States Treasury to the public. Since the U.S. Government is seen as a risk-free borrower, investors use the 10-year Treasury Note as a benchmark for the long-term bond market.


The ISM Manufacturing Index is an index based on surveys of more than 300 manufacturing firms by the Institute of Supply Management. A composite diffusion index is created that monitors conditions in national manufacturing based on the data from these surveys.


Opinions expressed are subject to change without notice and are not intended as investment advice or to predict future performance.


Past performance does not guarantee future results.

You cannot invest directly in an index.

Consult your financial professional before making any investment decision.


Fixed income investments are subject to various risks including changes in interest rates, credit quality, inflation risk, market valuations, prepayments, corporate events, tax ramifications and other factors.


These are the views of Platinum Advisor Marketing Strategies, LLC, and not necessarily those of the named representative or named Broker dealer, and should not be construed as investment advice. Neither the named representative nor the named Broker dealer gives tax or legal advice. All information is believed to be from reliable sources; however, we make no representation as to its completeness or accuracy. Please consult your financial advisor for further information.

By clicking on these links, you will leave our server as they are located on another server. We have not independently verified the information available through this link. The link is provided to you as a matter of interest. Please click on the links below to leave and proceed to the selected site.
[1]

http://finance.yahoo.com/marketupdate/update

[2]

http://www.nasdaq.com/article/wsjus-labor-market-loses-steam-with-120000-jobs-added-in-march-20120406-00163

[3]

http://www.usatoday.com/money/markets/story/2012-04-05/stocks-thursday-4-5/54029810/1

[4]

http://www.usatoday.com/money/industries/retail/story/2012-04-05/march-retail-sales/54026160/1

[5]

http://www.usatoday.com/money/story/2012-04-03/factory-orders-february/53965992/1

[6]

http://www.reuters.com/article/2012/04/06/ratings-usa-egan-idUSL2E8F629N20120406

[7]

http://af.reuters.com/article/commoditiesNews/idAFL2E8F83HF2012040
8