The Best Since 98'

Quarterly Update - April 2, 2012

In This Issue

The Markets:

W

hen the closing bell rang on Friday the 30th, the Dow and the S&P closed out their best first-quarter performance since 1998 and the Nasdaq notched its best performance since 1991.





The Standard & Poor's 500 (S&P 500) is an unmanaged group of securities considered to be representative of the stock market in general. Chart is for illustration purposes only. Performance excludes reinvested dividends. Past performance is no guarantee of future results. Index is unmanaged and cannot be invested into directly. Source: Yahoo! Finance.




After a string of declines last week, the markets showed modest gains on Friday amidst economic reports indicating that U.S. consumer spending and consumer sentiment are still on the rise. Consumer sentiment rose in February by the highest level in seven months and March consumer confidence bounced to its highest level in more than a year. U.S. Treasuries fell as investors left the refuge of debt to participate in the market rally.

[1]


While we're pleased at the good economic news and the close of a strong quarter for equities, we're also paying close attention to reports due to be released later this week which include data on manufacturing and construction spending, reports on the labor market, and Fed FOMC meeting notes. With market optimism so high, any mixed news could leave stocks vulnerable to a retreat. If a pullback does occur, many analysts believe that it will be a healthy sign of reduced investor exuberance.

[2]

However, a retreat is certainly not a given. Historically speaking, the S&P 500 has only gained more than 10% in the first quarter on eight other occasions since 1945, and the market went on to gain in the second quarter six of those eight years.

[3]


We're thankful to see that the picture in Europe has improved somewhat during the first quarter, and the market has rewarded this improvement. Though a permanent solution is still needed, the European Central Bank has managed to avert a liquidity crisis for now. We look forward to further steps being taken to address the underlying solvency issues that still exist.





Rising gas prices continue to be an area of concern, as any further pinch at the pump could lead to decreases in consumer spending, slower retail sales, reduced manufacturing, cuts in hiring, and ultimately to a slower moving economy (Likely in that order). This is clearly not something we want to see. Oil prices - and gas prices by extension - are predominantly affected by supply and demand. And with only 2 million barrels a day of effective excess capacity, versus global oil demand of 75 million barrels a day, it is easy to see why prices remain elevate

d

.

[4]

Tensions over Iran exacerbate this problem, as any escalation there could easily lead to dramatic spikes in prices here. On the other hand, if the Iran situation cools off, we could also see oil prices fall. As we have mentioned before, oil prices teeter delicately on a combination of supply issues and speculation.


Comments made by Federal Reserve Chairman Ben Bernanke on Monday suggested that the Fed would like to see a more rapid expansion in the economy, and it's willing to back up its words with additional quantitative easing.

[5]

Whether or not that would be a good thing is heavily debated, and there are extremely vocal proponents on both sides of the issue. We'll reserve our thoughts on that matter for a future edition. Either way, if we continue to see solid economic reports and improvement in the global economic situation, the Fed will probably not take further action.


The important thing to keep in mind is that the long-term performance of your investments is not tied to short-term market movements. All the underlying signs point to a continued economic recovery, and we are closely monitoring available information as we chart our course for the next quarter and beyond.



ECONOMIC CALENDAR:


Monday: ISM Mfg. Index, Construction Spending


Tuesday: Motor Vehicle Sales, Factory Orders, Federal Reserve FOMC Minutes


Wednesday: ADP Employment Report, ISM Non-Mfg. Index, EIA Petroleum Status Report


Thursday: Jobless Claims


Friday: Markets closed for Good Friday, Employment Situation Report
Performance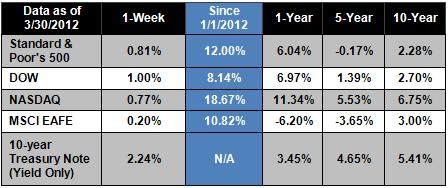 Notes: All index returns exclude reinvested dividends, and the 5-year and 10-year returns are annualized.
Sources: Yahoo! Finance, MSCI Barra. Past performance is no guarantee of future results.
Indices are unmanaged and cannot be invested into directly. N/A means not available.
Headlines:


The U.S. economy grew by 3% in 4th quarter 2011, which was the fastest growth rate since 2010. However, economists believe that that growth slowed to 1.5% in the first three months of 2012, dragged down by weak exports and rising oil prices.

[6]
Moody's may lower credit rating of world's largest banks. Moody's is reviewing 15 of the world's largest banks - including Morgan Stanley, Bank of America, and Citigroup - for possible credit rating downgrades. If the cuts happen, it would increase the cost of credit and reduce their global competitiveness.

[7]
Treasuries end worst quarter since 2010. As fears about the U.S. subsided, investors moved money out of U.S. Treasuries and into stocks. Any monetary stimulus action by the Federal Reserve would erode Treasury yields, while concerns about China or the Eurozone crisis could again push investors into safe-haven investments.

[8]
Analysts think gas prices might fall. Gas prices are still climbing, having hit a national average of $3.93 this week, but some analysts think the price might level out and begin to fall as U.S. allies open strategic reserves to curb high prices.

[9]


"We cannot always build the future for our youth, but we can build our youth for the future."
- Franklin D. Roosevelt



Asian Steak Salad with Mango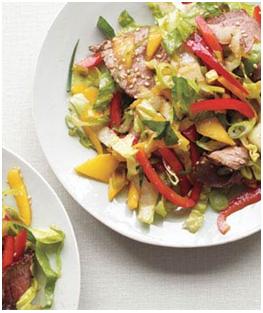 Fresh vegetables and mango brighten this healthful salad. Recipe from Real Simple.
Ingredients:
3/4 pound sirloin steak (1 inch thick)
Kosher salt and black pepper
1 teaspoon grated lime zest
3 tablespoons fresh lime juice
1 tablespoon chopped pickled ginger (found in the international aisle of the market)
2 teaspoons low-sodium soy sauce
1 large head romaine lettuce, cut into strips (about 7 cups)
1 mango, cut into thin strips
1 red bell pepper, thinly sliced
1/2 cup fresh basil leaves, sliced
2 scallions, thinly sliced
1 teaspoon toasted sesame seeds
Directions:

Heat a large skillet over high heat. Season the steak with ¼ teaspoon each salt and black pepper. Cook 4 to 5 minutes per side for medium-rare. Let rest at least 5 minutes before slicing.
Meanwhile, in a large bowl, whisk together the lime zest and juice, honey, ginger, soy sauce, oil, and ¼ teaspoon salt. Add the lettuce, mango, bell pepper, basil, and scallions and toss to combine. Gently fold in the steak and sprinkle with the sesame seeds.


What is the best set make up for an average player? Assuming that you're going to adhere to the 14-club limit, you'll want to assemble a set with which you use all the clubs and have no distance gaps. To show how to pick the set that suits you best, here is an average list of clubs and yardages. These yardages may not apply to your game, but you should be able to apply the same principle.
The idea is to pick a set that gives you a consistent distance spread from club to club. If you do not hit your 3 and 4 irons well, then take them out of your bag and replace them with a 5 and 7 wood. This will at least close any distance gaps created because of the unused clubs. As you can see, there is an overlap between the woods and irons all the way from 130 to 190 yards. If you're not comfortable hitting a certain iron, simply replace it with the corresponding wood, and vice versa.

Deep Breaths Banish Stress


According to some researchers, deep breathing is an effective (and drug-free) way of reducing stress and feelings of anxiety. The American Academy of Family Physicians developed these guidelines for deep breathing exercises:

1. Lie down flat on your back, placing one hand on your stomach and one hand on your chest;
2. Slowly breathe in, making sure your stomach rises but your chest remains flat;
3. Hold your breath for a second or two;
4. Slowly exhale and allow your stomach to drop;
5. Repeat for 3-5 breathes.

Advanced tip: When you feel comfortable with the basic exercise, add a vocal component. As you breathe in, say "Relaxation." As you exhale, say "Stress."




Save Energy by Tuning Your Refrigerator


Refrigerators and freezers are responsible for approximately one-sixth of a home's energy footprint, so making a few changes can make a large impact on your household's energy use. Fine-tune a refrigerator for optimal energy use by ensuring that the temperature in the main refrigeration box hovers around 37 degrees F and that the freezer stays around 3 degrees F. Using a digital weather thermometer usually does the trick. Wide temperature variations can mean that your unit might need replacing. When replacing an aging refrigerator, consider energy-efficient models that use less electricity. Also consider the placement of the refrigerator in your kitchen for maximum efficiency.


Share the Wealth of Knowledge!
Please share this market update with family, friends, or colleagues. If you would like us to add them to our list, simply click on the "Forward email" link below. We love being introduced!

Investing involves risk including the potential loss of principal. No investment strategy can guarantee a profit or protect against loss in periods of declining values.
The Standard & Poor's 500 (S&P 500) is an unmanaged group of securities considered to be representative of the stock market in general.


The Dow Jones Industrial Average is a price-weighted average of 30 significant stocks traded on the New York Stock Exchange and the NASDAQ. The DJIA was invented by Charles Dow back in 1896.


The MSCI EAFE Index was created by Morgan Stanley Capital International (MSCI) that serves as a benchmark of the performance in major international equity markets as represented by 21 major MSCI indexes from Europe, Australia and Southeast Asia.


The 10-year Treasury Note represents debt owed by the United States Treasury to the public. Since the U.S. Government is seen as a risk-free borrower, investors use the 10-year Treasury Note as a benchmark for the long-term bond market.


Google Finance is the source for any reference to the performance of an index between two specific periods.

Opinions expressed are subject to change without notice and are not intended as investment advice or to predict future performance.


Past performance does not guarantee future results.


You cannot invest directly in an index.


Consult your financial professional before making any investment decision.

Fixed income investments are subject to various risks including changes in interest rates, credit quality, inflation risk, market valuations, prepayments, corporate events, tax ramifications and other factors.


These are the views of Platinum Advisor Marketing Strategies, LLC, and not necessarily those of the named representative or named Broker dealer, and should not be construed as investment advice. Neither the named representative nor the named Broker dealer gives tax or legal advice. All information is believed to be from reliable sources; however, we make no representation as to its completeness or accuracy. Please consult your financial advisor for further information.

By clicking on these links, you will leave our server as they are located on another server. We have not independently verified the information available through this link. The link is provided to you as a matter of interest. Please click on the links below to leave and proceed to the selected site.

[1]
http://news.yahoo.com/treasuries-slip-strong-economic-data-184451476.html
[2]
http://news.yahoo.com/wall-st-week-ahead-stocks-first-quarter-run-010526518.html
[3]
http://www.usatoday.com/money/perfi/stocks/story/2012-03-30/first-quarter-stock-rally/53899942/1
[4]
http://news.morningstar.com/articlenet/article.aspx?id=541613
[5]
http://www.reuters.com/article/2012/03/26/us-markets-stocks-idUSBRE82L0JD20120326
[6]
http://www.usatoday.com/money/economy/story/2012-03-29/economic-unemployment-claims-gdp-0329/53852264/1
[7]
http://dealbook.nytimes.com/2012/03/29/three-major-banks-prepare-for-possible-credit-downgrades/
[8]
http://www.reuters.com/article/2012/03/30/markets-usa-bonds-idUSL2E8EU9PV20120330
[9]
http://www.businessweek.com/ap/2012-03/D9TR08H80.htm